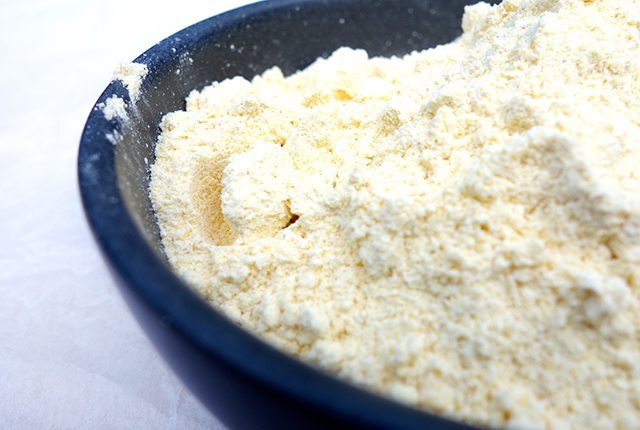 What is besan flour?
Besan flour is a delicious gluten free flour made from dried grounded chickpeas – they can be plain or roasted previously to grounding. Besan flour is also known as garbanzo bean flour, chickpea flour, or gram flour. It is a very popular ingredient in Indian cooking and brings us delicious mouthfuls such as poppadoms, pakoras, flat breads and more.
What are the nutritional/health benefits of besan flour?
Chickpeas are full of insoluble fibre, protein and a bunch of other vitamins and minerals which makes chickpeas great for staying fuller for longer.
Chickpeas contain about 12.5 grams of fibre per cup, which is a massive 50% of the recommended daily intake. At least two-thirds of the fibre in garbanzos is insoluble which passes through our digestive tract unchanged, until it reaches the last part of the colon. Bacteria the the colon then breaks down the insoluble fibre into short chain fatty acids which are then absorbed by the cells that line the colon wall helping the colon cells can stay optimally active and healthy which is great for digestion and reducing the risk of colon cancer.
Additionally, one cup of chickpeas contains nearly 85% of the Daily Value of the antioxidant mineral manganese which it vital for clear skin and hair.
Where can you get besan flour from:
In Richmond you can find besan flour at Thomas Dux, in Collingwood it is available at the Turkish grocer on Smith Street. Otherwise you can find besan at health stores, European, Indian or Turkish grocers – failing that you can easily make your own.
How to make besan flour
Ingredients:
Dried chickpeas – 1/2 kilo equals approx 2 cups besan flour
Directions:
Put dried chickpeas into a coffee grinder or blender and process until you have a fine flour.
Run flour through a fine shift, then if there is any large bits, place back into the blender and process again.
You might not be able to get every last bit into a fine flour, so you can either mix the bits back in or set the aside for when you are making something that needs a bit of texture. Alternatively, you can make your own skin care using besan flour such as a facial scrub, scalp treatment or face mask.
Store in an airtight container in a cool dark place for up to 12 months.
What to look for when buying besan flour:
Ideally you want it as fresh as possible and ideally organic. Organic chickpeas are cheap these days so if you can't find it in store it is worth making your own for freshness and price.
See Also
How to use besan flour:
Besan flour is a great gluten free option for savoury dishes such a okonomiyaki, succa, frittas, pizza bases and more. It is also great in a batter when crumbing meat, fish or veges, A lot of the time I experiment with substituting white flour 1 for 1 in things that require flour as a binder such as meatballs, hamburgers etc but others suggest 7/8 cup to 1 cup.
Depending on the recipe, you may get better results by mixing it with other flours e.g. mix with spelt or rice flour, or if you're baking something sweet, mix chickpea flour, sorghum flour and sweet rice flour. Besan flour can absorb fluids easily so you might also need to adjust the amount of liquid going into the recipe.
When mixed with an equal proportion of water, it can be used as an egg replacer in vegan cooking.
You can find delicious recipes made with besan flour here.