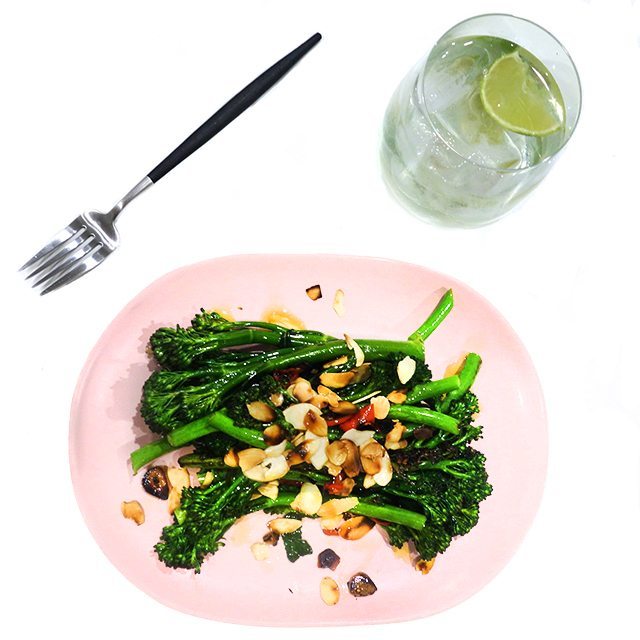 Where do I begin on my love for cruciferous vegetables? They are the underdog of the superfood world and are often not given the credit they deserve. So what if they're not extremely expensive and hard to pronounce – cabbages have feelings too you know!
Cruciferous vegetables are of the family Brassicaceae and include: cauliflower, cabbage, cress, bok choy, Brussel sprouts, broccoli, broccolini and Chinese broccoli just to name a few. Brassica vegetables are brimming with antioxidants, which may help lower the risk of cancer and coronary heart disease as well as supporting healthy estrogen metabolism. They are extremely important for liver detox and digestion which helps give you pretty clear skin (I'm not just talking to girls here!) and balance hormones. Unlike other super foods, they are pretty cheap and easy to find, so it is a really good place to start if you are wanting to improve your diet.
Broccolini, da farq is that?
Invented by the Sakata Seed Company of Yokohama, Japan, in 1993 as "aspabroc", broccolini is a hybrid of broccoli and Chinese broccoli. Often confused with broccoli, it is thinner, longer and has small florets sometimes with a cute purple flower. It's like broccoli's supermodel cousin (don't worry broccoli, I still love you) – tall, skinny with perfect hair!
Broccolini has a slightly sweet taste which is why it works so well with chilli, garlic and almonds. Further, it is nutritionally high in vitamin C and contains vitamin A, calcium, folate, and iron.
So sex up your greens and give this delicious, easy side a go.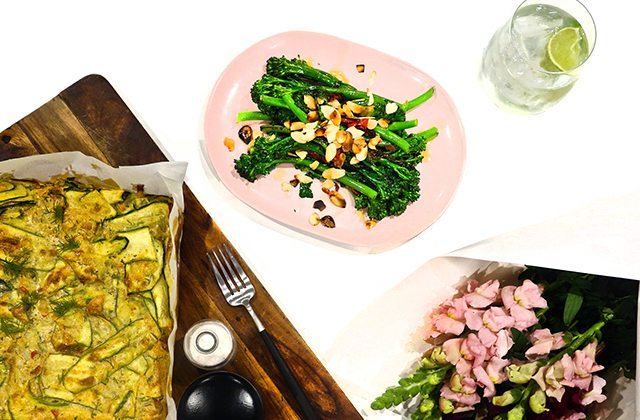 healthy sides: super model broccolini with toasted almonds and chilli
Broccolini is like broccoli's supermodel cousin - tall, skinny with perfect hair! Broccolini is high in vitamin C, vitamin A, calcium, folate and iron. This simple recipe is a great way to get more of these goodies into yo life!
Cuisine:
paleo, dairy free, refined sugar free, gluten free, fructose free, grain free, vegan
INGREDIENTS:
Handful of sliced almonds
1 bunch broccolini, ends trimmed
2 cloves garlic, thinly sliced
1 birds eye chilli, thinly slices
1-2 tablespoons oil of your choice (I used olive oil)
1 knob organic butter or vegan alternative (highly recommended but optional)
Himalayan salt and pepper to taste
INSTRUCTIONS:
In a dry cast iron skillet, dry toast the almonds. They can turn quickly, so keep an eye on them. For best results do not crowd the pan. Alternatively, this can also be done in the oven under the grill. Once done, set aside in a bowl.
In the same skillet heat oil on a medium heat, then toss garlic and chilli around for about 1 minute until fragrant. Do not burn or colour too much at this stage.
Add in broccolini, butter, salt and pepper then toss to coat with the chilli and garlic.
Cook a further 2-5 minutes until broccolini is cooked but not soggy and the chilli and garlic has some colour on it.
Place broccolini on a plate, then drizzle over your best extra virgin olive oil and sprinkle with the toasted almonds.
These make a great easy side to almost anything – especially if you have a rich main that needs balancing. Recently I made this and served with my Gluten Free Smoked Salmon and Zucchini Dream Slice as pictured above. Nom nom nom!