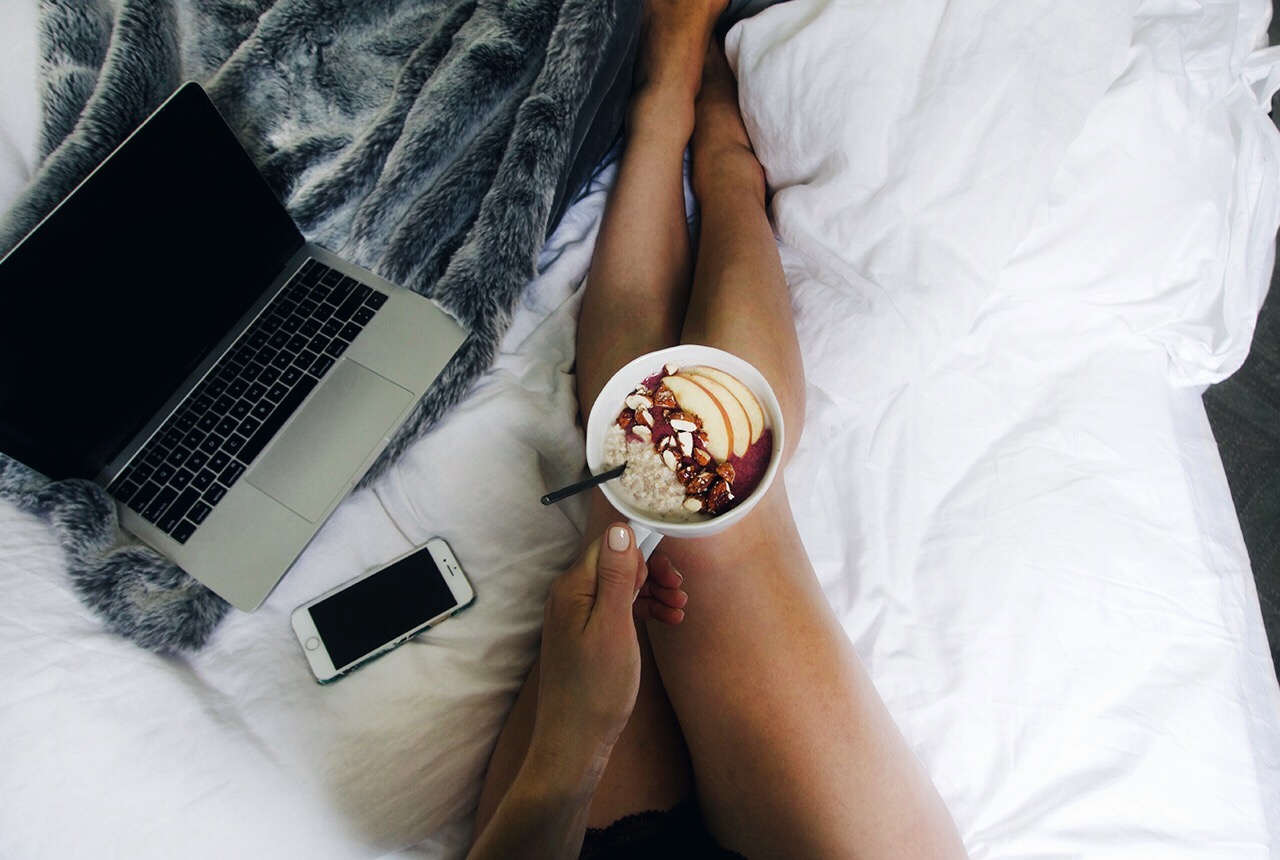 Ahh winter. That time of year where the hippopotamus in me comes out and all I want to do is eat and hide away from life. It is also the time of year where a dear old friend's mantra "Summer bodies are made in Winter" rings in my head. Such conflicting desires! Am I right?!
The trick to winter is feeling cosy and satiated to combat the bodies desire to pack on the kilos to protect itself from the cold. This Posh Porridge is the perfect go-to for this as the delicate sweetness of the maple syrup infused Chia Seedy Berry Jam and the crunchiness of the Chia Almond Brittle makes getting your fill possible without the need for refined sugars or dairy. It is an easy way to sneak superfoods into your diet. You can also take it one step further a boost this with green or protein powders.
The great thing about this porridge is that although it looks fussy if you make the brittle and chia jam in advance then assembly on the morning only takes 5 minutes. Perfect for those racing off to work, or snuggling back into bed to binge watch Handmaid's Tail.
There is also a thousand other possibilities with this porridge, so if you choose to forgo the chia jam and brittle, feel free to experiment with other toppings such a maple syrup, banana, seeds, nuts berries, cacao, cinnamon etc.
See Also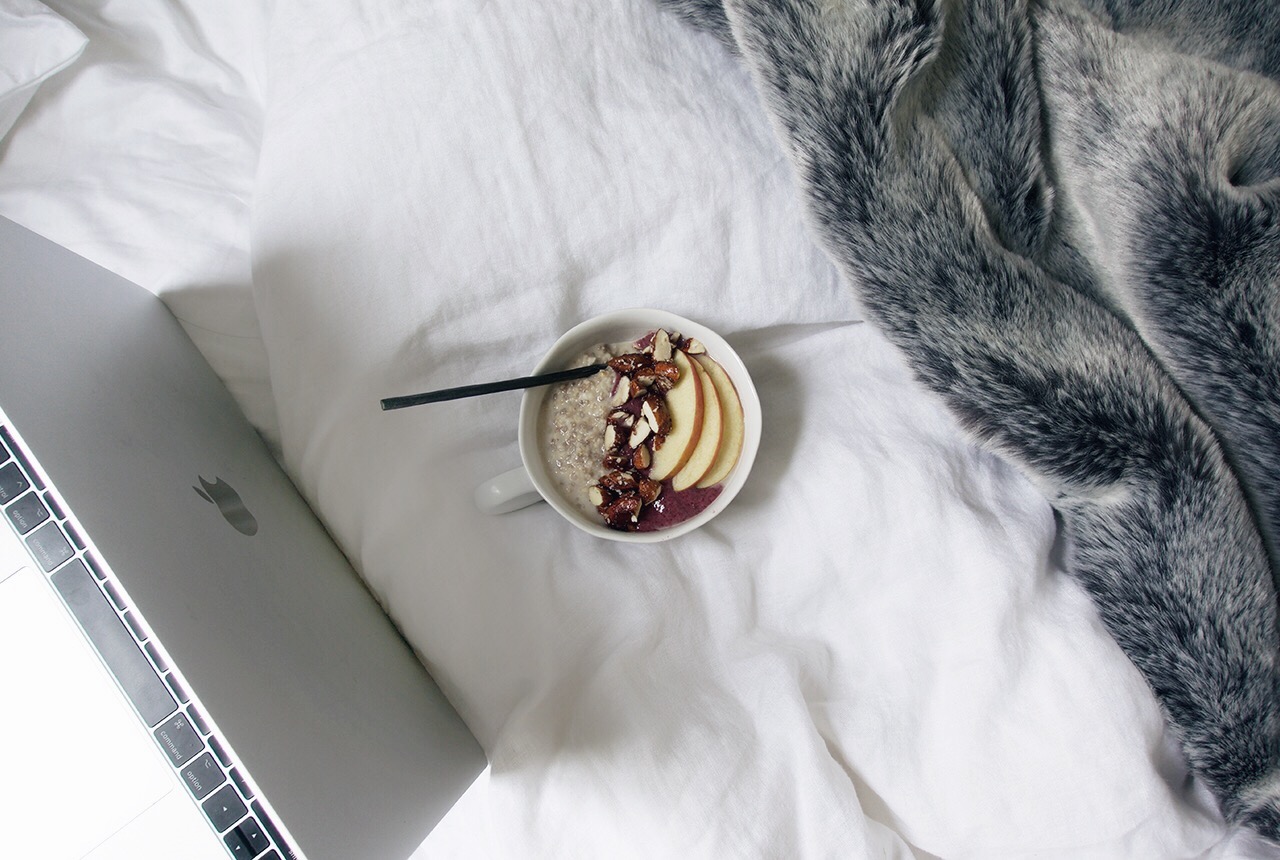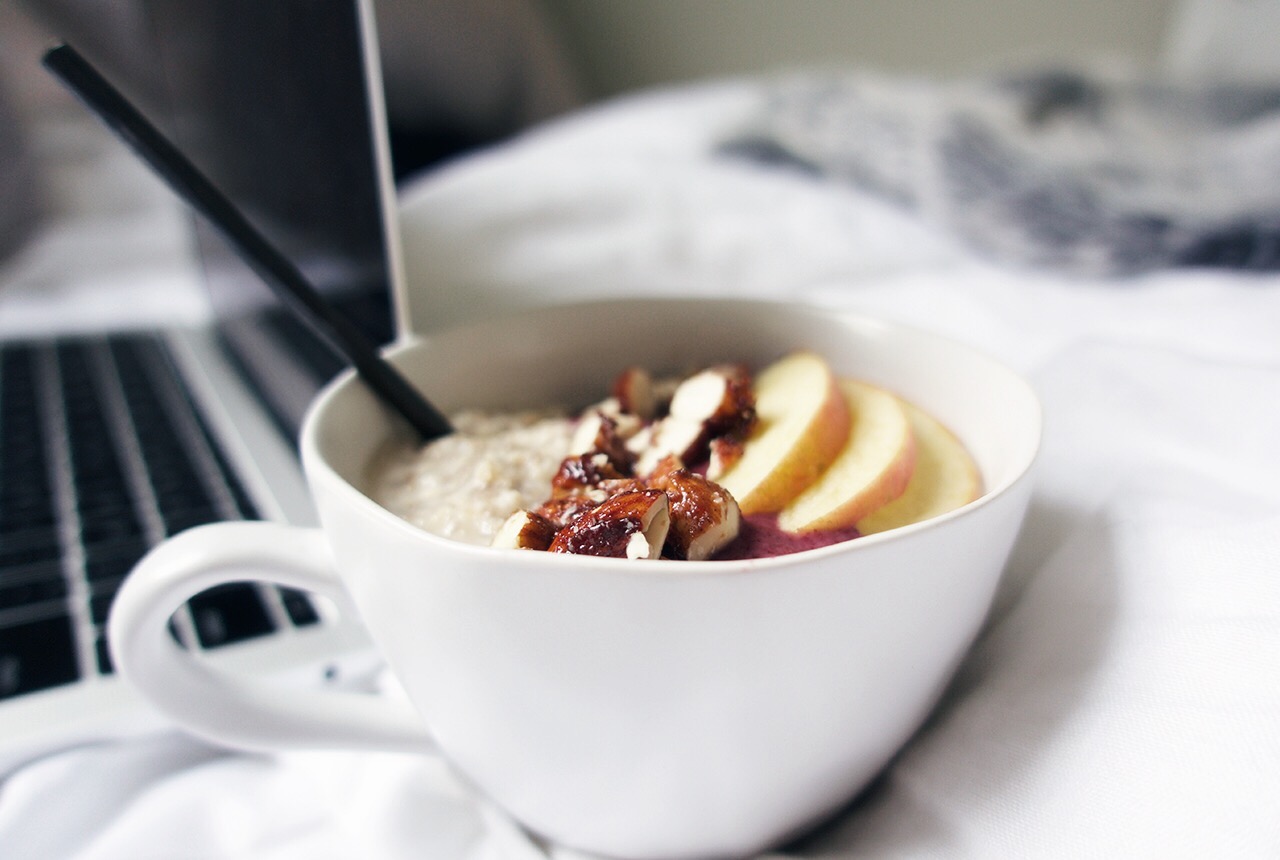 Some notes on styling, all pieces my own and have not been gifted – bedding all from Sheridan (Delmar Faux Fur Throw, 600TC Cotton Egyptian Sheets, Abbotson Linen Duvet Cover – omg it is heaven in a bed!) and beautiful Handmade Organic Cup from Leopold Hall luxury homeward boutique in New Market.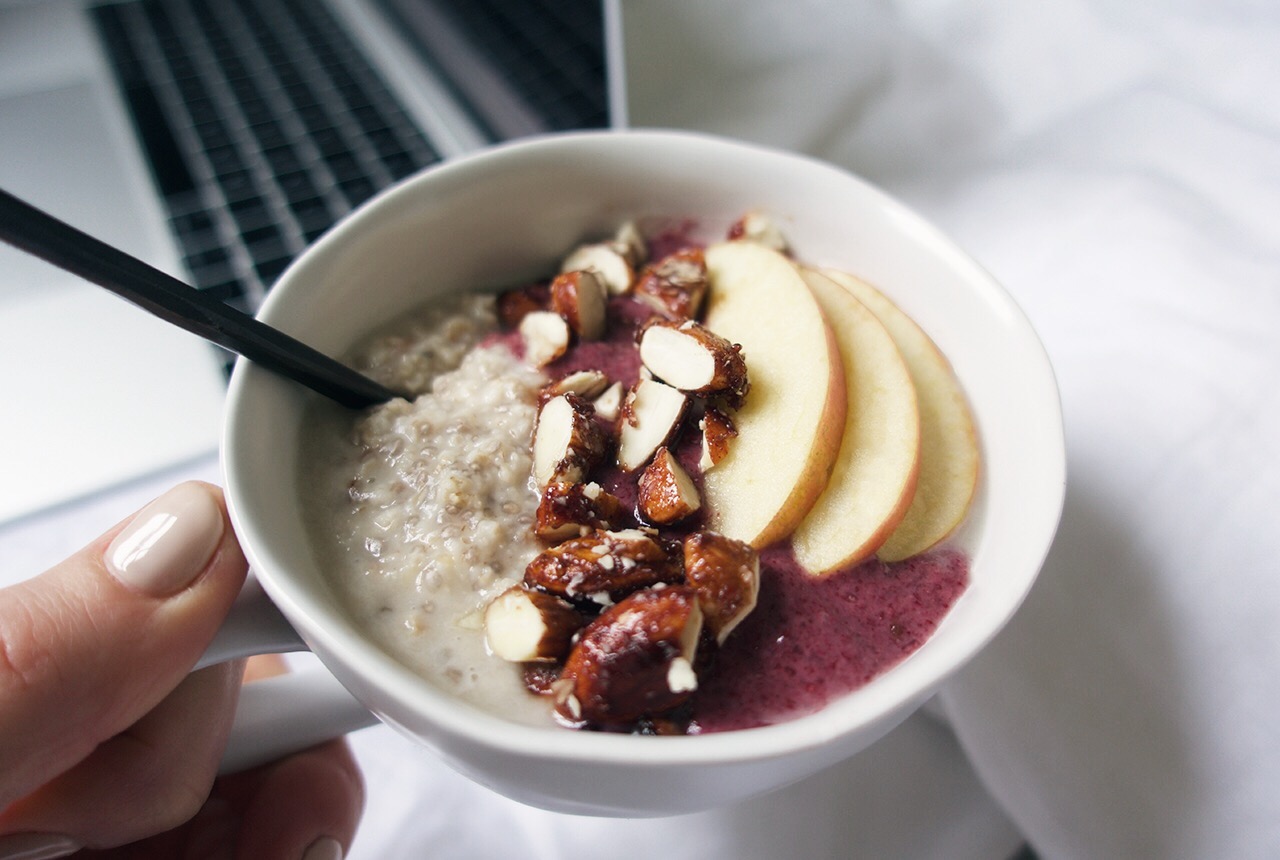 Stupidly Simple Posh Porridge - with Chia Seed Jam and Chai Almond Brittle
We take boring porridge and make it ridiculously delicious with Chia Seed Jam and Chai Almond Brittle your morning routine just got a lil' bit posh!
Eat for:
Breakfast, snack
Cuisine:
Healthy Eating, Superfoods, Vegan, dairy free, gluten free
INGREDIENTS:
FOR THE BERRY CHIA SEED JAM
3 cups fresh (or frozen, thawed) berries - I used a raspberry, blackberry and strawberry mix
2 teaspoons finely grated lemon zest
¼ cup fresh lemon juice
3 tablespoons (or more) pure maple syrup
¼ cup chia seeds
FOR THE CHIA SPICED ALMOND BRITTLE
1 cup raw almonds - roughly chopped
1 tablespoon raw honey
1 teaspoons ground cinnamon
1 teaspoons ground ginger
1 teaspoons ground cardamom
½ teaspoon ground cloves
½ teaspoon ground coriander
½ tablespoon cardamom pods
FOR THE CHIA SUPERFOOD PORRIDGE
¼ cup oats
1 tablespoon chia seeds
½ teaspoon cinnamon
¾ cup almond milk - I prefer non-sweetened (or water)
INSTRUCTIONS:
FOR THE BERRY CHIA SEED JAM
Place chia seeds in blender and grind into a fine powder.
Add all other ingredients and pulse until you get your desired consistency (some prefer super smooth and others like it chunky!)
Store in an airtight jar in fridge until set - 1-2 hours, but I make this over night.
This will last in the fridge for 1-2 weeks.
FOR THE CHIA SPICED ALMOND BRITTLE
Heat oven to 180 degrees c and prepare a baking tray with baking paper.
Blend all chai spices in a bowl then mix thoroughly with the honey.
Add almonds and coat evenly.
Spread out in one layer on baking paper (do not over crowd or else the almonds will steam and not roast) and place into over for 10-20 minutes or until golden. There is a tipping point here of no return so keep an eye out!
Leave on bench to cool.
Once cool, store in an airtight jar for 1-2 weeks.

FOR THE CHIA SUPERFOOD PORRIDGE
Mix everything in a bowl, put in microwave for 45 seconds.
Stir and place in microwave for another 45 seconds.
Top with chia jam and almond brittle.