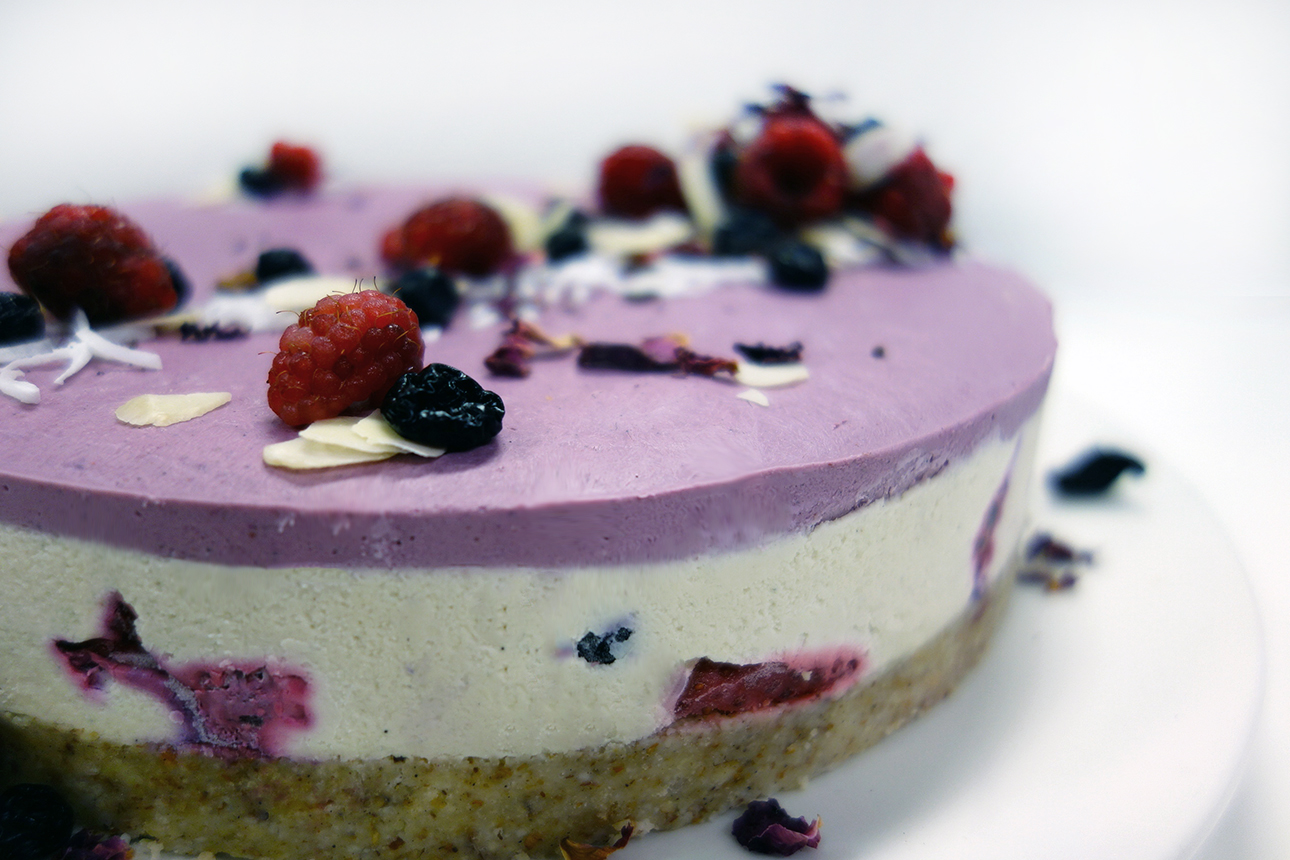 When it rains it pours! Everyone at my work seems to be leaving at the moment (including me!). With all these endings, new beginnings are a certainty which means there is room for new insight and opportunities – e.g your loss is my cake. I have gotten a bit of reputation for raw cake making in the office, so when my gluten/dairy/sugar intolerant co-worker announced her resignation, her lovely friends commissioned me to make a cake.
The brief was short – make something delicious. Oh, and she doesn't care for chocolate. Eeep – pressures on!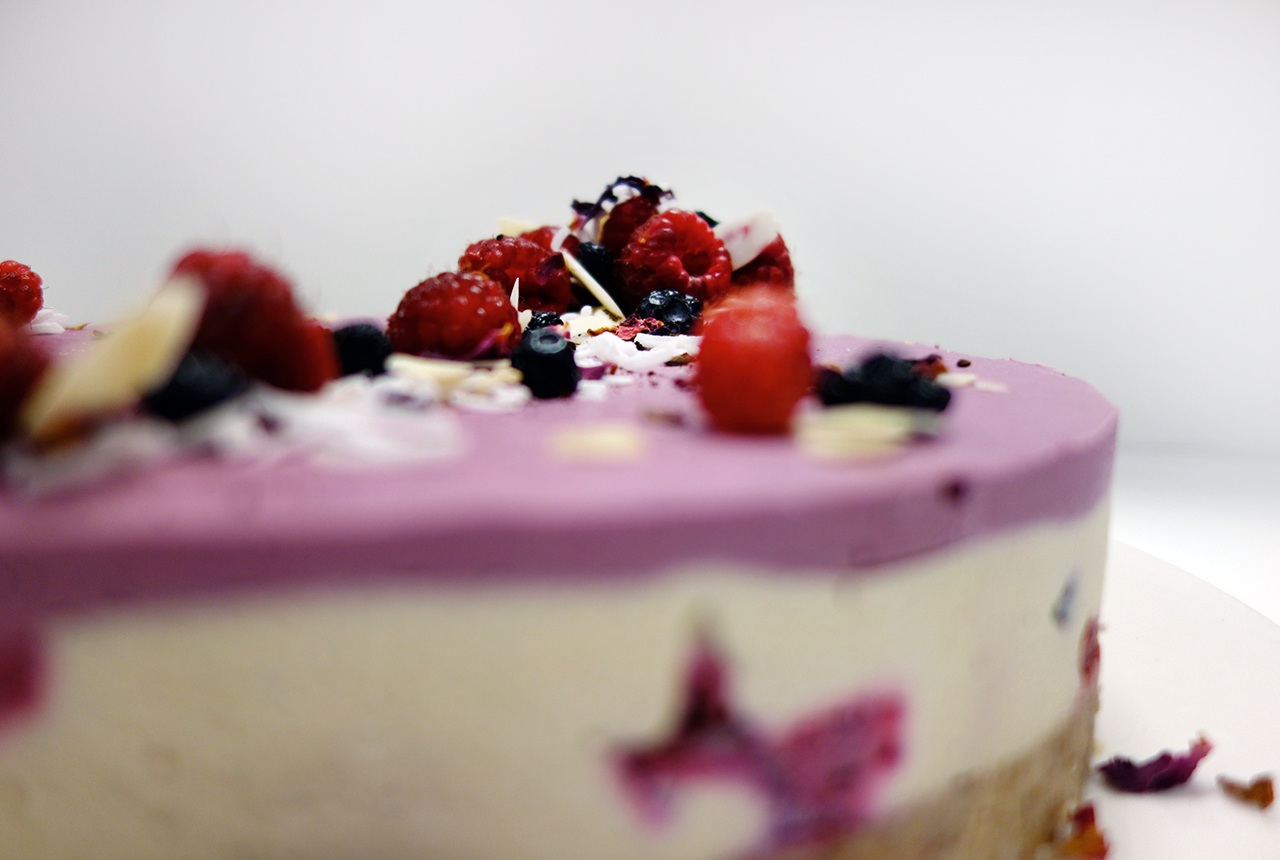 I wanted to make something prettier than I have ever made before so I jumped on the web for inspiration. Of course Pana Chocolate came up. Of course. I don't know how they do it and make everything look so damn pretty, but I was up for a challenge.
I feel it all worked out well – the berries in the middle layers add some pretty pop next to the stark white and the asymmetrical berry party on the top is visually a bit different than your normal sequentially patterned decorations. The best thing? It wasn't that hard :D! #winning!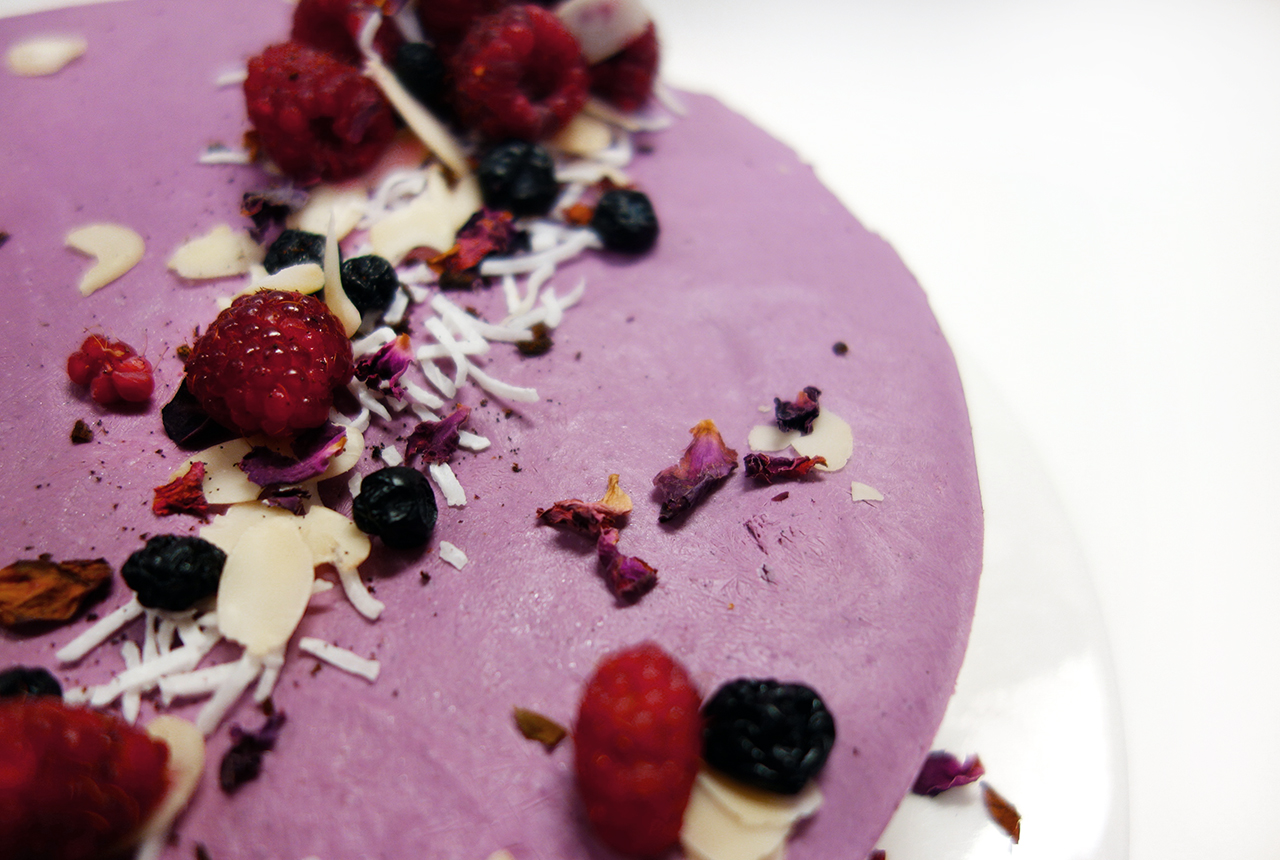 triple layer raw cashew berry cheesecake
Want to make the prettiest triple layered raw cheesecake ever? This is how my friends!
Cuisine:
paleo, dairy free, refined sugar free, gluten free, fructose free, grain free, vegan
Serves:
a whole bunch of hungry people
INGREDIENTS:
For the base:
1 cup raw almonds
1 cup unsweetened shredded coconut
4 tablespoons coconut oil or cacao butter (I used 2 of both), gently melted
2 tablespoons coconut nectar
For the white raw cashew cheesecake layer:
2 cups raw cashews (soaked in water for at least an hour)
1 cup coconut milk
⅓ cup coconut oil
4 tablespoons coconut nectar
1 teaspoon vanilla paste
1 cup mixed frozen berries – still frozen
For the mixed berry cashew cheesecake layer:
1 cup raw cashews (soaked in water for at least an hour)
½ cup mixed berries – defrosted
½ coconut milk
⅙ cup coconut oil
Juice and rind of 1 lemon
2 tablespoons coconut nectar
½ teaspoon vanilla paste
To garnish:
Cracked vanilla
Extra shredded coconut
Raspberries
Sliced almonds
Freeze dried berries
Dried Rose Petals
INSTRUCTIONS:
For the base: Place almonds into a blender and blend until a it becomes a flour.
Place almond flour into a bowl and repeat with the coconut.
Add in coconut oil/cacao butter and the coconut nectar and mix well.
Turn mixture out into a baking paper lined tin and firmly press the mixture in so that it forms an even base.
For the white raw cheesecake layer: Place all the white raw cheesecake layer ingredients except for the berries into a blender and process until super smooth. You might need to scrap down a few times in between to make sure everything keeps moving.
Scatter half the berries onto the base – I cut some of the bigger ones in half. Move some to be right at the edge.
Pour over half white raw cheesecake layer mixture.
Scatter over the rest of the berries and top with the remaining mixture.
Place in freezer to set for at least an hour.
For the mixed berry raw cheesecake layer: Once the white layer sets, place all ingredients for the mixed berry cheesecake layer in the blender and process until smooth.
Pour over the cake and set in freezer 1-2 hours until set.
I then kept it in the fridge so it softens somewhat and took it out completely 30 minutes before serving – depends if you want it frozen and ice-cream like or softer.
To Decorate and serve: Decorate before serving by scattering your coconut, followed by the almonds and the rose petals then top with fresh raspberries, and the freeze dried blueberries. Crack over the vanilla.
Slice with a hot knife, wiping blade clean after each slice.