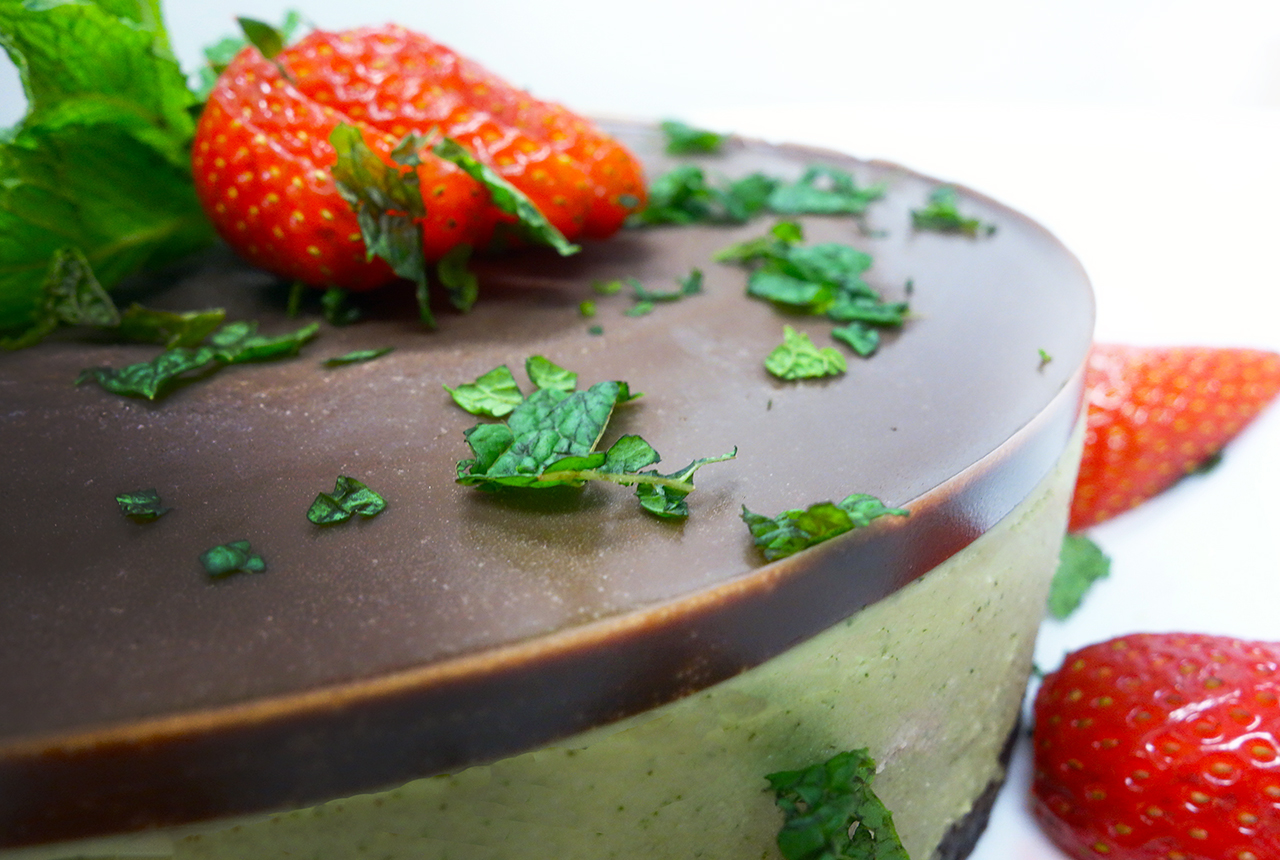 Mint mint mint. I have a tendency to get obsessed with things and then overdo them. Usually it is food related. Some ingredients I have recently become obsessed with include: tahini, honey, buckinis, chipotle, carrots, cherry tomatoes, brazil nuts and now… mint!
These are all mostly very common ingredients, that I have been exposed to many times before without exception, but for some reason, all of the sudden, I'm like "to say the least, I'm into you".
As documented on Instagram here and here, I have been consuming ample amounts of mint. Preferably with cacao. It hasn't always been this way – previous to this obsession I hated mint and chocolate together. For example: mint and chocolate chip ice-cream. WTF. I used to think: "who would be weird enough to pair the breath freshening power of mint with the most delicious tiny chunks of amazingness in the world?" Now I get it. I must be growing up.
So when Emily asked me to help make her a cake for her friend Bianca's birthday, I rejoiced "CAN WE MAKE RAW MINT SLICE?!", she replied "only if it looks like a cake'. Ok, we're on!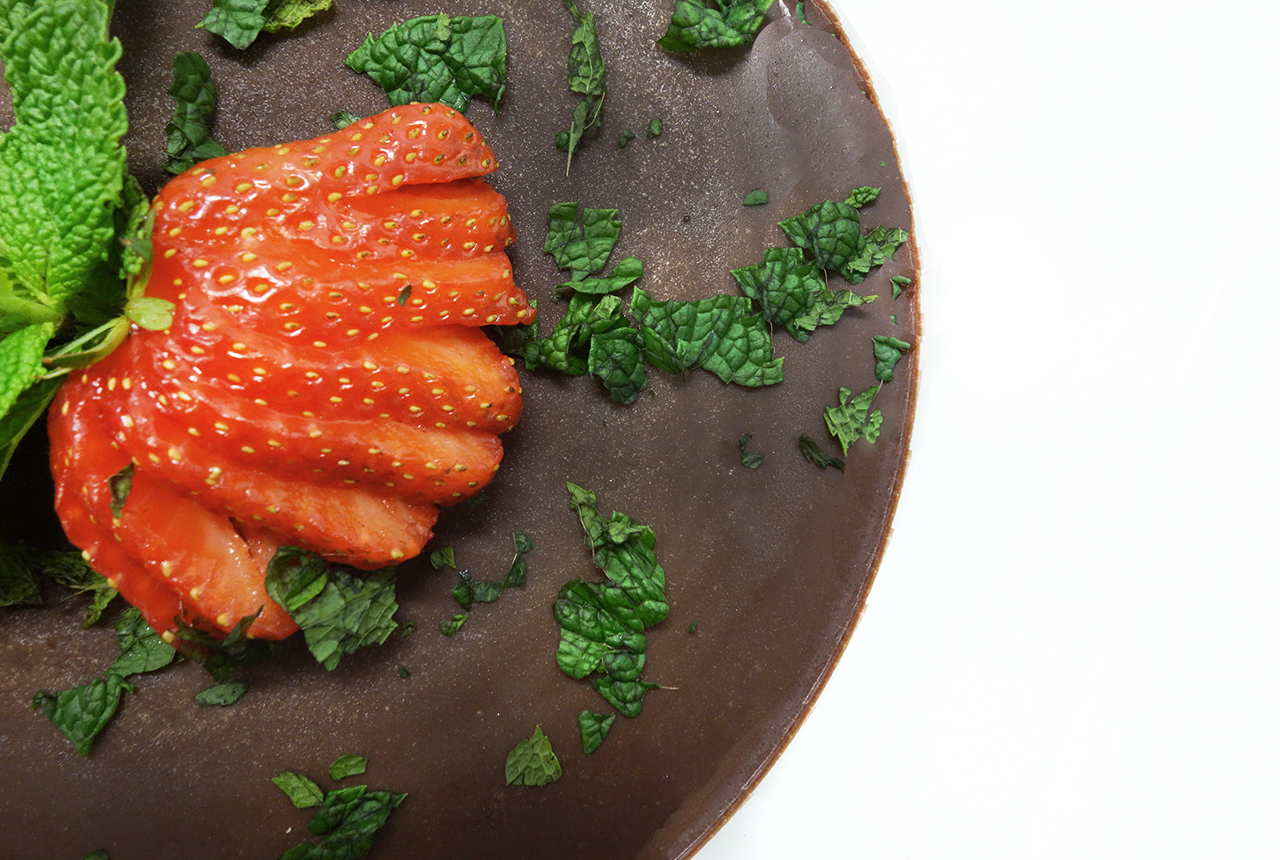 MINT MINT MINT: Raw Vegan Mint Slice Cake
An incredibly delicious raw chocolate mint slice cake which will feed your body as much as it feeds your soul. Nom!
Cuisine:
vegan, fructose friendly, dairy free, refined sugar free, gluten free
Serves:
enough for a good party
INGREDIENTS:
Almond Base: 1 cup raw almonds
2 tablespoons raw cold pressed coconut oil in liquid form
2 tablespoons raw cacao powder
3 tablespoons maple syrup
1 teaspoon vanilla paste
Pinch Himalayan sea salt
Raw Mint Cashew Filling: 2 cups cashews, soaked 2 hours – overnight
1 cup mint leaves, stems removed
1-2 teaspoons mint essence (or if you can find pure mint oil 8-10 drops)
½ cup raw cold pressed coconut oil in liquid form
½ cup maple syrup
½ cup coconut milk
1 teaspoon vanilla paste
Pinch Himalayan sea salt
Raw Cacao Chocolate Topping: 4 tablespoons raw cold pressed coconut oil in liquid form
4 tablespoons maple syrup
2 teaspoons raw cacao powder
Pinch Himalayan sea salt
To serve: Strawberries, washed and halved
Mint, chopped
INSTRUCTIONS:
For the base: Place almonds in a blender or food processor and pulse until you have a chunky flour – you want to leave some crunch so it's not a fine flour, but you don't want whole almonds in there either.
Place almonds in a bowl with the rest of the base ingredients and mixed thoroughly.
Press into a lined cake tin and flatten as much as possible – I used a 18cm cake tin.
Place in freezer while you work on the next layers.
For the filling: Drain and rinse the cashew nuts and place all of the ingredients into a blender. Process until smooth. If you need to add water add up to ½ a cup – you might want to scrape down and stop / start again a few times. You want a really smooth butter consistency.
Pour over the base and shake to flatten and get the bubbles out.
Place in freezer until set.
For the chocolate: Mix all ingredients together until smooth.
Pour over completely set filling and flatten with a spoon.
To serve:
Let cake defrost, we left it in the fridge all day, sprinkle with mint and strawberries. Enjoy the party lovers!