Behind every good event there is good planning. When we wanted to throw our friend the best Hen's night ever we wanted to do it in style. Forget about tacky pink sashes, strippers and vodka shots from bellies. We are kinda grown up now and don't really get a kick out of that sort of thing any more. We put a lot of effort into making our homes, brunch outfits and office spaces on fleek and classy – why not have the same input into our big life events?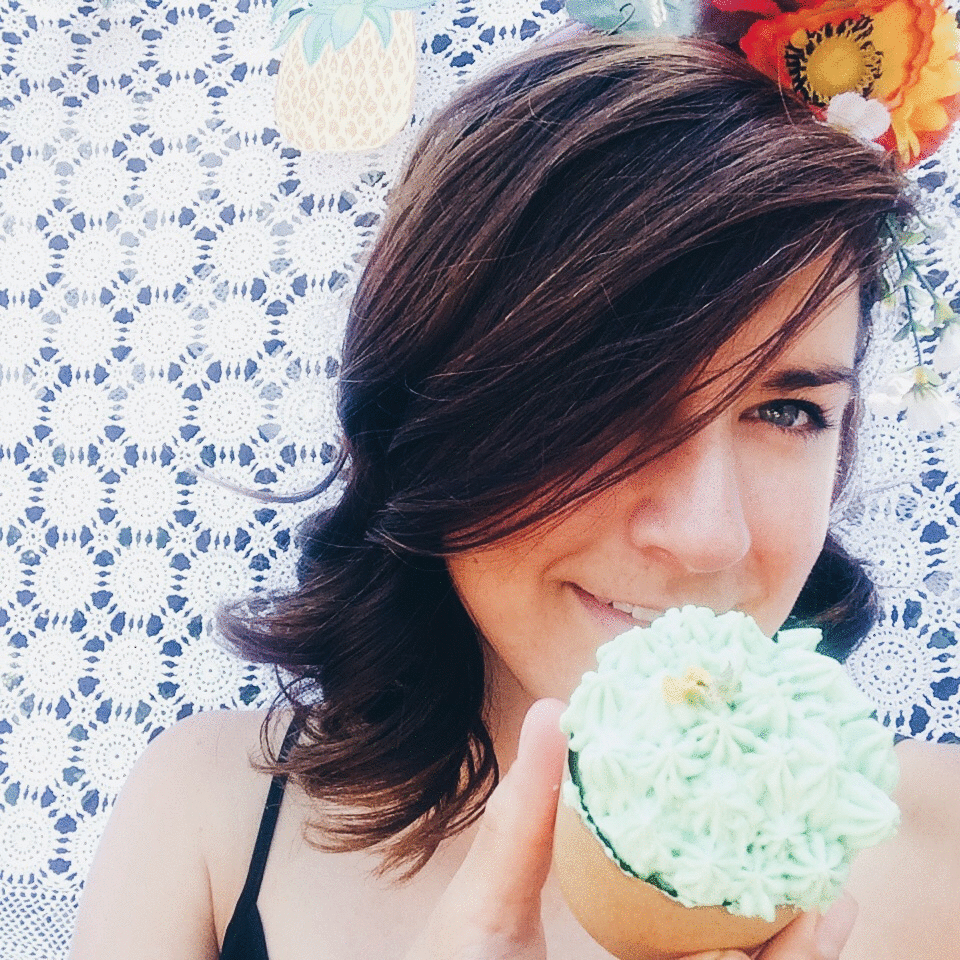 And just because we want it to look Instagrammable doesn't mean it has to be boring. So we scored the interwebz and all of the Pinterest and got in touch with a few close pals and found out how to put the best hens night together. And here is the result – A little big naughty, totally delicious, all pampering, all celebratory afternoon and night of fun to a Mexican theme. Think Frida Kahlo and dawn of the dead awesomeness. Here is how we did it.
[line]
STYLING
[line]
My friends and I are kinda craft nerds. We like excuses to make things and this was the perfect opportunity for going all out on the Hen's Mexican theme. We engaged with the most amazing event stylist Kate Alexander (available in NZ and AU!) who bought over her expansive collection of Mexican kitsch goodness such as:
Cigar boxes
Ikat rugs
Plastic pineapples
Somberos
A large cane chair
Old tomato tins
Pom pom trimmed pillows
Candles
A very large inflatable flamingo.
We paired this back with our own craft vom:
Pinwheels
Paper lace doylies
Bunting
Paper lamps
Cactus made from balloons.
The result was an intense hectic space, which was just the right amount of too much. We had a variety of spaces to sit, eat and play at. The combination of my friends two styles were magic.
Read our interview on Kate Alexander, her top tips for event styling as well as her recipe for Pastel De Tres (triple milk cake as pictured below) here.
[line]
FOOD
[line]
We were on a bit of a strict budget so we couldn't go all out on the superfoods so instead we opted for a mix of good and naughty. Our offering was a combination of healthy and unhealthy snacks which could all be eaten with fingers and could cover a variety of diets from vegans to dairy or gluten-free. Our glorious fiesta spread included:
Vanilla cactus cupcakes in 'terrecotta' pots
Pastel De Tres – a triple crème cake with ediable flowers
Roasted chickpeas
Chilli lime prawn tacos with pineapple mango salsa – served in gluten free lettuce cups
Grilled pineapple and fruit skewers
Corn chips (duh)
Salsa (duh)
Gluten free pulled pork cucumber 'sliders' – with option chipotle sour cream
Burrito cups filled with beans, avocado, corn and feta.
To be honest, all of the sides were kind of off the cuff recipes that came together last minute (thankfully!).
Everything was washed back with punch served out of large serve-yourself Mason jars.
[line]
LIFEDRAWING
[line]
If a stripper is much too full on for you, consider having a life drawing model. A model and a teacher from Strike a Pose came over and took us through a series of hilarious games. This was an excellent alternative to a stripper and everyone kind of got to learn something new about drawing which was cool. The model was an excellent sport at handling all our giggles and both were very professional.
[line]
GAMES
[line]
Now.. I know I said this was a classy event, but you need a little bit of naughty at a hens night. Being all prim and proper is a bit tedious and girls just wanna have fun after all. So we racked our brains trying to think of games that would make us lol without grossing us out.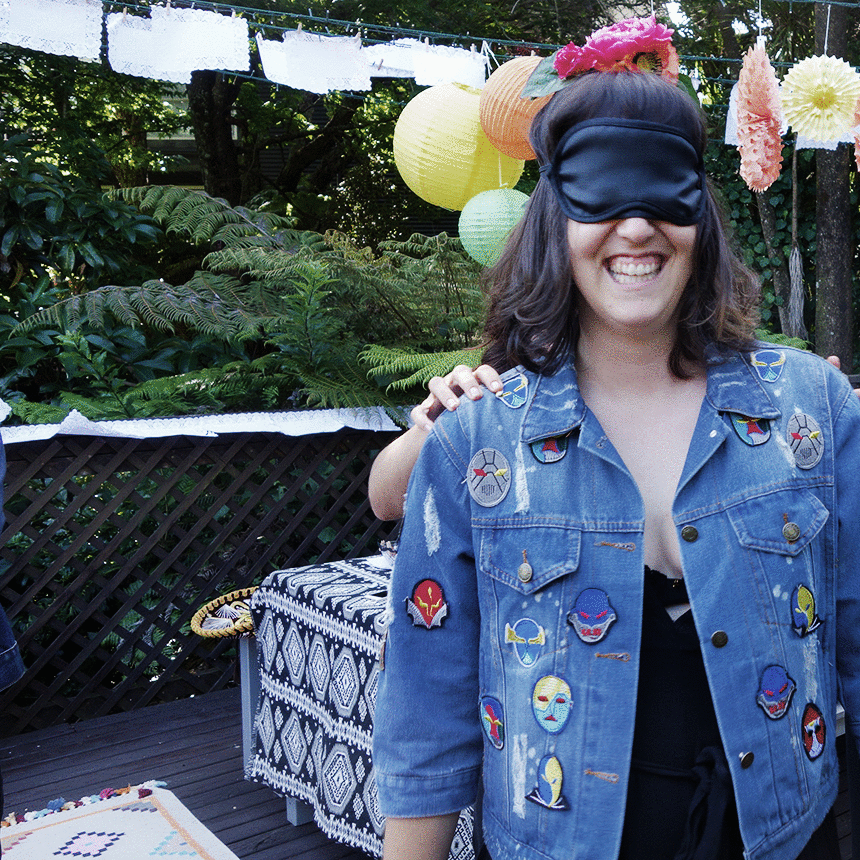 Penis piñata – of course a Mexican themed party needed a piñata. Haha and this was actually the funniest thing in the world. My friend Krista made this from this tutorial. The two balloons even wiggled around a little bit just like in real life. Then when whacked, little milk duds squirted out. Sounds gross, but of course because it was crafted in fringed pink paper it was kind of not gross.
Ring toss on the penis – not much to be said here. Krista carved a woody out of wood and we chucked roped rings on it.
Pin the cactus on the Gos. We like Ryan. He's a babe. So why not Photoshop a sombrero and mustache onto him and try and pin penis shaped cactus' onto his area? We couldn't come up with a reason either!
Embarrass the hen – we couldn't have a hens night without making the hen a little uncomfortable. So we played the game where each guest has to write two embarrassing memories on a piece on paper which are all pulled into a sombrero then read out. The hen then has to guess who the memory was from. Quite funny given most of us knew her through her teenage years :P.
Scavenger hunt – we wanted to keep the theme going after we left the house and embarrass the hen a tad more. We came up with a list of things she had to do such as (just an example – there were many more!):

Take a photo with / or – something old, something new, something borrowed, something blue. For the new we found a cute young back packer and made her sit in his lap for a picture. Then she got kinda of bored with it all so something old/borrowed/blue were all ticked off at once when we found a group of cops and took their hats.
Put a fake tattoo on a random guys chest. This was pretty funny to tee up.
Try and get something for free – we managed to hustle her drinks, chocolates, bike rides etc.
[line]
HAIR AND MAKE UP
[line]
We love, love, loved the idea of Frida Kahlo styled hair and makeup. Our friend and stylist
Chetan Mongia worked with each girl individually to give her curls and plaits – we all had different hair lengths and outfits on (only commonality was it had to be black!) so he worked out looks to suit everyone best. Each guest's hair was then finished off with an Annie O Botanical flower crown – they were actually fake flowers which made a nice take away gift!
We recruited our friends Shannon Bunn and Leo Sutcliffe who both work at Servilles but have wicked makeup game in their spare time. They gave us all sexy smokey eyes to compliment our hair. I must say.. being 29 it is REALLY nice to have your hair and make up done for you – them guys just know how to make everything pop in all the right ways.
And because there was some down time between activities, we decided it would be a fabulous idea to all do our nails. Pure girlie indulgence.
So once all our hair and make up was looking good – we were ready to go out on the town (duh you don't wanna waste that!)
Read our interview on Annie Oxborough from Annie O Botanical here.
[line]
GOODIE BAGS
[line]
It is nice to give everyone something cute to take home to remember the event. We worked with my friends from She Lives Cruelty Free to give the girls Tailor Detoxifying Face Masks for the next day as well as the most amazing Hurraw Lip Balms. These paired with a cute note and the flower crowns to thank everyone for coming and making the day amazing. Of course everything was put together with kraft bags and mini pegs to tie in with the kraftiness of the day.
Read our interview on Haley Guildford from She Lives Cruelty Free here.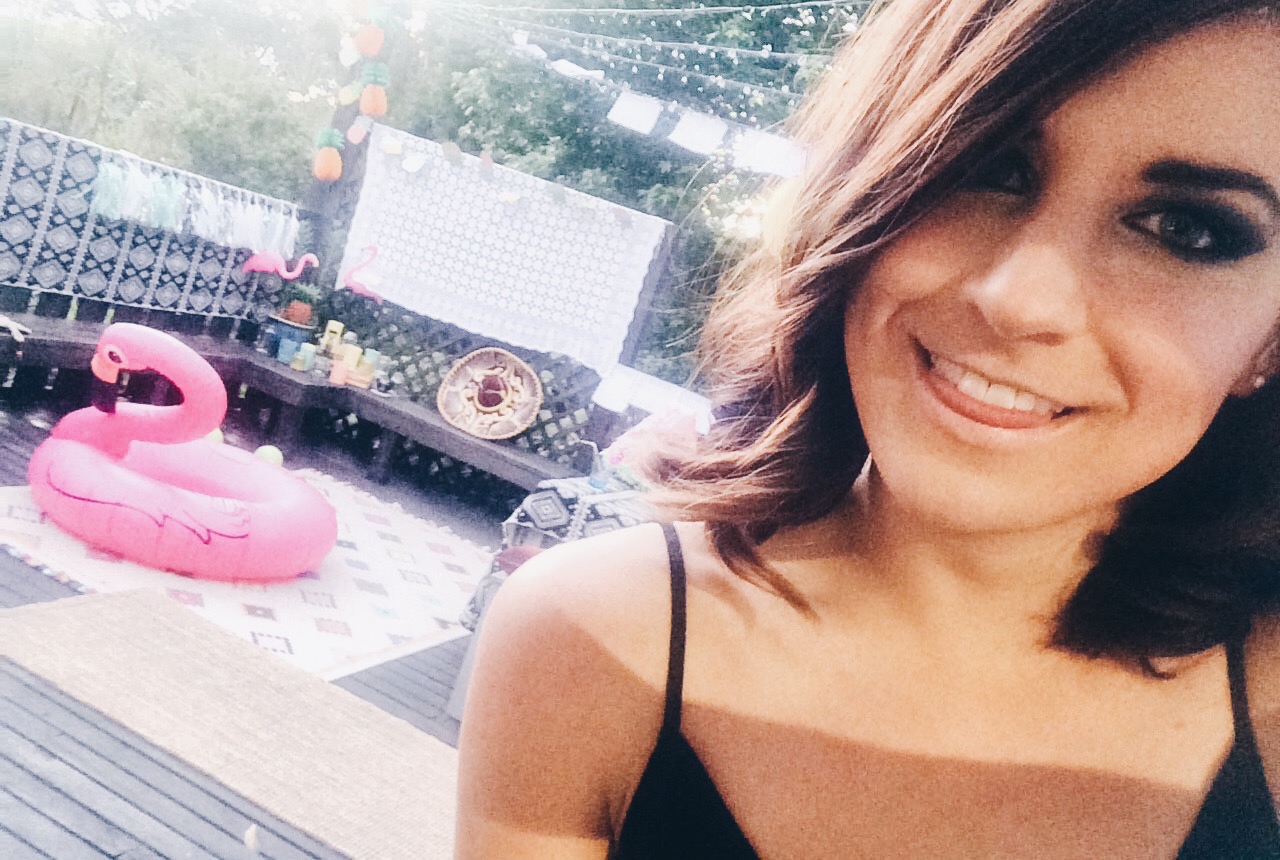 [line]
AFTER PARTY
[line]
So once we had eaten all of the food, been pampered, played all of our silly games and so on and so fourth we ventured out to the city. It was kinda late (9pm) so the restaurants were kind of wrapping up their dinners – we got squeezed into a cheap and careful curry house who wanted us out in 45 minutes. Challenge accepted!
After we were fed AGAIN, we KARAOKED! We all sung badly along to the terrible but phenomenal pop songs of our youth – think TLC, BSB, Brittney, Blur, Weezer, etc etc.
After an hour or so of Karaoke it was about 12am – as mentioned I'm 29 and therefore a lot of my friends are married with kids! After a stellar effort on their parts, it was time for most of them to go home to tend to babysitters and whatnot.
Three of us were left. As I have been in Melbourne the last 4 years I knew this was probably one of the rare chances I would be able to have both my buds out. So we took full advantage of the rest of the night. After hustling a free bike ride around the city (it's her hens!) and completing the list of embarrassing things the hen must do, we headed to Ponsonby.
We ended up at some bar/club where we stayed until 3am closing. On the d-floor young men were baffled that we were 29 and accused us of lying – apparently we looked 24. Thank you Leo, Shannon & Chetan! Now I'm not sure if that is their line for reeling in the cougars but I'll take it.
Of course after we got kicked out we were still pretty energetic, so we went to good old Burger Fuel to share some cheeky kumera fries. I was pretty proud arriving home at 5am where the three of us had a cute sleep over.
Epic hen's night completed.
Did I mention that of course I did this all sober? Fun is a state of mind lovers.
Until next time
Xx Cat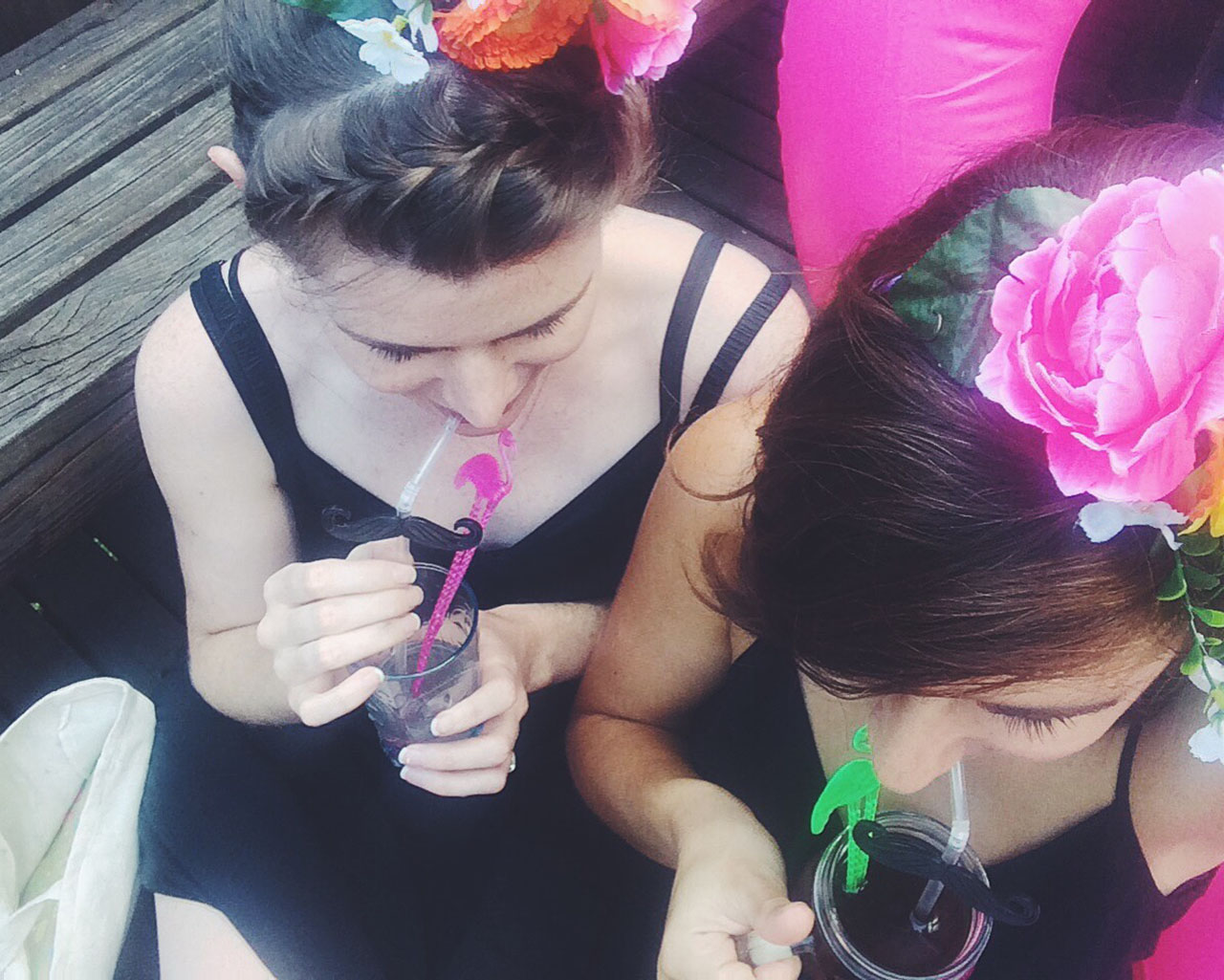 THANKS A LOT TO OUR GENEROUS FRIENDS & SPONSORS:
Kate Alexander of Places and Graces – Event Styling
Website, Instagram & Facebook.
Annie O Botanical Stylist – Flower Crowns
Website & Facebook
Phone: +61 21 36 3656
Address: Auckland . New Zealand . International
Chetan Mongia Hair
Facebook  & Instagram
Phone: +64 21 0876 3205
Address: 442, New North Road, Kingsland, Auckland, New Zealand 1042
Shannon Bunn's Hair & Makeup
Instagram
Phone: +64 21 117 5139
Strike a Pose – Life Drawing
Website & Facebook.
She Lives Cruetly Free – Goodie Bags
Website, Instagram & Facebook.