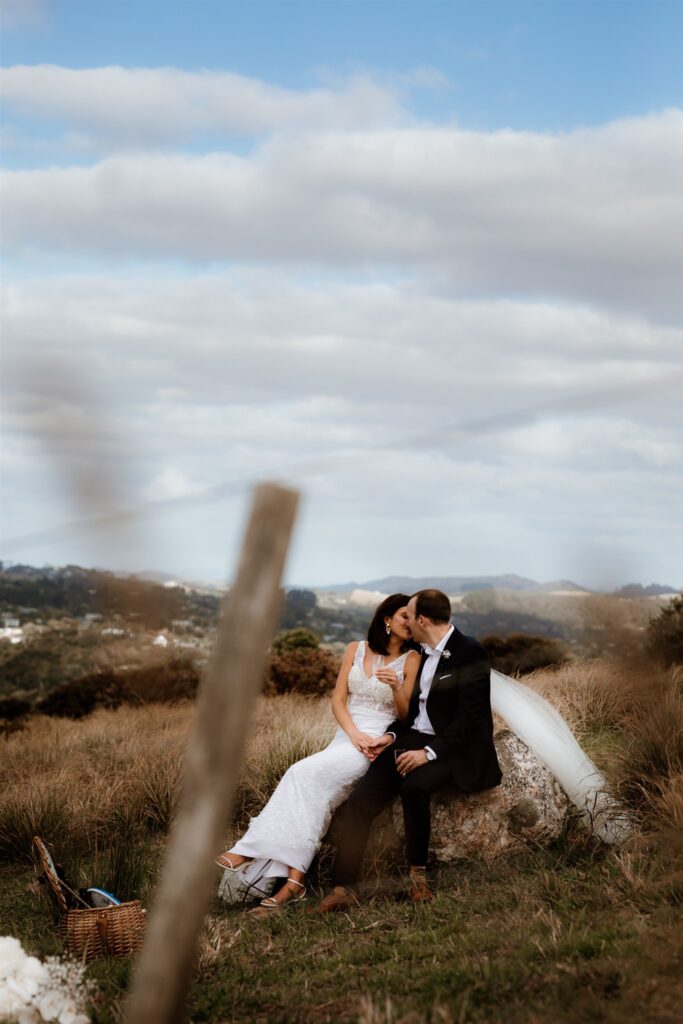 We met on a blind date during the summer of 2016. Charles as a teacher was on school holidays and Catalina just landed back in Auckland after an eight-month overseas adventure and living in Australia for five years.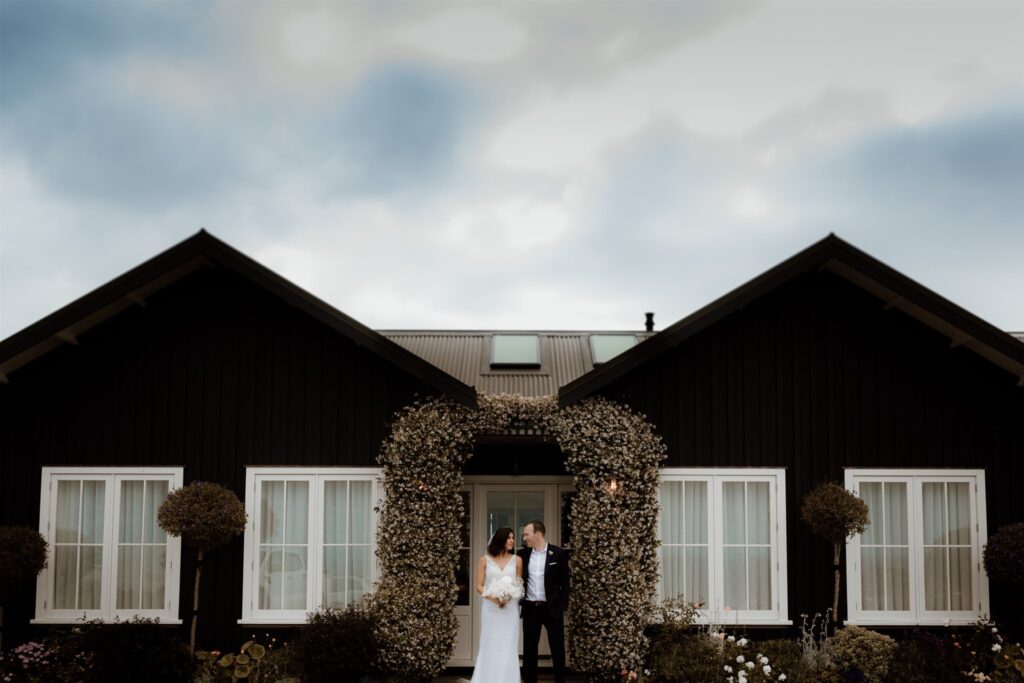 Based on book-value, Charles being a Grammar Boy wasn't Catalina's natural "type". In fact, Catalina even said to Charles at some point "I'm not looking for anything serious, I need to move back to Australia". This laissez-faire attitude seemed to suit Charles just fine.
However, the first date lasted six hours and ended with Charles walking Catalina to her door. After Charles snuck a very gentlemanly first kiss at the front door, Catalina wondered if she should have considered Grammar Boys sooner.
Three months later Charles and Catalina boarded a plane to Sydney and the rest is history!
Charles proposed in August 2020, and because we wanted a summer wedding and didn't want to wait over a year, we decided to get married four months later in December.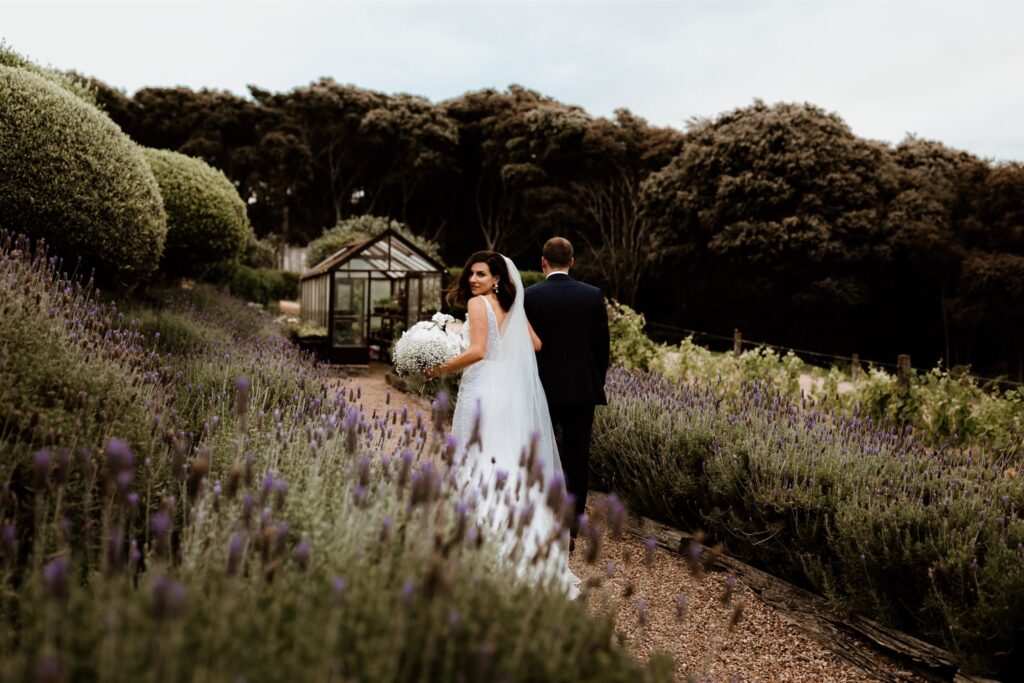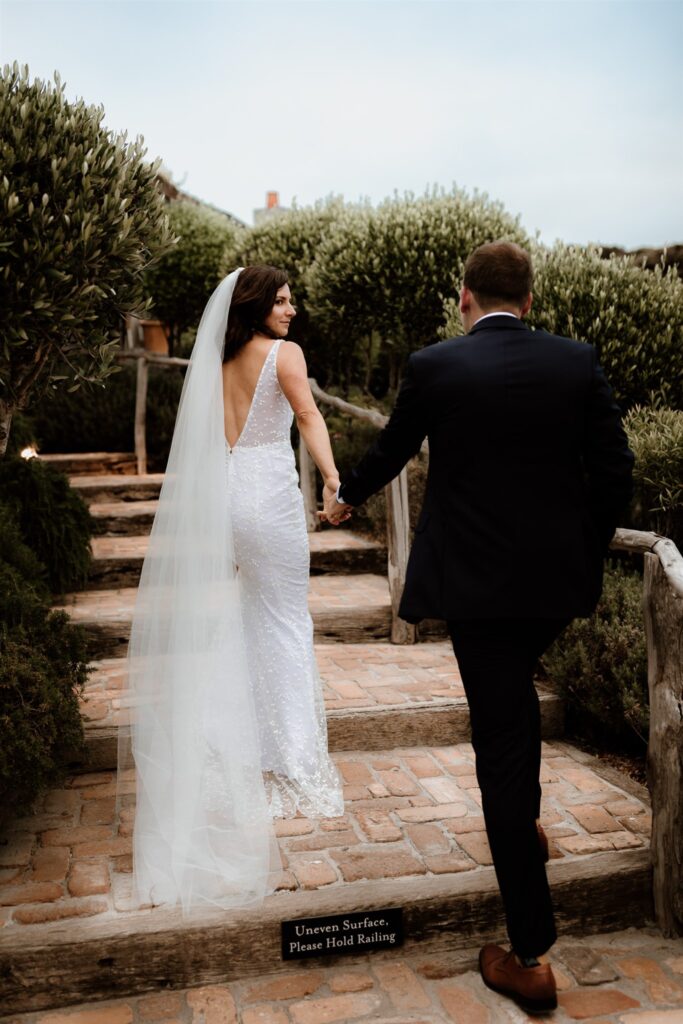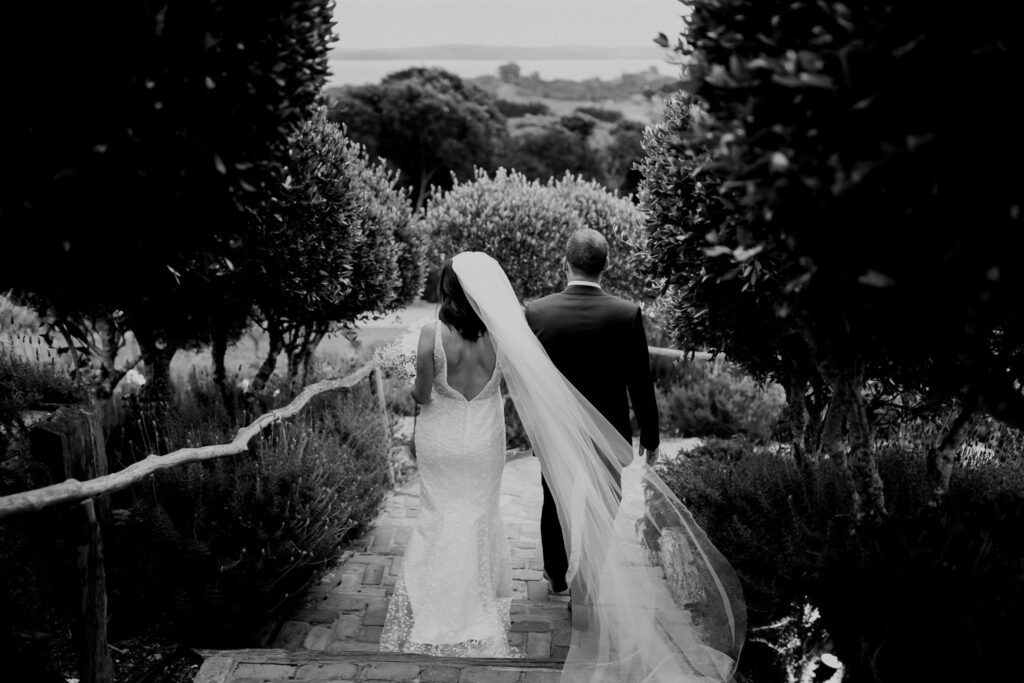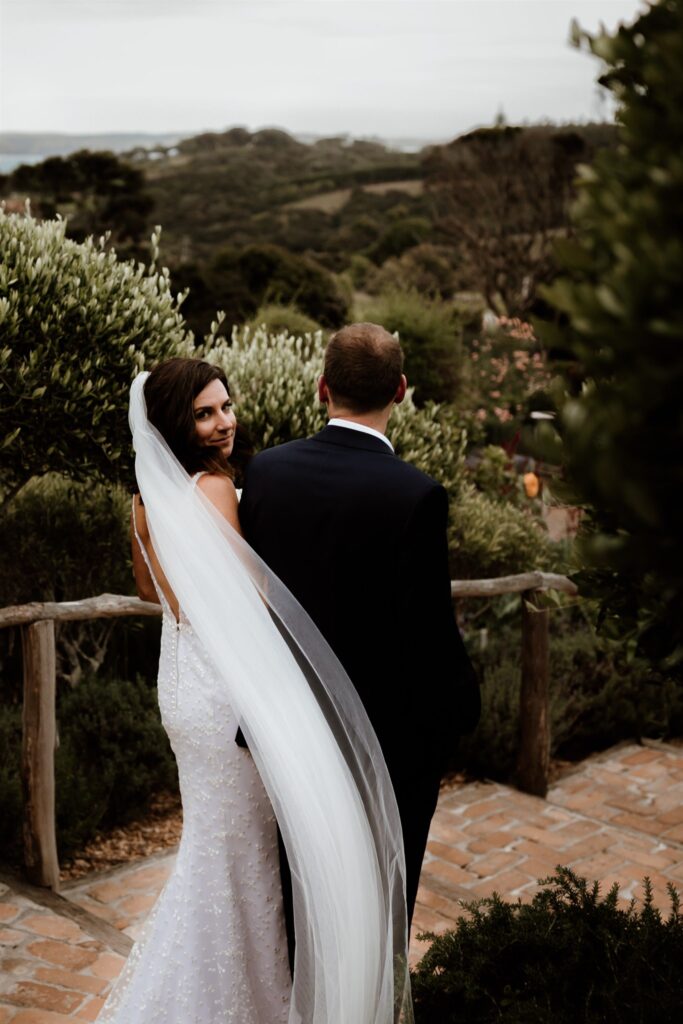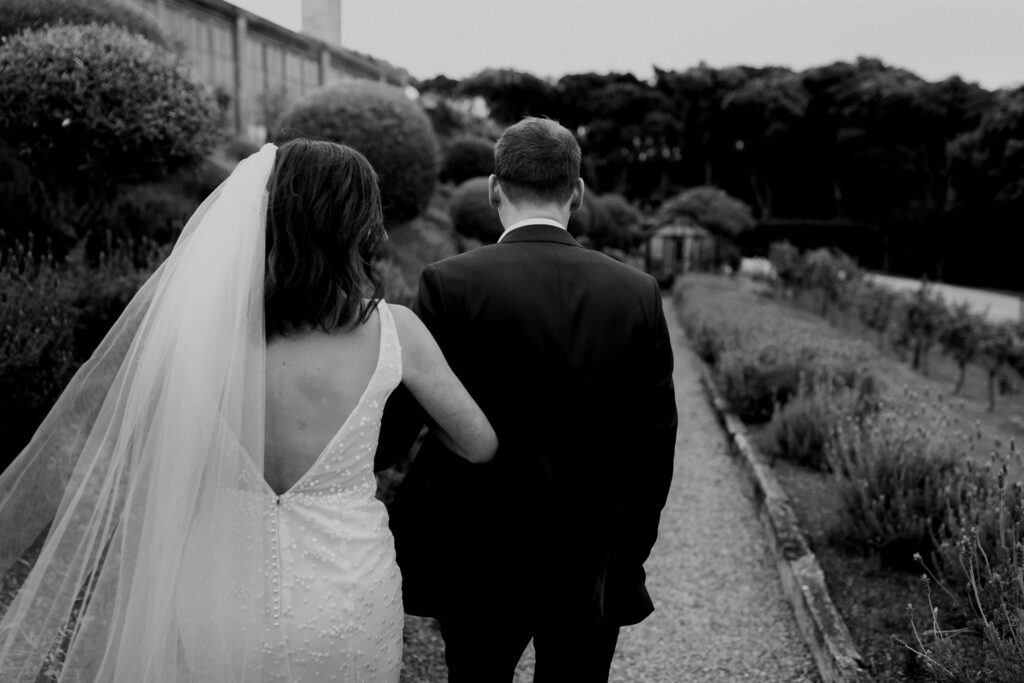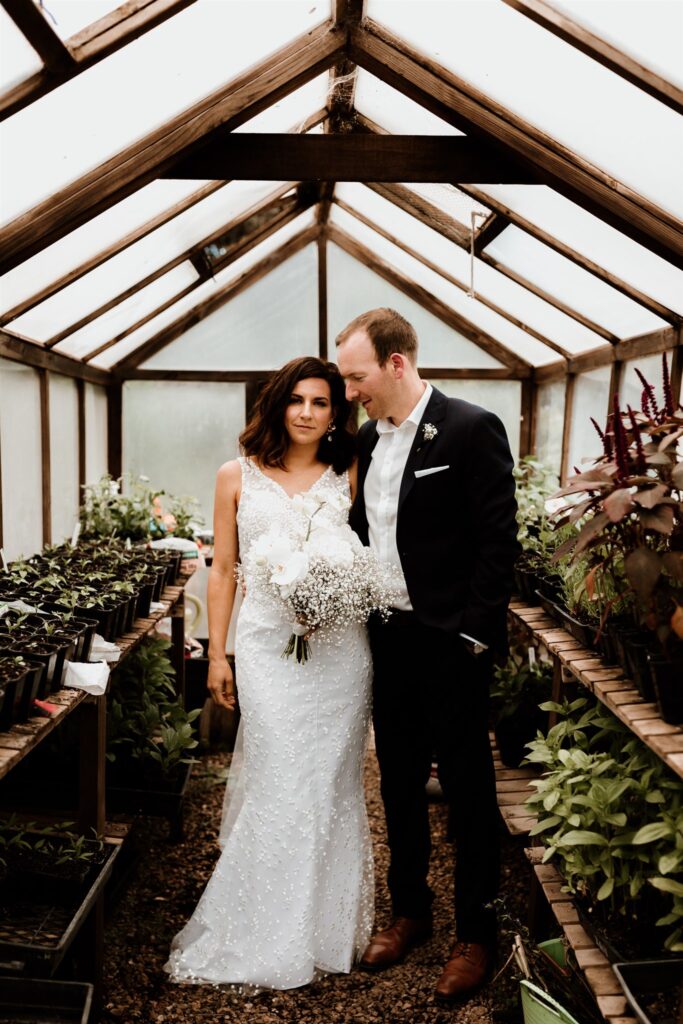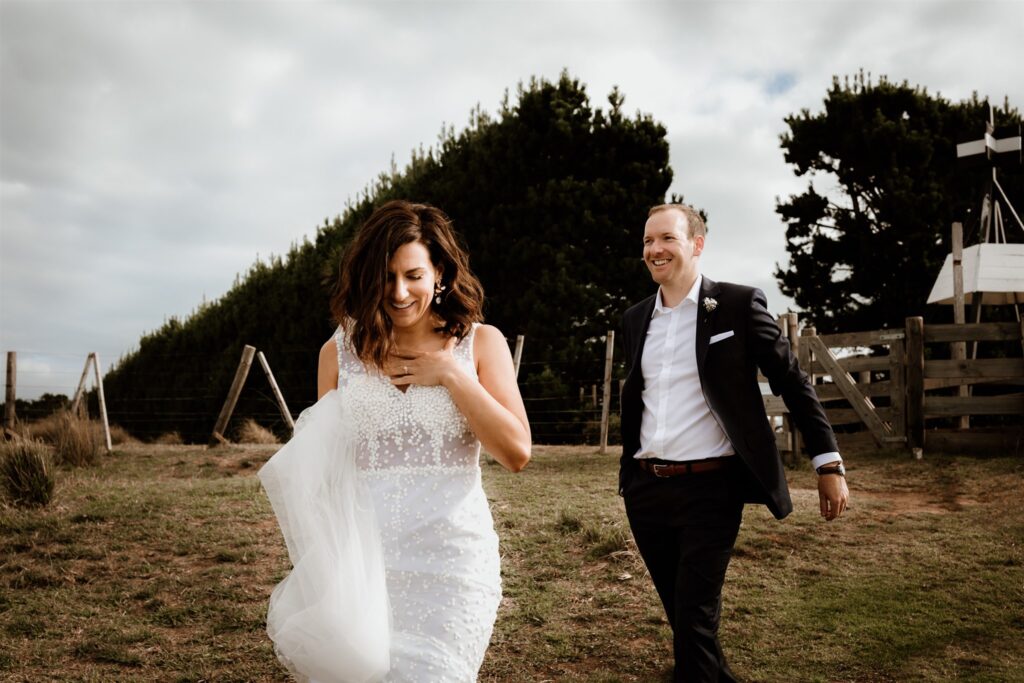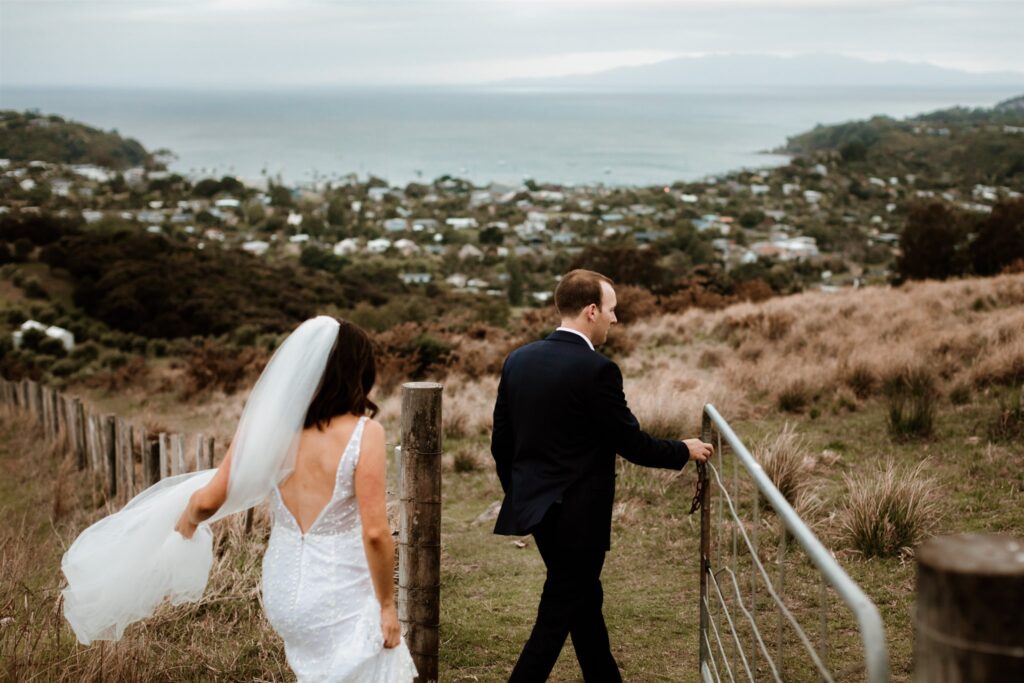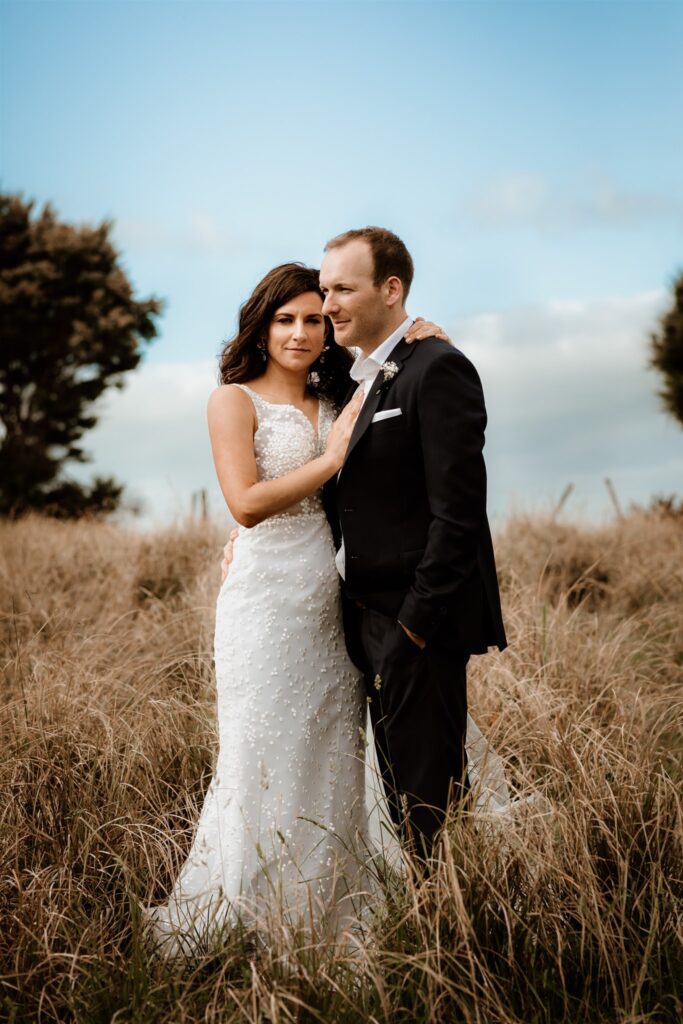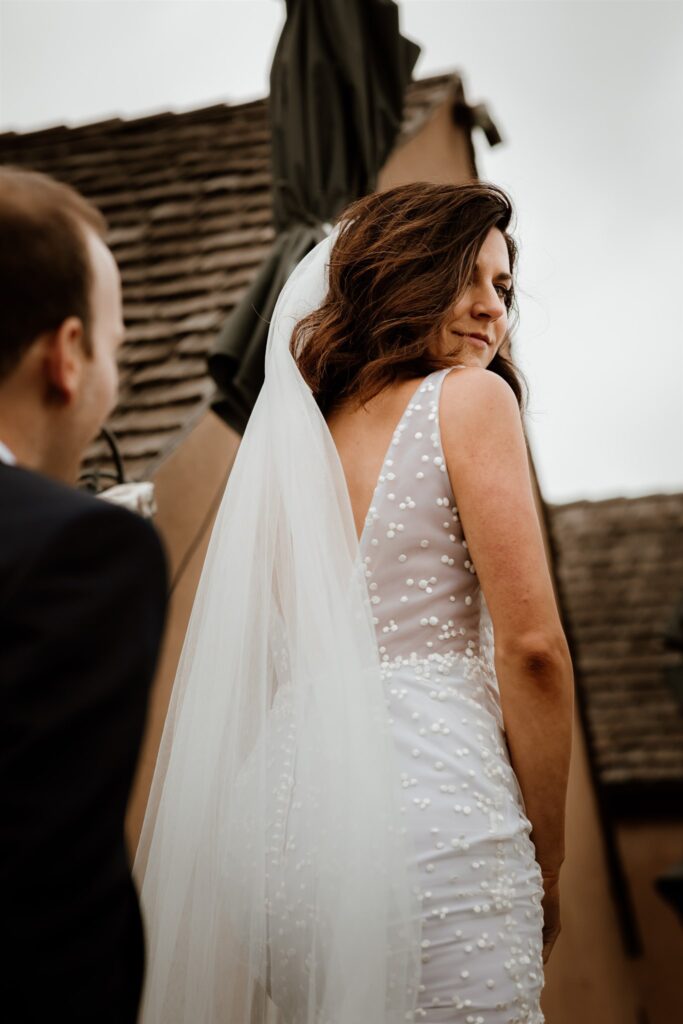 Charles is Kiwi/English descent and Catalina is Kiwi/Spanish, so our beautiful and COVID-sized wedding was a mix of Spanish/European styling with modern Kiwi paired back simplicity. Think white, rustic cotton rag paper, linen napkins, single variety flowers, lots of texture plus Spanish words and traditions. Woven into the wedding were also the ideas of DIY, everyone helping out, keeping sustainability in mind as well as sticking to a very tight budget as we have also just bought our first house (and may or may not want a nice kitchen!) The wedding ceremony was at the intrinsically stunning Mudbrick lodge in Waiheke with the reception in the main restaurant's mezzanine.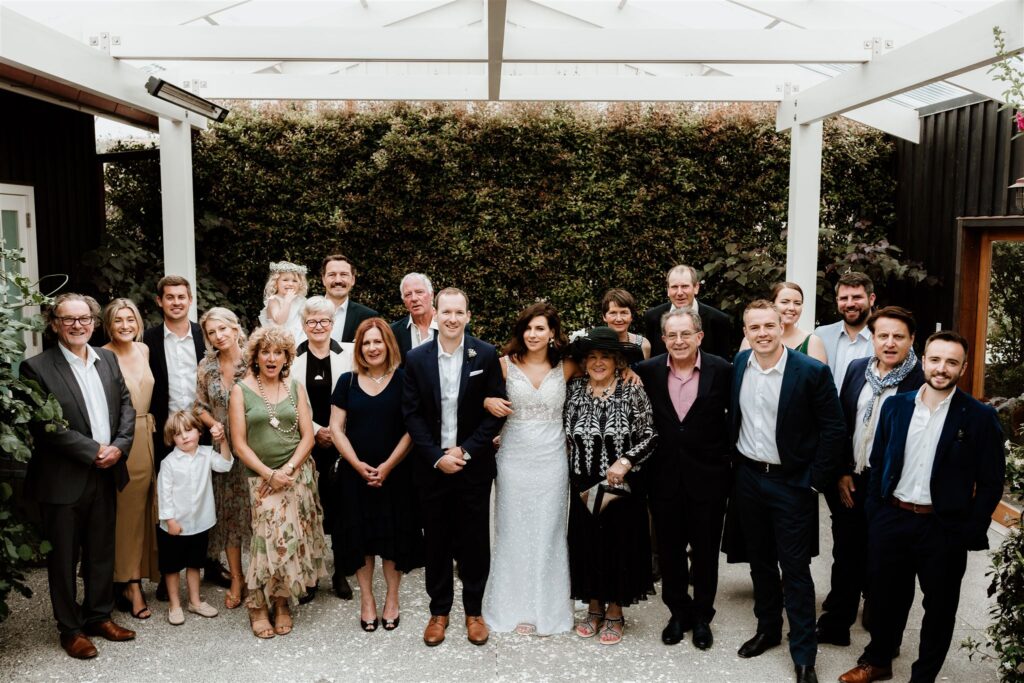 Due to COVID Catalina's best friend being in Australia and unable to attend so we decided to have it family only with no bridal party and have a party when the borders open up again – so it was a micro-wedding only 20 guests. Additionally, the Mezzanine at Mudbrick can only fit a maximum of 22 people, so it seemed meant to be! For those we couldn't invite, we shared a link to a YouTube live event – we are so glad we did as first it seemed a bit self-indulgent but afterwards it was clear it was a great way to connect and so many people appreciated being a part of our wedding even in a small way.
Catalina has run The Unimpossibles blog for many years and Charles' family business is the homeware store Leopold Hall, there was lots of inspiration to draw from. As the theme took shape, it became clear that the fewer elements the better which gave room for the good quality materials chosen to be centre stage.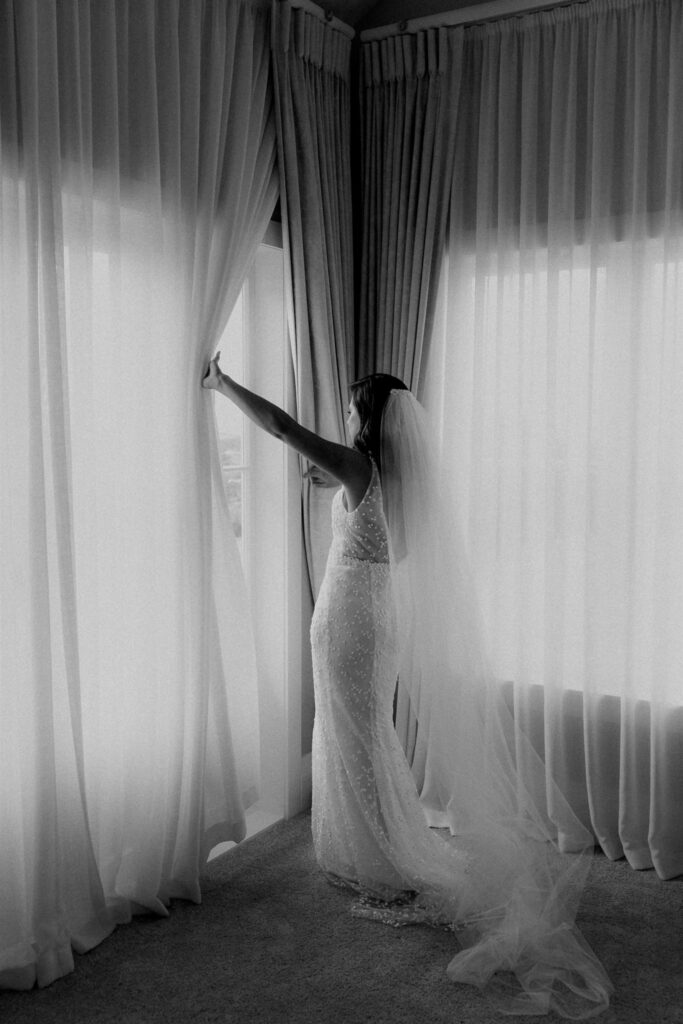 The first major design decision had to be the dress (of course!) as this set the look and feel for the whole wedding. Catalina's dress was actually made by her Abuela (grandmother) who for many years was a senior seamstress for the legendary Vinka Lucas of Maree de Maru (now known as Vinka Design). Originally, Abuela making the dress was out of the question as it can be quite a big operation for a woman in her 80's. But after Catalina tried on 10 or so dresses, Abuela had had enough and thought she could do a better job (not to mention help us keep the costs down)! The end result was so beautiful, fitted perfectly and made for a very special now heirloom garment.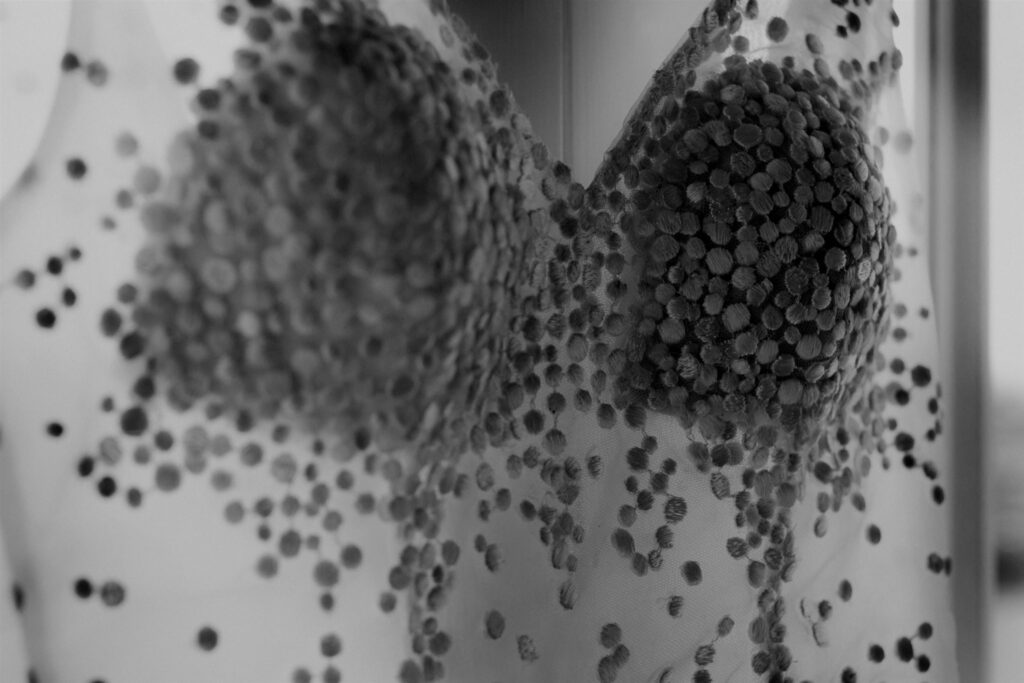 The inspiration for the dress centred around a hail spot print fabric seen in a bridal magazine. The hail spot fabric had a tulle base with semi-matt white spots embroidered randomly creating a more casual-cool feel than a heavy lace but still with some interest. It was hard to track down this fabric as it was from a special manufacturer in Europe. After emailing every fabric store in New Zealand, Elizabeth Jayne Bridal, a fabric store which owner Karen runs out of her downstairs room in Browns Bay was the only supplier and had exactly 3.8m left – just enough!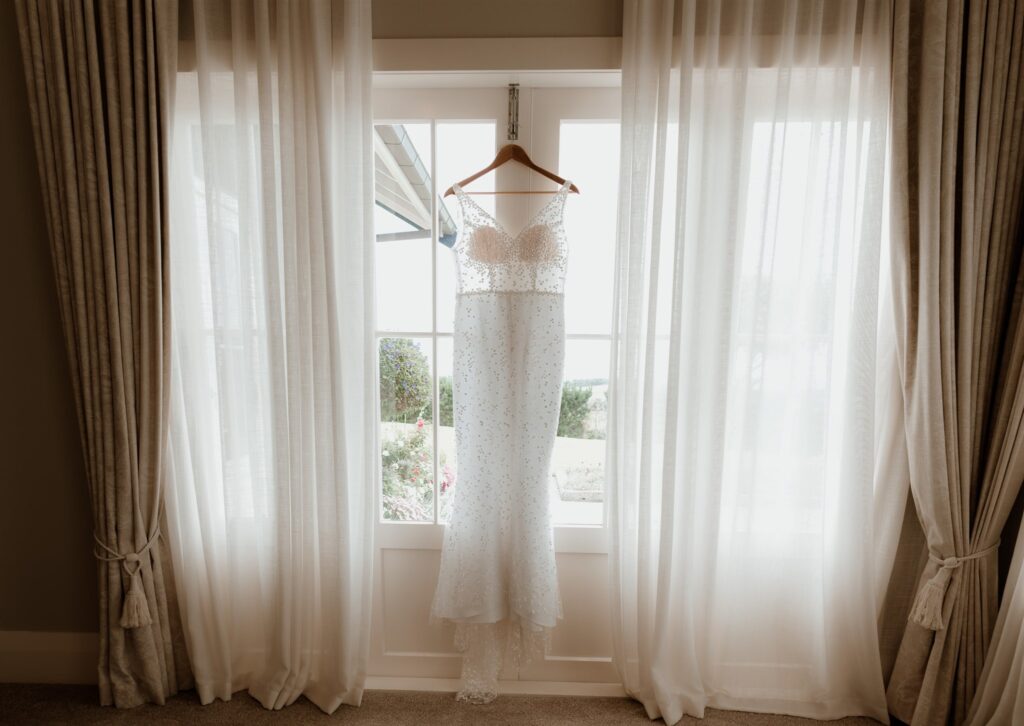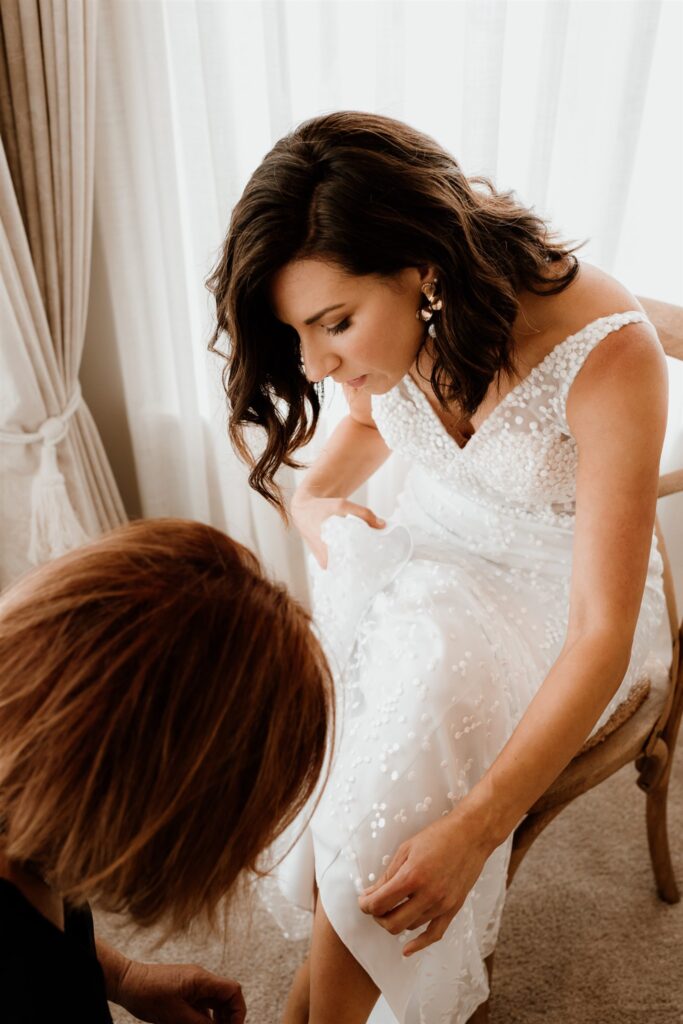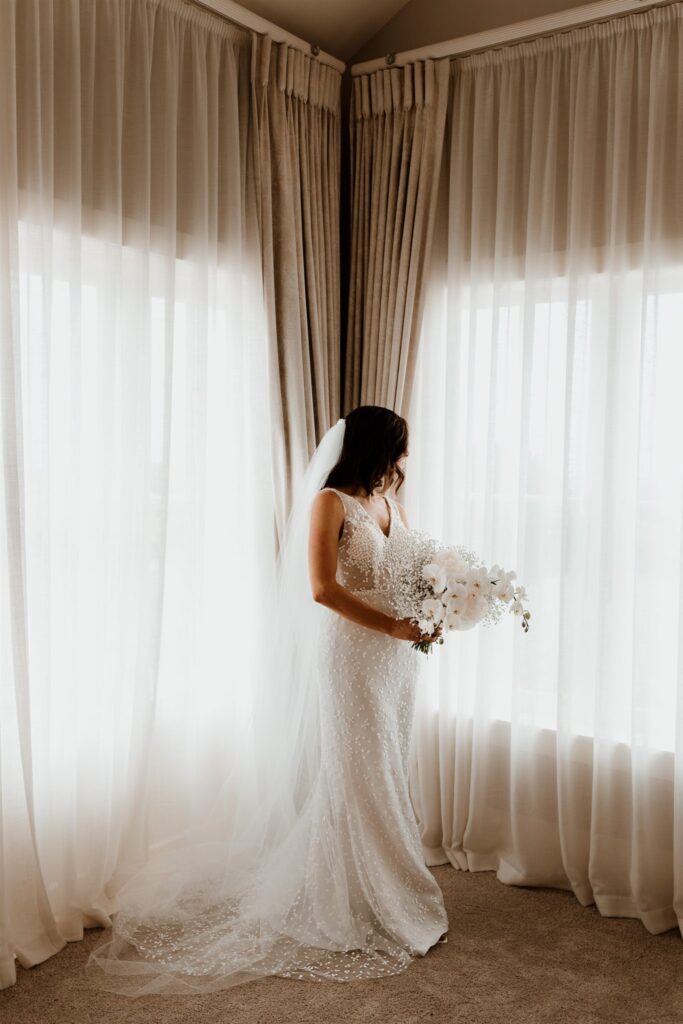 The pattern for the dress was adapted from an old Vogue Bride pattern from the 1980s. The fitted bodice had deep v's both front and back which Abuela applique hundreds of hand-cut spots to create coverage over the bust. The bottom half of the dress had a dramatic fishtail where the hail spot fabrics went further than the underskirt and had an unfinished hem. Abuela also made the 2.7m length cathedral veil. As Abuela had the under-skirt fabric, zips, buttons and a hair comb for the veil at home, only the hail spot tulle and veil fabric needed to be purchased – all up it only cost an incredible $450.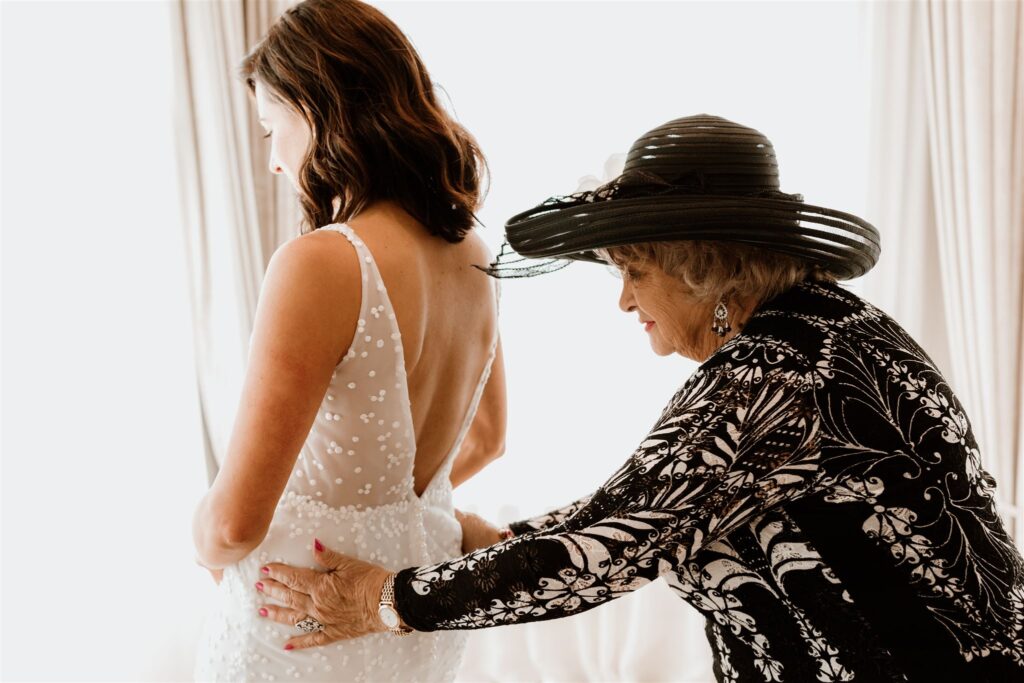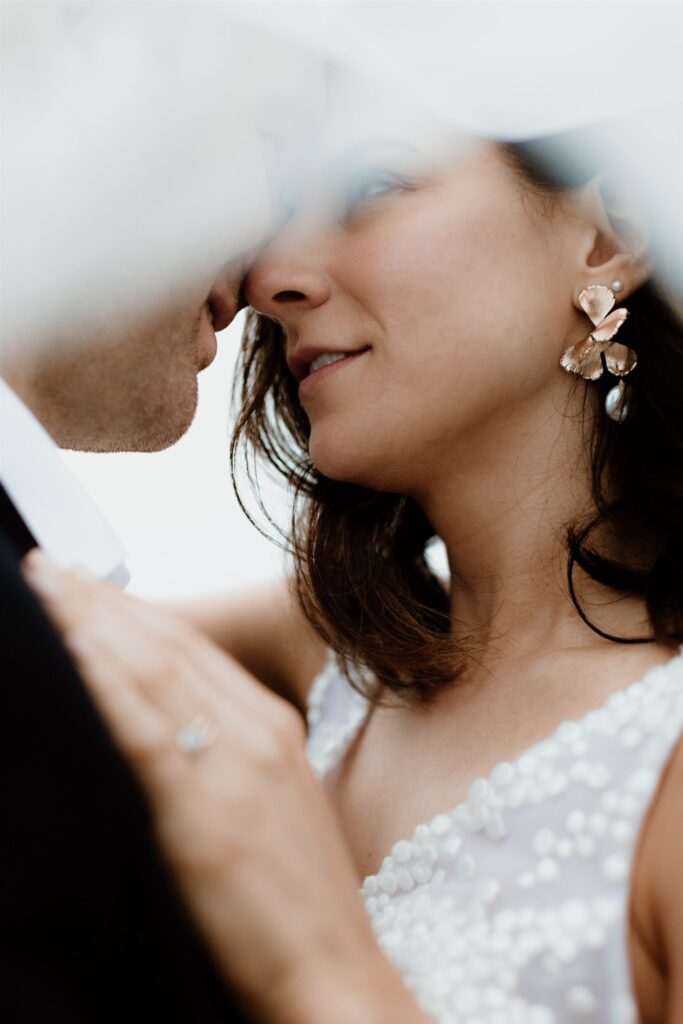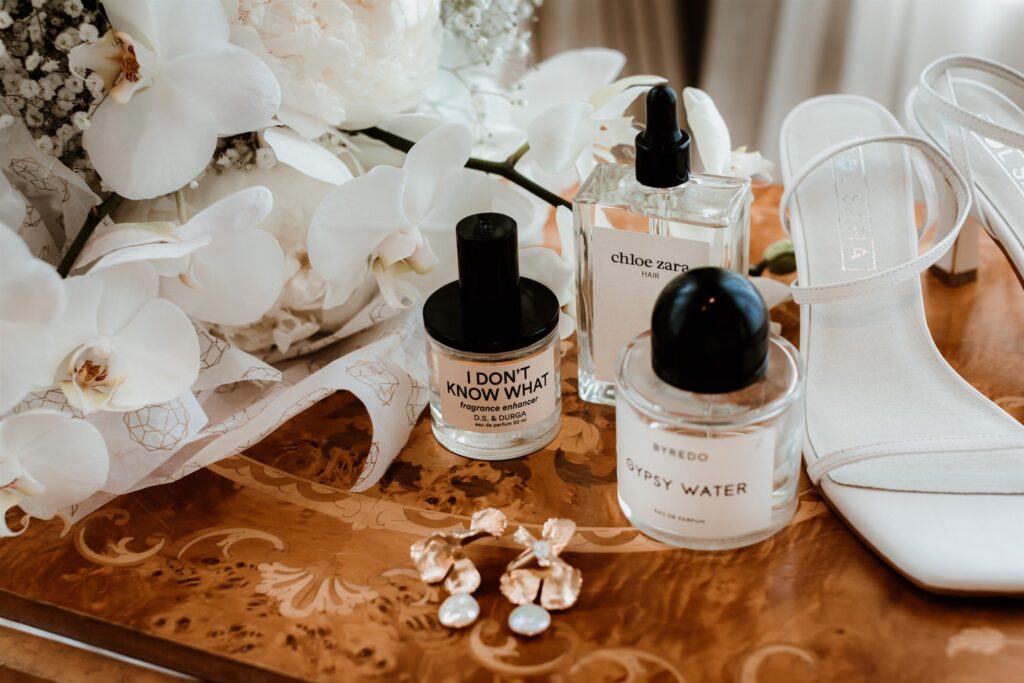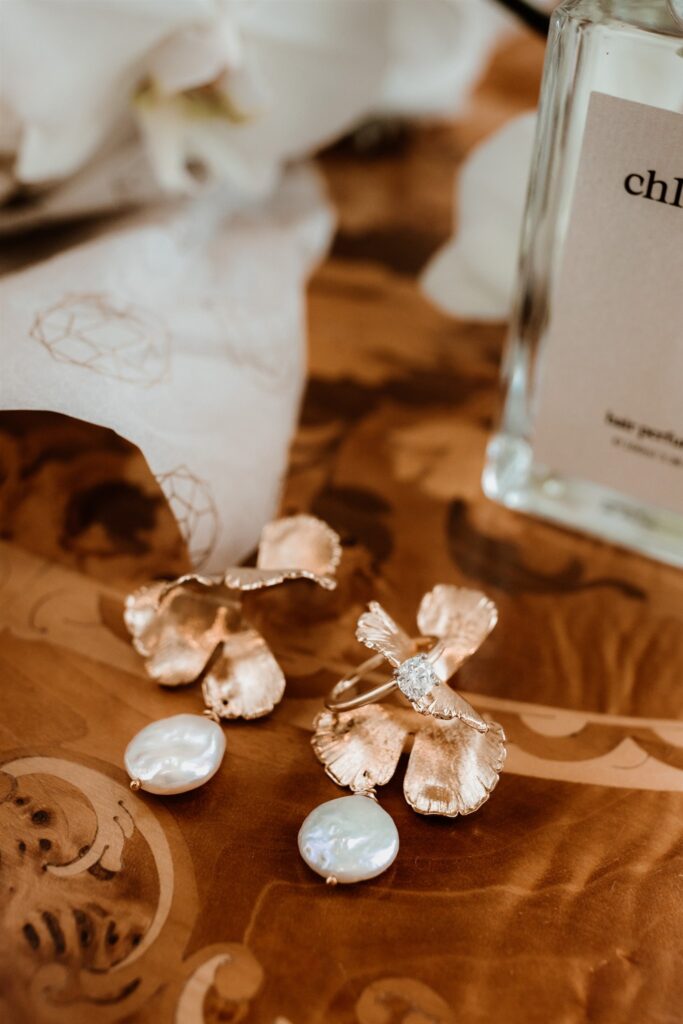 Catalina's outfit was completed with Sol Sana heels purchased from TheMarket.com, earrings from Maison Sabben, fragrance by D.S. & Duga and hair perfume from Chloe Zara Hair. The paired-back natural makeup look was done by the amazing Beauty by Alexandra and hair done by the incredible Chloe Zara who unfortunately doesn't do weddings anymore – but is a fabulous hairdresser and has a beautiful new haircare range. The bouquet had a Gypsophila base with white orchids and peony's as highlights.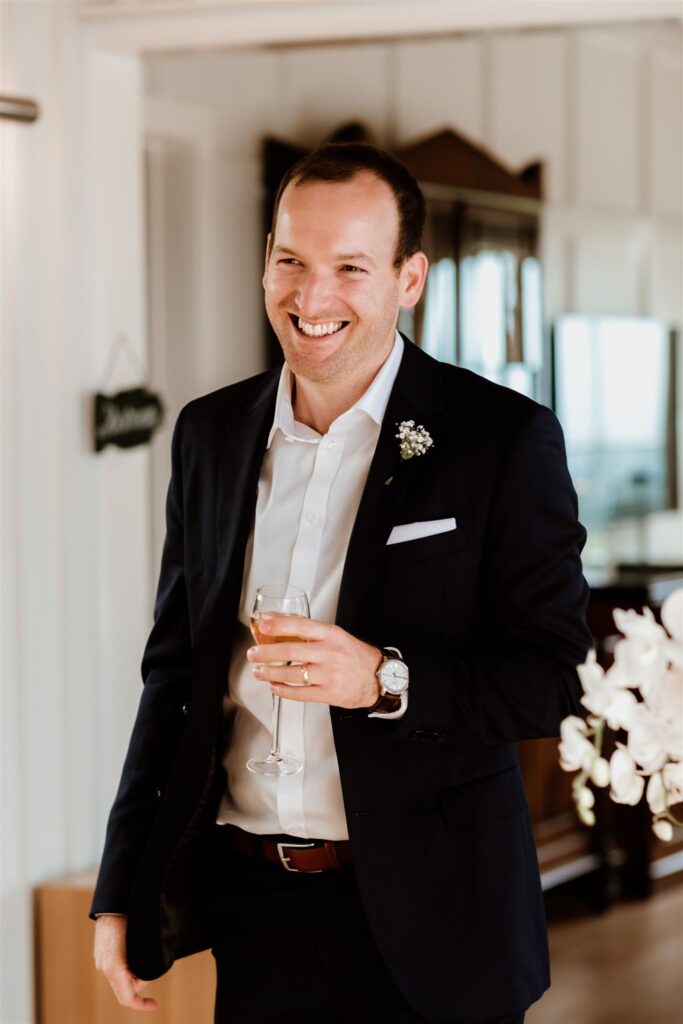 Charles wore a navy tailored Country Road suit and a white shirt. As being formal isn't really our style, Charles wore no tie, but opted for a straight fold pocket square and a Gypsophila boutonnière.
All of the rings were custom made from Walker & Hall – the inspiration was fine, slim, delicate, contemporary, understated luxury. Nothing too pretentious or over the top but focusing on the best quality materials we could afford in our price range.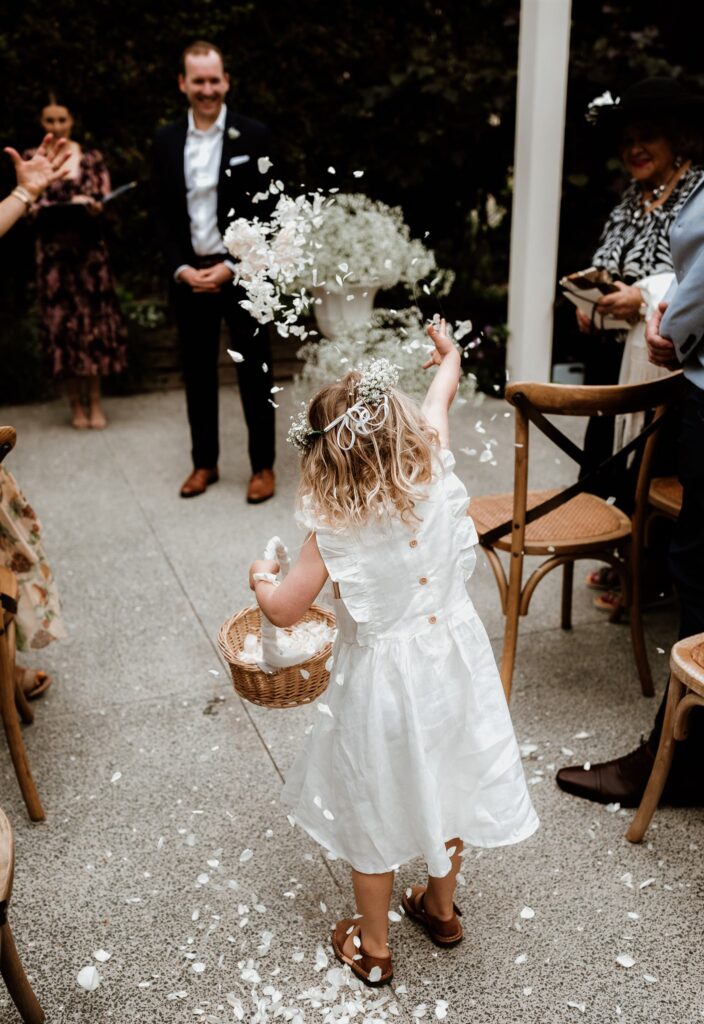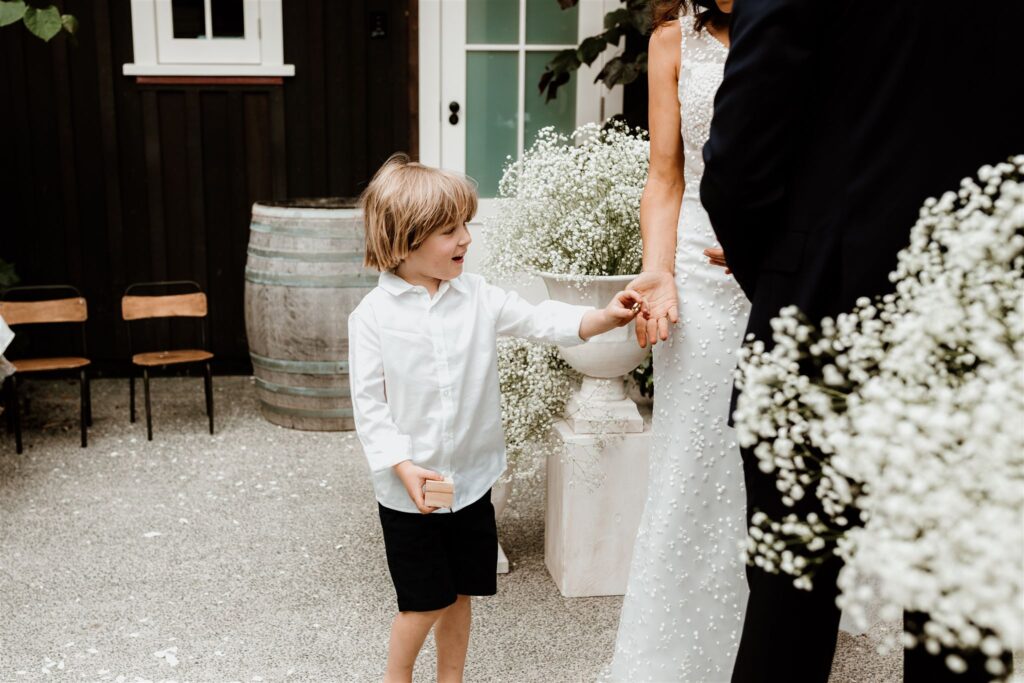 The flower girl, Florence, wore a Blue Daisy white linen dress, tan shoes, a Gypsophila flower crown and held a flower basket with white wide frayed silk woven around the handle. The ring bearer, Oscar, wore navy shorts and a white shirt from Country Road and held the rings in a small wooden box.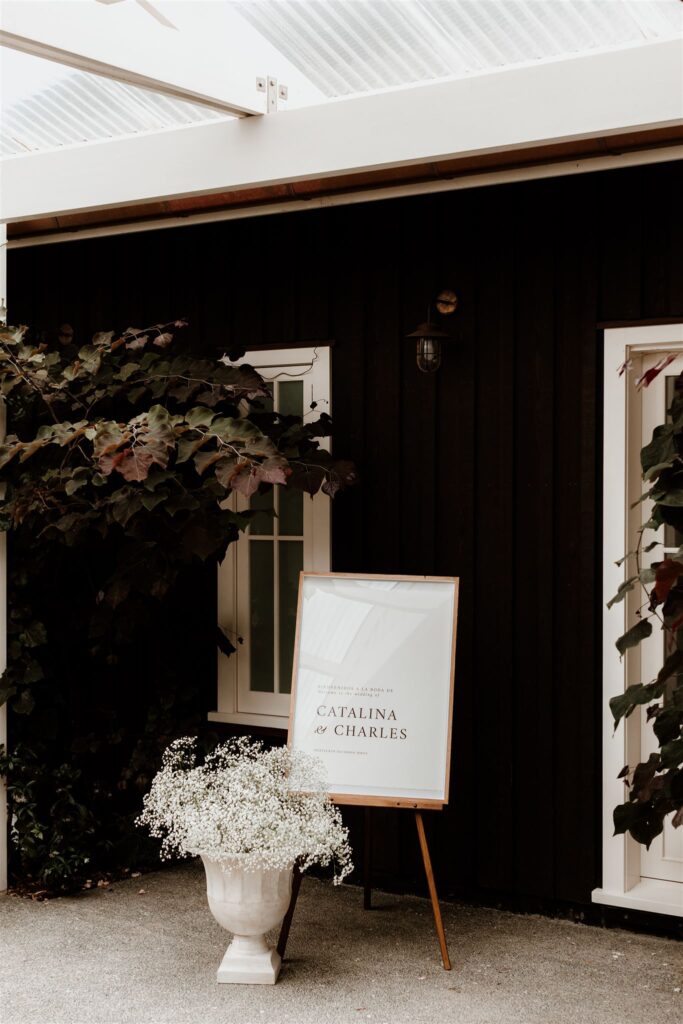 Styling for the event was a family affair with both sides pitching in. To be fair, we didn't need much as the Mudbrick lodge is such an incredible venue! Charles' mother, Elizabeth (Leopold Hall) custom made six stunning urns using white as a base then distressing them to give them an antique feel and provided Vienna Cross Back chairs. Catalina's mother sewed seven metres of white linen into two long tablecloths. Linen napkins were bought online from an Etsy store called WonderLinen and knotted. We DIYed the welcome sign on A2 deckle edge cotton rag paper and framed it in a Country Road frame which Charles stained to match the borrowed easel.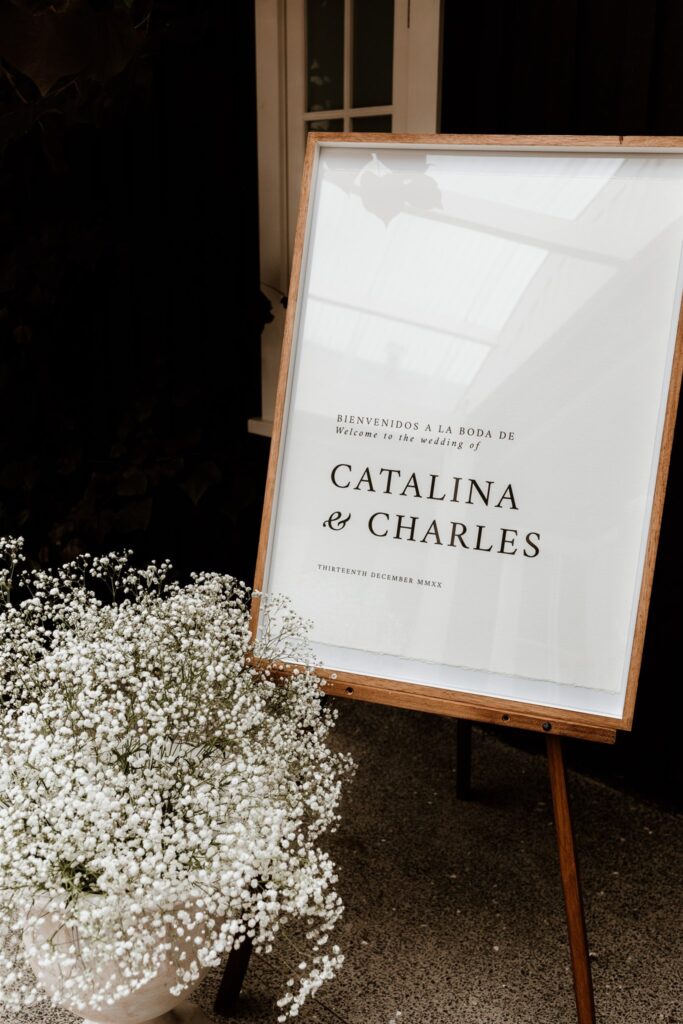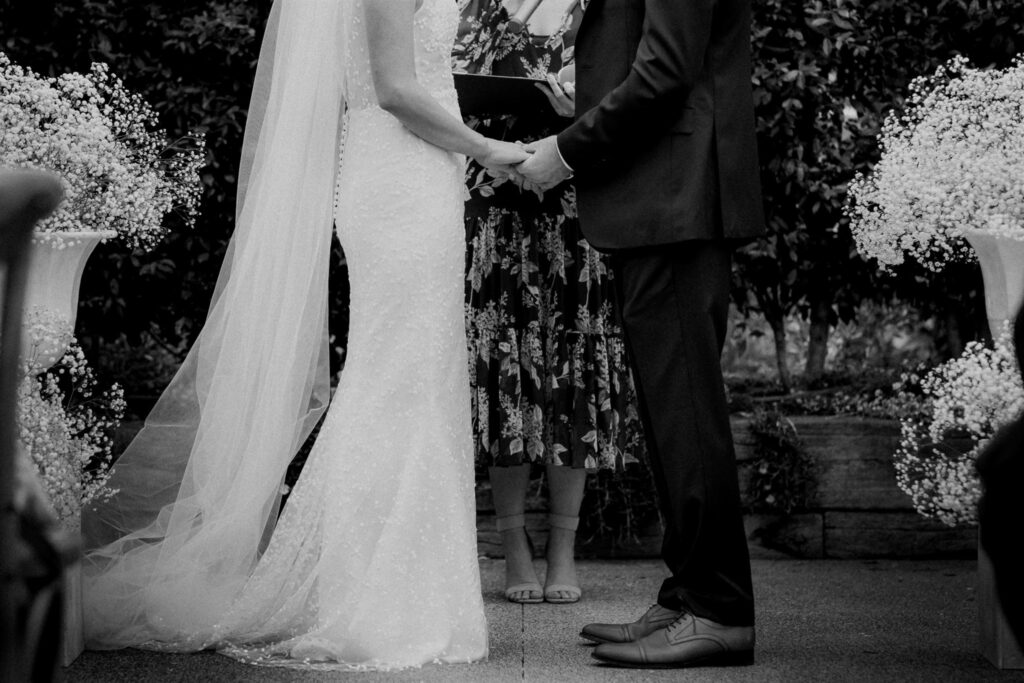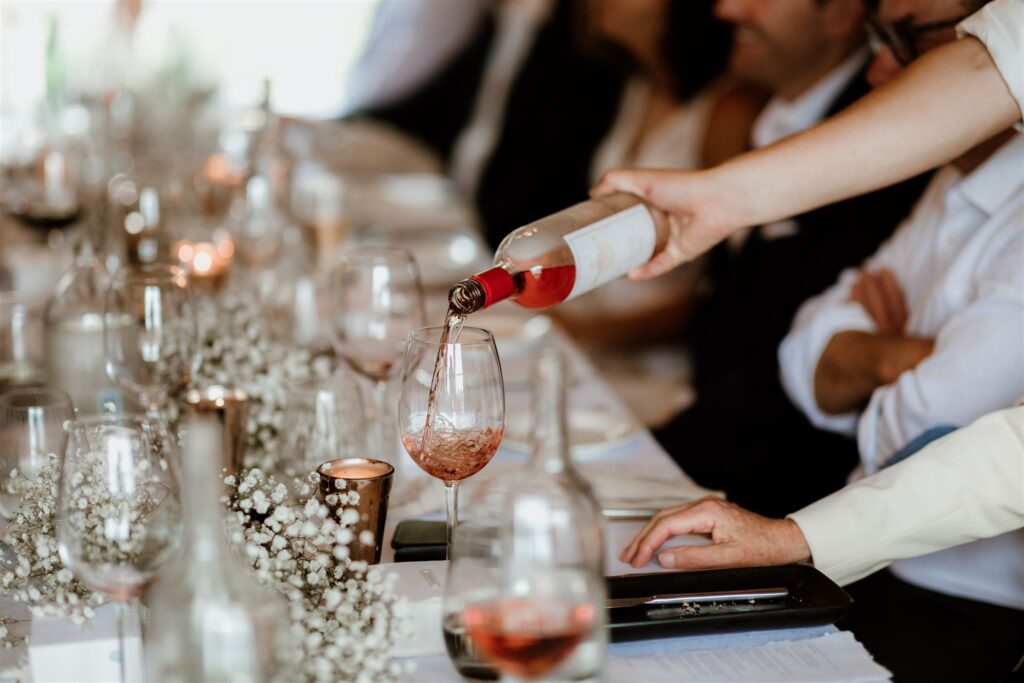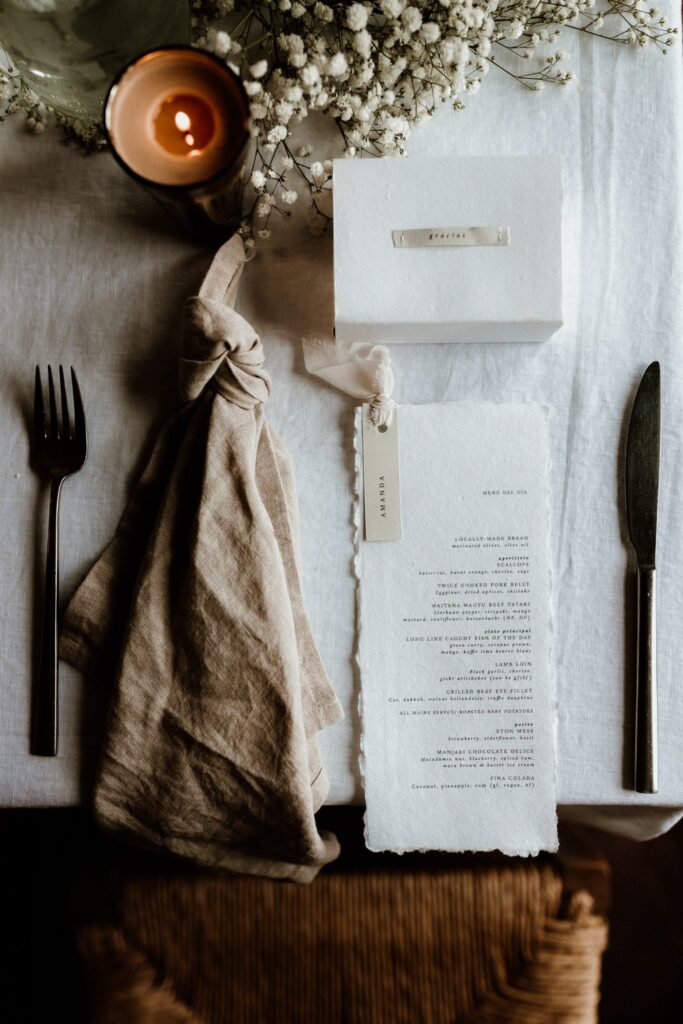 Charles' sister, Amanda Norwood, who is also a wedding stylist was absolutely amazing at pulling everything together by styling the tables and venue on the day. We were absolutely blown away by how beautiful it all looked.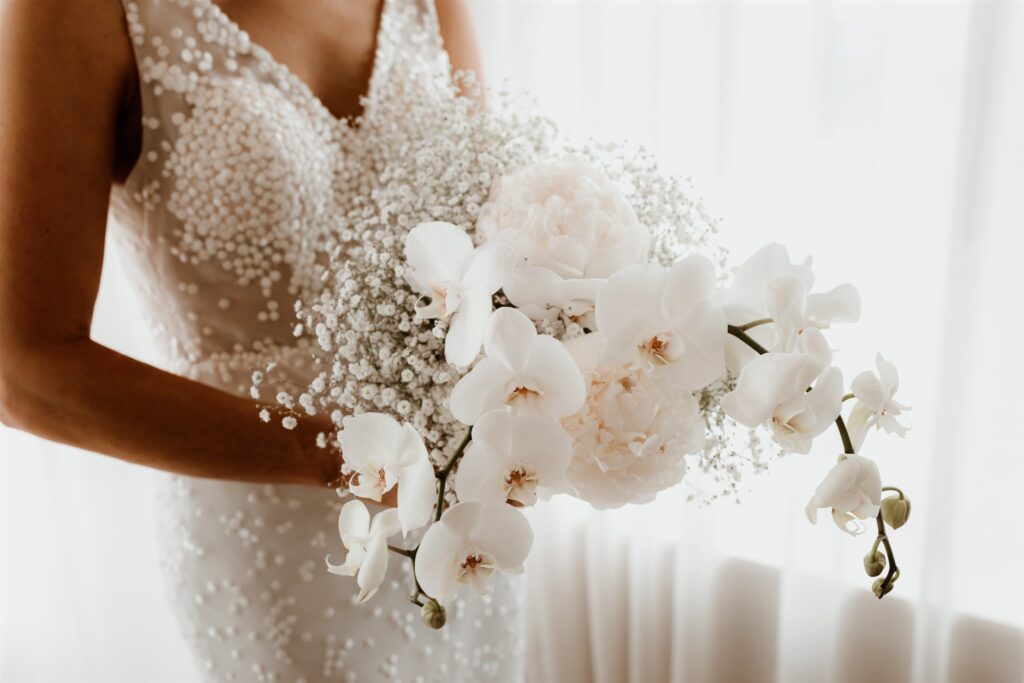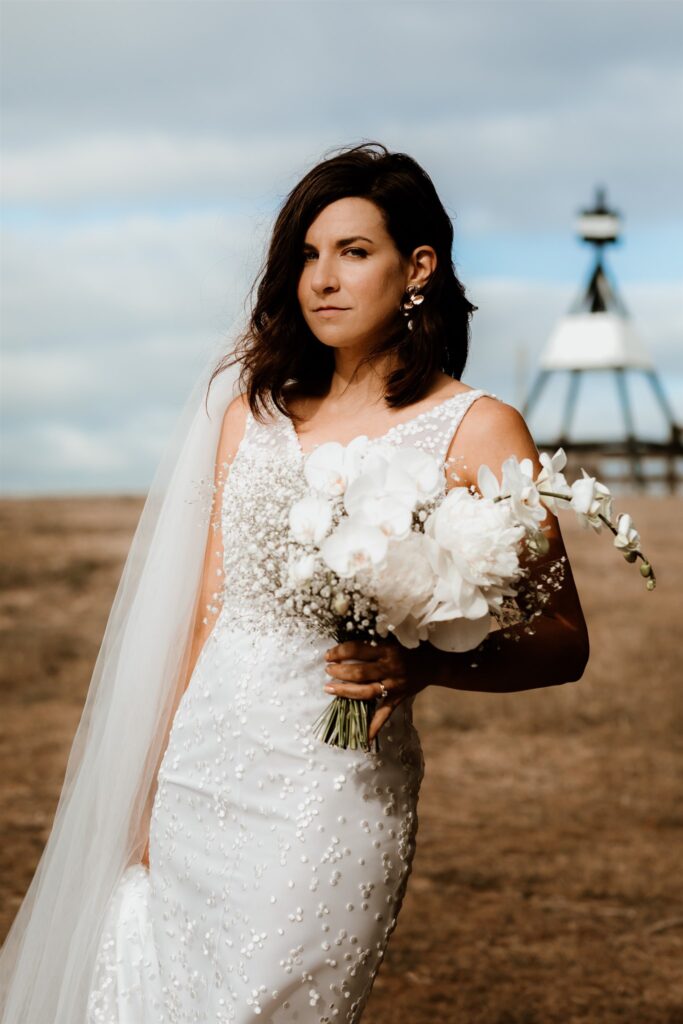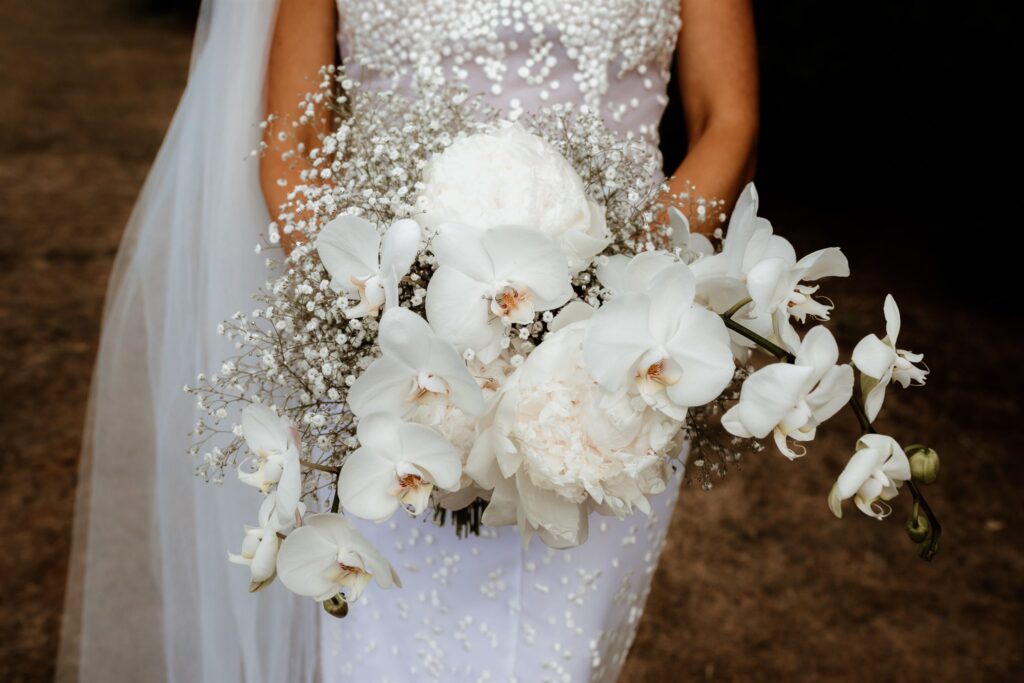 To keep down costs, we opted to DIY all the of flowers except for the bouquet, flower crown and bountineers which were all from Blush flowers. The dress had a lot going on already, and we loved the sculptural feel of a single variety such as Gypsophila. We literally bought 20 bunches of Gypsophila from Fresh Cut flowers at the flower market. The Gypsophila was arranged into big irregular clouds directly into the distressed urns by Amanda – the end result was dramatic but minimalist with hints of European attitude.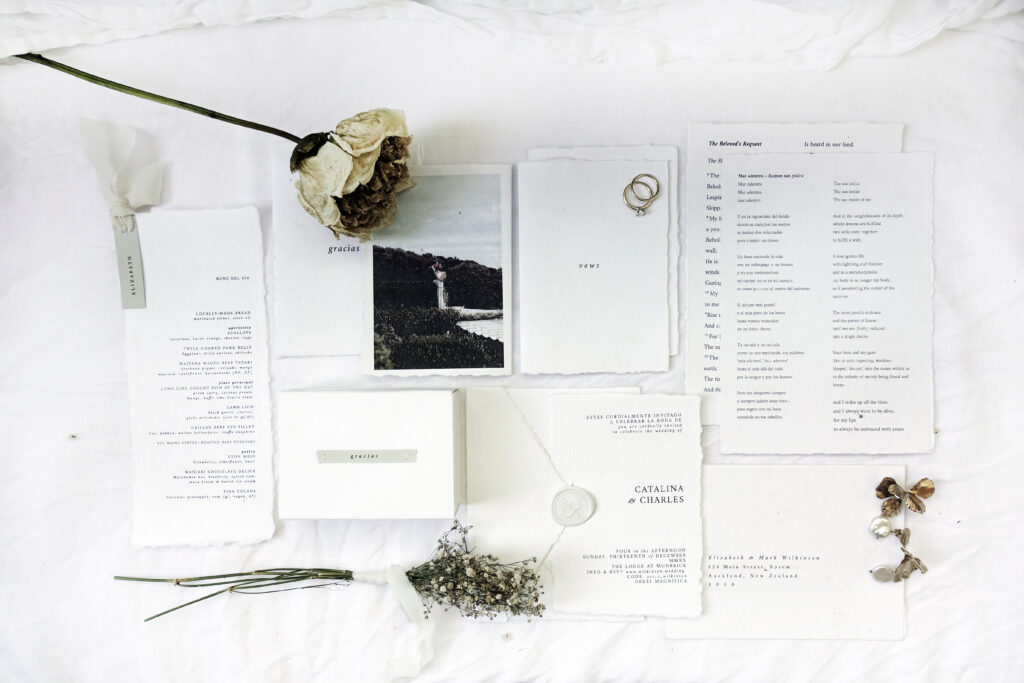 Additionally, Catalina DIYed all of the stationery including invitations, menus, place setting names, 'gracias' goodie boxes, vow booklets, reading cards, and thank you cards. Cotton rag paper was the base for all of the stationery and was bought from New Zealand based Feather & Stone. To keep paper usage down, we chose not to do the full suite of wedding stationery and used withjoy.com for things like the save the date, details, RSVP, schedule, and seating chart.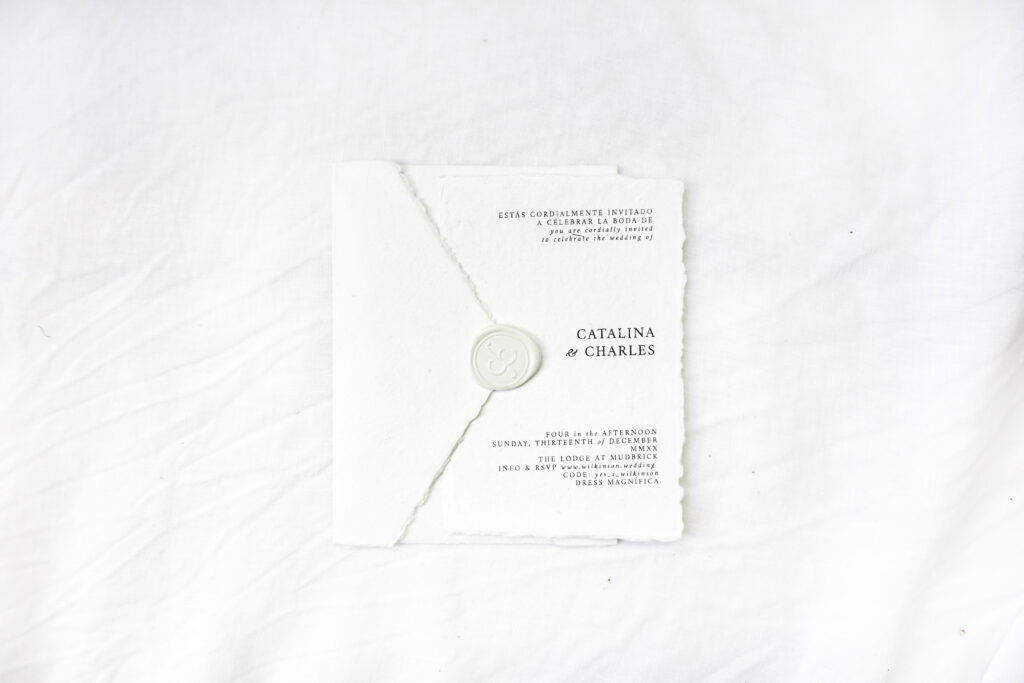 Being half Spanish meant that incorporating some Spanish words into the stationery was important to Catalina, but we didn't want to confuse English-only speaking guests (Including me! Funny story, Catalina doesn't actually speak Spanish – but she is taking classes this year!). We choose words that were common or could be easily inferred. For example, 'gracias' is known around the world as 'thank you' or 'menu del dia' (menu of the day) was on top of the menu so it was obvious what it meant. Using different languages made for a nice point of difference and also made for a conversation starter between the two families.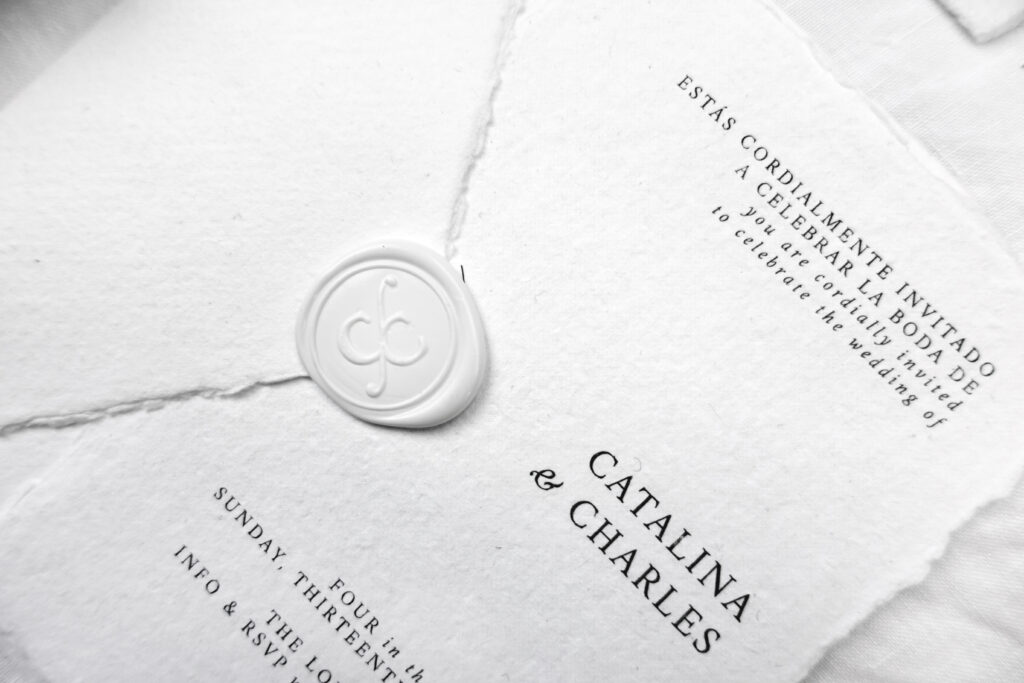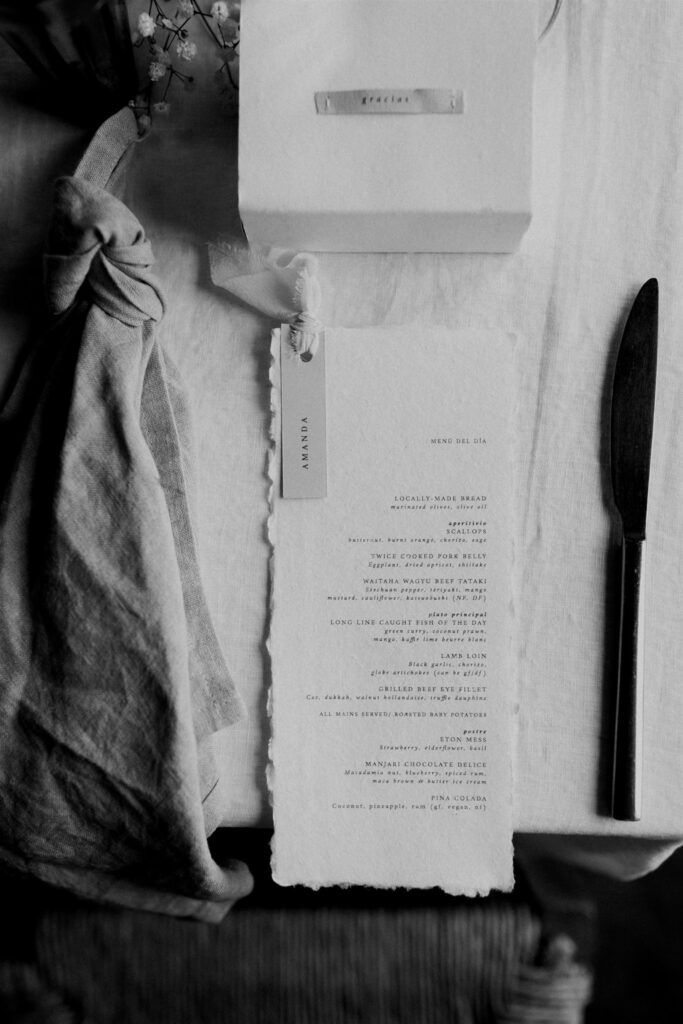 To complement the cotton rag, were additional textural elements in white. The frayed cotton-silk ribbons were from Tono & Co, the wax seals were made from a Stamptitude glue gun sealing kit using a wax sealer stamp ordered from AliExpress featuring a CC logo that Catalina designed. The fonts and typography were adapted from a downloaded Victoria Wedding Suite by Papier D'Amour. We also got custom NZ post stamps made using the same logo from the wax seals. See the full rundown of How I DIYed my 'Boujee on a Budget' Wedding.
To recycle, we plan on using the tablecloth and napkins as well as printing something on the back of the sign to have as art in our new home. Gypsophila also dries well so we have been able to dry and keep most of it in one of the urns. The other urns have gone for sale at Leopold Hall – we would really love to see someone else use them.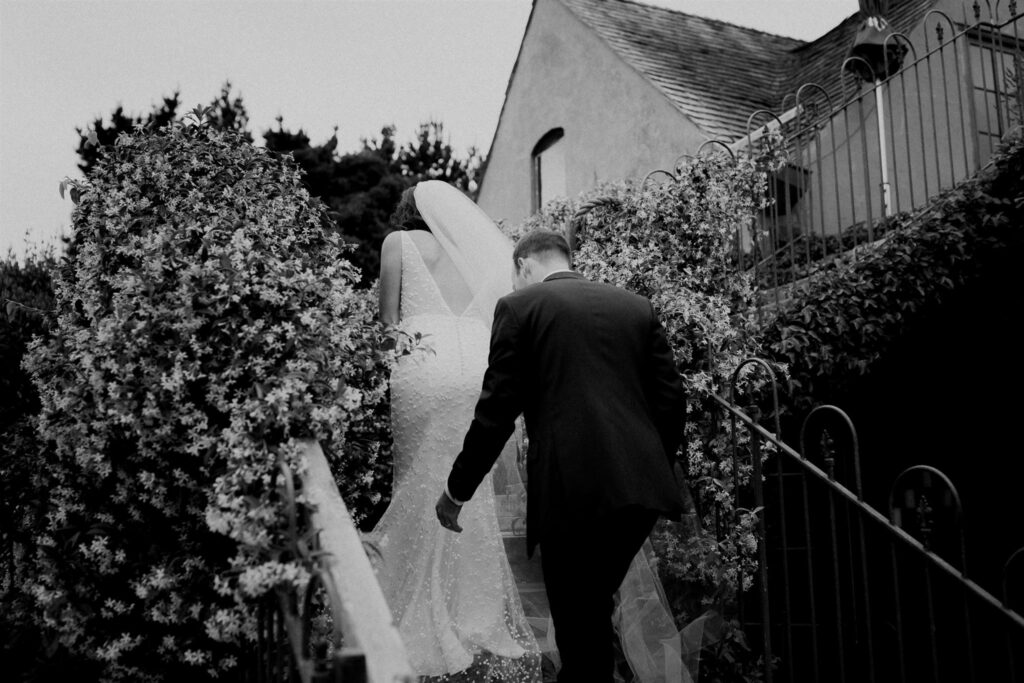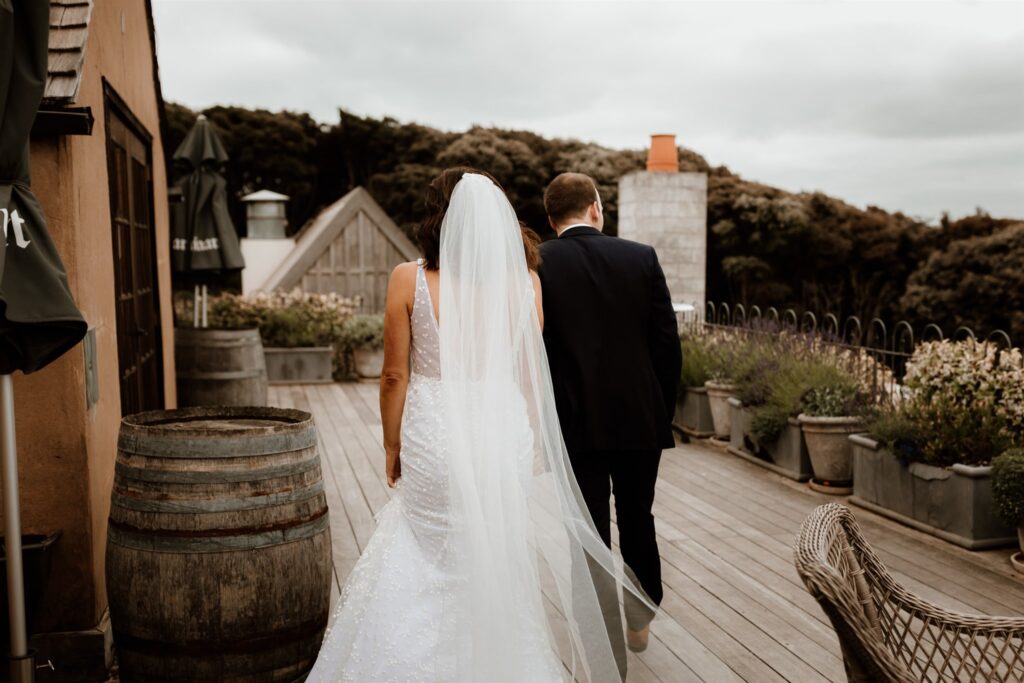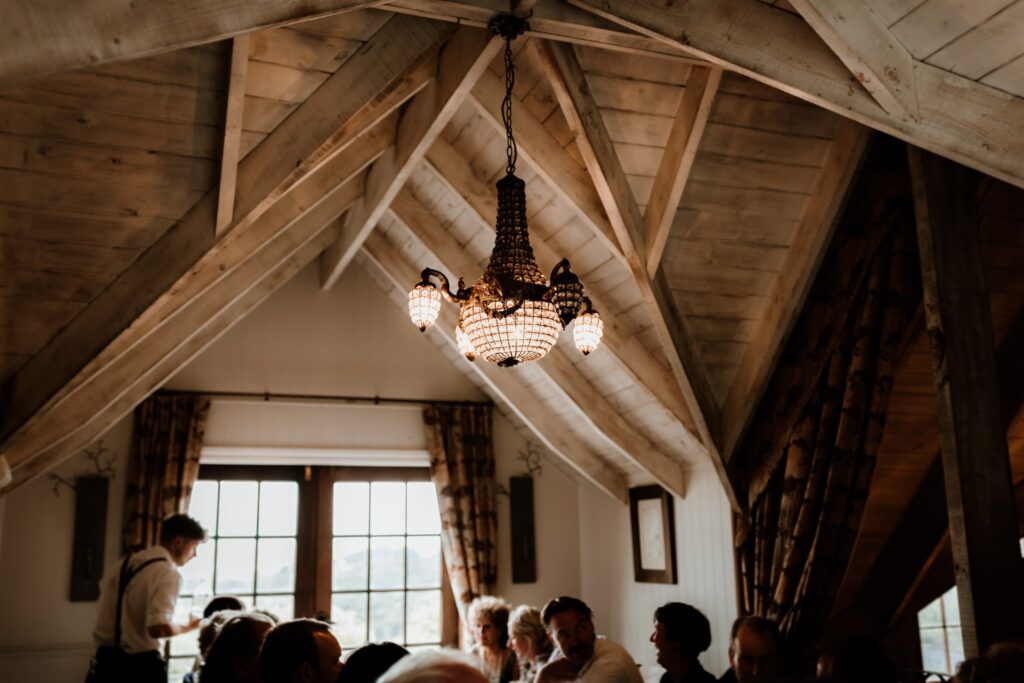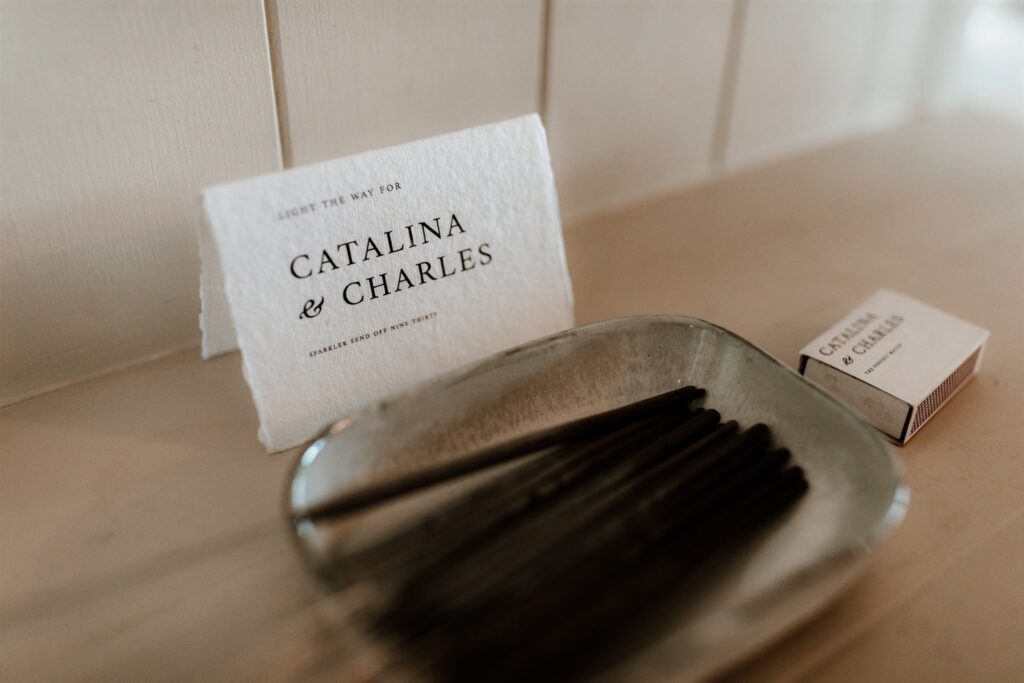 Of course, a wedding wouldn't be complete without a great reception. As mentioned, the wedding was 22 people total so we all fitted in the amazing Mudbrick mezzanine and therefore, had Mudbrick's beautiful food for dinner.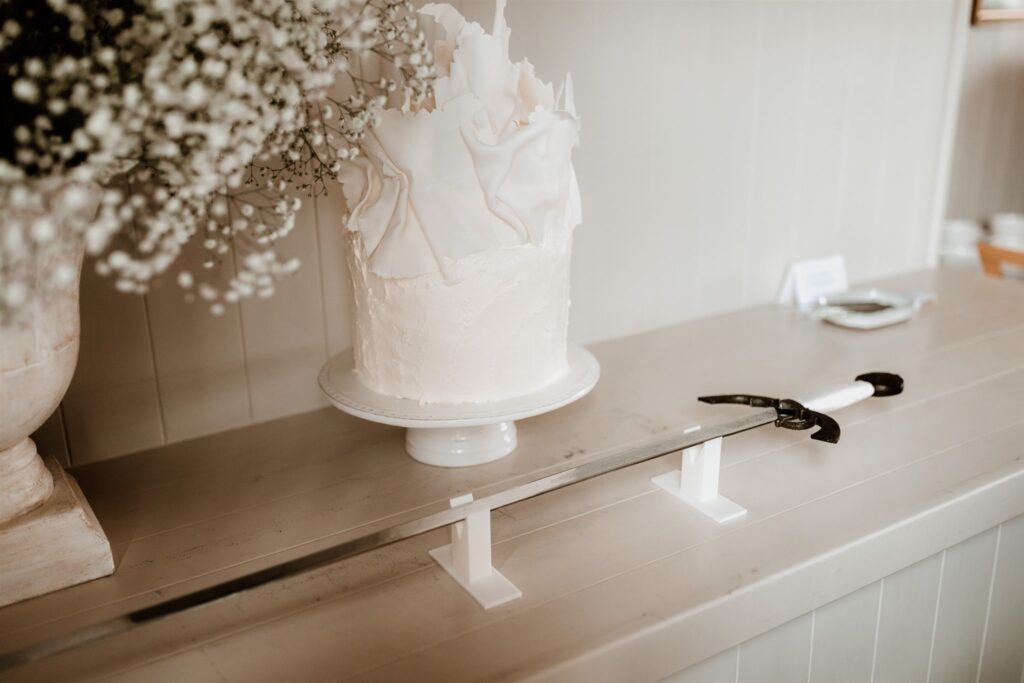 There actually aren't many wedding traditions in Spanish culture compared to a normal NZ wedding except for one that we absolutely had to do – cutting the cake with a sword! Abuela had an authentic sword from Toledo which we rewrapped the handle with white cord. We used this to cut our Spanish inspired cake.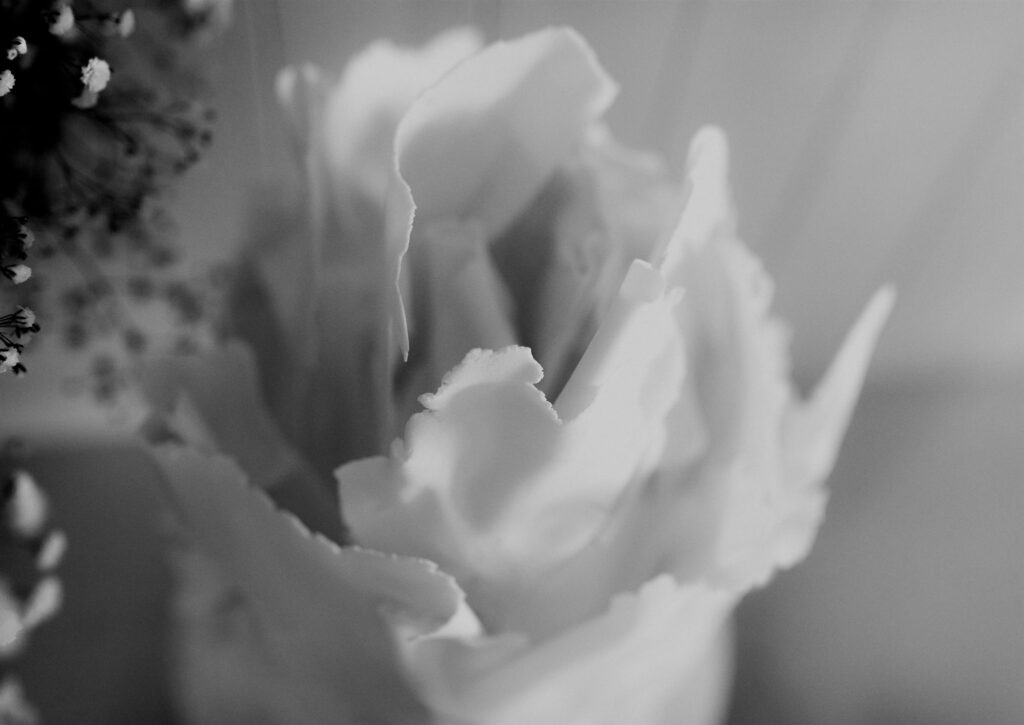 The cake was custom made by the incredible Anthony and team from Little Tart Bakery. The Waiheke locals were the obvious choice not only because of their proximity to Mudbrick (it is hard work transporting a big cake across water!) but also because of their fine patisserie experience. The cake was a gluten-free carrot cake with a Spanish knife texture usually seen on Spanish houses. The top of the cake was sculptural and fabric like. As this style of cake decoration is not common, it took Little Bakery a few practices on a Styrofoam cake to get it right. In the end, they achieved the look by using pasta rollers, airdrying the icing then draping it on. We thought it looked amazing. Additionally, Little Tart Bakery provided the chocolate stuffed churros for the goodie boxes.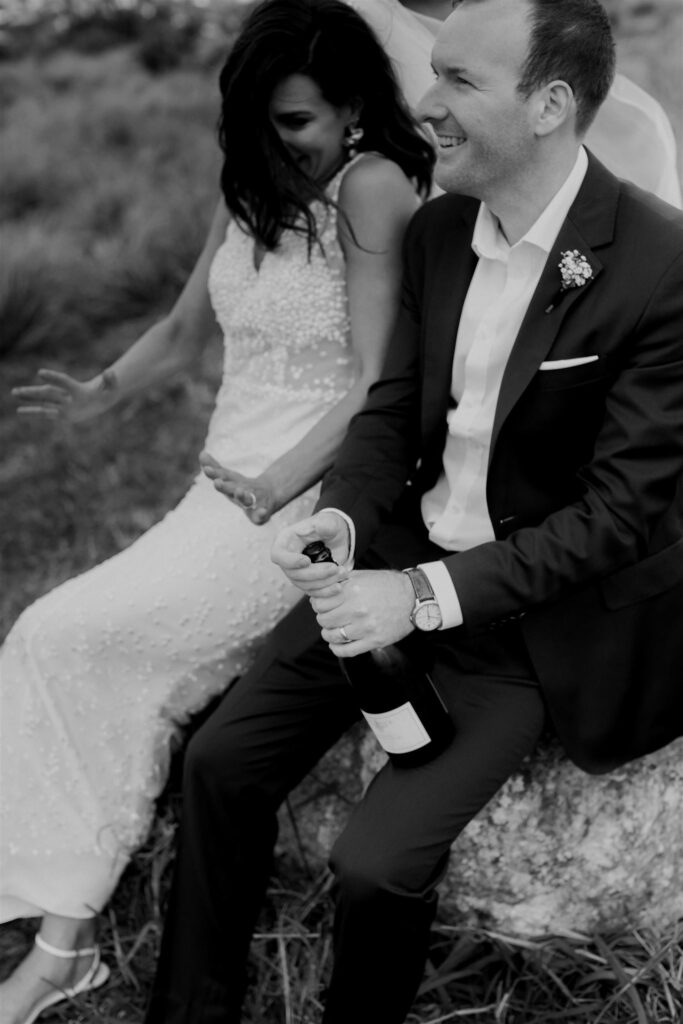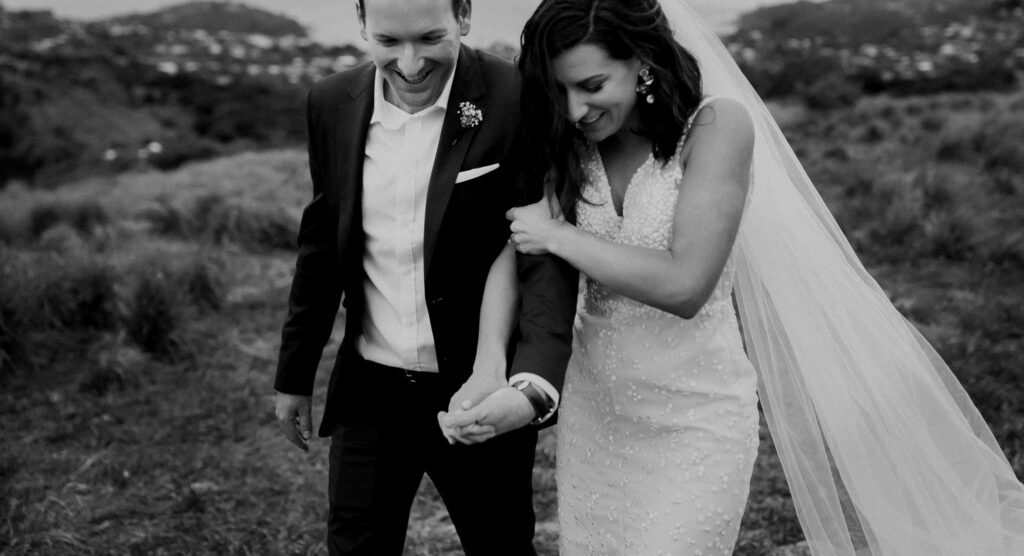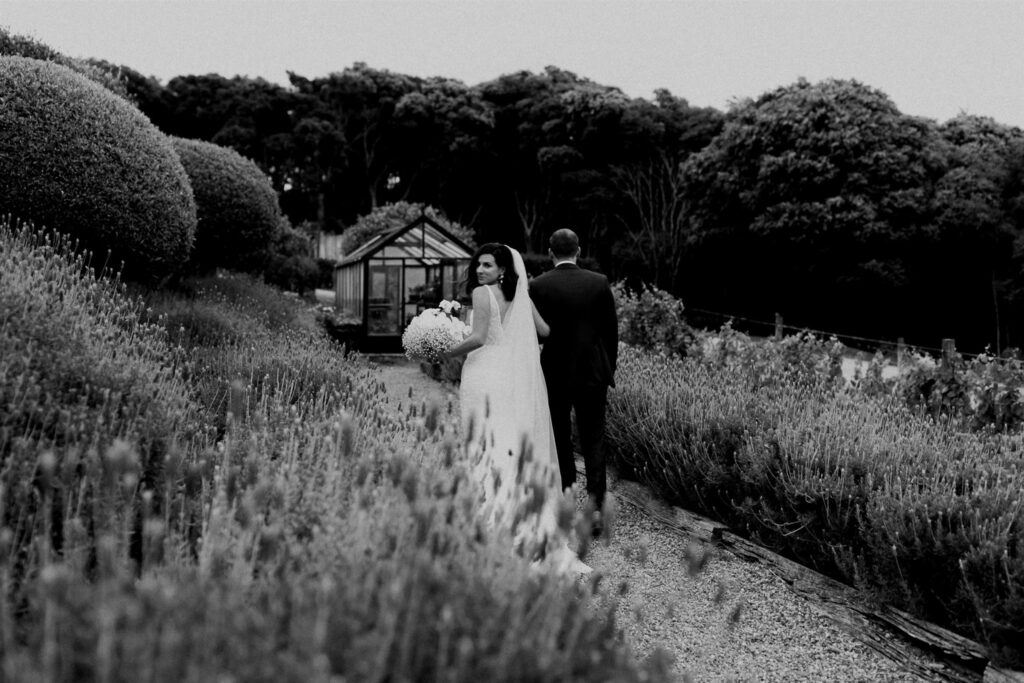 The celebration was photographed by the amazingly talented Lauren Murray of Wild Folk Photography. Lauren is an absolute magician with the camera and has incredible energy. We are so glad we had her to help us capture our special day and keep us calm.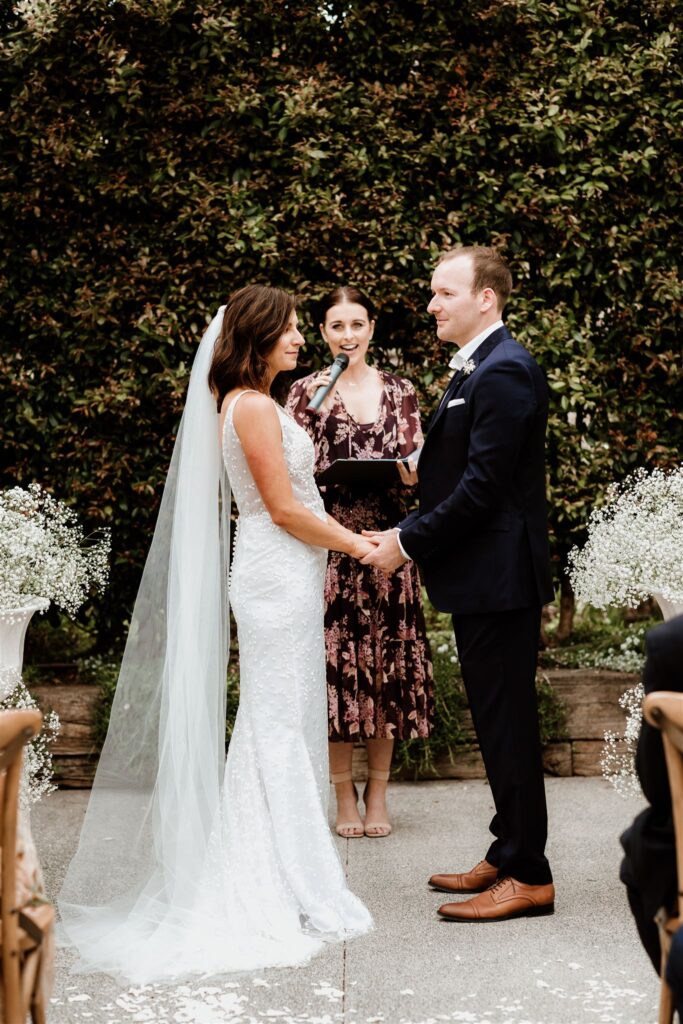 The ceremony was conducted by Lisa Baigent. We were looking for a modern celebrant who could bring passion and life to the day. Lisa was so bubbly, brilliant and organised and suited our laid-back style perfectly. Lisa had us all in tears, it was such a beautiful ceremony and celebration.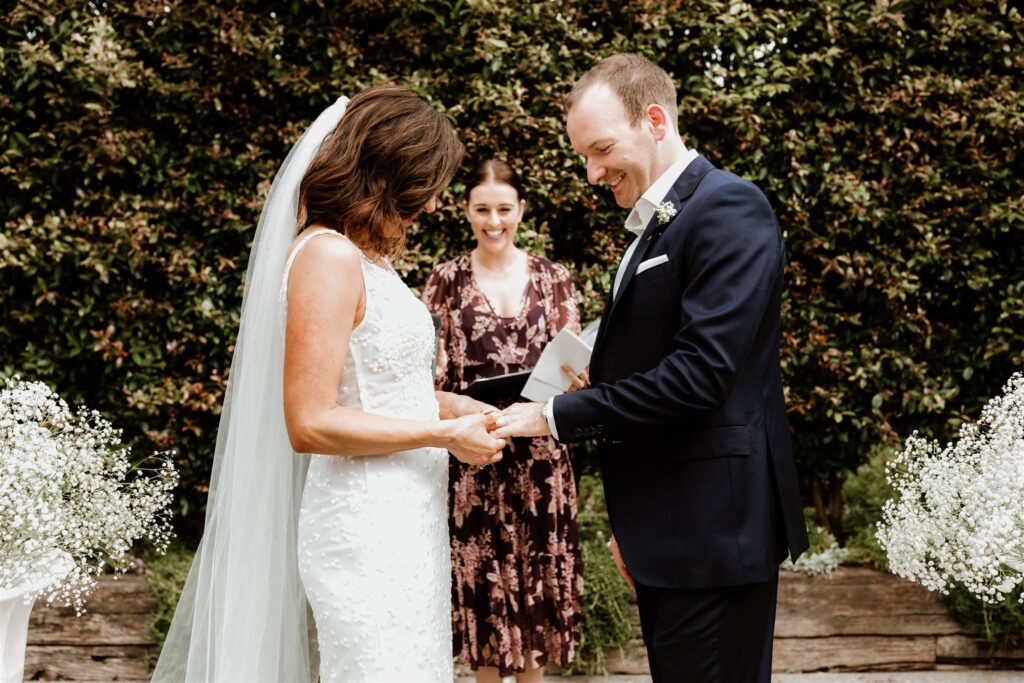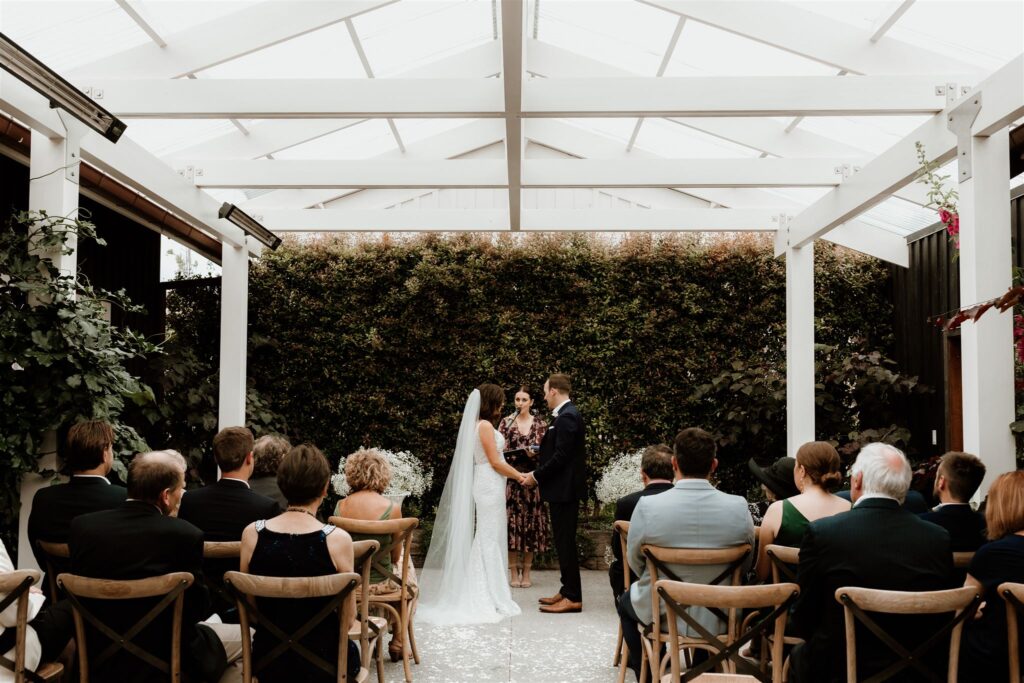 We're hoping our 'boda muy pequeña' serves as an inspiration for those who don't want a big wedding themselves – whether it's due to COVID, budget or another reason, sometimes the best things come in small packages. We are both so grateful that our wedding turned out to be the perfect celebration of us, our love, and had so many great people in our lives involved.
In the end, we pulled off a beautiful event on a TIGHT budget and timeframe which was so special and unique to us. It was sad not having our best friends there, but we hope to see them as soon as the borders open up.
We are so excited to start the rest of lives and grow old disgracefully together. Our first married project – relocating a 1920s onto our new piece of land in Bombay and creating a perfect first home together.
x Catalina & Charles Wilkinson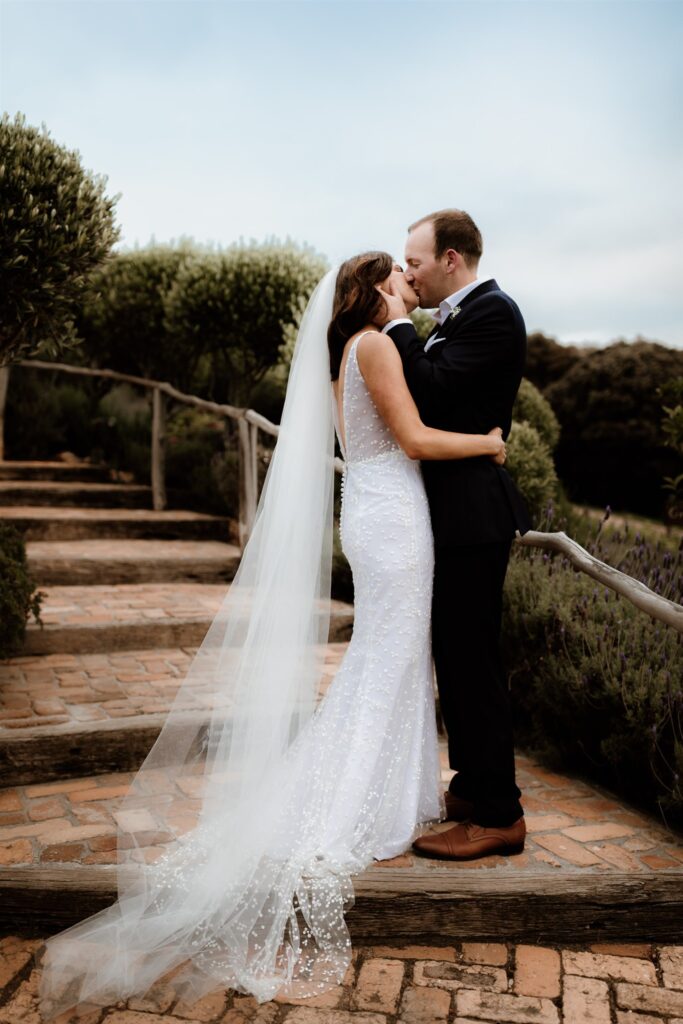 ---
Credits & Many Thanks:
PHOTOGRAPHY
Photographer – Lauren Murray of Wild Folk Photography
Additional images by me :)
OUTFITS
Dress & veil – made by my Abuela with fabric from Elizabeth Jayne Bridal
Earrings – Maison Sabben
Rings – Walker & Hall
Makeup – Beauty by Alexandra
Hair – Chloe Zara Hair (note, she doesn't do weddings but you can book for all other cut and colour services)
Fragrance – D.S. & Durga
Hair perfume – Chloe Zara Hair
Bouquet, flower crown, boutonnière: Blush flowers
Groom & Ring Bearer – Country Road
Flower Girl – Blue Daisy dress & Trade Me purchased basket
VENUE & FOOD
Ceremony & reception – Mudbrick Lodge and Mezzanine, Waiheke
Custom cake and chocolate stuffed churros – Little Tart Bakery
CELEBRANT
Celebrant – Lisa Baigent
STYLING
Event styling – Amanda Norwood
White urns, Vienna cross back chairs & candles – Leopold Hall
DIY flowers – Fresh Cut flowers
Cotton Rag Paper – Feather & Stone & Gordon Harris (A2)
Sign frame – Country Road
Easel – borrowed from Amanda Norwood
Silk Ribbons – Tono & Co
Wax seals – Stamptitude & AliExpress
Napkins – WonderLinen
Table cloth linen – DIY with fabric from LinenShed
Spanish sword – on loan from Abuela
Please note, this wedding was a #nospon event. Any shout outs are because I think the companies are great and deserve a mention xx

---
If you want to see more wedding inspo, see my other wedding posts here.