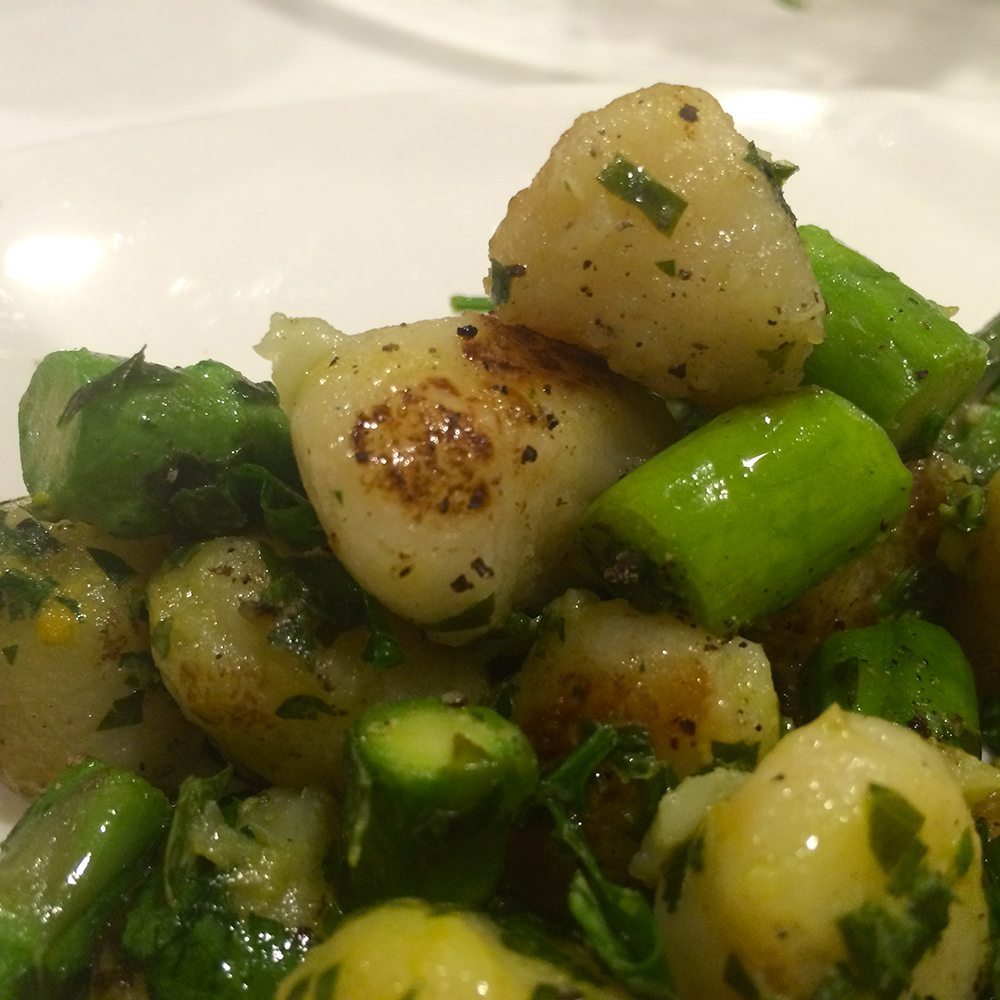 I love dinner parties – there is nothing better than sharing food with people you care about. I had my good friends over for dinner this weekend who follow a vegan diet – I am actually ashamed to admit that up until now, I had never served an exclusively vegan meal at any of my gatherings. Usually there is slow roasted meats, beautiful cheeses etc etc which I am quite comfortable serving knowing they would be crowd pleasers. So to make a completely vegan meal was a bit of a challenge for me – I am quite happy to eat vegan, just that I didn't want to screw it up and be left serving toast!Further, I usually avoid serving things I have never trialled beforehand just in case the recipe/execution is a disaster – eep! Anyways, so I decided on gnocchi. Gnocchi is one of those things that when done right, everything seems right in the world. I wasn't in the mood for a tomato based sauce, so I decided to do a pesto instead. I wanted to take it a step further and make it not only vegan, but nut free as well. Also, did I mention I hadn't made either gnocchi or vegan-nut-free pesto before? Double eep!
I decided not to make it hard on myself a buy pre made gnocchi. I used Per Tutti from Thomas Dux. It was plump and delicious and didn't have weird ingredients in it so it really was a good idea. I adapted a recipe found online for the pesto which used nutritional yeast to add a savoury flavour to fill the parmesan void.  Success!
this will gnocchi your socks off
Serves 2-4
10-15 minutes total time
Ingredients:
Gnoochi:
Premade potato gnoochi – try buy the best quality you can, or make your own if you like
1 bunch asparagus, sliced into 1cm pieces
1 bunch parsley, diced
Your choice of oil for frying
Pesto:
2 cups tightly packed fresh basil
1 to 2 cloves garlic, roughly chopped
1/2 cup extra-virgin olive oil plus extra
good pinch of Himalayan salt and freshly ground pepper
1 tablespoon lemon juice
3 tablespoons nutritional yeast
2 tsp maple syrup (optional)
Directions:
Pesto:
Place everything but the oil in the blender and pulse until the mixture is coarsely ground.
Turn the motor on and drizzle the olive oil in a thin stream.
Check seasoning and adjust if necessary
Gnocchi
Bring a large pot of salted water to the boil, then add the gnocchi
Cook for 2-3 minutes or until they float to the top
Drain the gnocchi thoroughly and let air dry for few minutes
Heat 1-2 tbs of oil in a cast iron skillet
Depending on the size of your skillet, add the gnocchi to the pan and fry until golden brown 3-5 minutes. If your pan is small, split it into 2-3 batches  – overcrowding will just cause the gnocchi to steam and you'll end up with goop.
Add the asparagus into the last batch
Remove from heat and toss with parsley, and 2-3 tbs of pesto.
Serve with a Italian salad and extra pesto on the side.