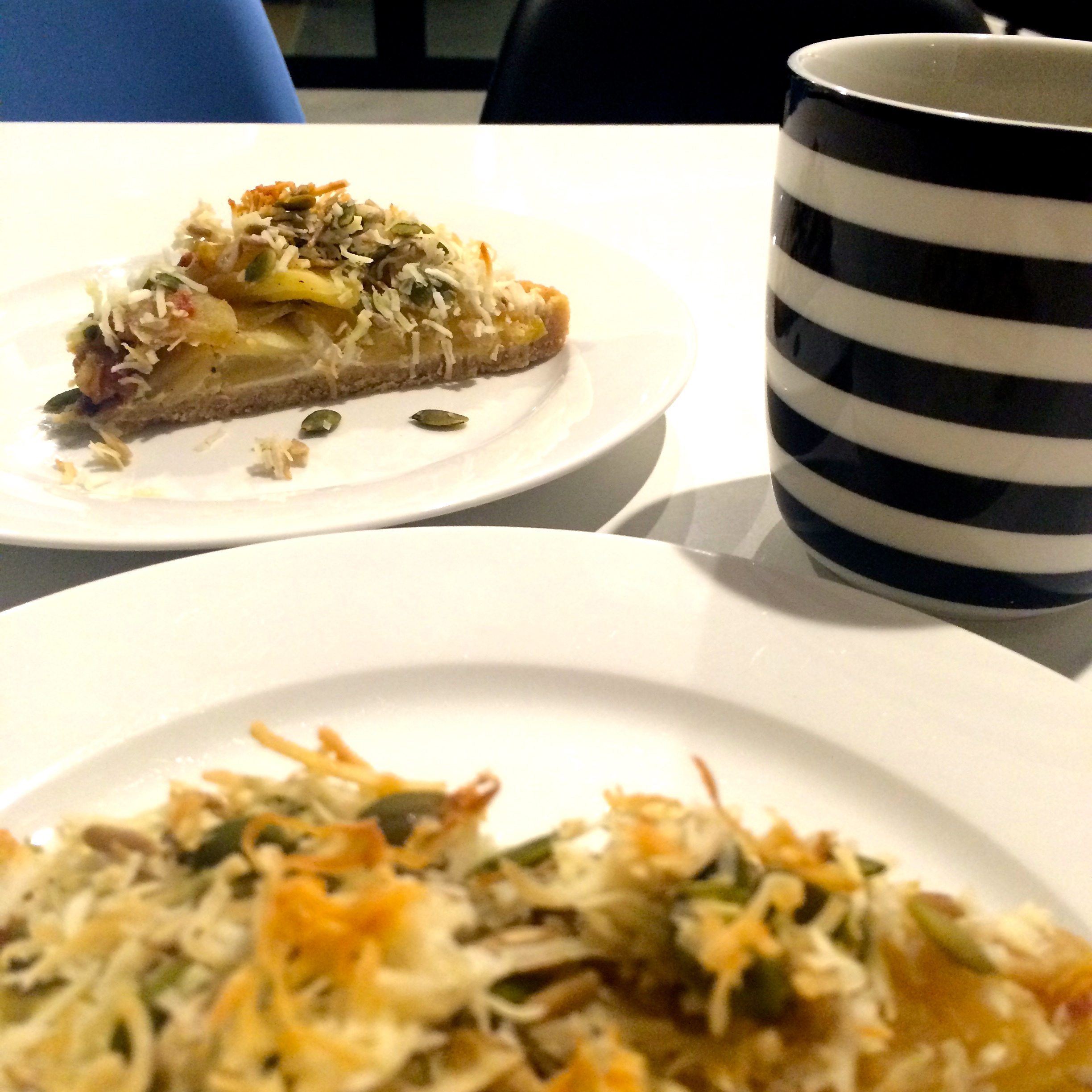 My better half has a sweet tooth. It's taking over his whole mouth. While I'm trying to get him to eat salad, he's munching donuts. Well… He is not that bad…Anyways, his favourite things include apple crumble, and custard. So I wanted to make him the healthy version. Instead of choosing what to make, I thought ¿por que no los dos? So I made the mother of all tarts – part tart, part custard, part apple, major crumble. This tart has a deliciously crunchy base with a beautiful spicy apple filling. Topped off which toasted coconut and seeds. Although naughty looking, it's full of goodness. Yay! The base is my favourite part… Next time I might double it.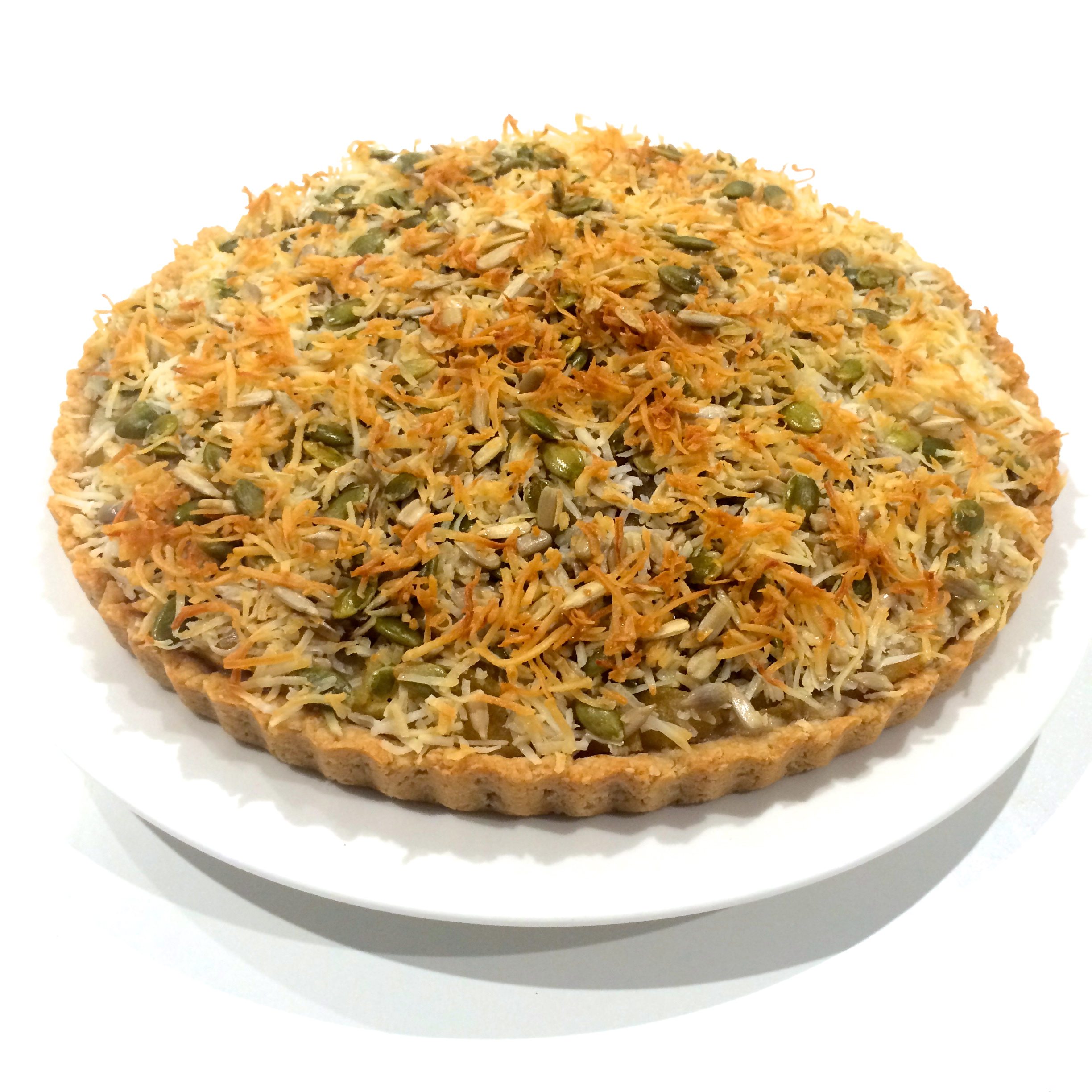 these apple pie walls will crumble Ingredients:
Base:
For the crust:
1/2 cup almond meal
¼ cup coconut oil
3 tablespoons,maple syrup
¼ teaspoon fine grain sea salt
1 ½ cups rolled oats, divided, gluten-free if necessary
Custard:
1 cup cashews
1/2 cup water
1 teaspoon vanilla paste
1 tablespoon maple syrup
Pinch salt
Apple filling:
5 large red apples, peeled and sliced
3 medjool dates, pitted and roughly chopped
1⁄2 teaspoon vanilla paste
1 cinnamon stick
2 whole cloves
2 cardamon pods
5 peppercorns
1/2 teaspoon grounded ginger
Pinch of nutmeg
1 cup water pinch of salt
Crumble:
11⁄2 cups shredded coconut
1⁄4 cup pumpkin seeds
1⁄4 cup sunflower seeds
1⁄4 cup coconut oil, in liquid form
1 tablespoon maple syrup
Cooking time 60 minutes
Directions:
Base:
1. Preheat the oven to 180°C. Lightly grease a 23 cm pie dish with coconut oil.
2. In a food processor, blend ½ cup of the rolled oats on high until you have a rough flour. Add the coconut oil, maple syrup, salt, and almond flour and process again until the dough comes together. Finally, add the remaining 1 cup of rolled oats and pulse until the oats are chopped, but still have some texture to them. The dough should stick together slightly when pressed between your fingers. If it doesn't, try adding a bit more maple syrup or processing a bit longer.
3. With your fingers, crumble the dough evenly over the base of the pie dish. Starting from the middle, press the mixture firmly and evenly into the dish, moving outward and upward along the side of the pie dish. The harder you press the crumbs into the dish, the better the crust will hold together. Poke a few fork holes into the bottom to let steam escape.
4. Bake the crust, uncovered, for 5 minutes, until slightly golden. Remove from the oven and set aside to cool on a rack for 15 to 20 minutes.
5. Turn oven down to 150°C and move onto the custard and apple filling. Custard: Place all ingredients in a blender and blend until smooth and thick.
Apple filling:
1.In a saucepan combine all of the filling ingredients and place on low heat.
2.Cover with the lid and simmer for 5–7 minutes until the apples are tender, but not mushy.
3. Remove from the heat and stir.
4. Using a sieve, strain off the excess liquid and remove the whole spices.
See Also
Crumble:
1. Combine all the crumble ingredients in a bowl and mix well.
To assemble:
1. Spread custard on top of the base. Be careful to go to the wall of the base but not over.
2. Spread the over the apple mixture making sure to cover the custard – you should aim to not see any custard through the apple to protect it from the heat.
3. Follow by cover the apples with the crumble topping.
5. Bake for 20-25 minutes until golden on top and warmed through. This slices best when chilled, but it is very good warm – so you might need to choose between looks and comfort here!