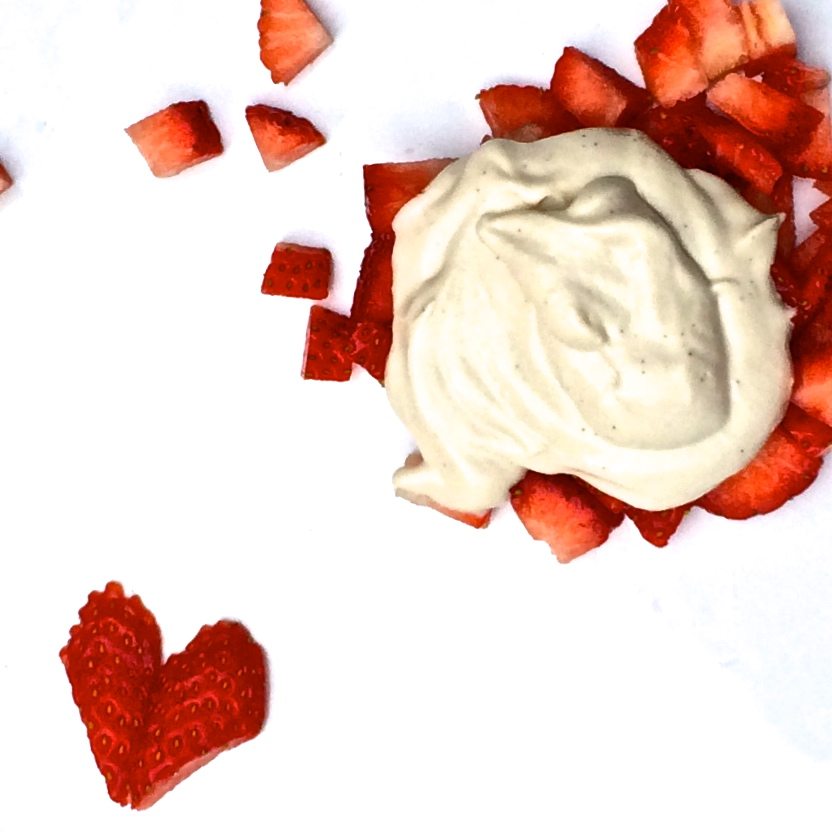 Need a quick and easy dessert tonight? This dreamy dessert looks and tastes naughty, but is actually full of more goodness than a salad. Well… close to at least, I'm sure.
The "cream" is made by blending raw cashews with pure, unadulterated vanilla, luxuriously silky coconut oil and fresh cold water. The result is a delectably smooth treat which is great accompaniment to any dessert.
Strawberry creams forever:
Time: 5 minutes
Serves: 2-4
1 cup cashews
1/2 cup – 1 cup water
1 teaspoon pure vanilla paste (or 1 vanilla bean)
Pinch salt
2 tablespoons of raw, cold pressed coconut oil, melted
1-2 tablespoons of maple syrup, depending how sweet you like it
Strawberries to serve
See Also
Directions:
1. Place everything except the strawberries into the blender (unless you want strawberry cream, then in that case, add it!). More water will equal a runner cream so start with 1/2 a cup and go from there.
2. Blend until thick and creamy .
3. Dollop onto of fresh strawberries.
This recipe is a great base for many variations – if you want a cream that will set, add more coconut oil. The more solid version is great to pipe onto to desserts and makes a wonderful filling for cake and tarts. My favourite use as it is on scones with chia jam.