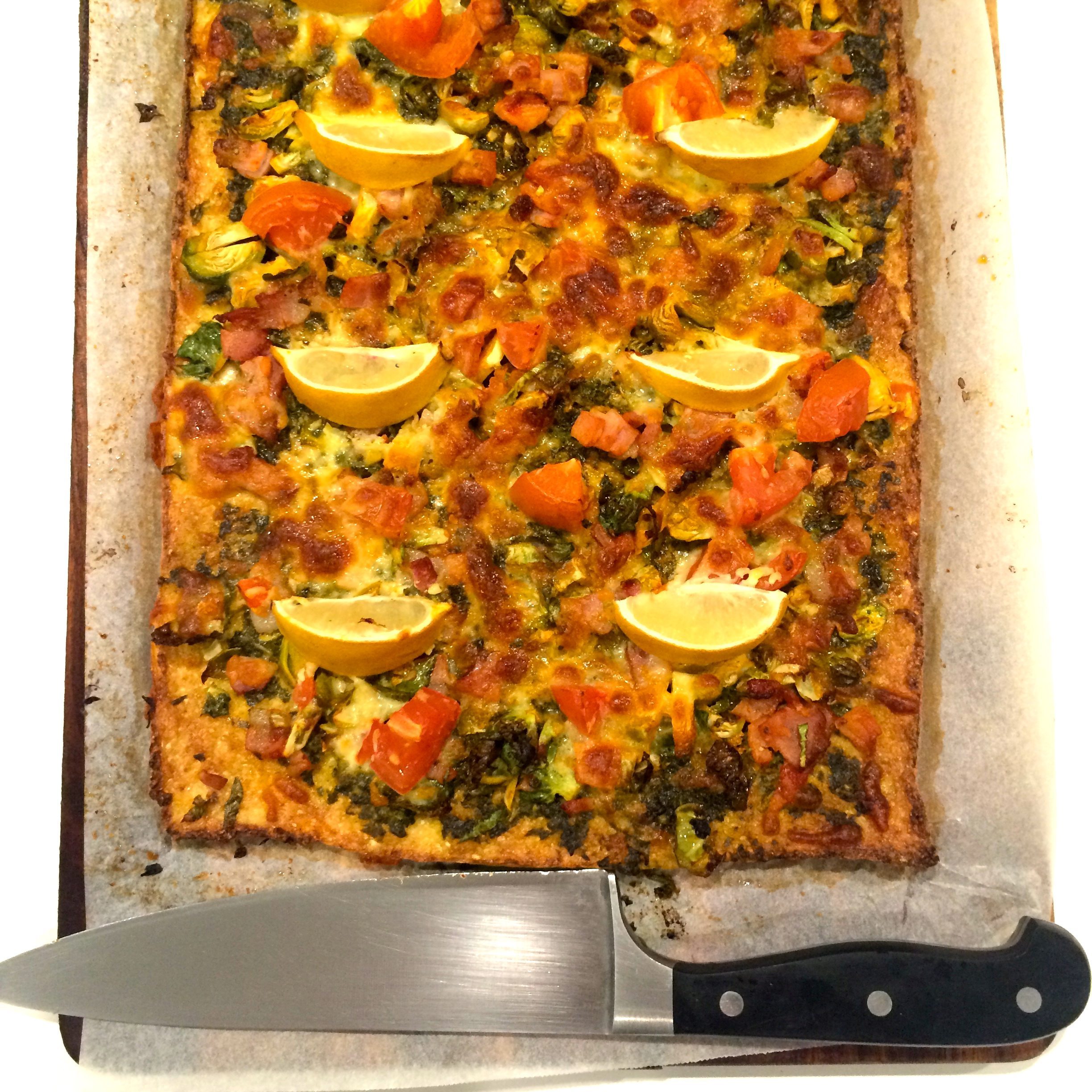 Put your hands up if you life Brussels sprouts? You might have noticed it's becoming kind of a big deal with top Melbourne restaurants such as Seamstress and Rockpool all offering these mini green cabbage like plants on their menus. The majority of people I talk to still seem a bit weirded out by them, which is why this cauliflower pizza with bacon will ease you into it and make you friends with Brussels sprout forever more.
Michael Harden of Gourmet Traveller says "First rule is to get 'em while they're young. The small, tightly curled, bright green ones are the best (avoid the larger flabby ones and their unsightly yellow leaves) because they are sweet and crunchy and make you feel like a better person for having consumed them." – it's true!
Brussels sprouts and cauliflower are both members of the brassica family of vegetables. They are packed with antioxidants and are great for a healthy liver – if you're having issues with hormones and bad skin, these can really go along way.
If you have never made a pizza base out of cauliflower before, don't worry, its super easy. No nasties here – just delicious unprocessed goodness.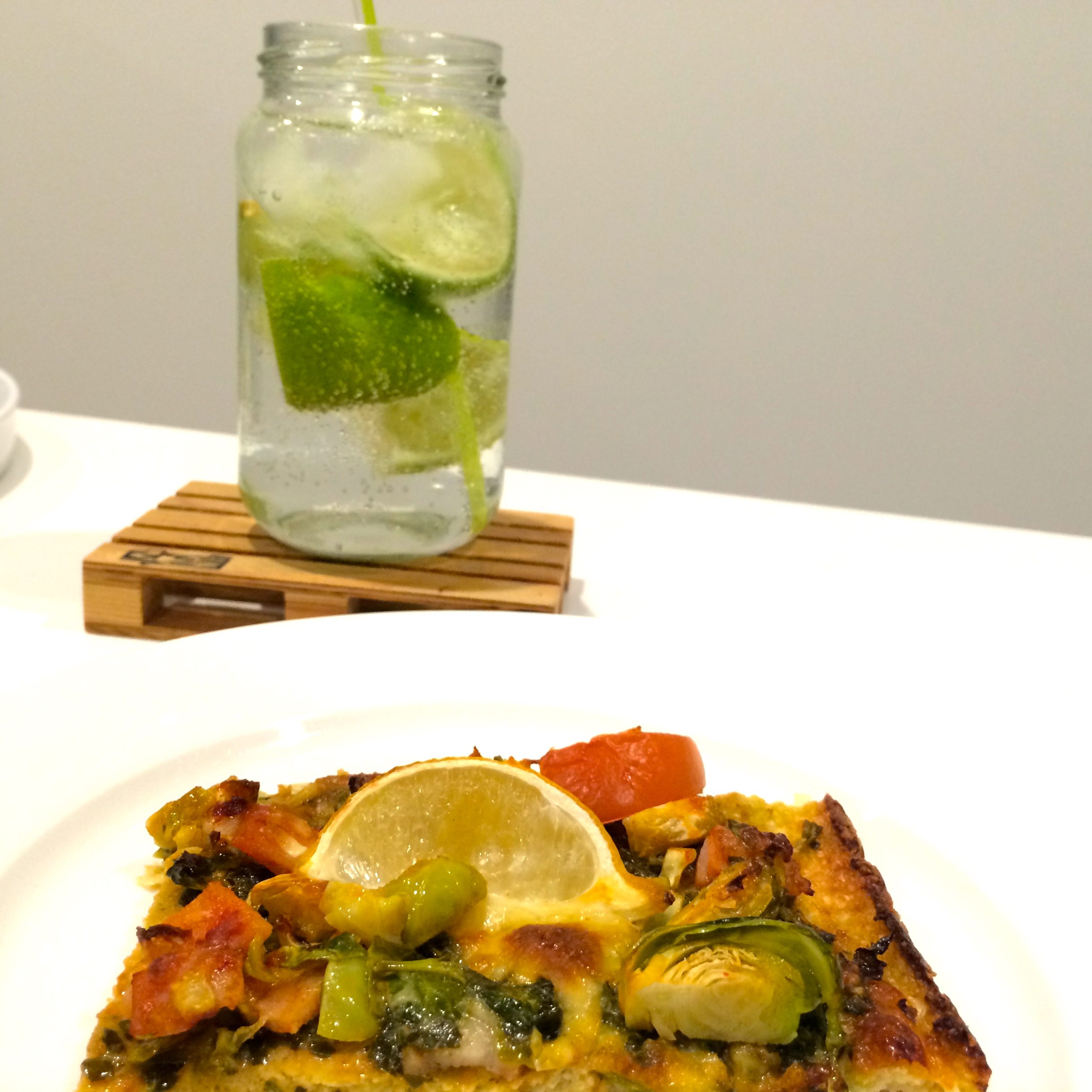 sprout it out cauliflower pizza with bacon
Pizza base:
1 cauliflower, cut into florets
3/4 cup almond flour
sea salt and freshly ground black pepper
2 garlic cloves, crushed
3 organic eggs, beaten
Toppings:
4 slices organic short cut bacon, diced
150g Brussel sprouts, shredded
1 teaspoon smoked paprika
1 tablespoon olive oil
2-3 tablespoons hey pesto
Handful shredded mozzarella (ideally you would get organic and slice yourself as it tastes better however this is all I had!)
1 tomato, roughly chopped
1 lemon, cut into 8ths
For the base:
Preheat the oven to 200°C / 400°F and line a baking tray with baking paper.

Place cauliflower in food processor and blend until it is a fine rice-like texture.

Put 3 cups of the cauliflower 'rice' in a mixing bowl.

Add the ground almonds, garlic and seasoning and mix with your hands.

Make a well in the centre and add the eggs.

Use your hands to pull the dry ingredients towards the middle until everything is combined and you can shape it into a ball.

It should be more loose and sticky than a traditional pizza dough.

Tip out onto the baking paper and spread the dough with out your hands evenly to make a base.

Pre-bake for 25 minutes or until golden.
For the pizza:
While the base is baking, combine bacon, sprouts, paprika and oil in a bowl and toss.

When the base is ready spread the pesto over evenly.

Next spread over the sprout mix.

Top with a bit of cheese and add the tomato.

Add the lemon.

Bake for 15 minutes or until golden and sprouts and bacon is crisp. Resist putting too much cheese on else you won;t get the awesome caramelisation of the sprouts.

Once cooked, slice and serve. Make sure to squeeze the juicy, jammy lemon all over before eating.