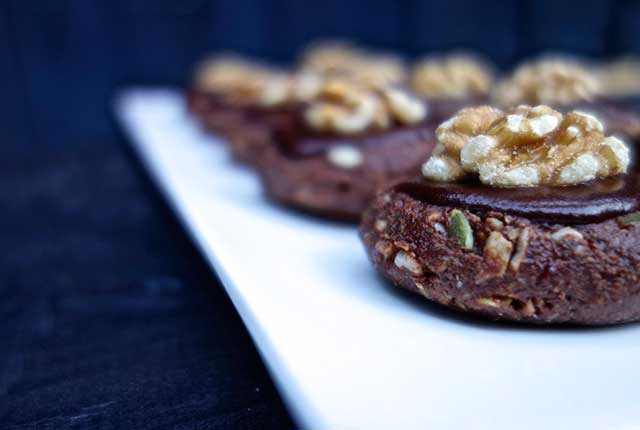 Oh chocolate bikkies, who doesn't love them? Part of the problem is they don't love us back… well they do for like a minute, then we berate ourselves with guilt! "Ohhhh I shouldn't of eaten that, its my good day", "oh I'm so fat" etc etc etc. BORING! Guilt is overrated and we deserve a damn break damnit! We work so hard, so why can't we have biscuits?!
Well now you can, because I said so. And, if you make these ones, you can even feel good about it. Why? Because they're made mostly from seeds! Glorious, healthy, body loving seeds.
First we have chia, why do we love chia? Well its full of omega 3s which are a slow release energy that also works as an anti inflammatory. They're full of magnesium, calcium and iron as well – all fabulous!
Then there is pumpkin seeds, a valuable source of zinc and manganese. These help the digestive function which equals happy skin.
After we add in sunflower seeds – the gift from our friend the sunflower! These contain vitamin E, magnesium and selenium which sore through your body neutralising mean free radicals!
Finally tahini comes to the party. Made from sesame seeds which contain copper, manganese, calcium, magnesium, iron, phosphorus, vitamin B1, zinc, molybdenum, selenium, and dietary fiber.
Seeds make your body shine. That's not all though, basically everything in these cookies will contribute to your health, make you feel full longer and your skin glow. I could on go forever, but actually there isn't a bad thing in here which is why I named them what I did.
So a bit about Afghans. These chocolate biscuits I believe at native to New Zealand, my home country. The biscuit base is generally buttery but not sweet. The best bit about Afghans is the texture – they are filled with crunchy corn flakes which makes them divine. Traditionally, they are then topped with chocolate (which makes up for the lack of sweetness in the base), with a walnut set in the chocolate. They are actually so good I'm surprised that the Australians haven't ripped it off yet like they did with Pav. Another story!
Essentially we get the butteriness in the raw version from the tahini and cacao butter. The crunch is made up by the extra seeds. A chocolate is then made from coconut oil and cacao, topped with a raw walnut. Trust me, these are really good and totally gourmet!
If you're looking for a healthy energy ball, roll the dough into a sphere instead and eat as it is.
These would also make seriously cute mini versions for party food!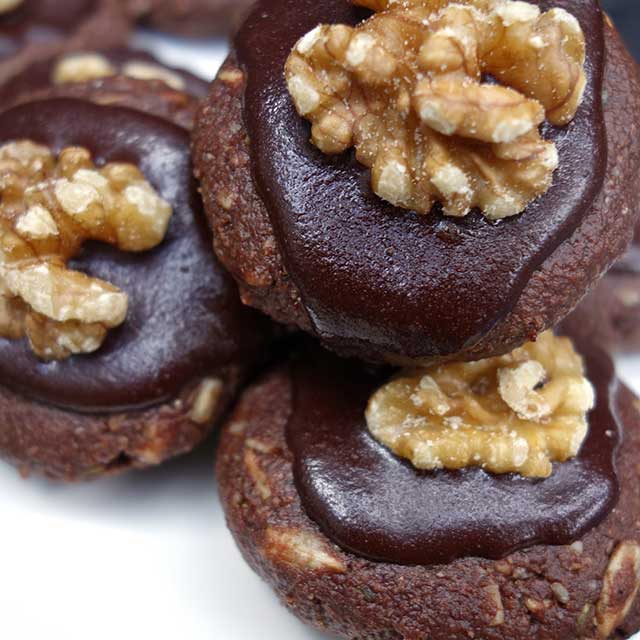 Look Good Naked Raw Vegan Afghans
Raw, vegan, gluten free, refined sugar free, Paleo, frustose free, dairy free, egg free
Makes about 12
10-20 minutes plus setting time.
Freezable
Lasts up to 2 weeks in the fridge.
Ingredients:
For the cookie dough:
2 tablespoon psyllium
2 tablespoons chia
2 cup pumpkin kernels
1/2 cup sunflower kernels
1/4 Teaspoon Himalayan salt
1 teaspoon cinnamon
1/3 cup cacao powder
3 tbsp tahini
1/3 cup cacao butter, gently melted
1/4 cup maple syrup
Extras:
1/2 cup sunflower kernels
1/4 cup pumpkin seed
For the raw chocolate icing:
1/3 cup maple syrup
1/3 cup raw cacao powder
1/6 cup raw cold pressed coconut oil or cacao butter, in liquid form
To decorate:
Whole walnuts
Directions:
For the cookies:
Put chia seeds into a blender and process until fine. Add in the pumpkin and sunflower seeds and process until you have a fine flour. You might need to scrap down the sides occasionally. Do not over process as you might start to make seed butter (as delicious as that is, this is not helpful for this recipe!)
Tip flour into a bowl, add in the salt, cinnamon and cacao powder and mix to incorporate.
Add tahini, maple syrup cacao butter and mix until everything is combined and you have a even coloured cookie dough.
Add in the extra pumpkin seeds and sunflower kernals and mix through well.
Shape into balls and flatten to be cookie shape.
Set in fridge for half an hour.
For the icing:
In the pot you melted the coconut oil or cacao butter, whisk all the icing ingredients together. Keep in the pot and cool until slightly thickened – the aim is runny enough to ice the cookies but not so runny it all runs off.
To assemble:
Top cookies with a blob of icing and cover the surface of each cookie.
Top the icing with a whole walnuts.
Place in fridge to set.
Any extra icing can be put into an ice cube tray and set as chocolate – maybe even put extra walnuts in there!