OMG like actually this is the best off the cuff recipe I have ever made. I'm lovers with soba noodles but they give me a sore tummy. Inspired by my "Little Boss" at work and her vibrant zoodle concoctions, tonight I whipped up what is now going to be a family favourite. Raw zoodles get knocked up a notch with a beautiful tamari, ginger and sesame oil. You're going to want to get in on this.
What is a zoodle anyways? Raw foodies have conspired to replace all carbs with healthy alternatives, and in this case, zucchini is julienned into noodles which are texturally like al dente spaghetti. Traditionally, soba noodles are made from buckwheat and are a thin noodle. Now my food processor only has one setting, and thats chunky, but who are we kidding, its zucchini not buckwheat anyways. But that's ok because they are every bit as good. I call them soba noodles more because of the sesame dressing that goes with it. Deliciously Japaneasy.
The best thing is this can be made in minutes to go as a side or become a main.
To make zoodles, simply grab a zucchini and cut in in half length ways, and then diagonally – the aim here is to make it as wide as the vegetable shoot in your food processor. Using the  julienne attachment, place the bits of zucchini down lengthways on the blade. Turn it on and woop wool – you have zoodles. You can also use a good julienne peeler, a longer grater, or a spiraliser.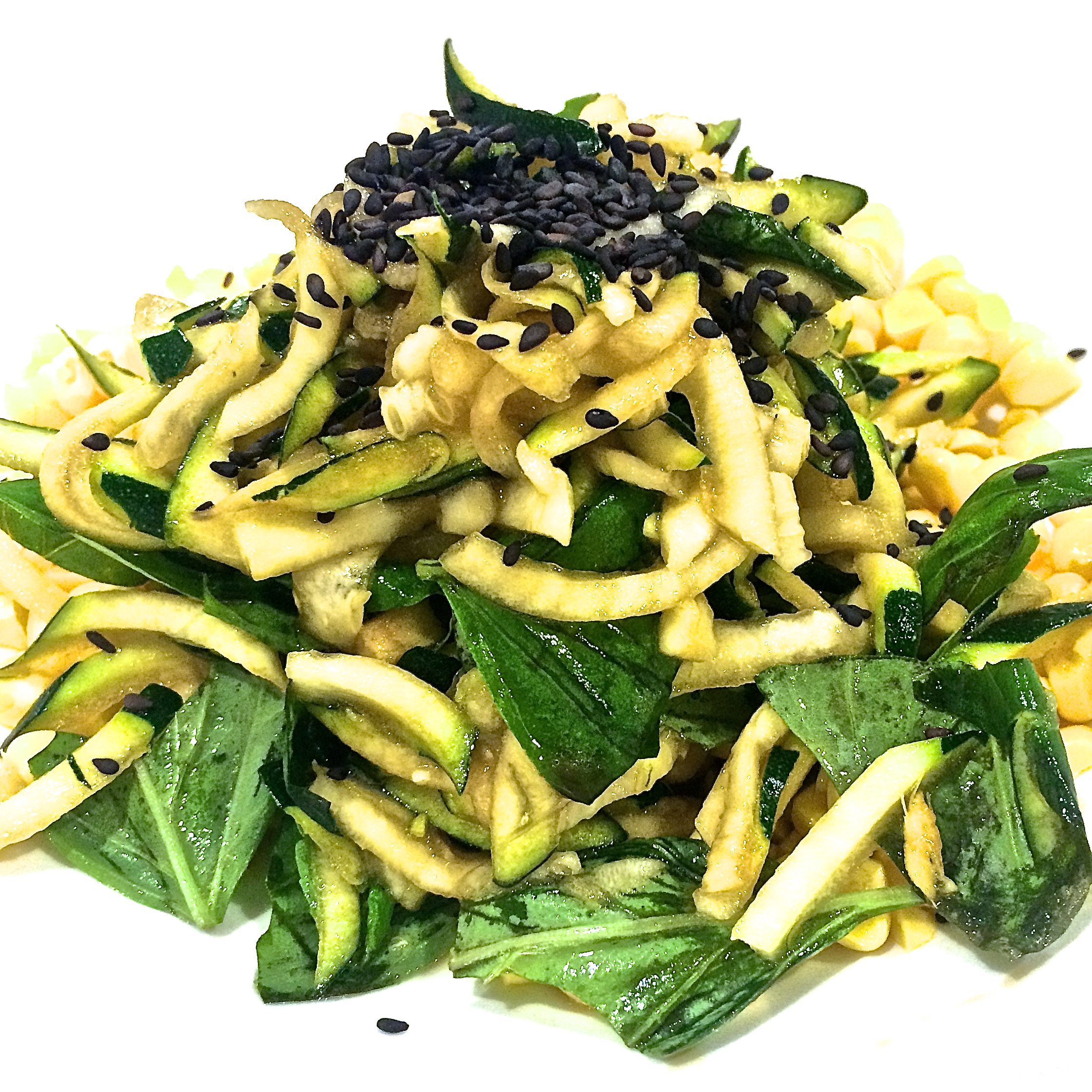 raw sesame soba zoodle salad
Serves: 2
Time: 15 minutes
1 large zucchini, made into zoodles – should be 2-3 cups
1 corn, kernels cut off cob
2 tablespoons sesame oil
3 tablespoons tamari
1/2 tablespoon maple syrup
1cm ginger, finely diced
Handful basil
Black sesame seeds to garnish
Kimchi to serve
Directions:
1. Make the dressing by combining oil, tamari, ginger and maple syrup in a jar and shaking. until combined.
2. Place dressing and zoodles into a bowl and toss.
3. Tear basil onto top of zoodles and mix.
4. Serve a giant pile of zoodles with corn scattered around the base, with kimchi on the side.
I had this with fish done katsu style, which is a tiny bit naughty, but that's ok because the zoodles are so healthy and raw that I'm basically a saint anyways.