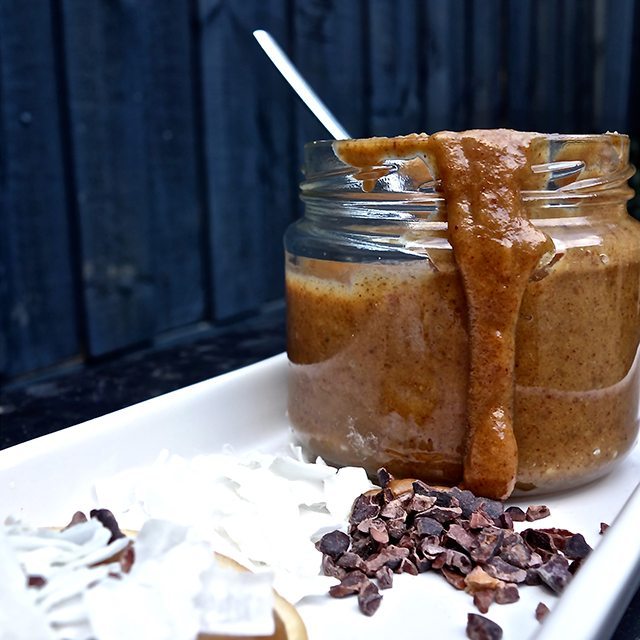 Ah salted caramel. I know it's been done, but I kind of feel like this can't be a food blog without it. It's sort of become a staple don't you agree? Many bloggers have a lot of variations, however I feel this version is the most versatile
– use it on toast as a better alternative to jam, as a filling for a tart, in biscuit sandwich, or as pictured on top of apple as a kid friendly "cookie". If you are looking for a harder caramel, use less water and coconut oil. In this recipe, the sweetness of medjool dates are evened out with almond butter which is a skin loving combination.
My new favourite salt, vanilla salt, makes this recipe extra special. It's pretty dreamy. If you can't find vanilla salt, add 1/4 teaspoon of vanilla paste. I'm pretty obsessed with all the different salts that I have just noticed on the market, so expect some weird things showing up in Da Farq is That in the future.
Raw Salted Caramel
Makes 1 jar (300ml or so)
10 minutes "cooking" time
Keeps for up to 2 weeks in the fridge
Can be frozen.
Ingredients:
8 Medjool dates, soaked over night, pitted and roughly chopped
1⁄2 cup almond butter
1 tablespoon maple syrup
1⁄4 teaspoon vanilla salt (or 1/4 teaspoon Himalayan salt and 1/4 teaspoon vanilla paste)
1/4 cup water 1⁄2 cup coconut oil, in liquid form
Directions:
Place everything except for the coconut oil into a blender and blend until smooth.
Add the coconut oil and gentle pulse for about 5 seconds. If any coconut is not yet incorporated, gently fold it in. It is best to use a soft hand and take precaution because over mixing can lead to a mixture that splits. Once it has split it goes rather hard and it's near impossible to save it at that point.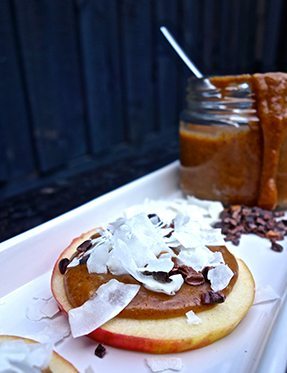 Raw Salted Caramel Kid Friendly Cookies
Makes about 6 cookies
Takes about 5 minutes to make
To be consumed immediately
See Also
Ingredients:
1 apple, sliced into 6mm rings, then cored 1 lemon, halved
1 jar Raw Salted Caramel
A handful of cacao nibs
A handful of shaved coconut Directions:
Rub the lemon over both sides of the apple rings to slow the browning process.
Spread the Raw Salted Caramel over one side of each of the apple rings.
Sprinkle over cacao nibs and saved coconut.