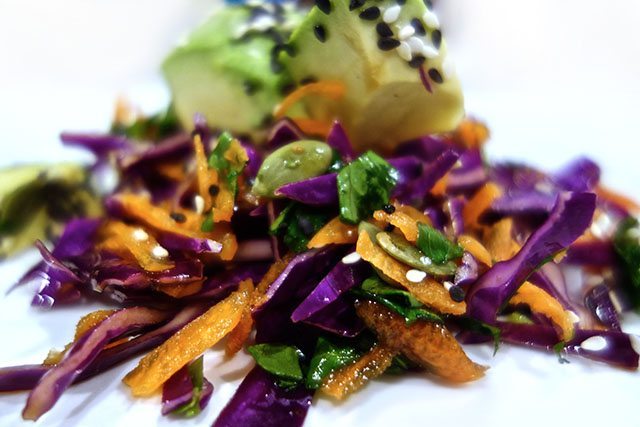 Japanese food is one of my number one loves. From sushi, to sushimi, from teriyaki to okonomiyaki the Japs have to be congratulated for making seemingly simple food so fresh and delicious.
Japanese slaw is no exception. While most households put a salad of rocket, balsamic and olive oil as a side, I like to use salad as main as it is an opportunity to get in a lot of key nutrients. I find that Japanese slaw is the perfect fit for this because texturally it is a lot  denser and satisfying than lettuce. Using red cabbage and carrot as the main features, the salad comes alive with technicoloured eye-porn.  Although this salad is dressed with two typically Asian ingredients, tamari and sesame, I find it fits in with a lot of my Western go to meals. For example I often put this salad next to charred eye fillet steak, grilled fish tenderloins or tofu, or my Chicken Katsu. Basically, if you're got a nice piece of protein thats done in a basic way, this salad will work well with it.
Most of all it is quick and even my partner, the Food Monster, is happily satisfied with this carb free dish as a main – which is saying something.
Cabbage is a powerhouse when it comes to nutrition. Red cabbage in particular has a high concentration of anthocyanin polyphenols, which means it has significantly more protective phytonutrients than green cabbage.  Cabbage is full of antioxidants and is anti-inflammatory which makes its potential for protective and preventative action against cancer one of its highest benefits.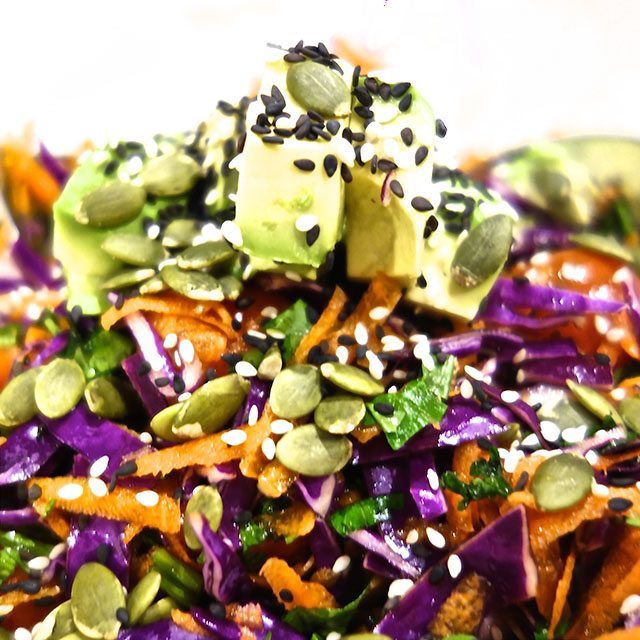 raw japan-easy sesame slaw
Although this salad is Asian inspired, I find it fits in with a lot of my Western go to meals. It goes with eye fillet steak, garlic chicken tenderloins or tofu.
Eat for:
dinner, lunch, snack, salad
Cuisine:
paleo, dairy free, refined sugar free, gluten free, fructose free, grain free, vegan, nut free, raw
INGREDIENTS:
1 cup red cabbage, finely shredded
1 carrot, grated
8-10 cherry tomatoes, halved
½ an avocado, diced
Handful sesame seeds – I use both black and white
Handful of pumpkin seeds
Large handful of coriander or parsley, finely chopped
For the Japanese sesame dressing: 1 tablespoon gluten free, salt reduced tamari
1 tablespoon sesame oil
1 teaspoon ginger, finely diced (optional)
INSTRUCTIONS:
Place dressing ingredients into a jar, close with lid and shake vigorously.
Add cabbage, carrot, coriander and tomatoes into a salad bowl. Add the dressing then toss to incorporate.
Top with avocado and seeds.