Oh carrots – one of life's greatest pleasures. Although a humble and common vegetable, carrots are honestly one of my favourites. You can often find me mid afternoon crunching away bugs bunny style with total disregard of how I might look in our open plan office. I really couldn't care less because it's carrot time and I am in my happy place. Why do I regard it as the perfect snack? A. It's healthy. B. it's super easy – no chopping up to avoid ruining my makeup like an apple and I'm much too lazy to peal them, C. So filling, D. They taste awesome and last least E. At $1.40kg they're so damn cheap. Once I accidentally bought 4 kgs of carrots instead of 4 single carrots while shopping online – what a week! There was juicing, there was souping and then there was this cake. Now I use the recipe time and time again when hosting or going to parties, as well as a regular addition to my weekly lunch box.
Carrots are full of beta-carotene. Easy to remember as it's basically better-carrots. Teen. Anyways, beta-carotene does wonderful things for the body in terms of digestion and skin. The nuts pack in omega 3s which are great for their anti-inflammatory properties as well as being satiating. So if you require mid afternoon snacks (and I don't know a person who doesn't), this cake is great to have around to avoid being sucked into the vending machine of doom. Also, friends don't let friends get hangry. Fact.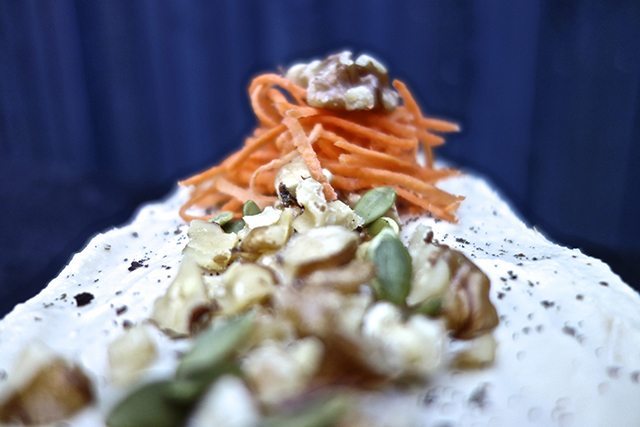 Don't Get Hangry Raw Carrot Cake with Lemon Cashew Frosting
Raw Carrot Cake Base
Serves 20
15 minutes 'cooking time' plus at least 1 hour setting time.
Lasts up to a week in the fridge, or freeze for up to 2 months.
Ingredients:
1 cup of walnuts
1 cup of pecans
2 cups of desiccated coconut
2 tablespoons psyllium
1/4 teaspoon ginger
1/2 teaspoon cinnamon
1/2 teaspoon cardamon
3 large carrots, peeled and grated (I like the fine grater on the food processor best)
4 madjool dates, soaked overnight, pitted then chopped
1/2 a cup of currants
1/4 cup maple syrup
Rind of 1 lemon
Directions:
Combine the dry ingredients in a food processor and pulse until it resembles a fine flour. Put in a bowl and set aside.
Put the remainder of the ingredients in the food processor and pulse until just combined – leaving everything quite chunky.
Add back in the dry ingredients and pulse a few times until everything in incorporated.
Here is where the fun begins, in your choice of tin (could be a bread tin, cupcake tin etc), firmly press in the mixture making sure it is even and level. Depending on the look you want, leave room at the top for icing.
Set in the fridge for at least an hour. I'm lazy so I generally leave it overnight and come back to it the next day.
Raw Lemon Cashew Icing / Frosting
Makes about 1 cup
5 minutes 'cooking' time, 1/2 and hr to set
Ingredients:
1 cup cashews (soaked for 30 minutes minimum, or overnight)
1/2 cup water
1 teaspoon vanilla extract
1 tablespoon maple syrup (optional)
Juice of 1/2 to 1 lemon depending on preference
1/4 cup coconut oil
Directions:
Put everything except for the lemon juice and coconut oil in a high speed blender and blender until smooth. You will need to stop the machine several times to scrap it down to make sure everything is blended.
Add the lemon juice, starting with half – add more if you like it more intense – obviously it is easier to start with less and add more in, but you can not remove it once it is in there.
Add the coconut oil and pulse for about 5 seconds. Be careful not to over pulse as the mixture can split. Using a gentle hand and a spatular, mix in any unmixed coconut oil.
To assemble:
If you have left room on top of the tin for the icing, pour the icing over cake whilst in the tin. This will result in a more structured looking cake with distinct layering. Try to smooth as much as possible – it is hard to get entirely flat so you might want to finish with some swirls. Set in the fridge for at least half an hour.
Otherwise, remove the cake from the tin and do a free pour, gently negotiating the icing towards the sides of the cake for a more rustic, organic looking cake. In my experience, coating the entire surface and edges of the cake doesn't look that good and it's nice to see the contract of the cake vs. the icing.
Either way you decide to do it, you can stop here, or you add additional chopped nuts, pumpkin seeds, grated carrot, cracked vanilla bean, coconut, pomegranate or whatever else you can think of.
If your tin has rounded edges, tidy it up by cutting off the sides. To do this, cut down the side, then clean the knife off before doing the remainder of the cake.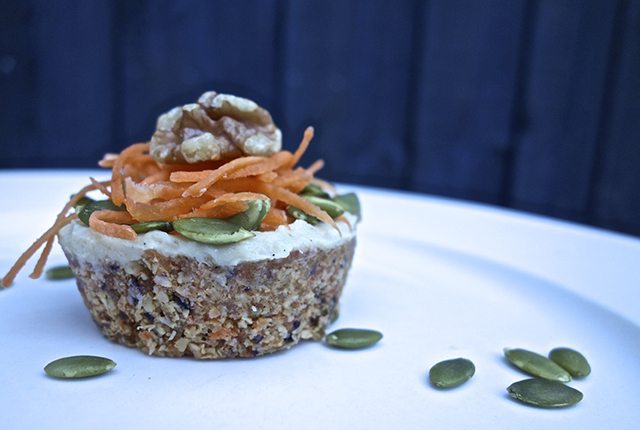 Because the cake is fairly easy to get in a shape (provided you can get it out of the tin intact), this recipe lends itself to endless styling opportunities – so get creative and don't be scared of messing anything up, because if you do, it will still taste great. If your cake ends up super ugly, just eat it blindfolded, then try again!
If you plan on freezing the cake, do it after you have iced it but before you add any additional toppings.