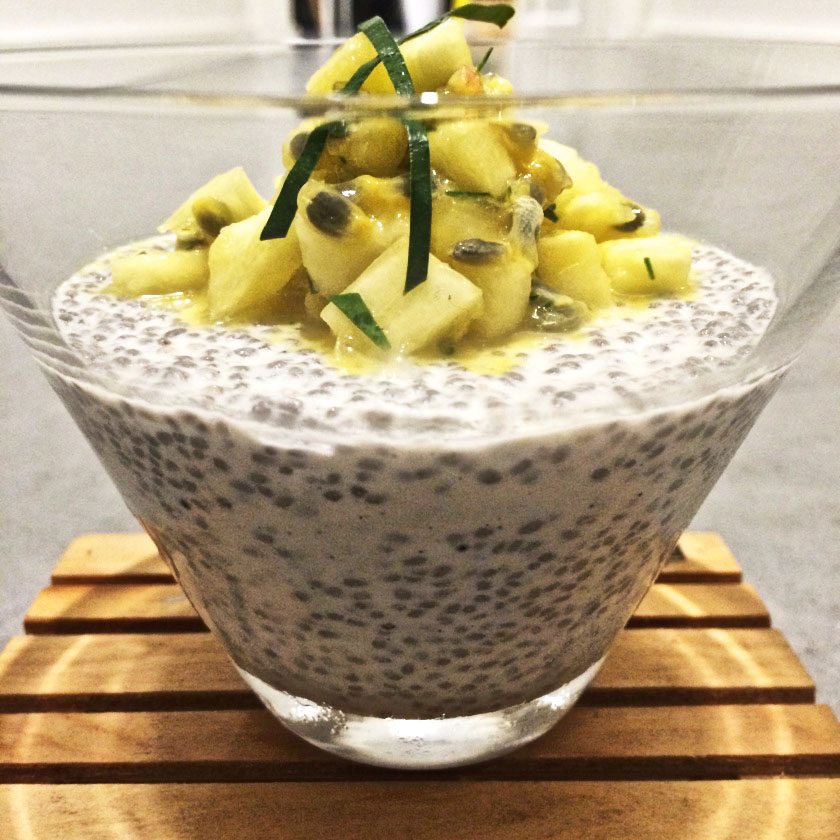 Chia pudding is one of my favourite breakfasts as it can be made the night before and is super quick.Because cashews are chia seeds are quite mild in flavour, it lends itself to creating all sorts of flavour combos. Unlike its rice pudding counterpart, chia seed pudding is full of omega 3s, healthy fats and is a complete source of protein.
If lime is your favourite citrus, feel free to add more and report to me on the results.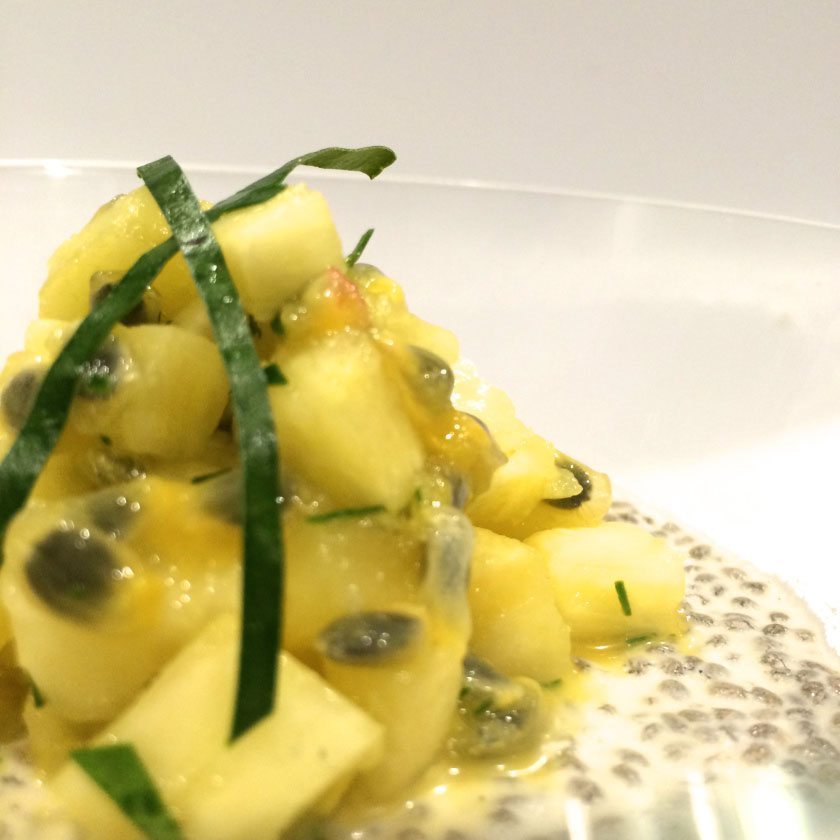 passion of the chia pudding
Preparation Time: 5–8 minutes
Serves 2-4 mains as a breakfast, but can be divided up even further as a snack or as a dessert.
1 cup raw cashew nuts (soaked overnight and rinsed if you wish to be super good)
2 cups water
pinch of salt
1⁄2 teaspoon vanilla paste
1⁄2 cup chia seeds (black is used here- looks like mini passionfruit!)
2 tablespoons maple syrup
2 passionfruit
1/2 cup pineapple, finely diced
1 lime, zested and juiced
1 kaffir lime leaf, finely diced plus extra for garnish
Directions:
First make the cashew milk in a blender or food processor by blending together the cashews, water, maple syrup, lime juice, lime zest salt and vanilla until creamy and smooth – if your blender is not powerful enough to get all the chunks out, well that's ok too.
You can now either whisk the chia seeds and milk in a jug then pour into jars (this looks neater but has more dishes!), or to save dishes, divide the chia and milk into 4 jars or glasses and do the mixing in the jar. Either way, mix well with a whisk removing all lumps. If you don't have jars, use whatever is pretty and makes you feel awesome such as beautiful glassware, or your favourite bowls.
Refrigerate until set  – overnight is easiest.
Combine passionfruit, pineapple and kaffir to make a salsa.
Once chia pudding is set, top with salsa.
Best enjoyed while lime-ing with friends.