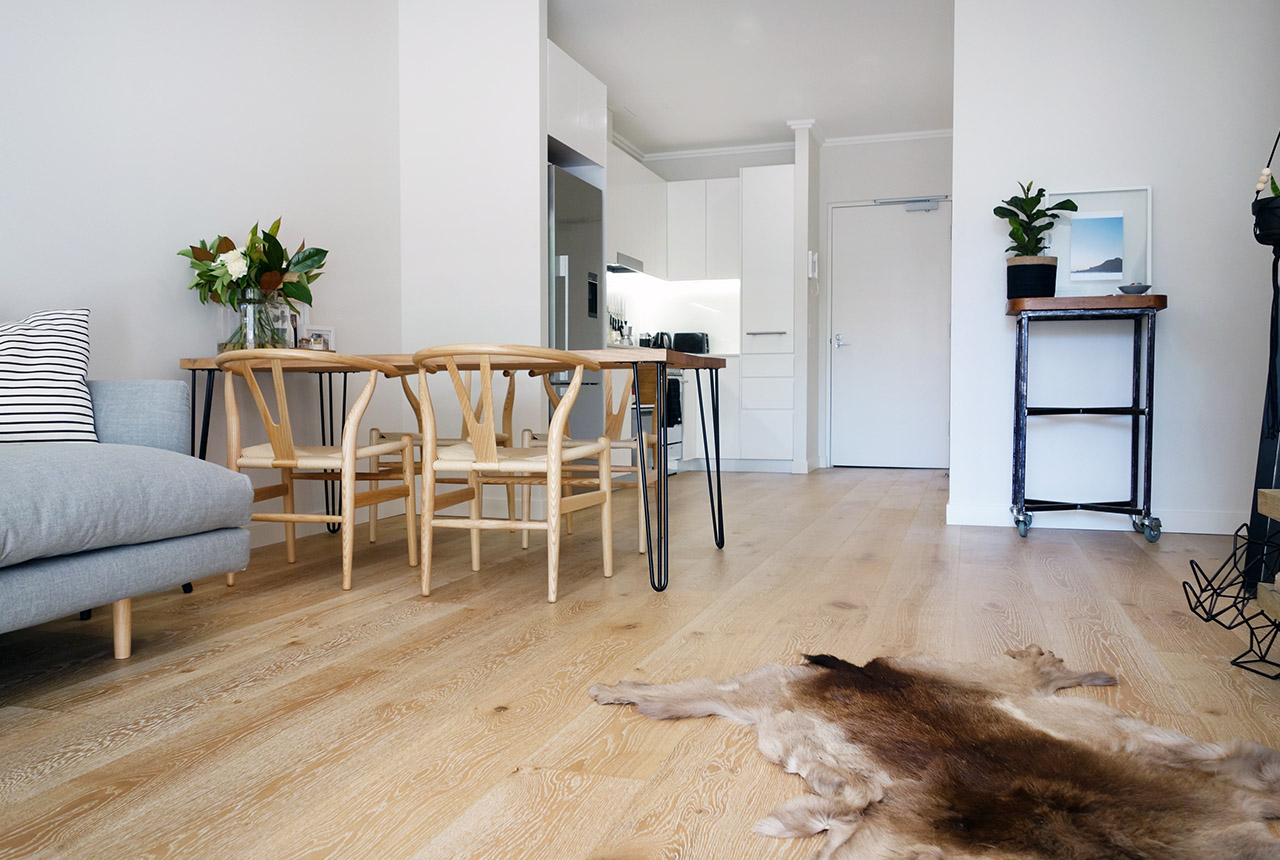 I often like to ponder how funny it is how things work out. This time last year I was about two days away from completing the Camino de Santiago – a 860km walk across Spain to the shrine of Saint James. That was about five months into my blissful ten months of travel around Europe, Bali and New Zealand. Fast forward to now and I am living in a new city (Sydney!), with a new bae (Charlie!) in a new cute house (wee!).
Now this post is more for my Dad than anything.. see he worries and he wants to make sure I am not living in squalor. It is his duty to reassure my other relatives of my living status as well. To be honest.. I am pretty sure that given the house prices in Sydney, squalor could be a possibility here more often than you would think.
When Charlie and I first moved here we had our hearts set on a beautiful two bedroom Victorian villa with lots of charm, indoor and outdoor space and room for guests and hobbies. 10 open homes later, with our dream home being snapped up from under our feet going for $150/w over the listing price, it became clear we needed to scale back. The rental market is expensive AND competitive here! Sheeesh! :(.
So we settled for a one bedroom apartment in Surry Hills. To make up for our friends and family sleeping on a Kmart blow up bed we will pamper them with fresh bread from Bourke Street Bakery and overpriced smoked cheddar from Maloney's.
It has taken a while to furnish this house (to be honest thank god we didn't have to furnish a bigger place!!!) but it has come together with a mix of old and new, homemade and commissioned, cheap and expensive.
Enjoy xx.
Cat & Charlie
LOUNGE / DINING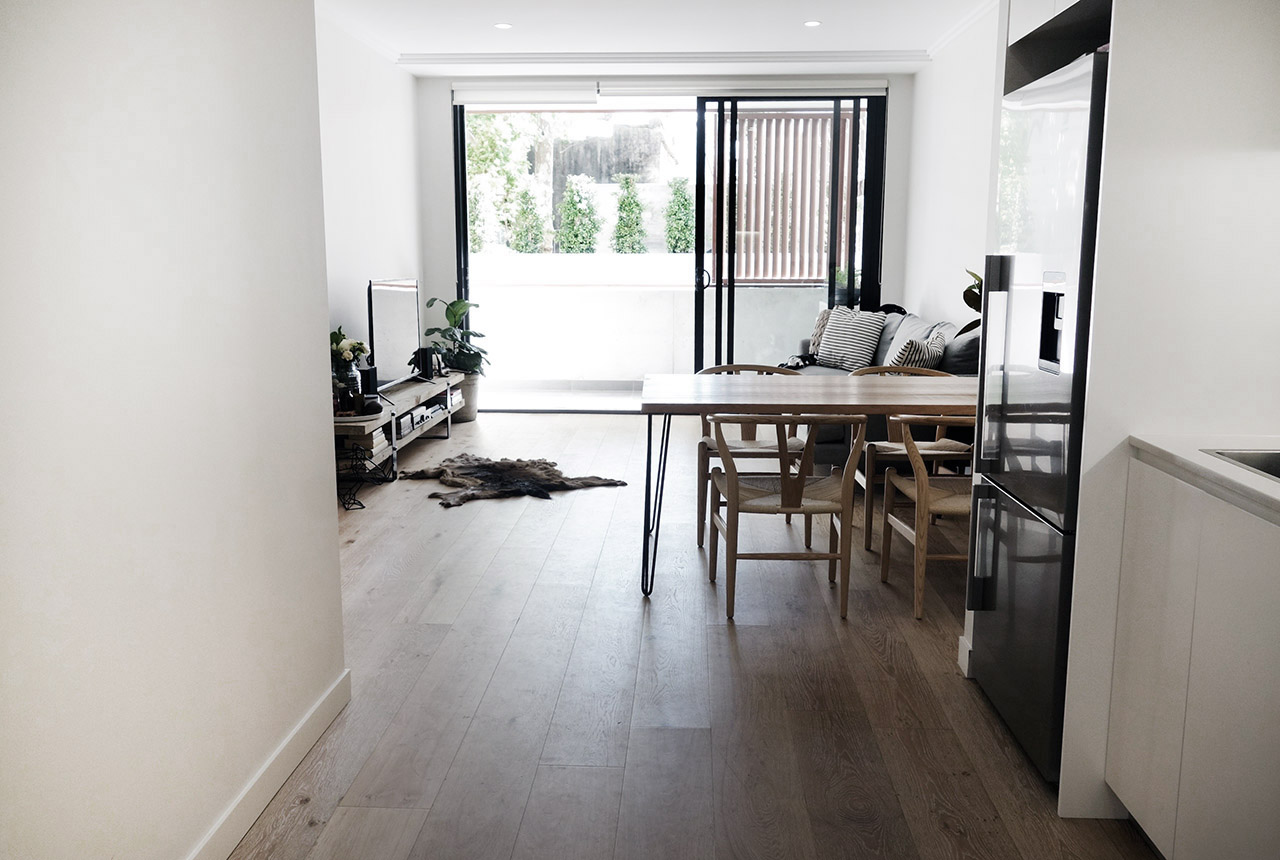 Walking in from the front door you are greeted with an open living kitchen, living / dining room and balcony. Funnily enough, just after we moved in the neighbours installed a tree hedge!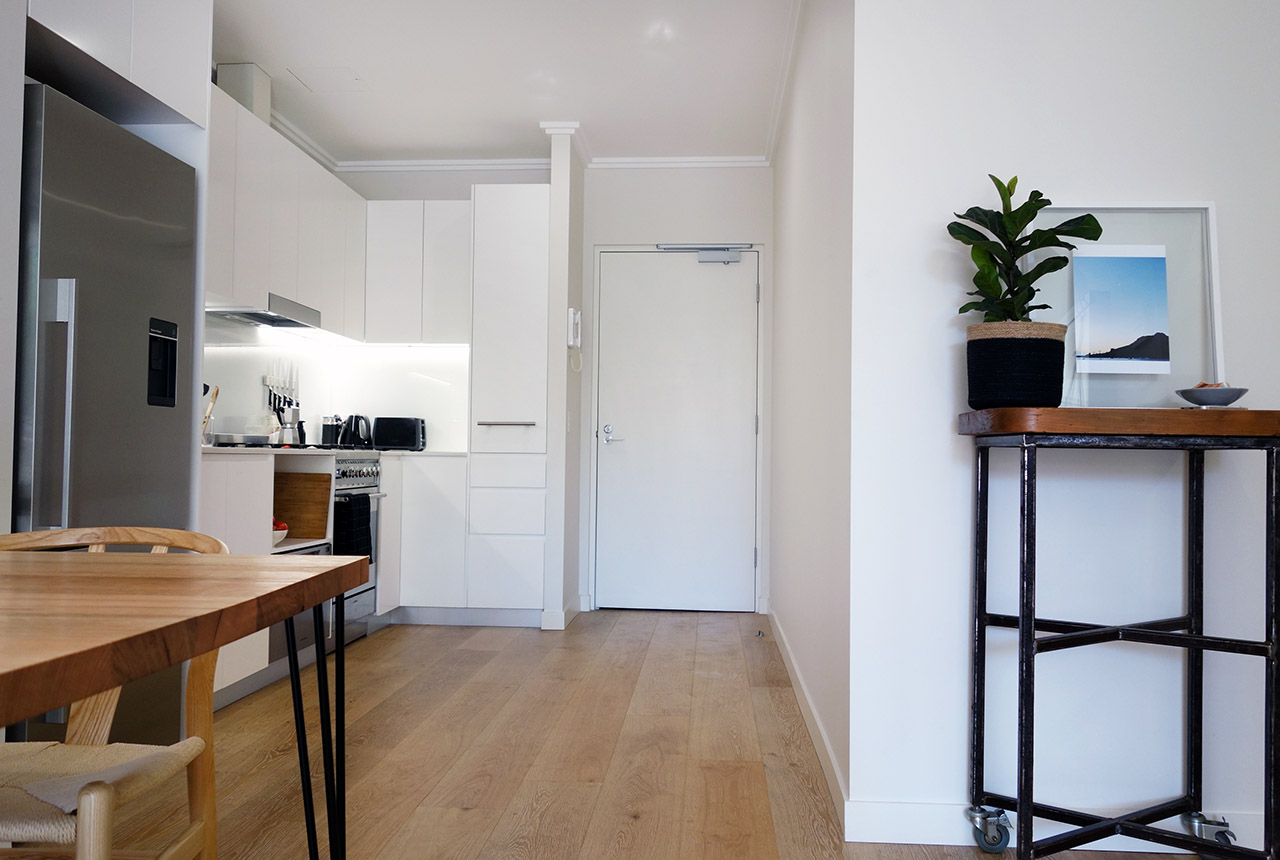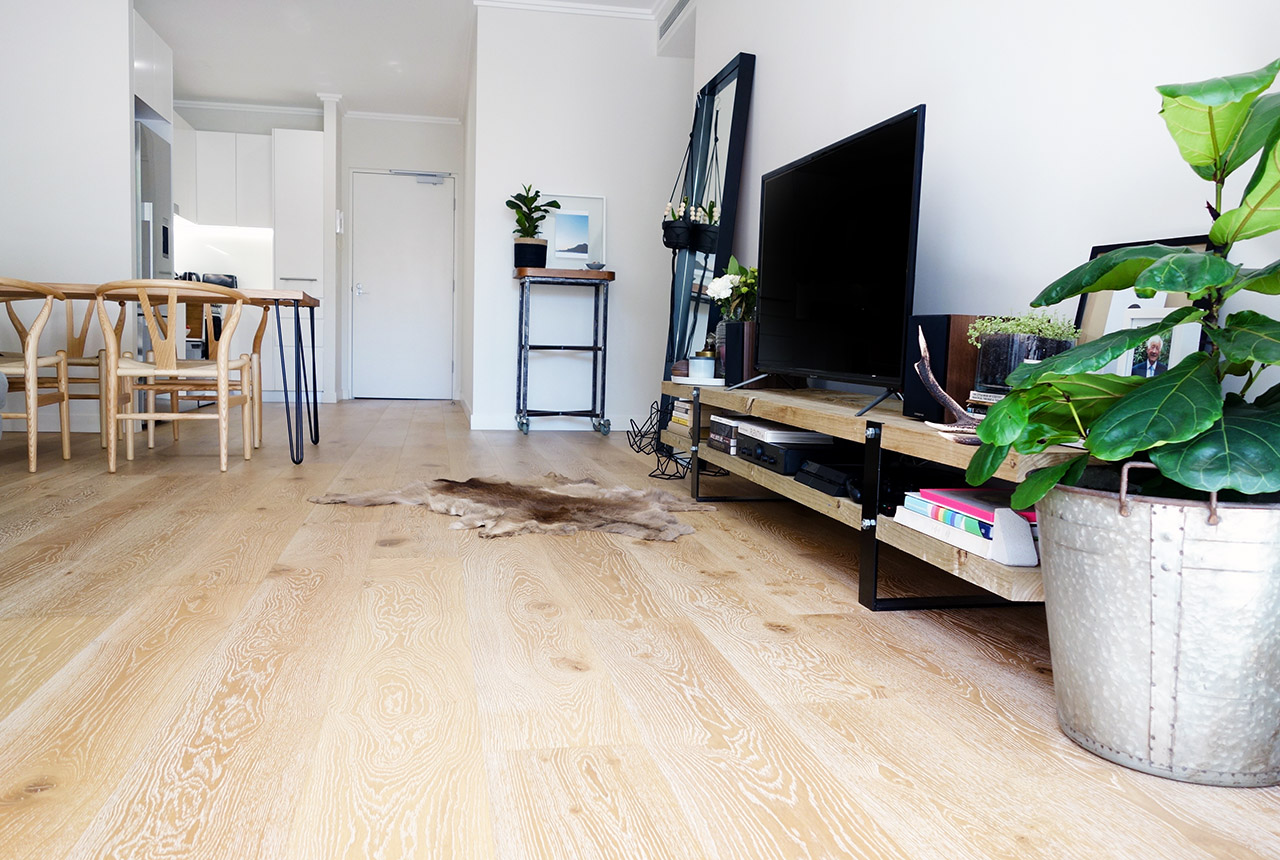 Charles' parents own a furniture wholesale business and a homeware store called Leopold Hall in New Zealand. Much to my dismay, this means Charlie has no tolerance for Ikea. The upside of this is he can make furniture himself and insisted on making us several pieces for the house.
The three highlight pieces in the living / dining room include:
1. The commissioned Australian Hair Pin Leg Table – made from Tasmanian Oak and steel legs.
2. The industrial steel and oak side table on castors made by Charle.
3. TV unit which was a blend of commissioned steel frames (also by Australian Hair Pin Legs) and $14 Bunnings sleepers that Charlie orchestrated.
The result of this extra effort is that we actually saved money and got something unique to us.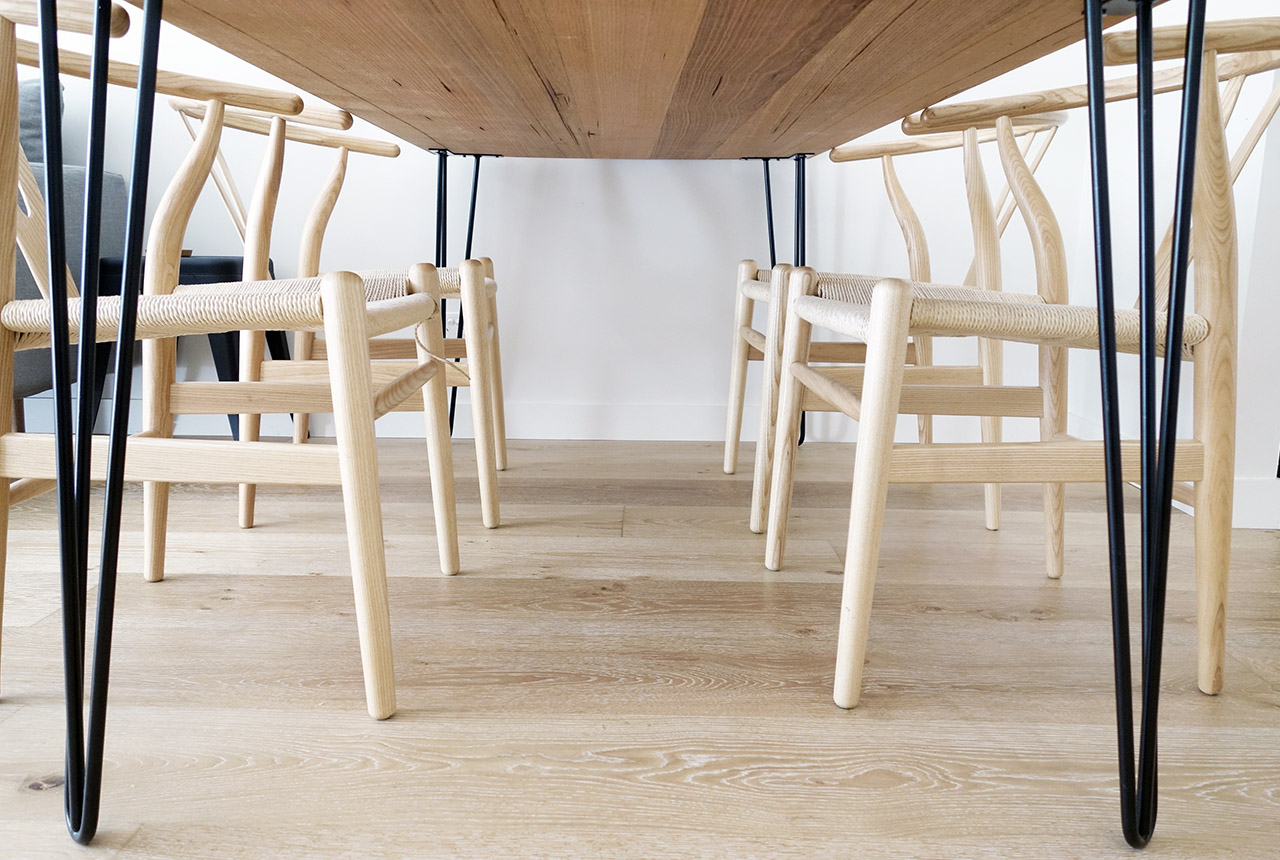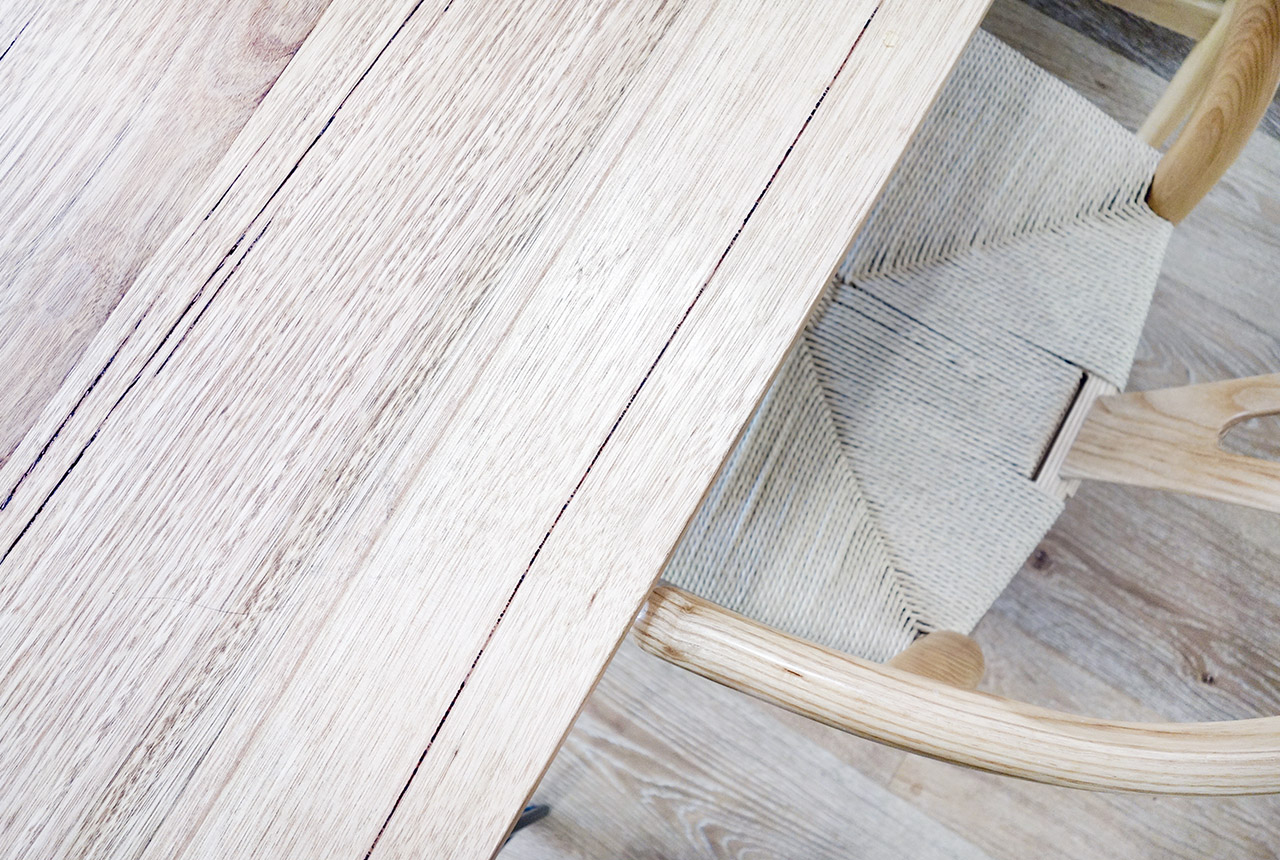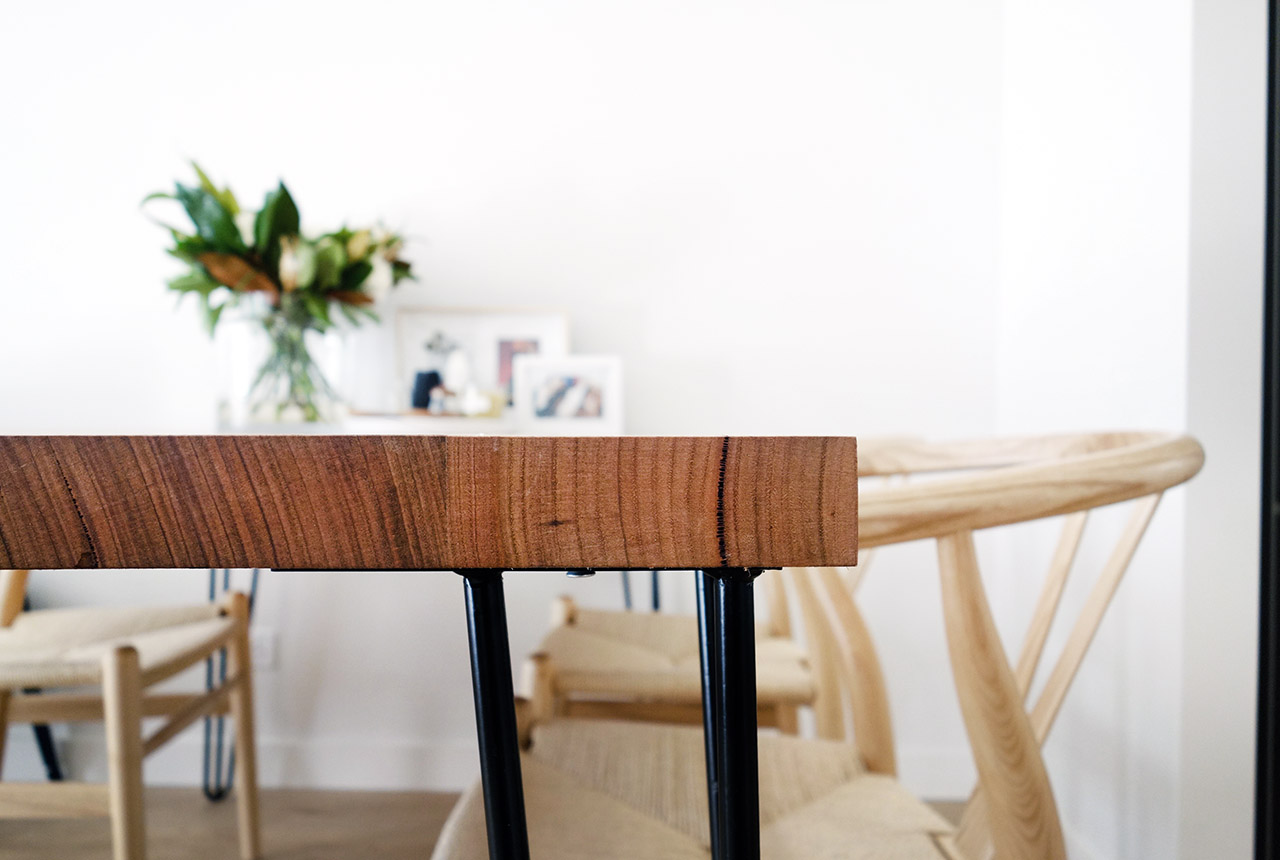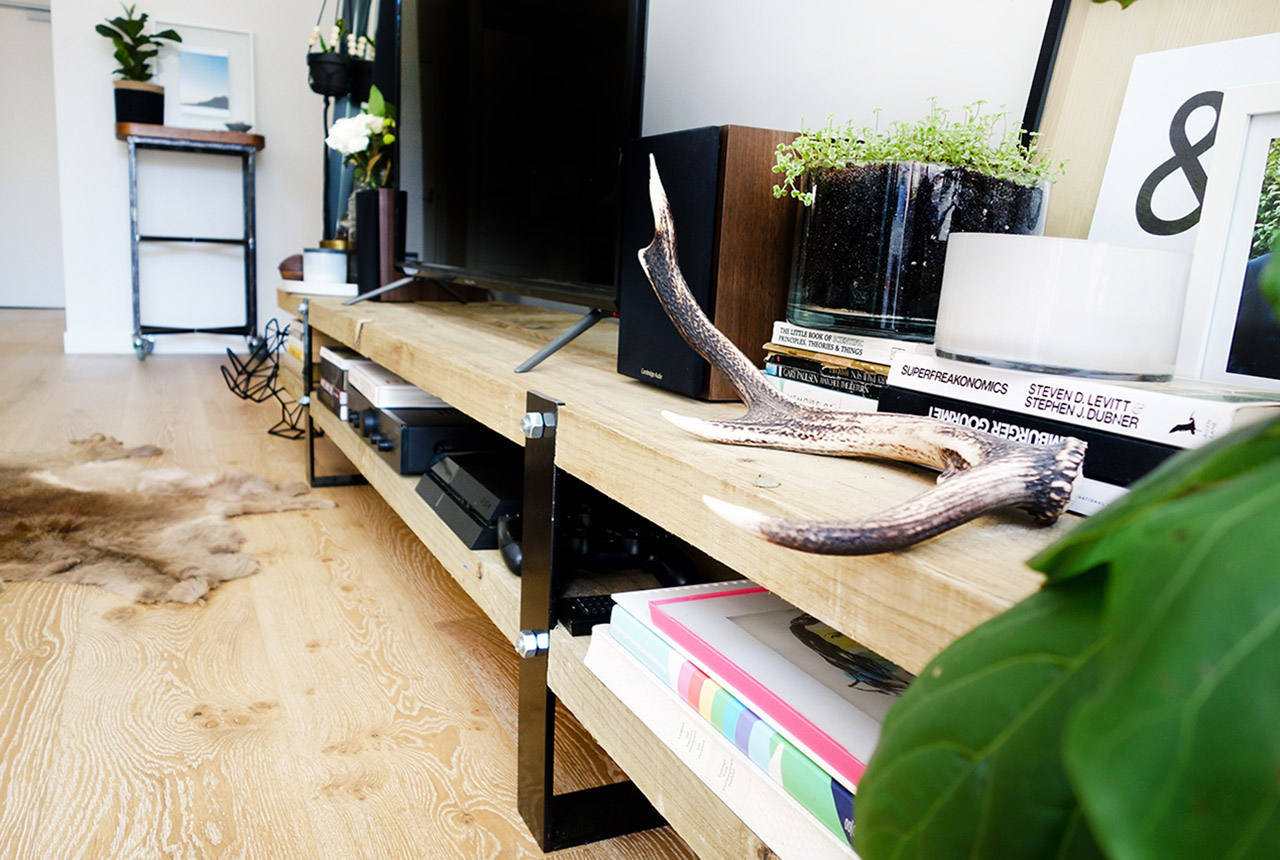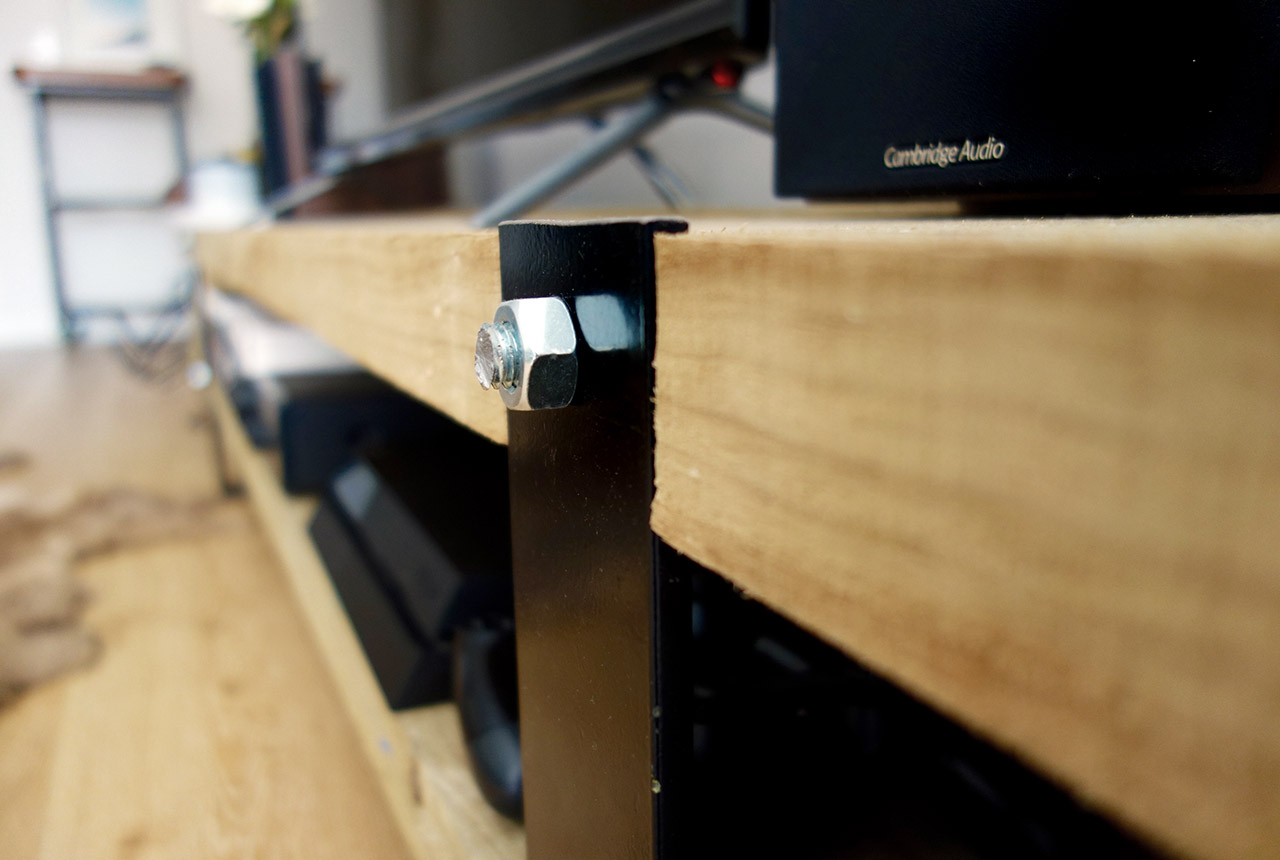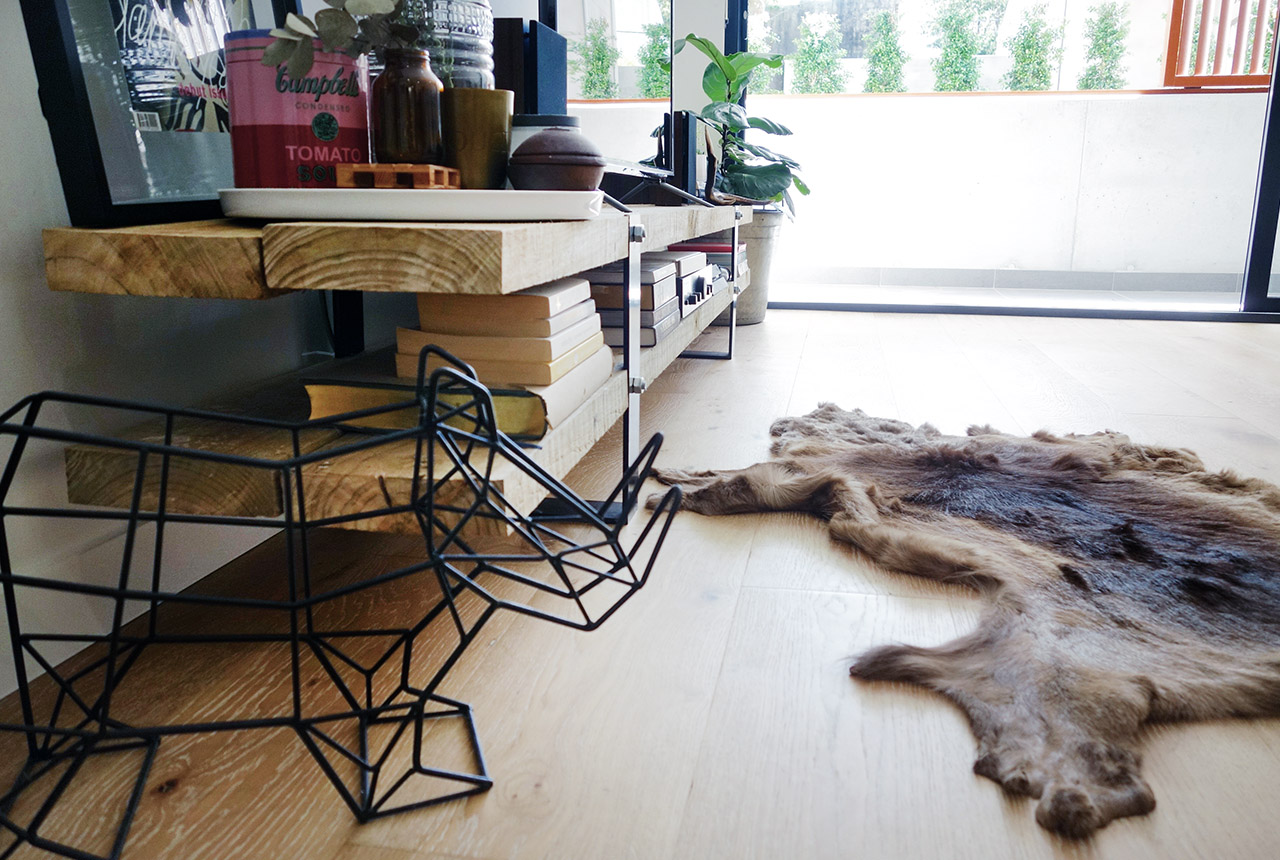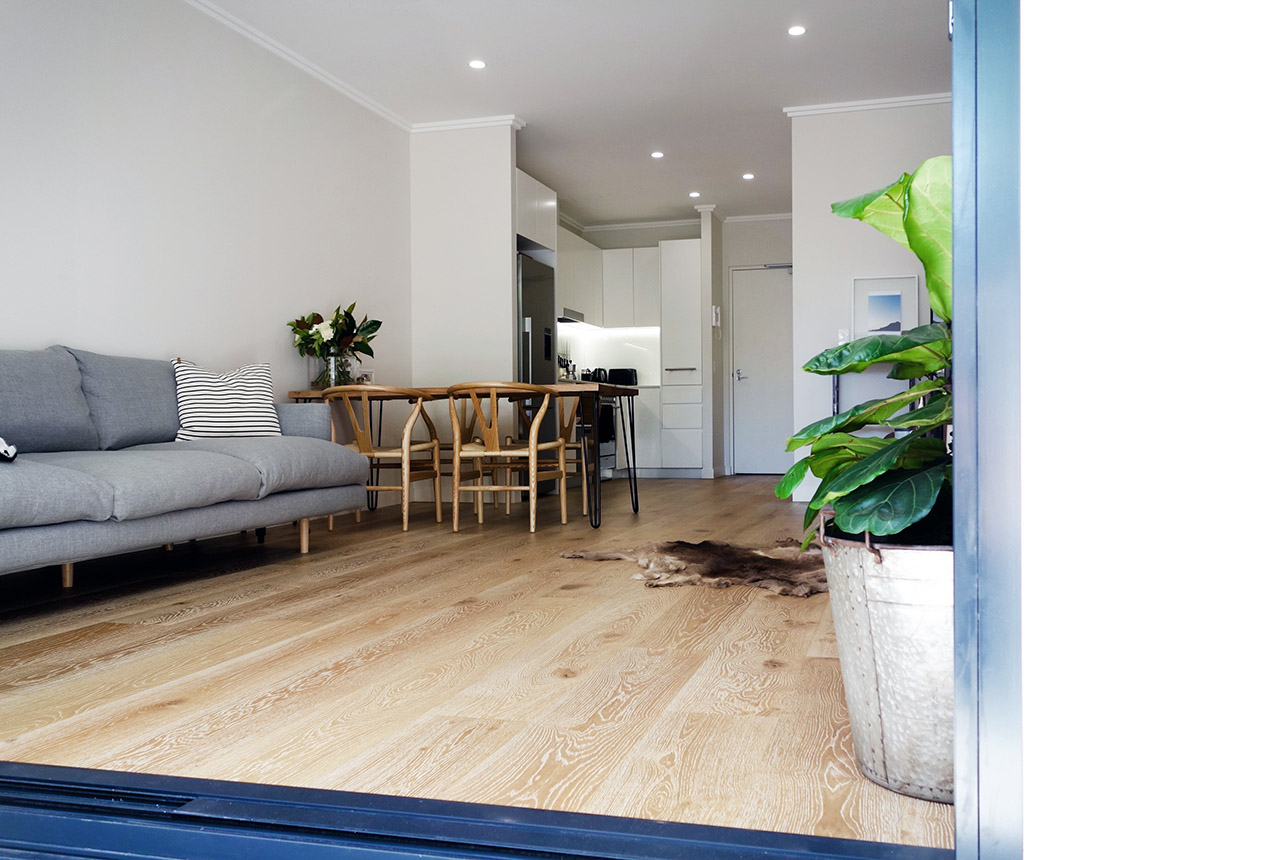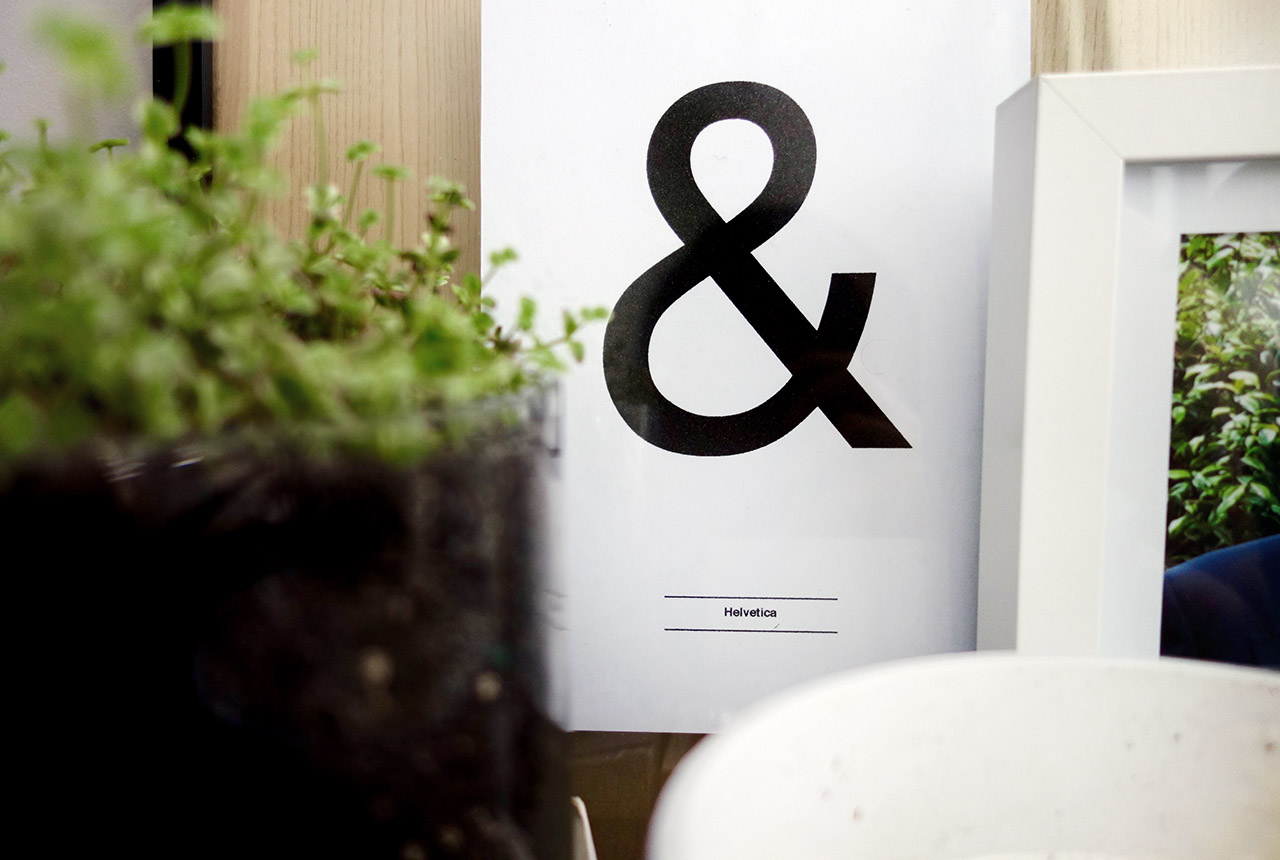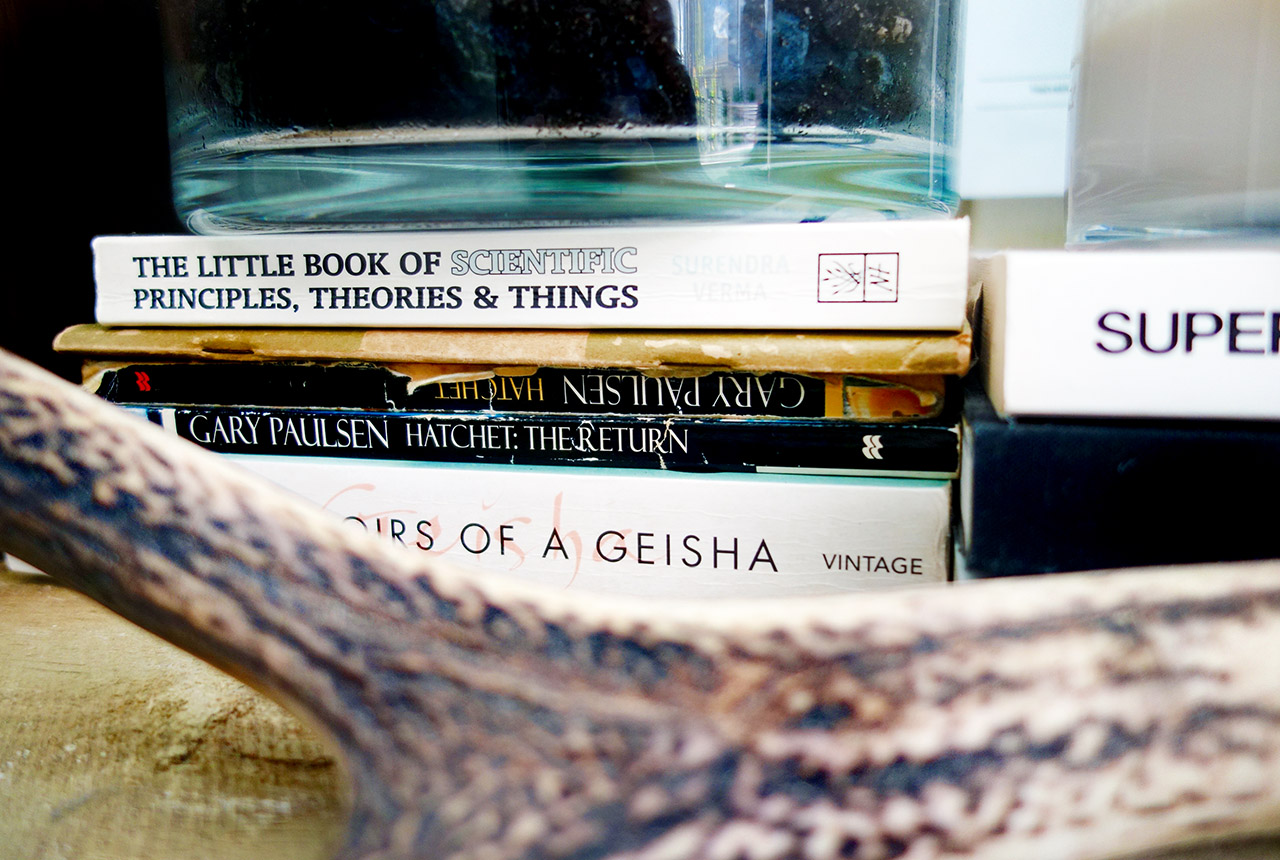 BEDROOM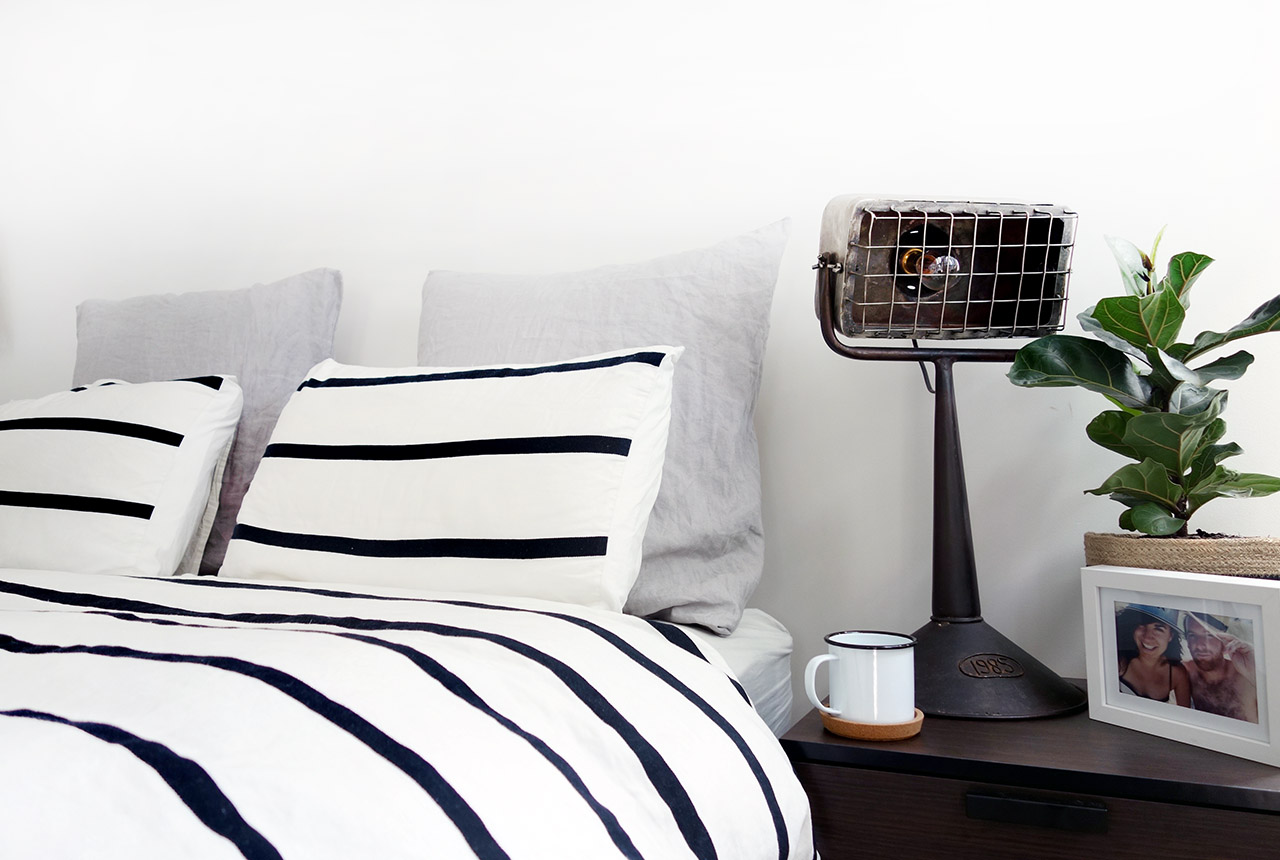 As mentioned, Charles is a very talented furniture designer and maker. Because of this, we slept on a, albeit very comfy, Sleepyhead mattress on the floor for three months while we waited for his beautiful steel bed base to arrive. The legs are recessed on an angle under the bed which gives it a 'floating' look. I love this bed so it was well worth the wait!
Also in the container was the industrial lamp he pulled out of a fire and some pretty enamel cups from Leopold Hall! Thanks Elizabeth!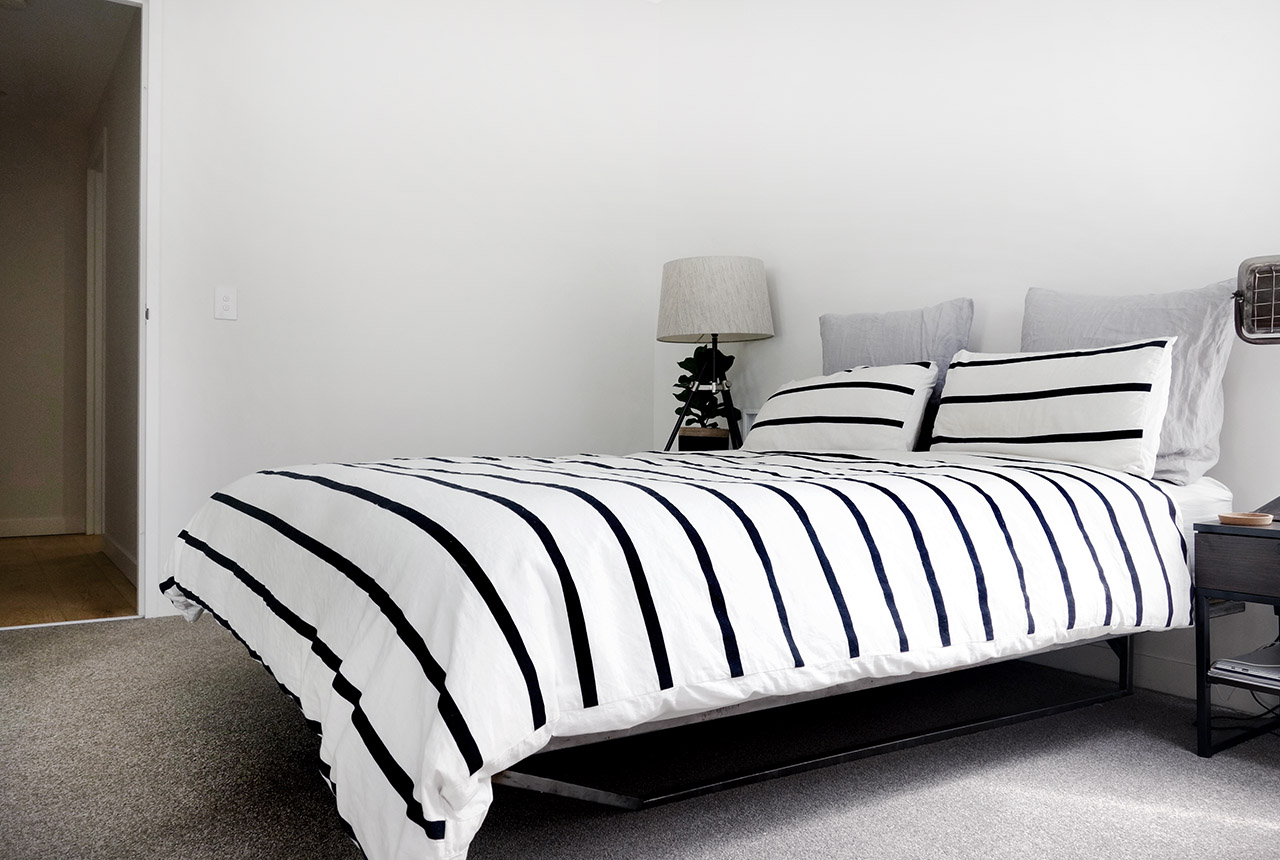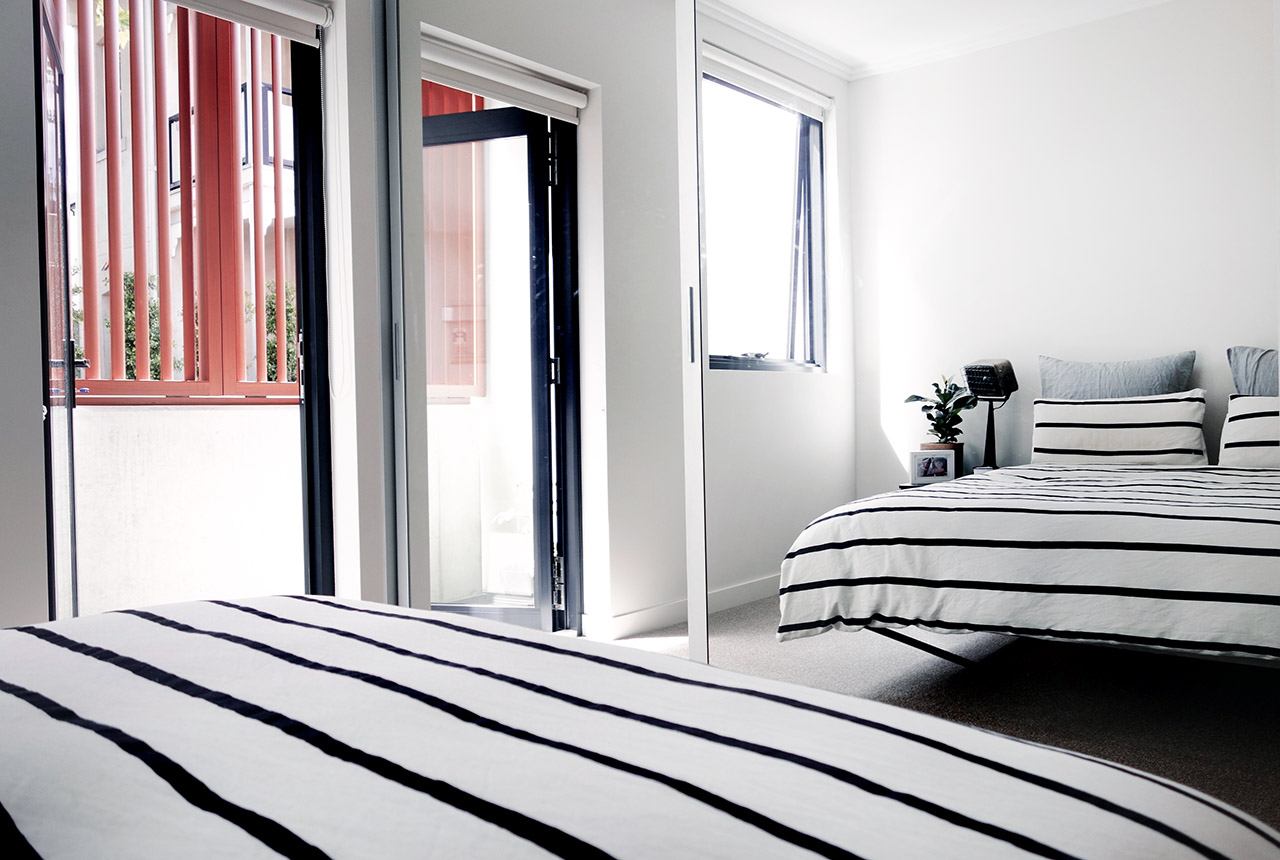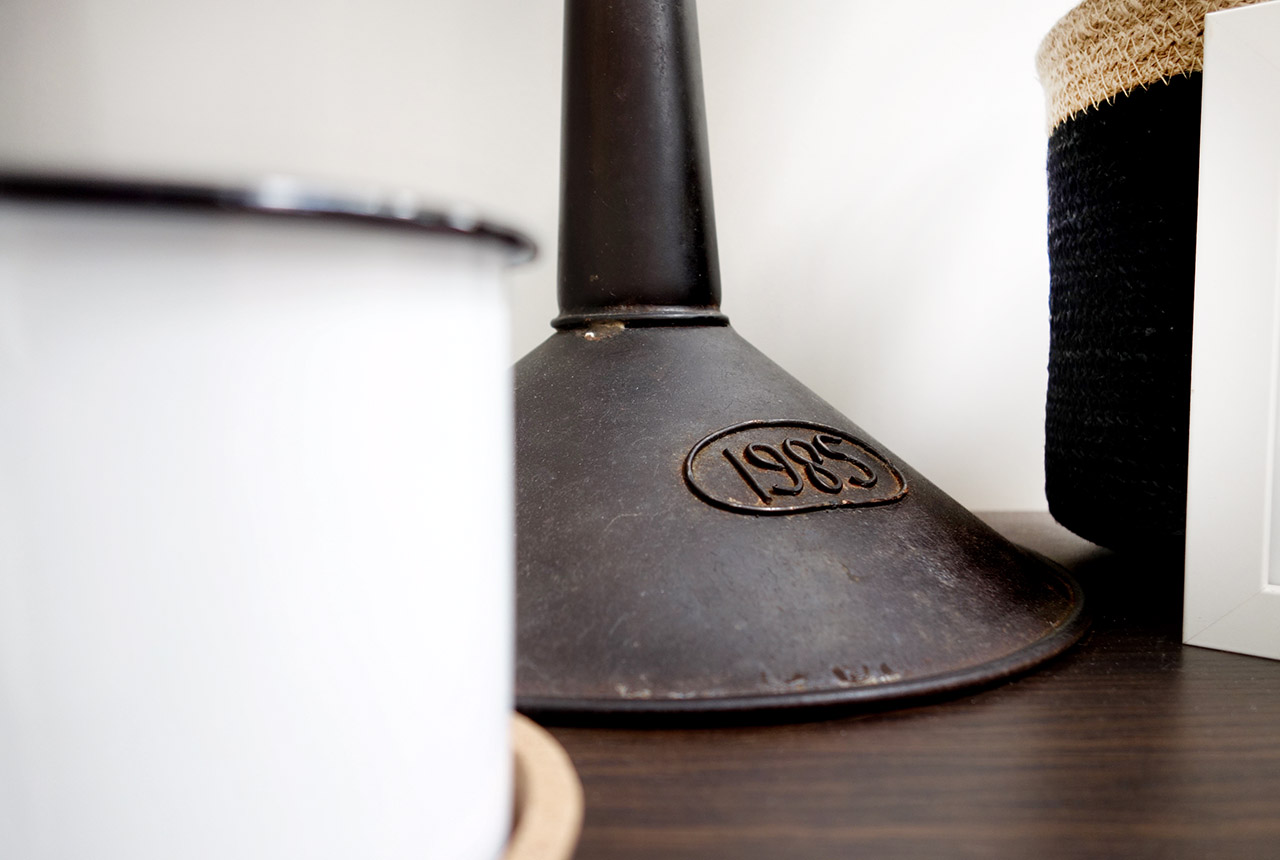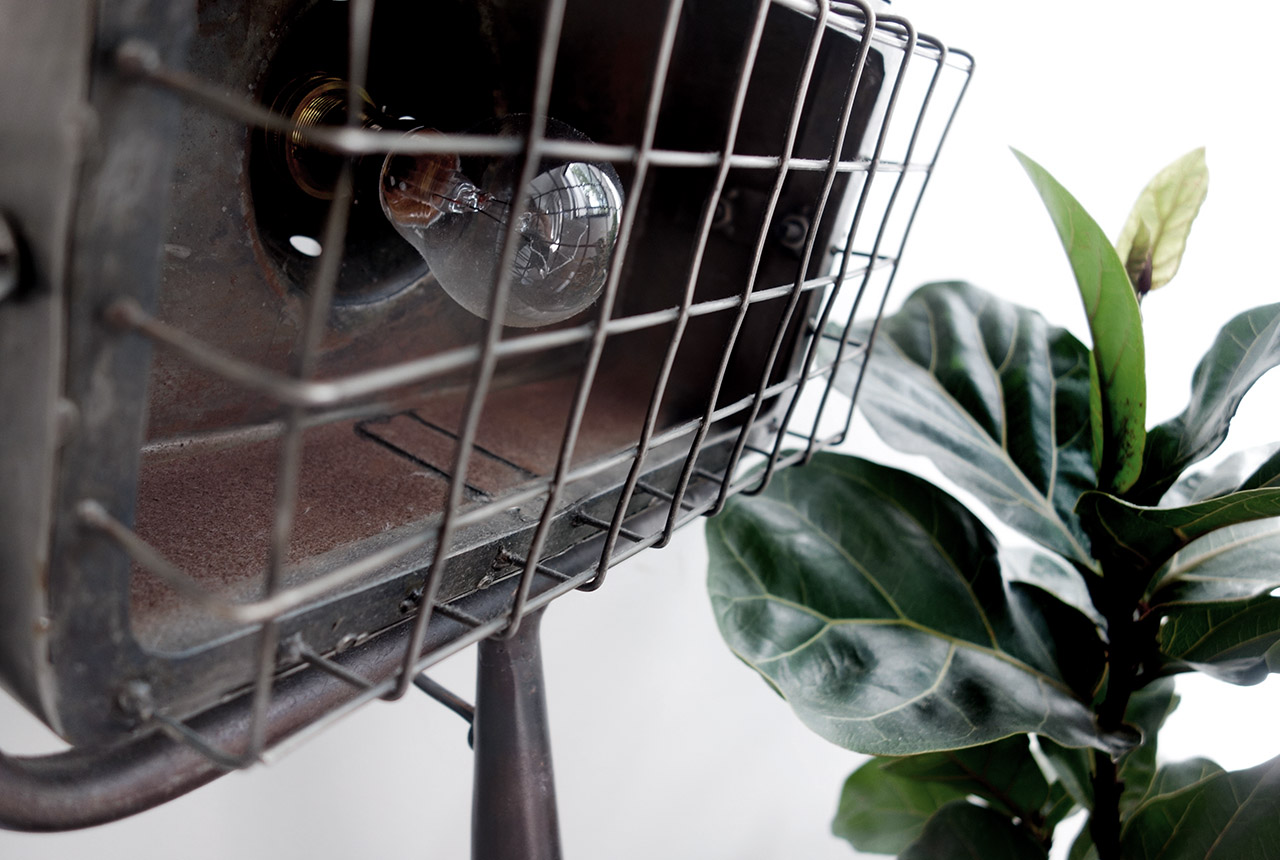 HALLWAY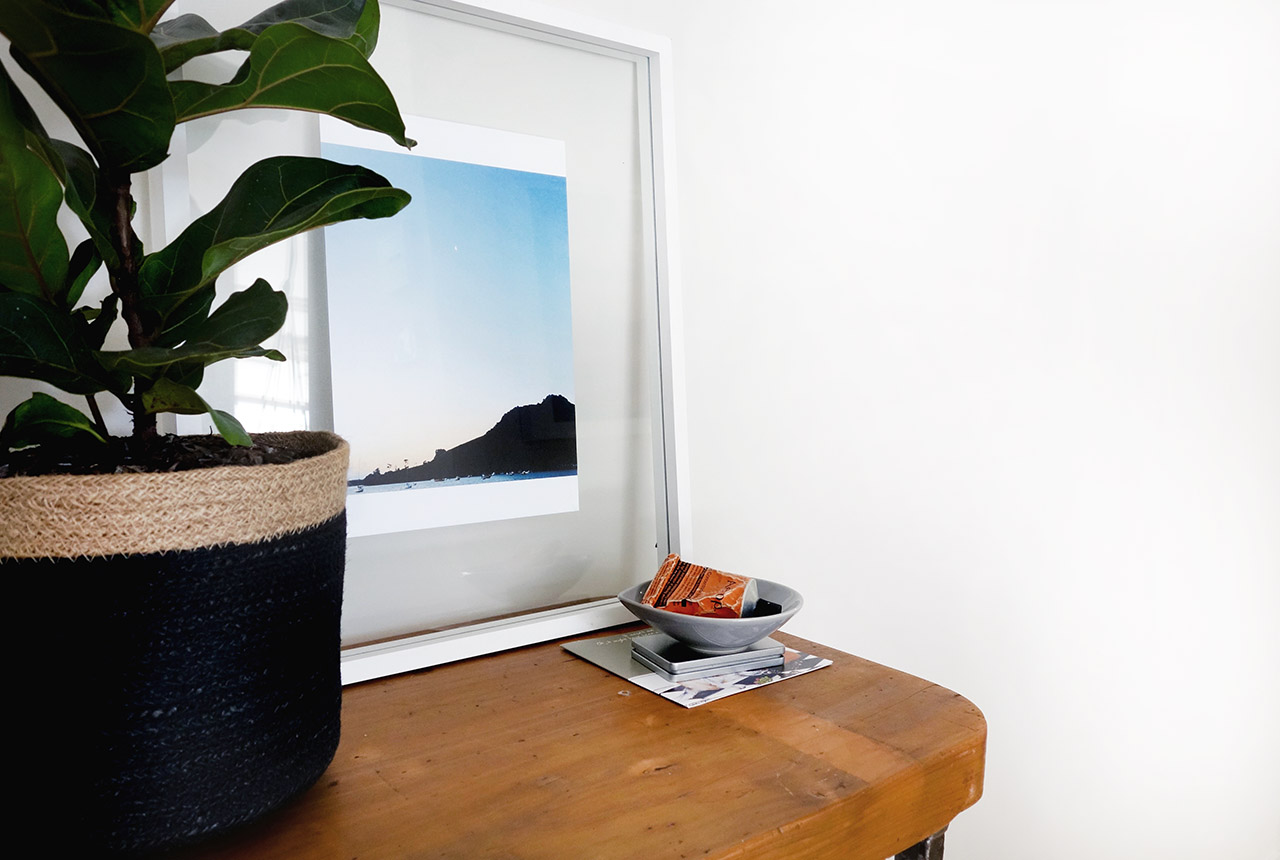 Artwork can either be so expensive that it is out of reach or so mass produced it is no longer special – so we decided it would be better to use our printer and some art paper to make features of memories from travelling over summer such as this sunset at Mount Maunganui – a cheap way to make use of things we already have that has meaning.
A souvenir from the Andy Warhol exhibition also made its way to our walls (yes yes I note the hypocrisy from my previous mass produced statement :P).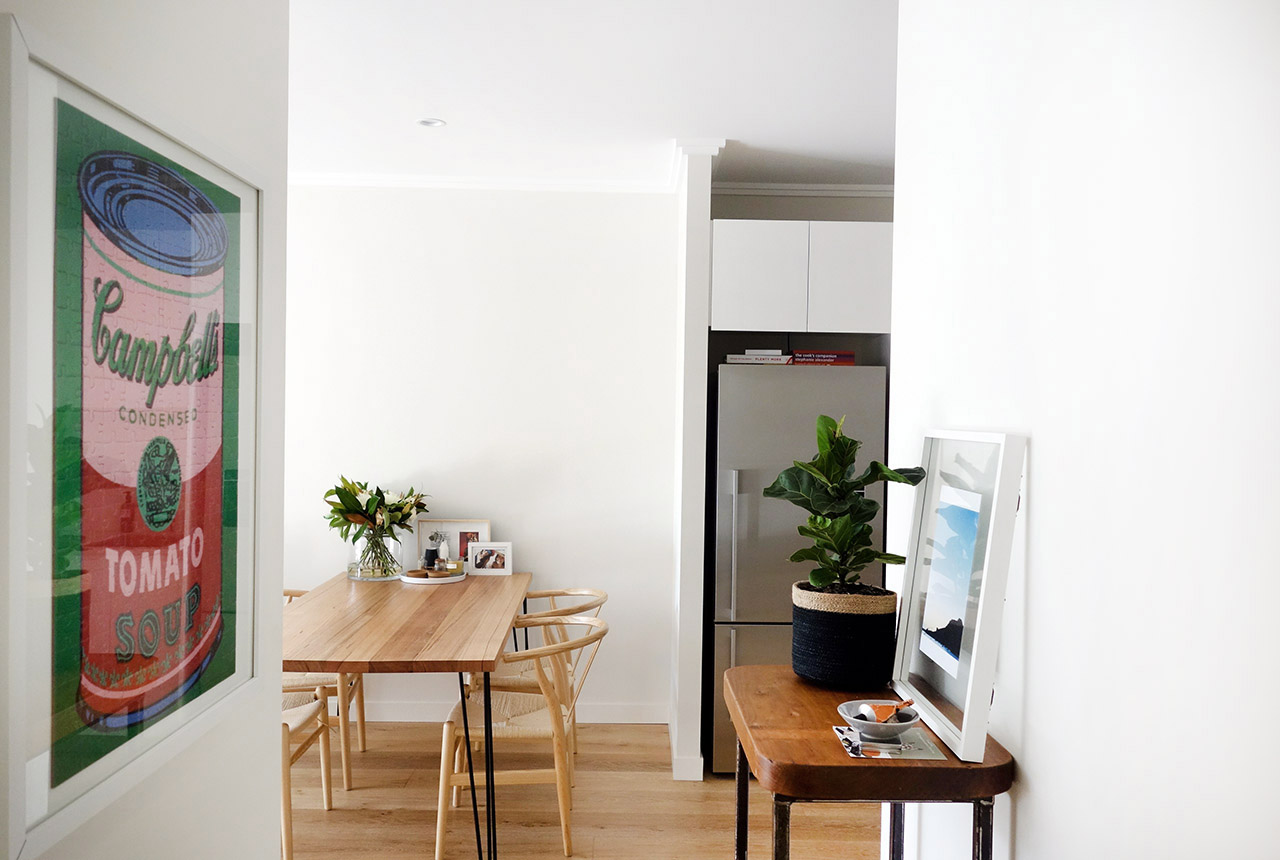 KITCHEN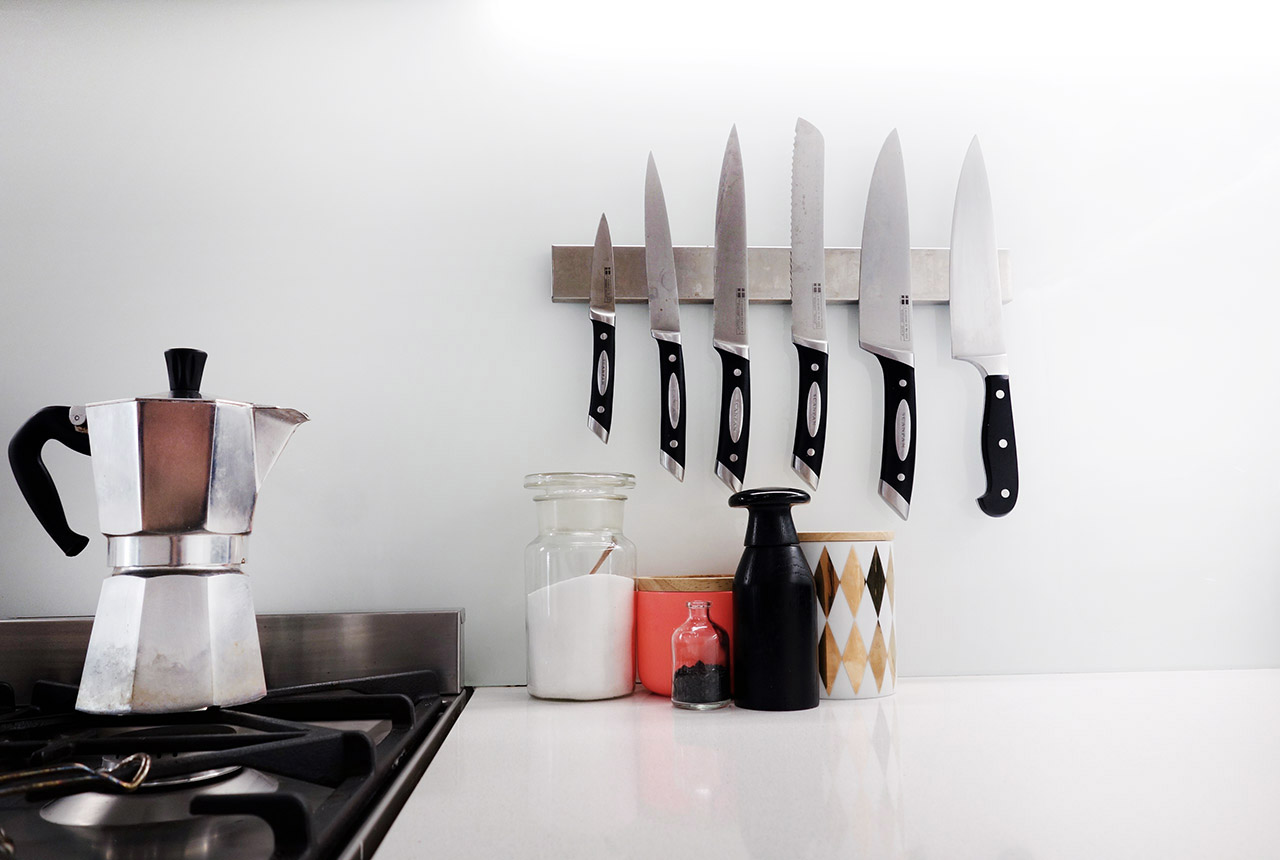 We were a little bit cheeky in the kitchen.. we wanted the knives to be out and accessible, however, we couldn't find a knife block that wasn't obtrusive and in our budget. So we used industrial strength double-sided tape to stick a magnetic knife holder to the glass backsplash. This can obviously be removed when we move out, but we think the next tenants may appreciate it so who knows it may become permanent!!!
See Also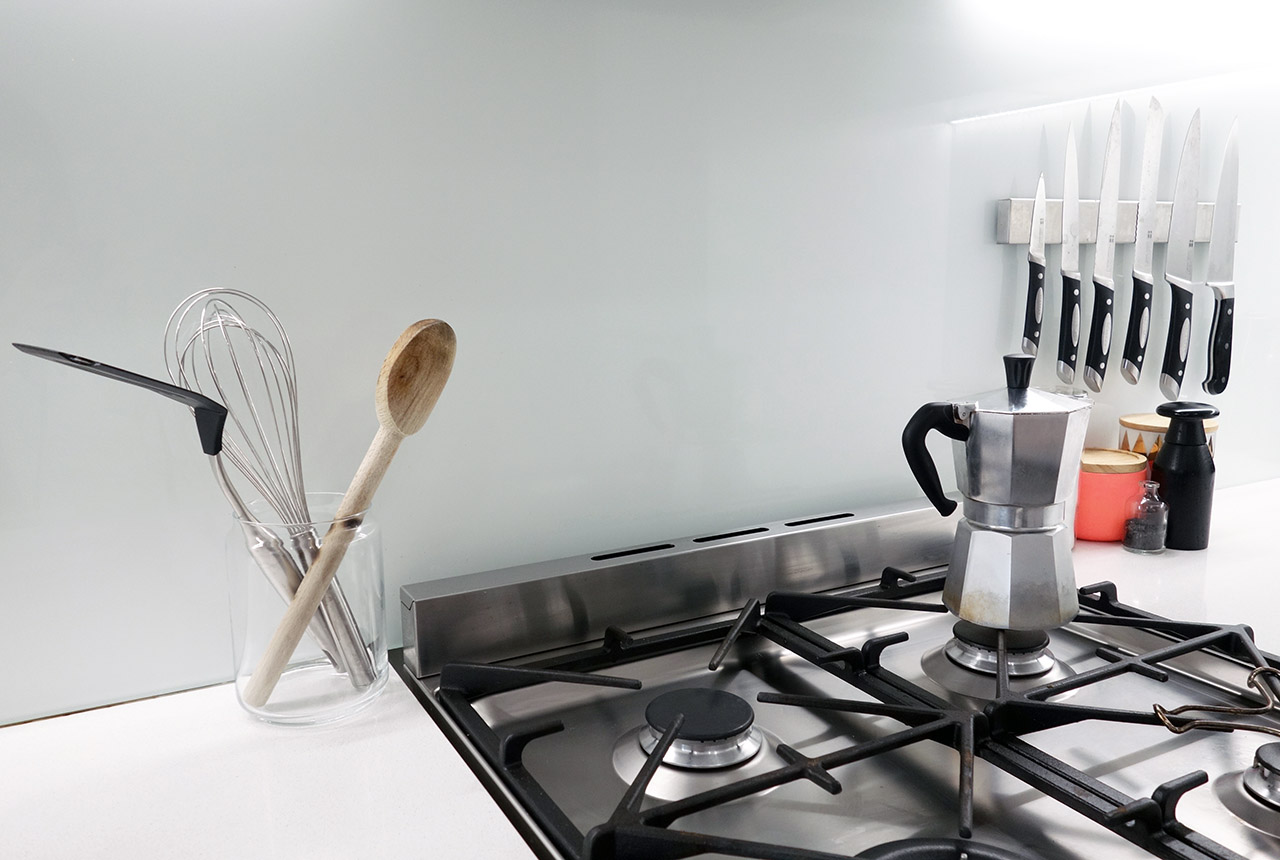 STUDY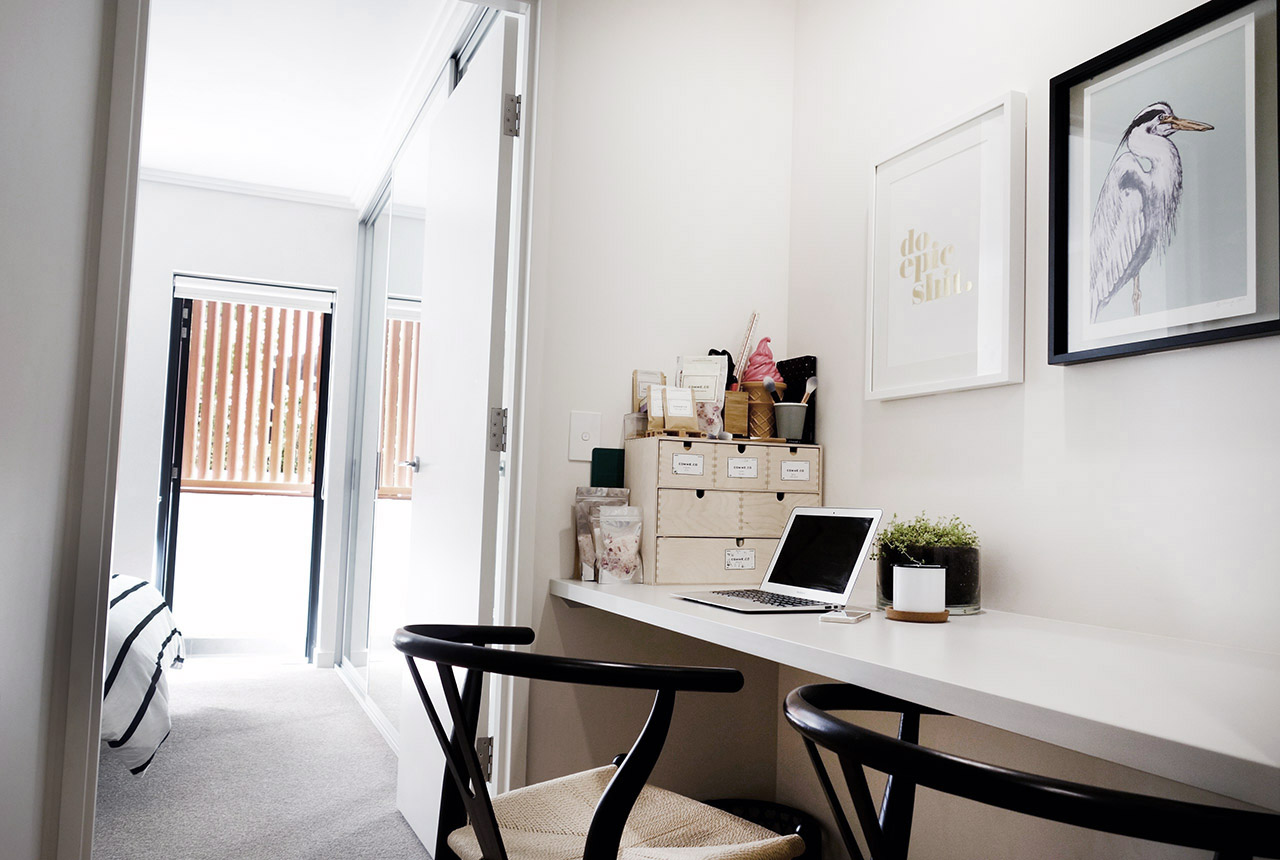 Despite having only one bedroom, this tiny little apartment packs a lot into every square meter, including this little study nook in the hall which makes for an excellent head office for our business comme.co!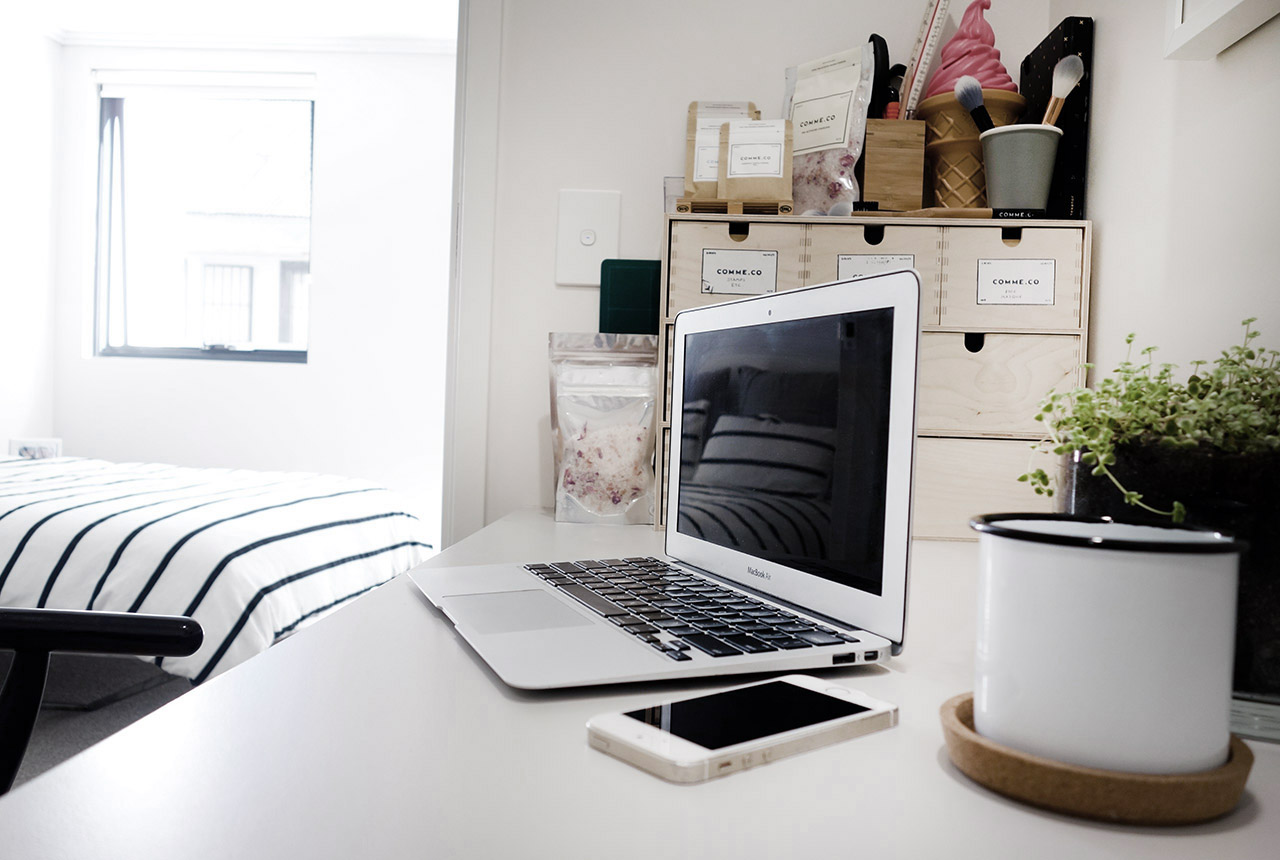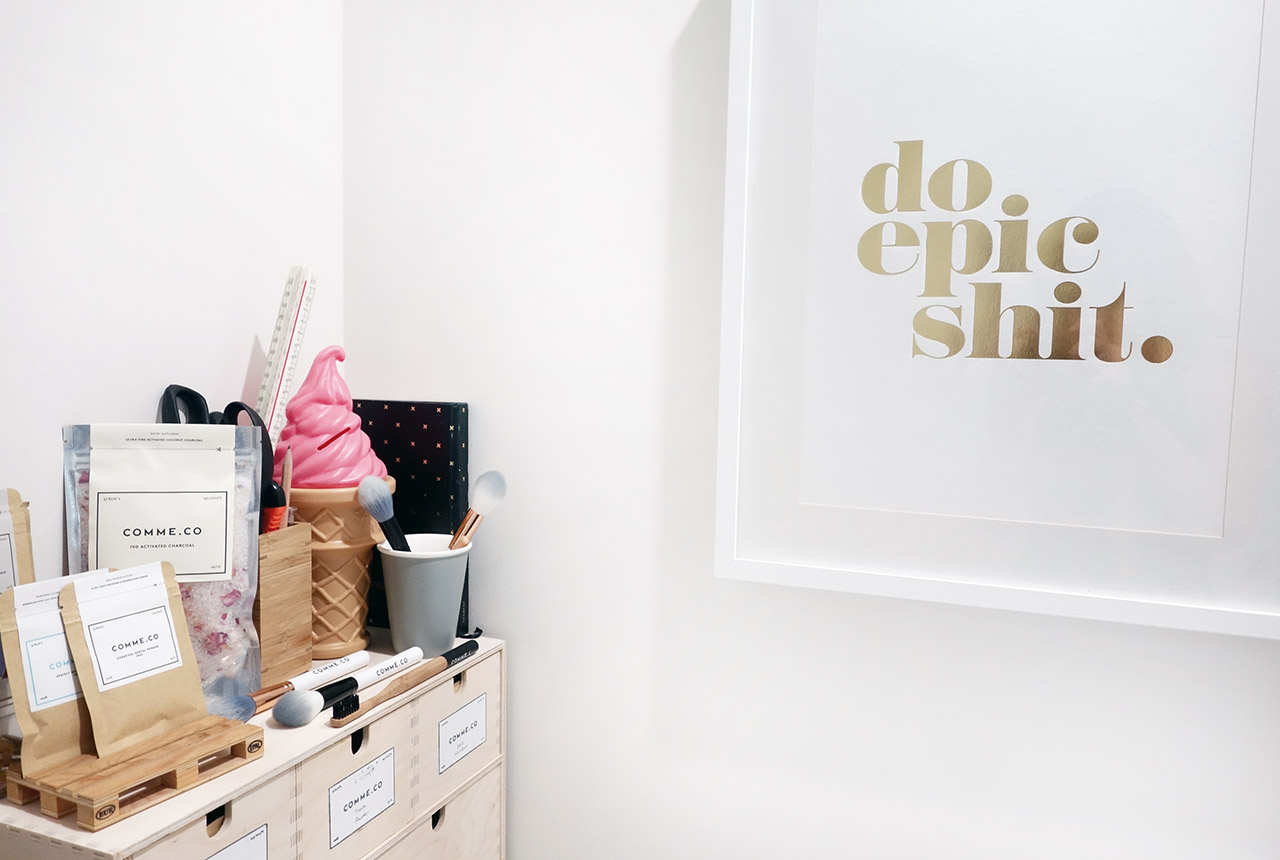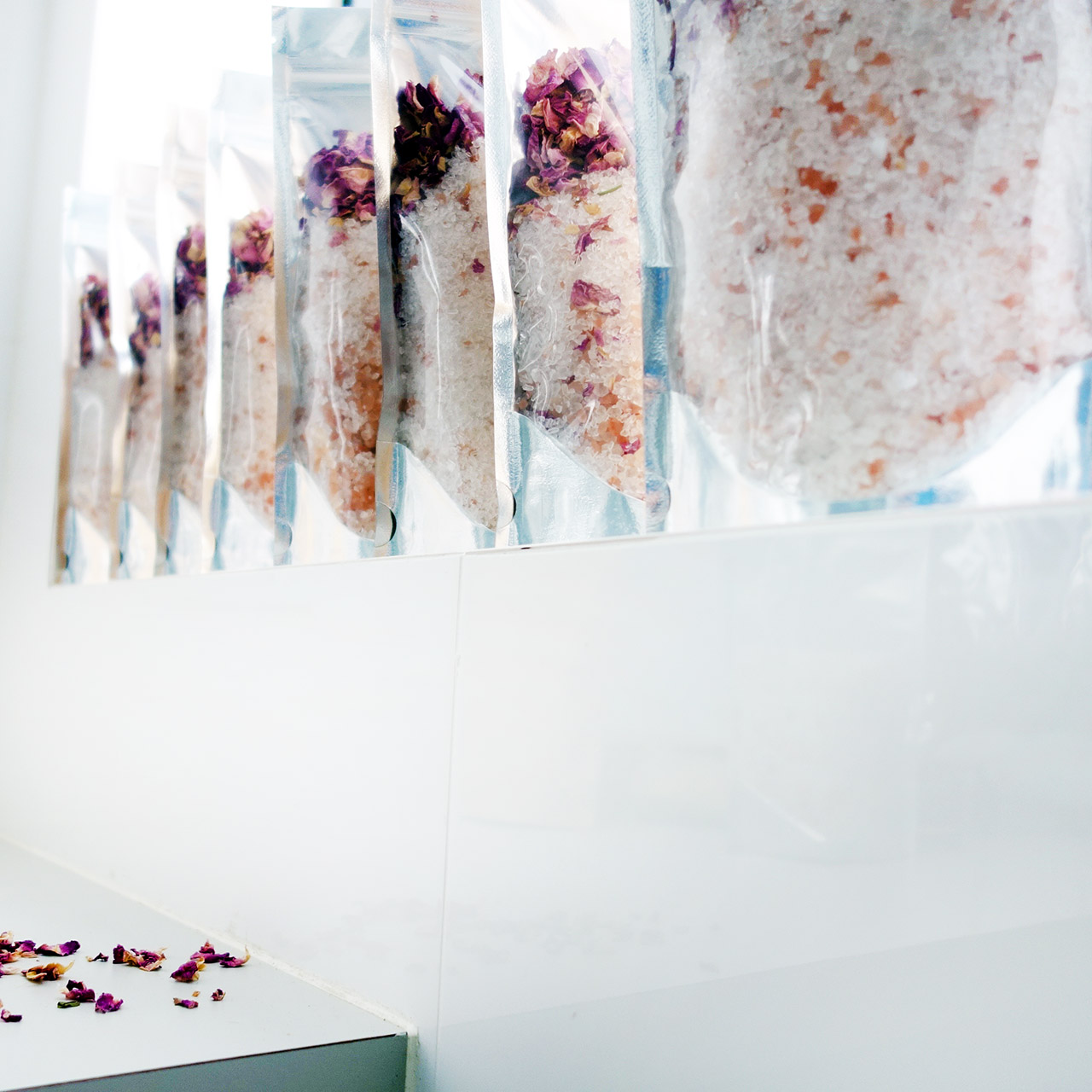 BATHROOM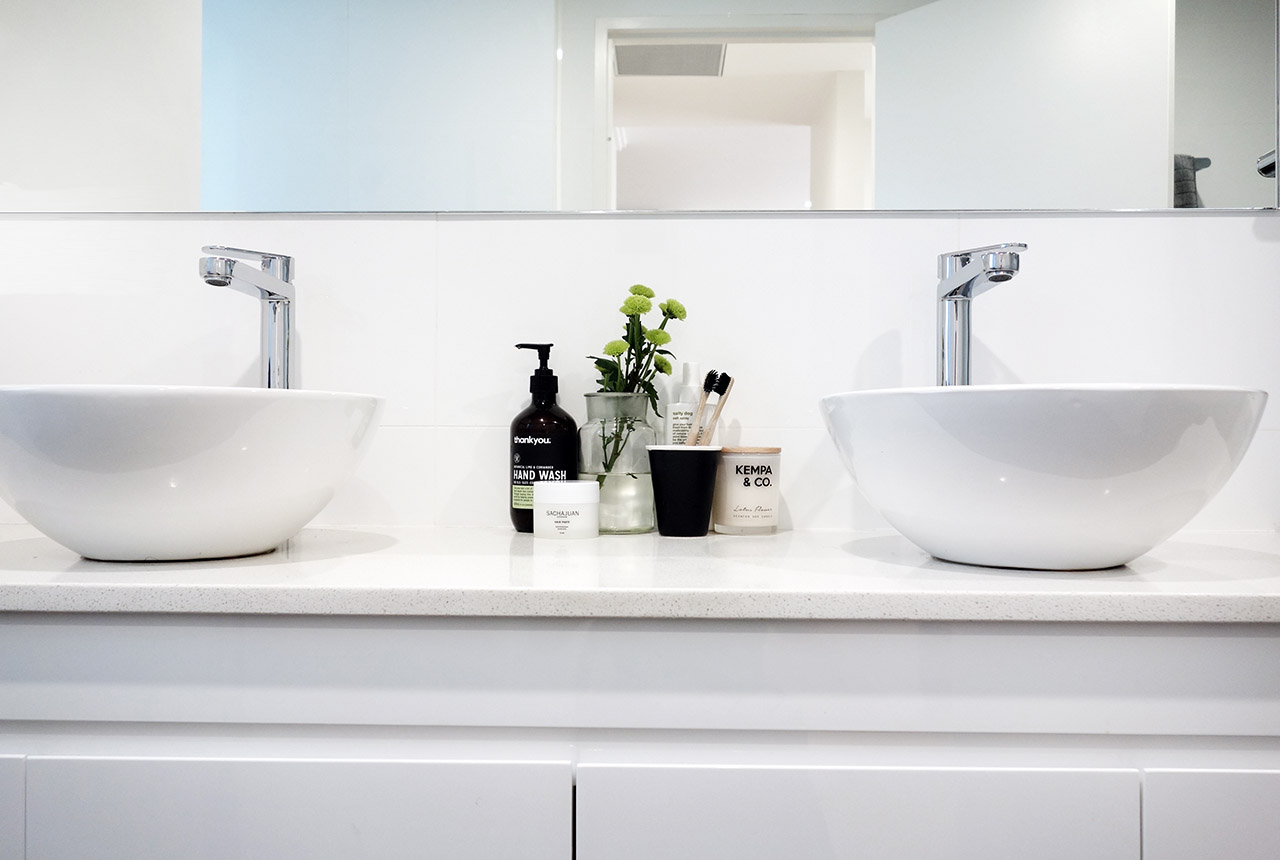 The upside of having a new build is of course all the mod-cons, which is probably a good thing given that we cannot renovate a rental. Having things like two sinks and air-con makes up for the character that we miss out on from an older style home.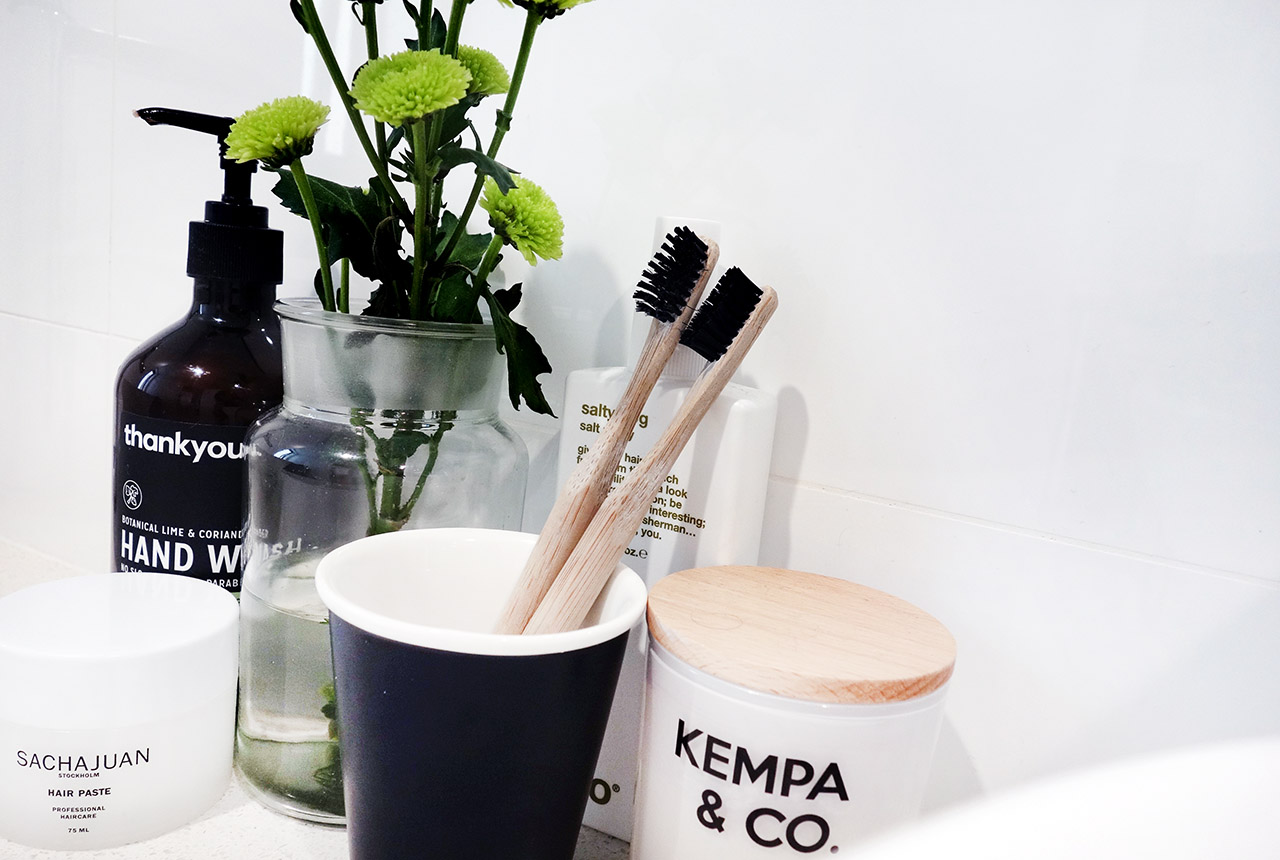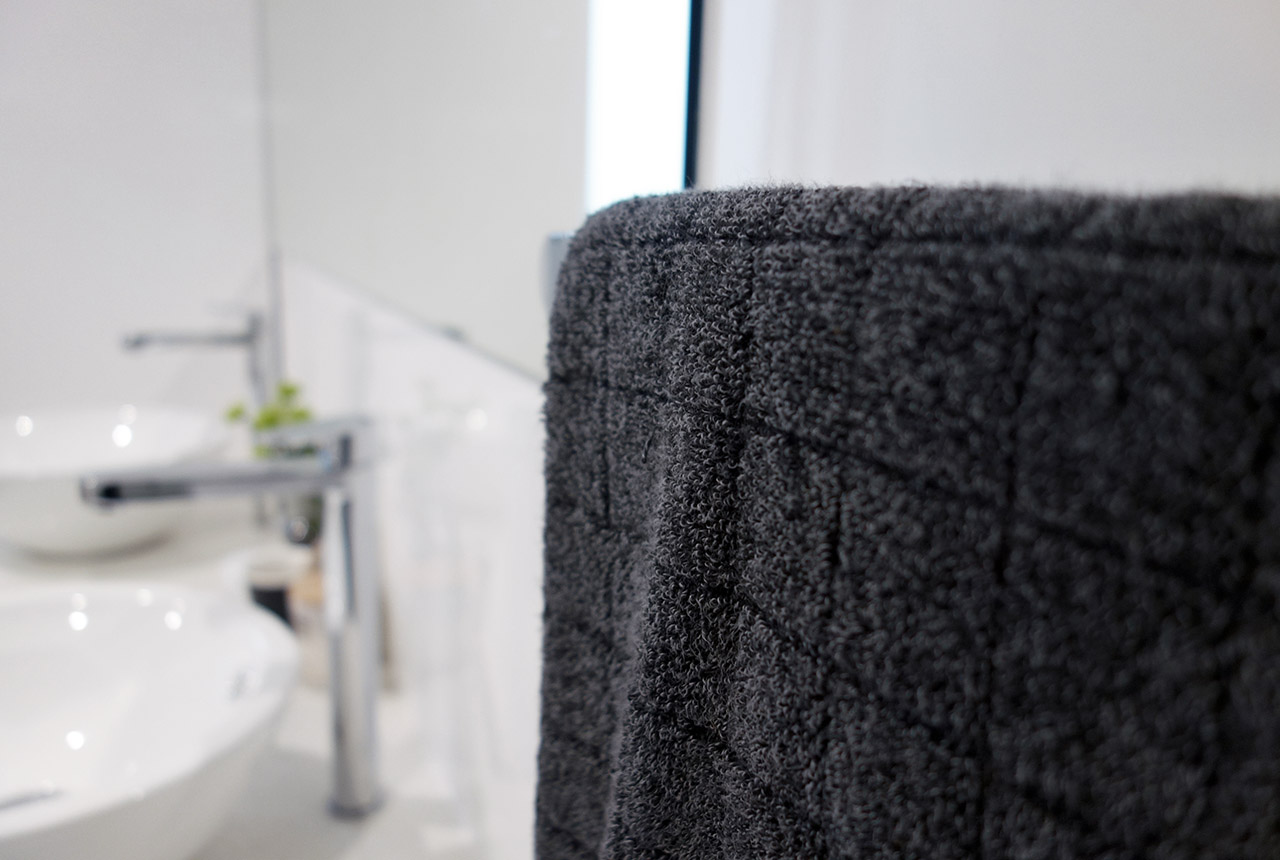 PLANTS

Being big on food we wanted to grow some of our own edibles – still in its infancy but on the way to becoming a delicious herby balcony.