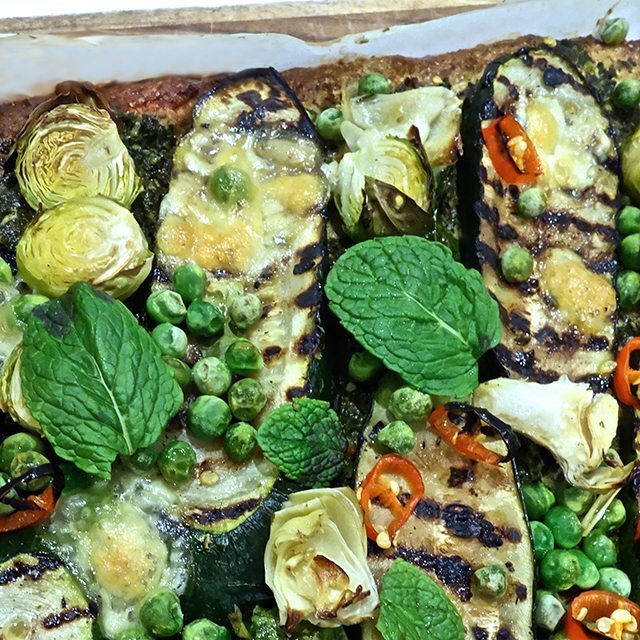 Hands up if you love cauliflower pizza?! Me too! This guy was a uh ha moment – something I have never thought to do before – substitute the almond meal in the usual recipe for LSA. Boy was I glad I tried that!
Bustling with all things green, this pizza is like antipasto but made into a meal! Make it on date night or for your besties and then all lol into the night!
Green Antipasto LSA Cauliflower Pizza
Gluten free, diary free, paleo
Serves: 2
Time: 10 minutes prep, 35 minutes cooking
Pizza base:
1 cauliflower, cut into florets
3/4 cup LSA
2 garlic cloves, crushed
3 organic eggs, beaten
Himalayan salt and freshly ground black pepper to taste

Pesto:
Large handful mint
Smaller handful parsley
Small handful baby spinach
1/4 cup olive oil
1/2 lemon, juiced
1/2 long red chilli
1 clove garlic
1/4 teaspoon Himalayan salt
Toppings:
8-10 brussel sprouts, halved
Handful of frozen peas
1 zucchini, sliced lengthways
Marinated artichokes
Handful mini bocconcini
1/2 long red chilli
1 tablespoon olive oil
For the base:
See Also
Preheat the oven to 200°C / 400°F and line a baking tray with baking paper.

Place cauliflower in food processor and blend until it is a fine rice-like texture.

Squeeze as much of the water out of the cauliflower as possible.

Put 3 cups of the cauliflower 'rice' in a mixing bowl.

Add the LSA, garlic and seasoning and mix with your hands.

Make a well in the centre and add the eggs.

Use your hands to pull the dry ingredients towards the middle until everything is combined and you can shape it into a ball.

It should be more loose and sticky than a traditional pizza dough.

Tip out onto the baking paper and spread the dough with out your hands evenly to make a base.

Pre-bake for 25 minutes or until golden.
For the toppings:
While the base is baking, prepare your veges.

Grill the zucchini on a grill pan.

Slice everything else and set aside.
For the pesto:
Place everything into a food processor and whaz until pesto is formed
To assemble:
When the base is ready spread the pesto over evenly.

Place over vegies.

Top with a bit of bocconcini.

Bake for 15 minutes or until golden and sprouts and bacon is crisp. Resist putting too much cheese on else you won;t get the awesome caramelisation of the sprouts.

Once cooked, slice and serve!