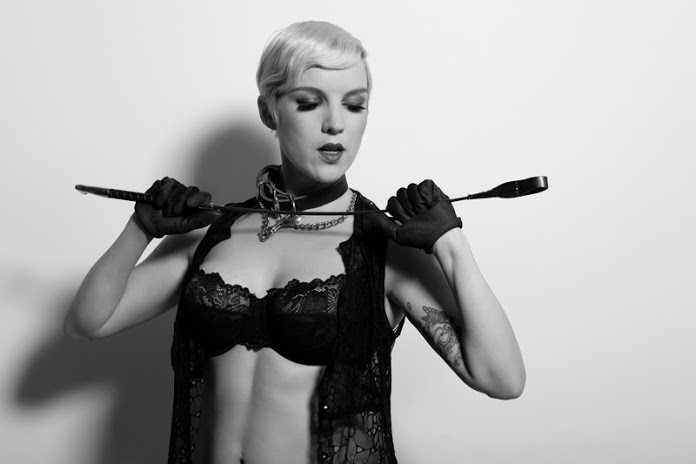 Image by Kaveh Karden for 'In Flagrante'

Lara specialises in making unexpected things sexy – whether it's leading a dance show while eight months pregnant, or burlesquing as an alcoholic rabbit in y-fronts. She's interested in the alchemy of two parts not normally mixed together in performance, she's all about the mash-up. We give you the full scoop on the latest show from her dance crew Dynamotion, "Terror Highway": a comedy thriller told through dance.  [images src="https://www.theunimpossibles.com/wp-content/uploads/2014/08/terror-high-way-1.jpeg" title="Terror Highway" caption="Terror Highway" url=""] Name: Lara Fischel-Chisholm
Age: 33
Occupation: Actor, Dancer, Teacher and Choreographer
What did you study and what was your original intended career path?
I studied acting at UNITEC School of Performing and Screen Arts – the plan was to be a full time actor – most probably famous and definitely always 'in work'.
Give us a brief background on your career to date:
Straight out of drama school I didn't do a hell of a lot – a couple of guest roles on TV and some commercials. No plays. I went to London in 2004 to do a post graduate certificate in Acting Shakespeare at RADA. I came home to New Zealand then promptly moved to Canada for 18 months. In the eight years I've been back I've been on Shortland St twice, been on hold for a million TVC's, taught a lot of dancing and acting, performed extensively as my burlesque alter-ego, Holly Day, as well as in a bunch of Thomas Sainsbury plays and a long distance theatre experiment with Christchurch/Spain based company, The Clinic. Most recently I've been working with Nisha Madhan's experimental company The Town Centre. I've formed a comedy dance crew called Dynamotion and am currently rehearsing our fourth narrative dance thriller, Terror Highway. I've choreographed two seasons with The Wet Hot Beauties and am in pre-production for our next show at the Auckland Fringe Festival 2015. I am also a water ballet consultant on an up-coming film inspired by The Wet Hot Beauties. I danced for MaryJane O'Reilly in her latest dance offering, In Flagrante, and this year, as part of the Town Centre's work, I made a solo show with help from Nisha Madhan which received nominations for both Most Outstanding Performer and Most Original Concept. For a few years I ran a collaborative performance series called Stranger Things which I am thinking about doing again. I also had a baby last year.
When did you decide to start making your own shows?
I guess it started with Stranger Things in 2009.
What inspired the creation of "dacting" or "dance acting" that features in the Dynamotion shows?
My friend Jennie and I used to dance for a band called Thunderbox – we were officially part of the band and we spent a lot of time thinking up some kind of fantastic concept for each performance. It got us thinking on a larger scale and I knew that Thomas had a similar love of dancing as well as a penchant for the ridiculous so I got the three of us together and we came up with the basic framework for the Dynamotion shows.
[images src="https://www.theunimpossibles.com/wp-content/uploads/2014/07/Lara-Fischel-Chisholm-Wet-Hot-Beauties.jpg" title="Wet Hot Beauties" caption="Wet Hot Beauties" url=""] [line][pullquote width="300″ float="left"]Each show we raise the bar and everyone rises to the challenge, bless them.[/pullquote] [line]
What does the process of creating a work like Terror Highway involve?
The name starts us off! Then we talk about a film genre that we would love to pay homage to – for Terror Island it was the 1970's B grade horror, Terror Planet was 90's sic-fi films and Terror Highway is dedicated to grind-house and classic road-trip thrillers. Then Tom and I get together and come up with a silly, highly dramatic plot, choose a playlist and watch countless youtube clips for inspiration. We choreograph very collaboratively then teach the cast about 25 dances. Then we cut the music. record the narrative voice-over and rehearse everything over and over again. It's a big ask for a bunch of actors without much formal dance training. Each show we raise the bar and everyone rises to the challenge, bless them.
[images src="https://www.theunimpossibles.com/wp-content/uploads/2014/07/Lara-Fischel-Chisholm-Dynamotion-troupe.jpg" title="Dynamotion Troupe" caption="Dynamotion Troupe" url=""] What have been some of the unexpected results or events throughout this process?
The fact that we've got this far is relatively unexpected. With Terror Island we really just made it because we thought it would be fun… we weren't even sure if people would like it or think it was funny.
The dance community don't hate us. Sometimes I worry that people think we're taking the piss – in fact it is completely the opposite but regardless, some key people in the dance community have been really encouraging and supportive of our work which is awesome and we are eternally grateful for that.
You've done some burlesque in the past, how has that influenced the work you create now?
As a burlesque performer I was always very interested in using comedy. I loved the audience being in on 'the game' and had a lot of fun subverting the idea of sexiness – two performances that come to mind are an Easter special as a big-titted, cowboy-boot-wearing Jesus which was definitely an audience divider and a beer-skulling, horny rabbit in y-fronts. If you looked at my back catalogue of burlesque acts the progression falls quite perfectly into place.
What other art forms or experiences do you draw on in creating shows like Terror Highway?
Definitely film – doing Terror Highway is like being the best badass-est character you ever dreamed of being in any movie ever. Part of it stems from creating characters that we're desperate to play and can totally get away with in these shows. It's all terribly indulgent. And funny.
[images src="https://www.theunimpossibles.com/wp-content/uploads/2014/07/Lara-Fischel-Chisholm-this-is-my-real-job.jpg" title="This Is My Real Job" caption="This Is My Real Job – image via The Town Centre" url="https://www.facebook.com/thetowncentre"] [line][pullquote width="600″ float="left"]Swan Song, was both a baptism of fire and an exciting collaboration.[/pullquote] [line]
What are some of the most exciting collaborations you have done?
As the creative director of Stranger Things I was responsible for a lot of exciting collaborations – does that count? It was hugely thrilling to pair two strangers together and watch what they created over two weeks. The first Wet Hot Beauties show I did, Swan Song, was both a baptism of fire and an exciting collaboration. Working with Nisha Madhan on my solo show is another highlight – in a lot of ways it is an on-going one.
What do you think are important rules to follow when collaborating with others?
Say your thing and listen to theirs
Be confident enough to back your ideas and secure enough to let them go.
Trust the other person.
Do you have a goal in mind for where you'd like to end up in your career?
Still working?! I like enabling performance.
What would you say to your 21 year old self?
Don't doubt yourself so much. Don't feel guilty about doing what you want.
What person dead or alive would you invite to a dinner party and why?
Argh, I always obsess over this one. Would you think less of me if I said Will.i.am? Because I reckon he's got great energy and I desperately want to be his friend. Also, it's hardly a dinner party with only me and him so I'll throw in Hone Tuwhare because he taught me to love words, Helen Mirren because she's sassy no matter what age she is, Elizabeth Hawthorne because she's like the New Zealand Helen Mirren, Freddie Mercury because he'd be awesome at karaoke after dinner and Josephine Baker because we'd have a good time dancing together. And the band from the Muppets… for entertainment.
What's next for Lara?
After Terror Highway I'm performing this really great and mental show called LIES with the Town Centre in September at the Basement. Then I start rehearsals for Jesus Christ Superstar with ATC in October. I'll also be starting rehearsals with The Wet Hot Beauties and hopefully not neglecting my child. It's a balancing act.
[line] To find out more about Terror Highway, visit
Basement Theatre
 or to purchase tickets directly, visit
iticket.co.nz
.
Lara's mission is to help bring the dance out of everyone! If you are interested in Dynamotion dance classes, visit the Dynamotion Dance Facebook page for more information.