LONG POST ALERT: warning, as the name alludes, this post is all about how I DIYed my 'Boujee on a Budget' wedding – I go into quite a bit of detail and this post is well over 6,000 words… so just thought I'd give you the heads up on that.
If you read my previous post, you would have learnt all about Catalina & Charles Wilkinson's Mudbrick Wedding on Waiheke.
So, let me tell you more in-depth about my wedding stationery and other styling. I am a bit of a design geek and swoon over good typography. As apparent on my pre-wedding Pinterest board, you would have seen me lusting over a variety of dreamy looks – it can be overwhelming deciding on wedding details and there are definitely a lot of beautiful paths you can go down for stationery, table settings and everything else wedding!
Before we get into it, I just want to mention that photos in this blog post are a mix of my own and the very talented Lauren Murray of Wild Folk Photography.
HOW TO REDUCE WASTE & COSTS FOR A WEDDING
We made a conscious decision to be mindful of both waste and costs from the start as it is soooooo easy to be swept up in keeping up with the Instagram dream. But… not only it is just ONE DAY, but we also settle on some land and a relocatable house in July and need to ensure we have enough for the deposit, and HOPEFULLY a beautiful new sink or lovely tiles as it needs a total renovation!
My multi-pronged approach for reducing waste & cost included:
Keeping the guest list low – we only had 20 people!
Book the wedding off-peak
Don't go crazy with the wedding dress
Reducing the items in the stationery suite
Reducing the size of the items in the stationery suite
Digitalising non-essential stationery items using www.withjoy.com
DIYing where possible, including stationery, flowers and other styling elements
KEEPING THE GUEST LIST LOW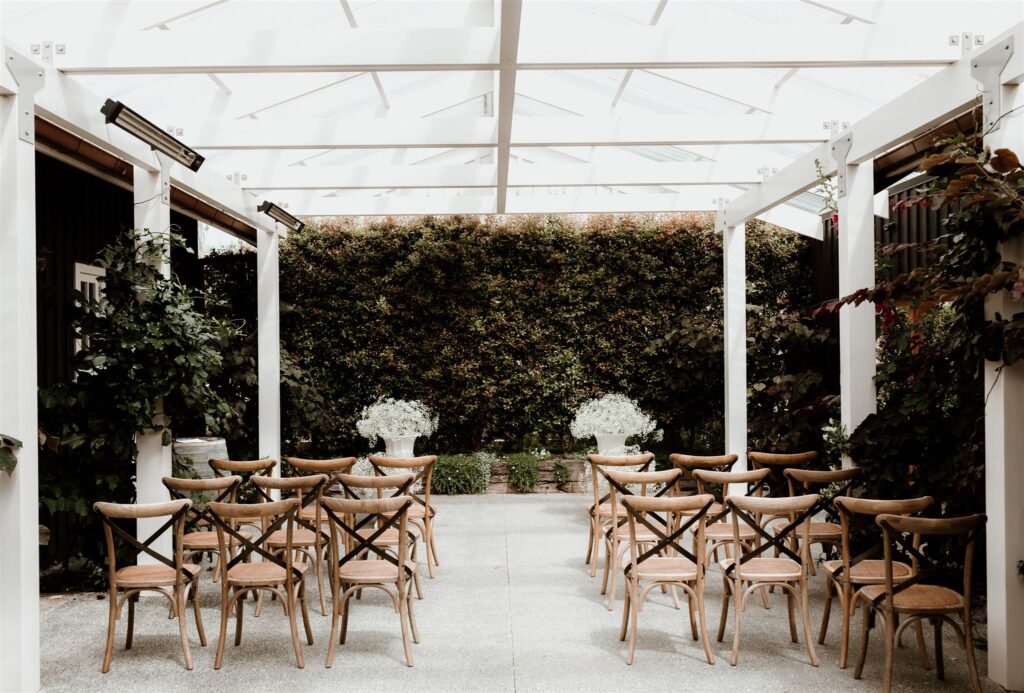 Due to COVID we had a micro-wedding with only 20 guests. My best friends in Australia were unable to attend so we decided to have family only with no bridal party and have a party when the borders open up again. Additionally, the Mezzanine at Mudbrick can only fit a maximum of 22 people, so it was meant to be! For those we couldn't invite, we shared a link to a YouTube Live event – we are so glad we did as first it seemed a bit self-indulgent to live steam a wedding, but afterwards, it was clear it was a great way to connect and so many people appreciated being a part of our wedding even in a small way.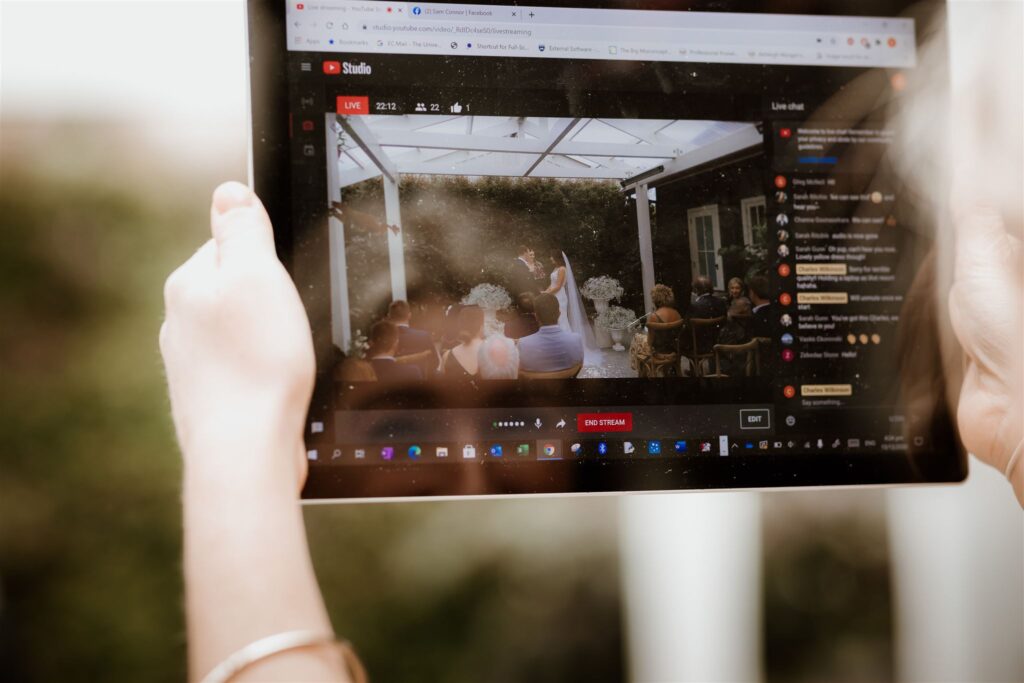 BOOK THE WEDDING OFF-PEAK
Obviously, with a wedding, the venue and its associated costs (e.g. food/catering, drinks, etc) are going to be a large chunk of the budget. We literally had three and a bit months to plan our wedding, and although I love a challenge, the thought of organising all the food, drinks, marquee, tables etc. was not a positive one.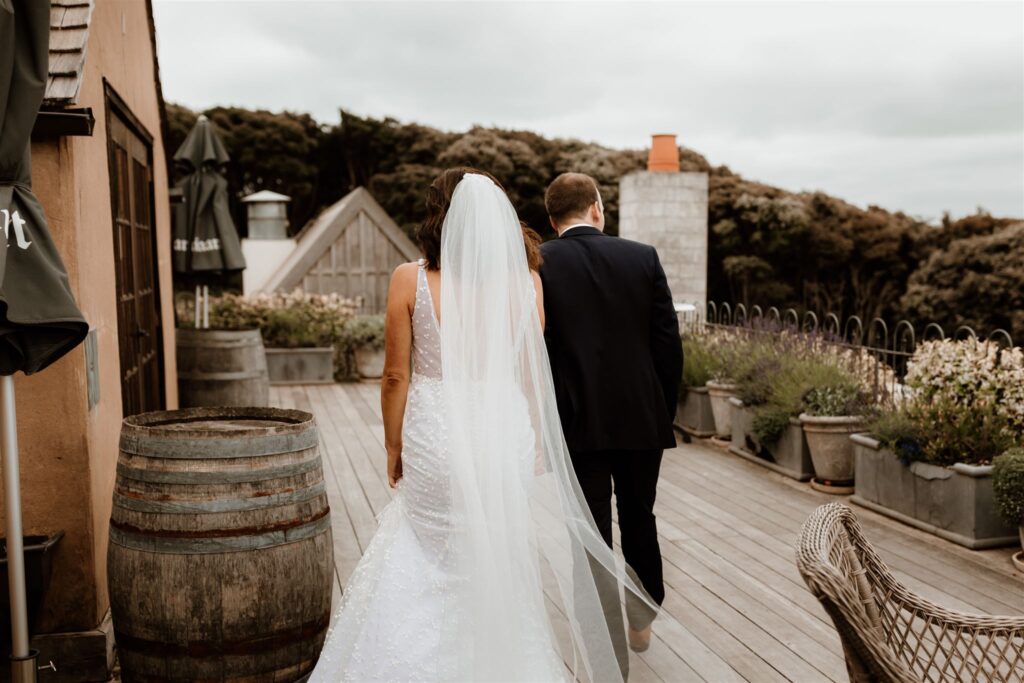 However, I was pleasantly surprised that I could get my dream venue, the Mudbrick lodge and mezzanine, at a better rate due to having it on a Sunday. If we wanted to save more money, we could have done both the wedding ceremony and reception on the mezzanine and the joining balcony (picture above) – but we figured as we were getting the off-peak price we could squeeze in the lodge. The lodge was so dreamy and didn't need hardly a thing done to it to make it glam, PLUS we got to stay the night and enjoy a beautiful breakfast as newly weds.
So if you have a venue you are crazy for, it pays to ask just in case they have this type of situation on offer!
DON'T GO CRAZY WITH THE WEDDING DRESS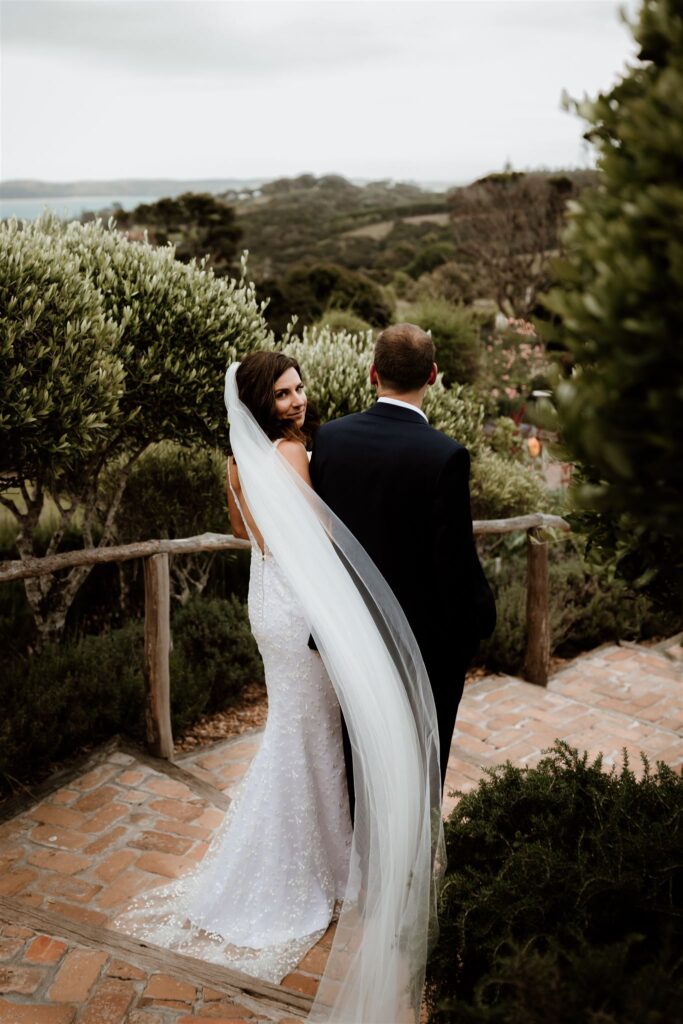 I have a secret. My wedding dress was only $450!!!
It didn't start off that way though. It really didn't.
First I got all of the inspiration from all of the Instagram and Pinterest's I could find, then promptly booked myself into a few bridal salons (which FYI, most cost between $60-$100 for a booking, redeemable on a dress if you purchase). I'm not sure what every other girl's situation is with finding a wedding dress, but I am going to admit – I really didn't enjoy the process!!
Nothing against these places – they were all beautiful and all had amazing ranges – but being in my mid-thirties with curves and bumps being either pegged into sample sizes waaaay too big or squeezing into ones that were waaaay too small gave me anxiety worst than shopping for bikinis. But the stakes were higher because it is a wedding and everyone is going to be looking at you. To add insult to injury, a well-made wedding dress with European fabric can cost anywhere between $2,000 to over $10,000. Oh. My. F'ing. God.
I mean, I'm not being dramatic, but I was almost in tears – these dresses, where I couldn't tell if I looked half decent in, costing how many months in wages?
In the end, I was really lucky – my Abuela (grandmother), who for many years was a senior seamstress for the legendary Vinka Lucas of Maree de Maru (now known as Vinka Design), offered to make it.
Originally, Abuela making the dress was out of the question as it can be quite a big operation for a woman in her 80's. But after trying on 10 or so dresses, Abuela had had enough and thought she could do a better job AND help me keep costs down.
The end result was so beautiful, fitted perfectly and made for a very special now heirloom garment.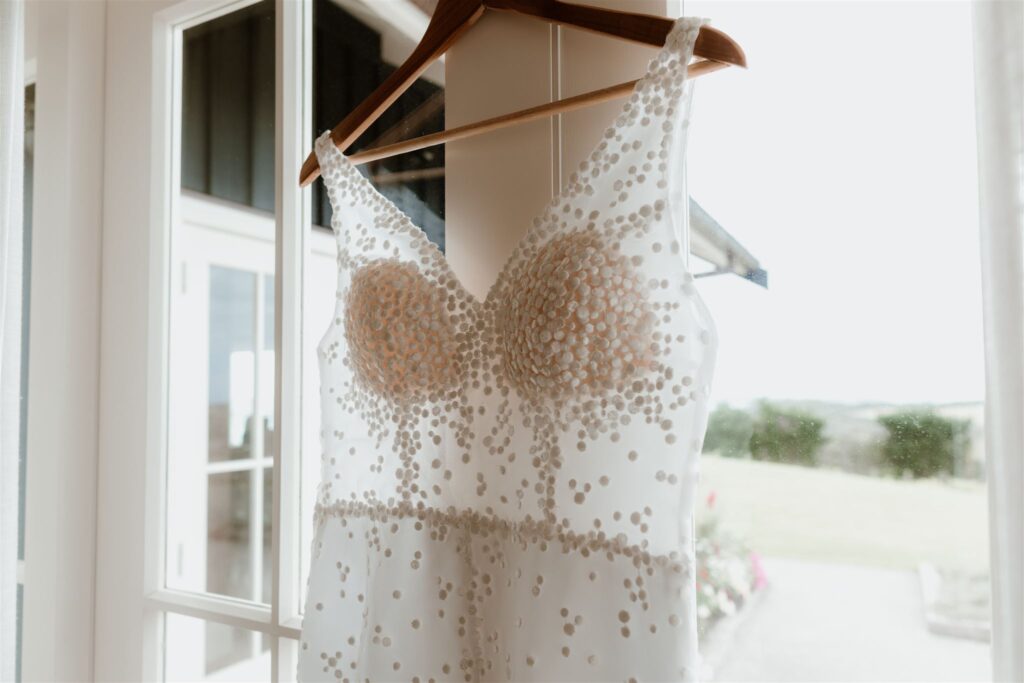 The inspiration for the dress centred around a hail spot print fabric seen in a bridal magazine. The hail spot fabric had a tulle base with semi-matt white spots embroidered randomly creating a more casual-cool feel than a heavy lace but still with some interest.
It was hard to track down this fabric as it was from a special manufacturer in Europe. After emailing every fabric store in New Zealand, Elizabeth Jayne Bridal, which owner Karen runs out of her downstairs room in Browns Bay, was the only supplier and had exactly 3.8m left – just enough!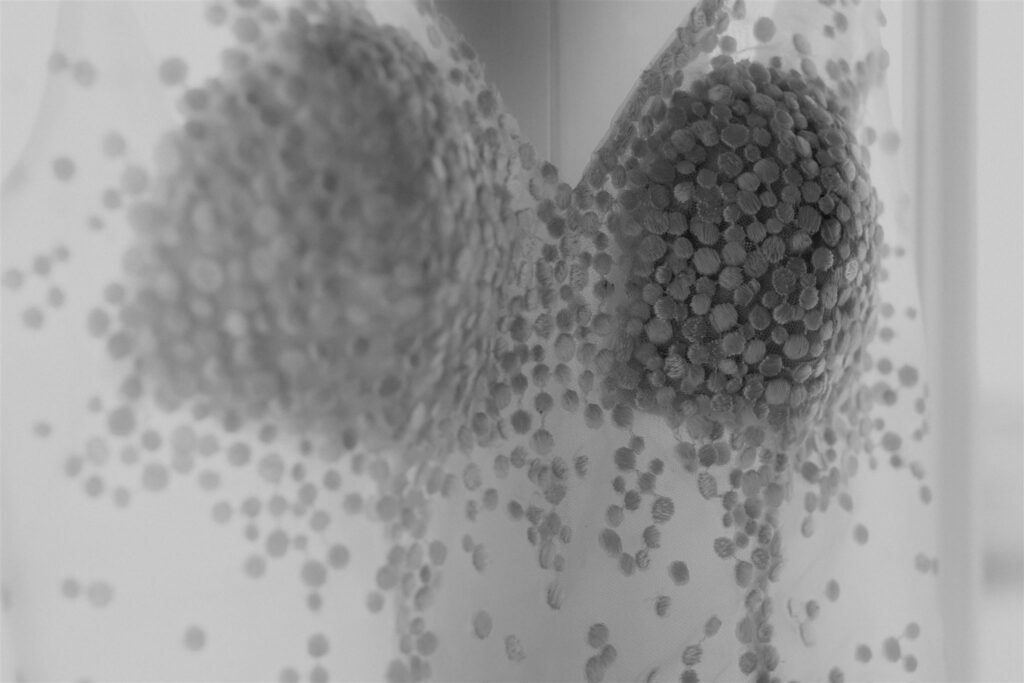 The pattern for the dress was adapted from an old Vogue Bride pattern from the 1980s. The fitted bodice had deep v's both front and back which Abuela applique hundreds of hand-cut spots to create coverage over the bust.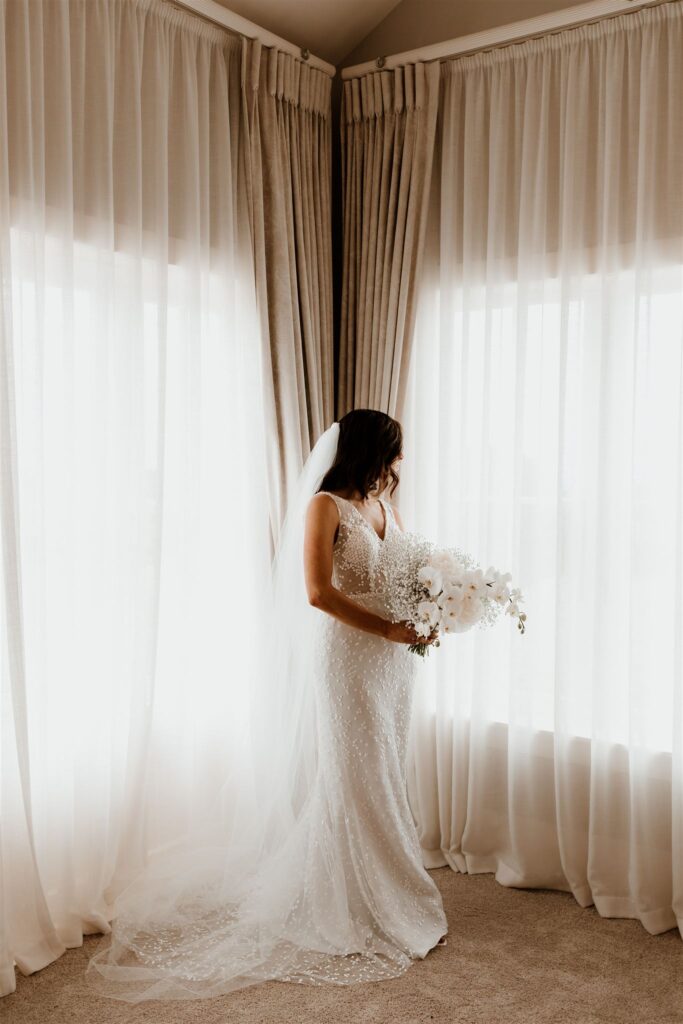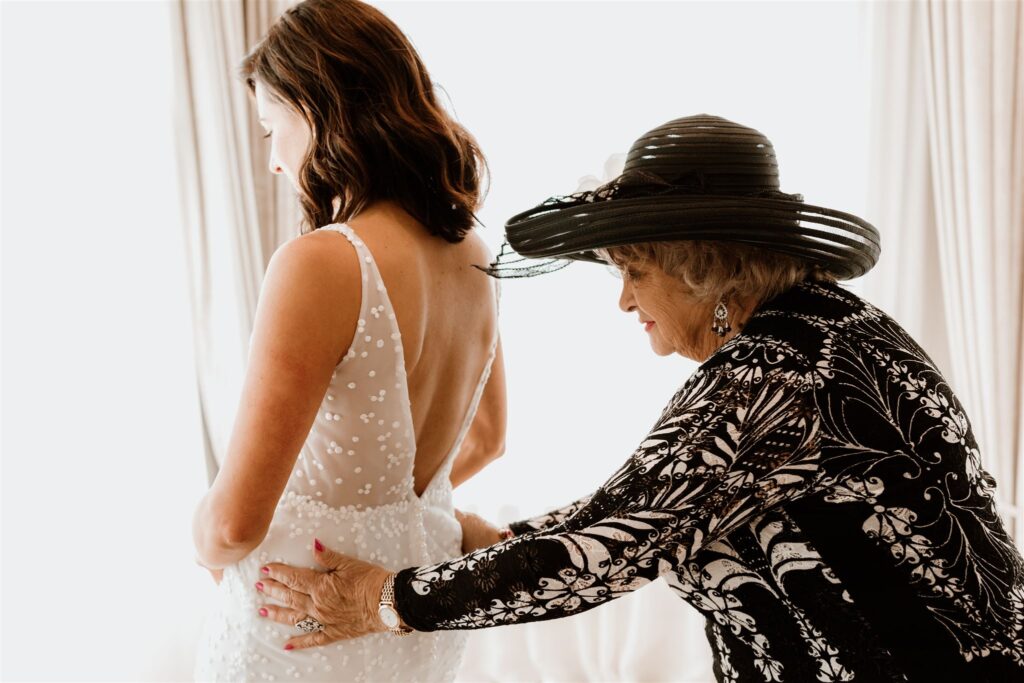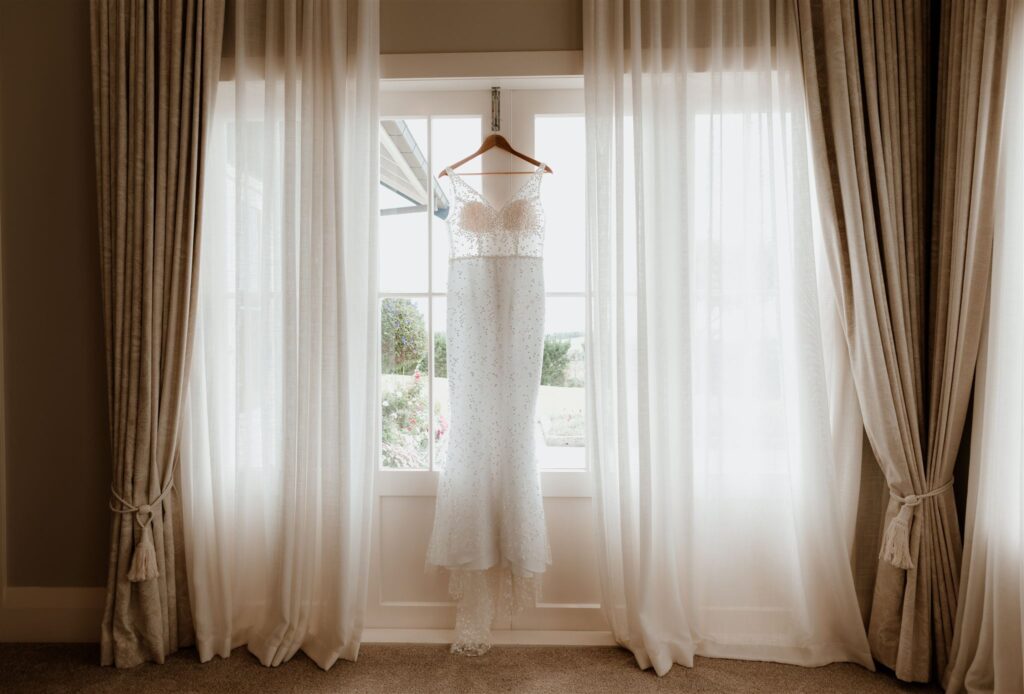 The bottom half of the dress had a dramatic fishtail where the hail spot fabrics went further than the underskirt and had an unfinished hem. Abuela also made the 2.7m length cathedral veil. As Abuela had the under-skirt fabric, zips, buttons and a hair comb for the veil at home, only the hail spot tulle and veil fabric needed to be purchased.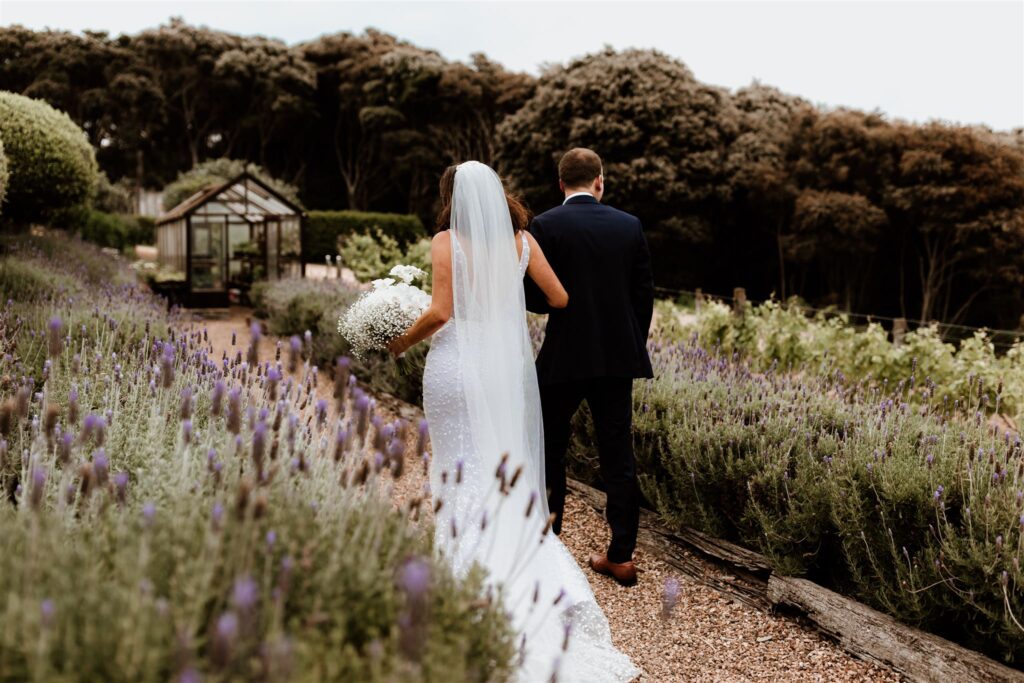 Now not everyone has an Abuela who can make them a wedding dress at cost – but there are many ways you can achieve the look you want!!! For example:
Buy something from overseas and get it tailored locally
Go secondhand – Still White is a good place for secondhand designer bridal
Shop at wedding trunk or sample sales
Source the fabric and send it to a local seamstress with an idea of what you want
Buy a white outfit and call it wedding – there are lots of beautiful designer garments out there which would look beautiful and not come with wedding dress tax
There are many designers, such as Shona Joy and Bec + Bridge, who do bridal collections for a fraction of the price of a bridal couture designer
Chose a simple design – opt for less lace/applique and more streamlined designs which are cheaper as there is less fabric/workmanship needed
Go with the beautiful expensive dress and cut back in other areas
REDUCING THE ITEMS IN THE STATIONERY SUITE:
Wedding stationery can get a bit out of hand if you choose to do the full suite. For example, a full suite of stationery could easily contain:
Save the date + envelope + stamp
Invitation + envelope + details + RSVP + return envelope + 2 stamps
Thankyou card + envelope + stamp
Table place cards
Dinner + drinks menu/s
Program of events
Treat boxes
Vow books
Readings
Welcome sign
Seating charts
Guest book
Any seals or ribbon such as handstamp, wax seal, etc
Other labels or signage such as for dance floor, desert table, matches for sparklers
You could go on!!!
In this over-the-top completely all out boujee situation, one guest receives up to 13 pieces of paper, 4 stamps, 4 wax seals, and ribbon. When I first started looking and doing the numbers it was all too outrageous and doing the full suite was not an idea I was going to entertain. Even DIYing, at between 50c and $2 per piece of paper, you could easily spend around $31 per person, or between $1.55k-$4.65k (50-150 guests)!!!!! If you were going to a professional design agency or buying off Etsy, expect to double to between $3.1k-$9.3k, and add more on top of that if you want custom embossing. I have enormous respect for the craft and time. it takes to make beautiful stationery. However, even for a small wedding like mine, $31 per person just wasn't going to happen.
The first thing we agreed on what stationery items were important to us to be physical, then making the rest digital. Here is what we decided on: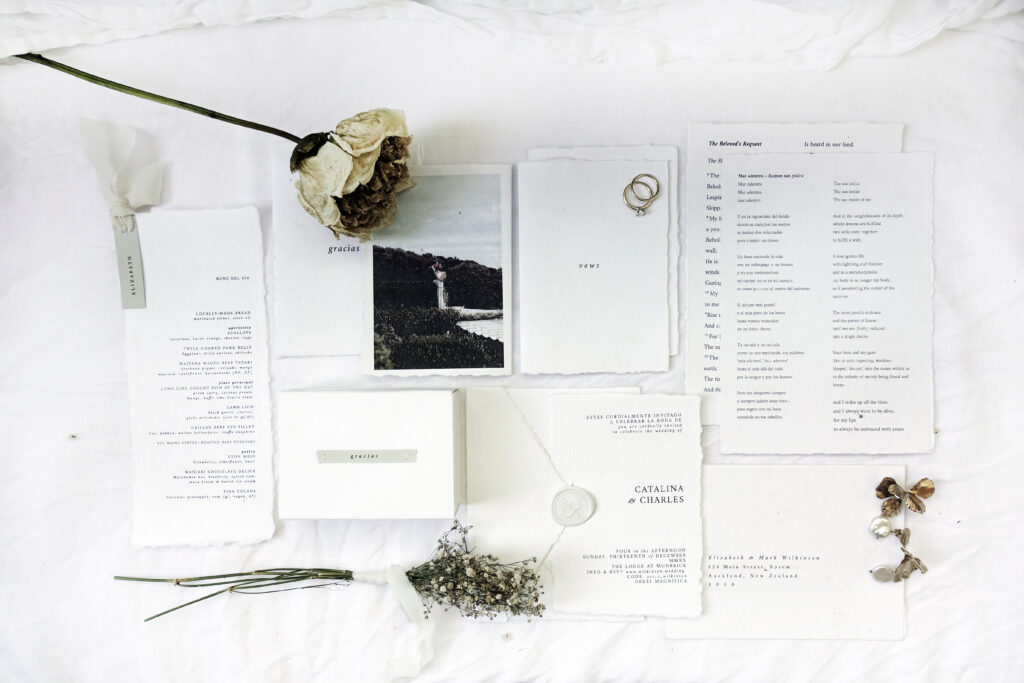 PHYSICAL:
Invitations
Welcome sign
Menu + place cards
Readings
Vow books
Thank you gift box
Sparkler send-off sign + matchbook
Thank you cards
DIGITAL:
Details card
RSVP
Save the date
Schedule
Seating chart
As I purchased a stamp sealing kit, hosting, signage etc, my total wedding stationery was about $444. This meant my total per person cost was around $19.21. If you see my breakdown below, this could have been further reduced – e.g. the treat box was optional at $4.50 each, standard postage stamps instead of custom stamps at $1.50 per stamp and we could have had Mudbricks print their standard menu for no cost – these reductions would have made it a reasonable $9.71 per head. And of course, you don't need high GSM handmade paper as I went for – however, I really liked having these elements and due to headcount we could afford to be a bit over the top here.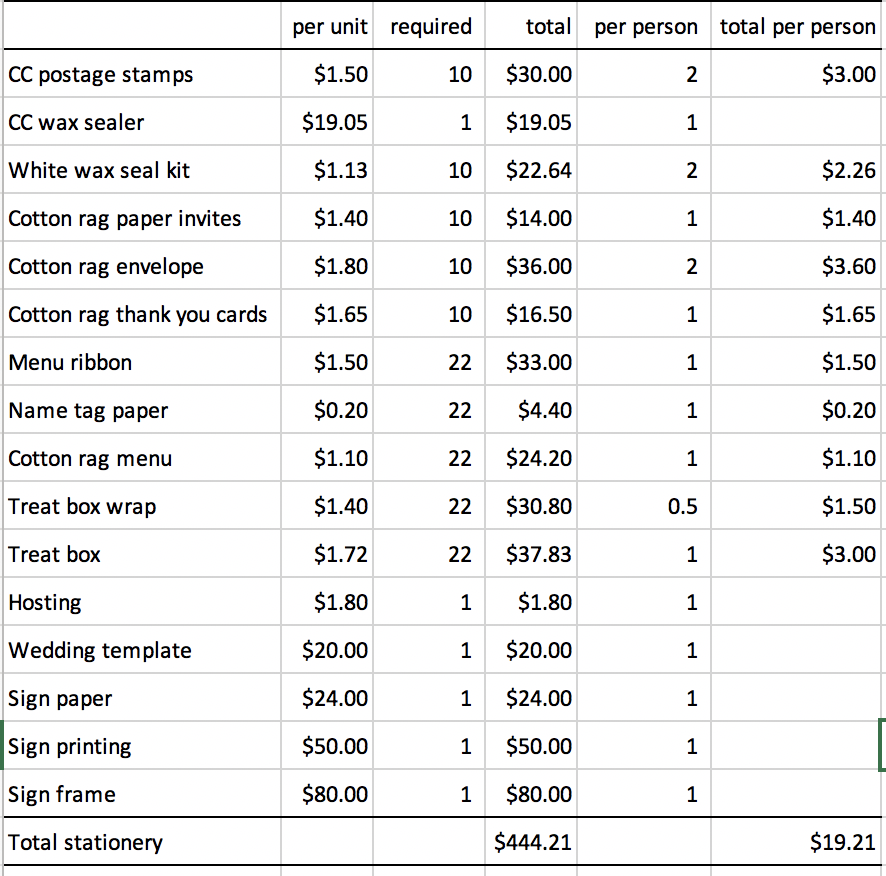 REDUCING THE SIZE OF THE ITEMS IN THE STATIONERY SUITE
Funnily enough, the bigger the piece of paper, the more expensive it is! Therefore, we bought the smallest size each piece of stationery would allow for without comprising design or font size (ye oldies still need to read it!). At first, I was worried it would look cheap, but actually, the smaller sizes looked sweet, delicate and intentional.
DIGITALISING NON-ESSENTIAL STATIONERY ITEMS USING WWW.WITHJOY.COM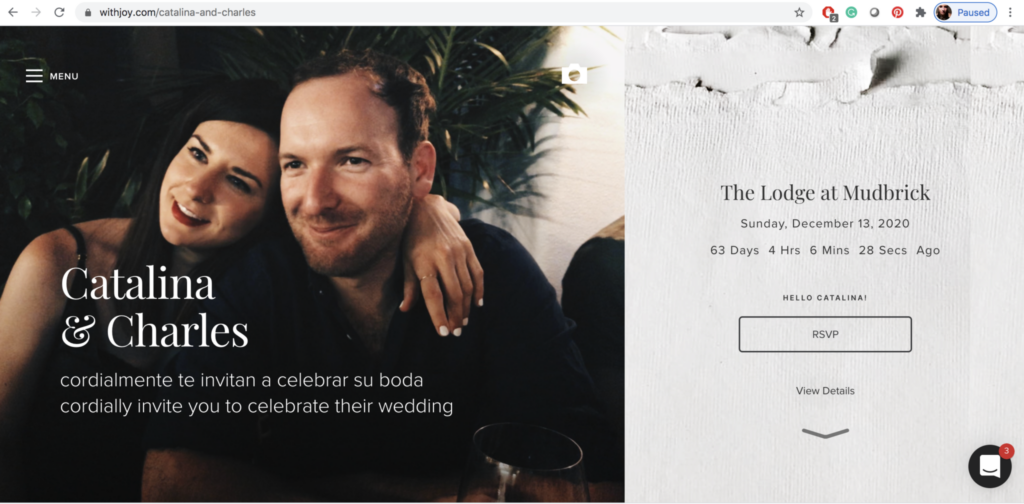 OMG, I cannot believe this service is free?! Having worked in marketing for many years, the functionality of this tool is quite unbelievable and such good quality for something you don't have to pay for. Joy was amazing as once we decided on our wedding guests, it became a hub of keeping tracking of everyone, the source of truth of everyone's contact details, a tool for email as well as the front-end functionality of keeping everyone in the loop with schedule, details and everything else.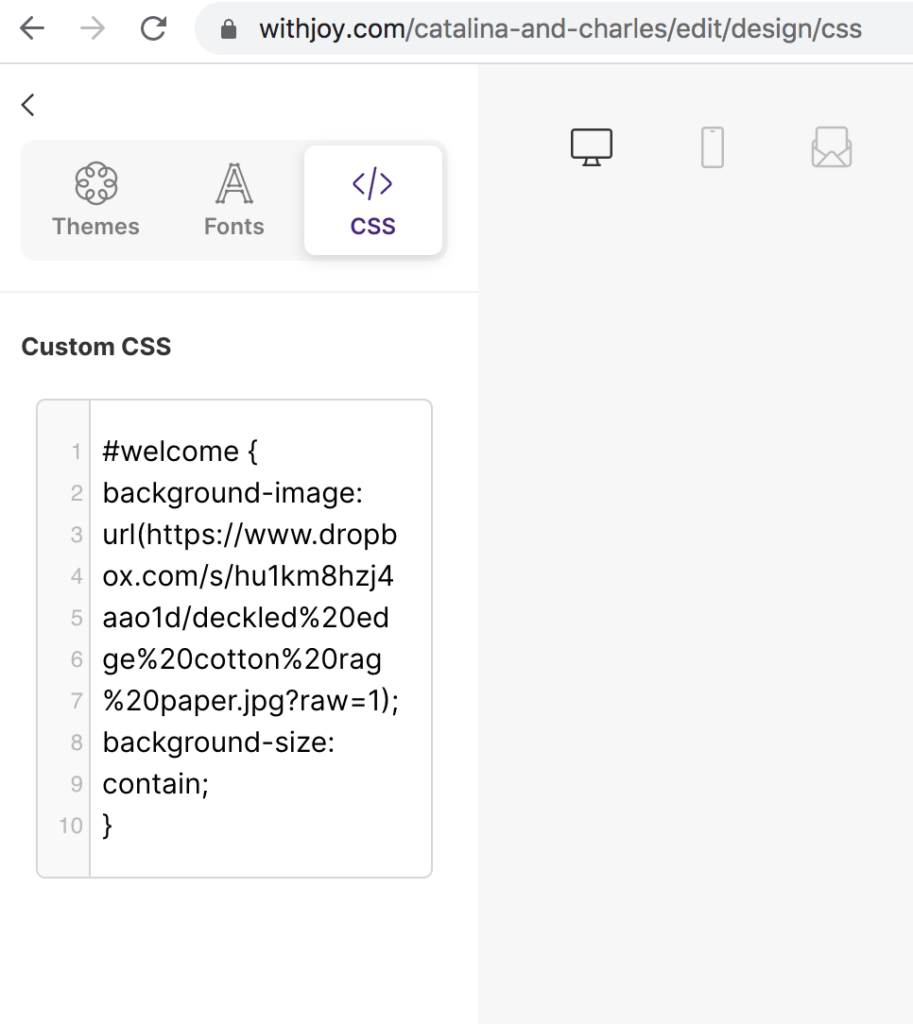 The out of the box design options were cool – we used custom CSS as above to have deckle edge cotton rag as the background instead of their defaults to mimic our stationery – which the lovely people at Joy helped us do. We would have LOVED to have the same font as the rest of the stationery on Joy as well but, unfortunately, they can't do custom fonts only their standard ones. However, Playfair Display proved pretty close.
Originally we redirected everyone using the vanity URL wilkinson.wedding (costing me $1.80!) which was cool functionality (now it is disconnected) and made for a clean URL to put on the physical invitations. You can see our Joy website here.
Joy doesn't have the ability to attach images to email or upload images to the website, so if you wanted everyone to know where they are sitting you could email the setting chart out of the platform. As our reception was only had 22 people we didn't end up needing a seating chart for anyone except for the people setting up the table.
Honestly, I was so thrilled to have Joy, it saved a lot of money for sure. If I didn't LOVE stationery, I would have been happy to do all the end-to-end stationery suite as so cost-effective, eco-friendly, easy to use and fast.
DIYING WHERE POSSIBLE
I had SO MUCH FUN DIYing my stationery, flowers and other bits and pieces. Here is how I approached it.
DESIGN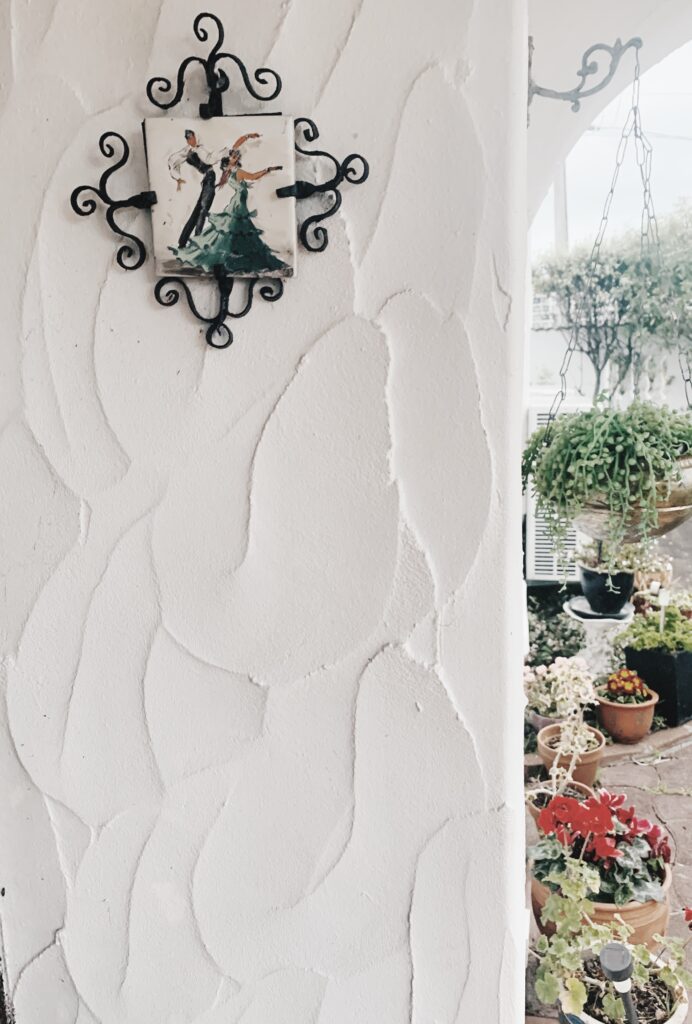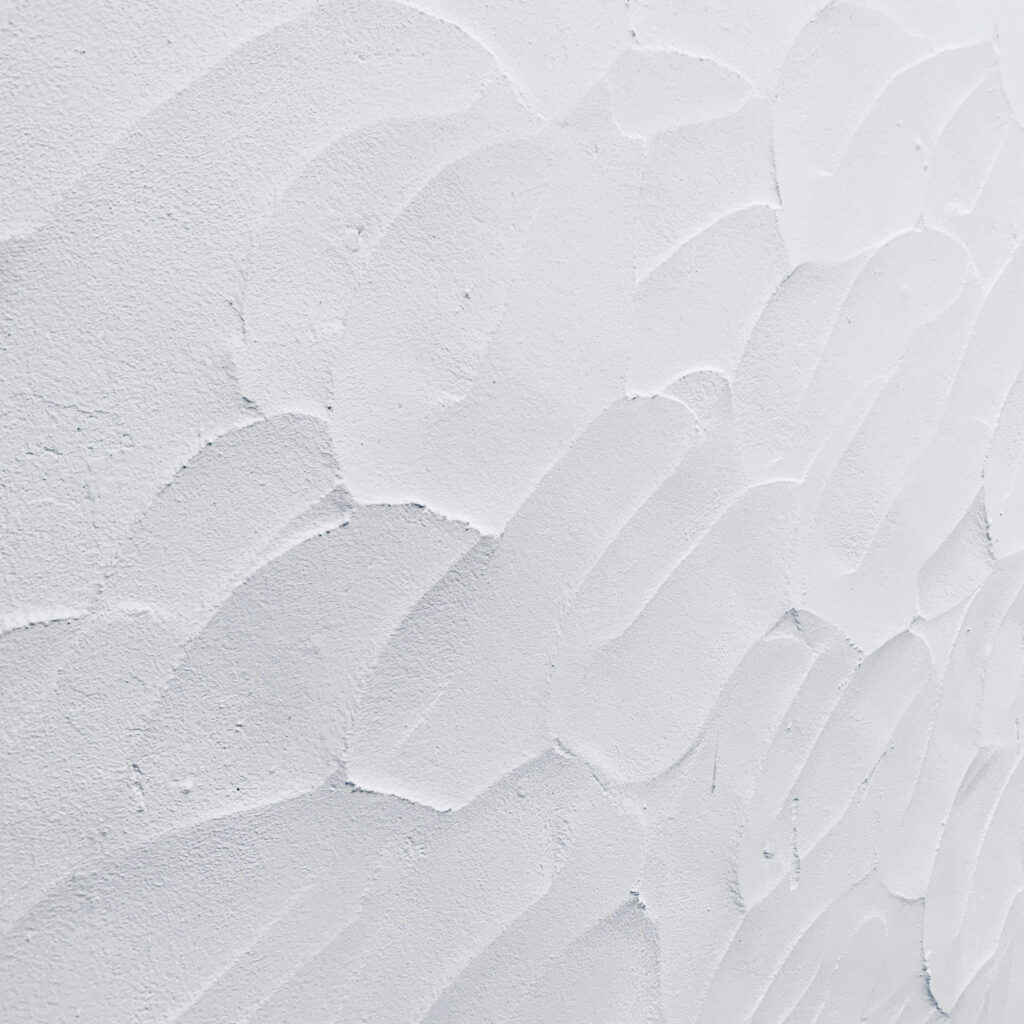 As my 'old Spanish/European meets New Zealand paired-back modern' theme took shape, it became clear that the fewer elements the better – we choose good quality materials and let them be centre stage.
As I was purchasing ribbons and wax seals from overseas, it was a risk that nothing would go together. I didn't have time to order colour samples, so I decided to simplify the colour palette to mostly white with a light natural grey as a contrast. This complimented my theme as the texture of different fabrics, papers and wax seals became the focus rather than colour.
HAND MADE COTTON RAG PAPER
The star of the show was the romantic cotton rag deckle edge paper with its beautiful texture and soft edges. I became obsessed with this old-fashioned paper stock and was excited when I found a local New Zealand supplier, Feather & Stone. Their hand-made papers are absolutely gorgeous and make for such lush and delicate wedding stationery with a hint of vintage charm. Due to the uneven surface texture of cotton rag, when you print on it the printing rollers don't make even contact with the paper creating a slightly desaturated effect. Being handmade, this type of paper is pricier than your standard stock, but due to my other cost-saving steps, I could fit it into the budget
These are the sizes that I bought, all in the white decked edge cotton rag:
Invitations: A6, 250gsm
Envelopes: C6
Thankyou card (folded in half), vow books, readings: A5, 250gsm
Menu: DL, 150gsm
For the thank you boxes, I bought a pack of the A4 BLEMISHED white deckle edge handmade cotton rag paper and cut to the size I needed to wrap around the boxes. Note, when you trim cotton rag, you lose the deckle edge – for the thank you boxes this was not a problem as I wanted a clean line, but it is possible to rip the paper roughly to mimic a decked-edge if you want.
For the welcome sign, I wanted a larger piece of A2 cotton rag in a 600gsm weight which I bought from a local art supply shop (Gordan Harris) for around $24.
TYPOGRAPHY
Although I'm not a graphic designer, I have had a pretty crafty background and experience with Photoshop and InDesign so I figured I could get the look I want using a combination of Pinterest inspiration and a few templates.
I'm usually more of a san-serif type of girl due to loving their simplicity and bold nature, but for some reason, I was drawn to a French-inspired almost vintage look (examples here and here) and I ran with it. After about an hour of trying to match the exact font online, I came up short, but the Victoria Wedding Suite by Papier D'Amour featuring Amiri ended up having a pretty close alternative.
I used this template as a base and modified it to create the invitations, addressed envelopes, menus, vow booklets, readings, thank you cards, gift boxes, name tags and wedding sign.
Where there wasn't a template in the suite for a certain piece of stationery, I used the font sizes, weights, spacing and kerning to create something that fitted with the rest of the suite.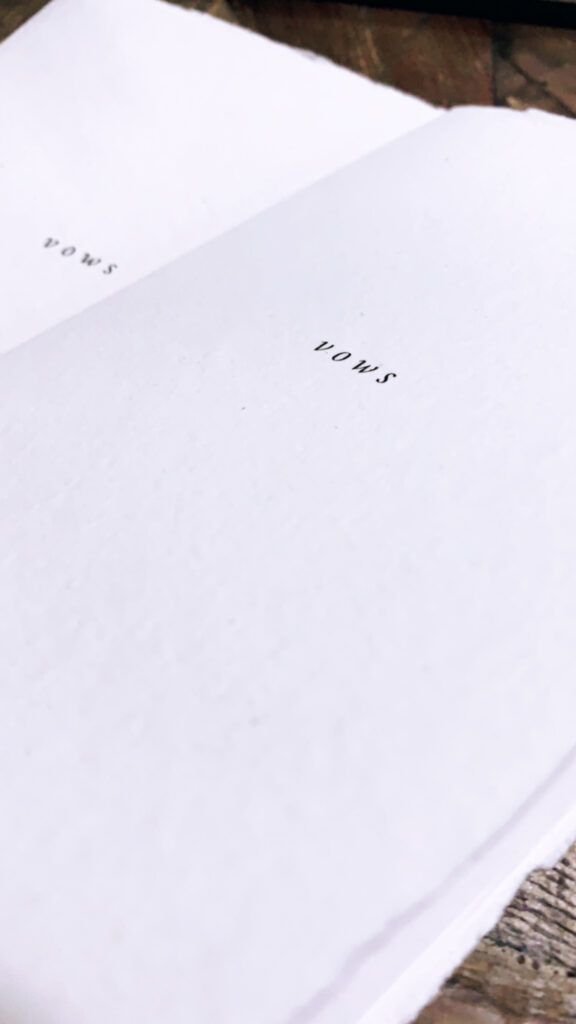 MIXING ENGLISH & SPANISH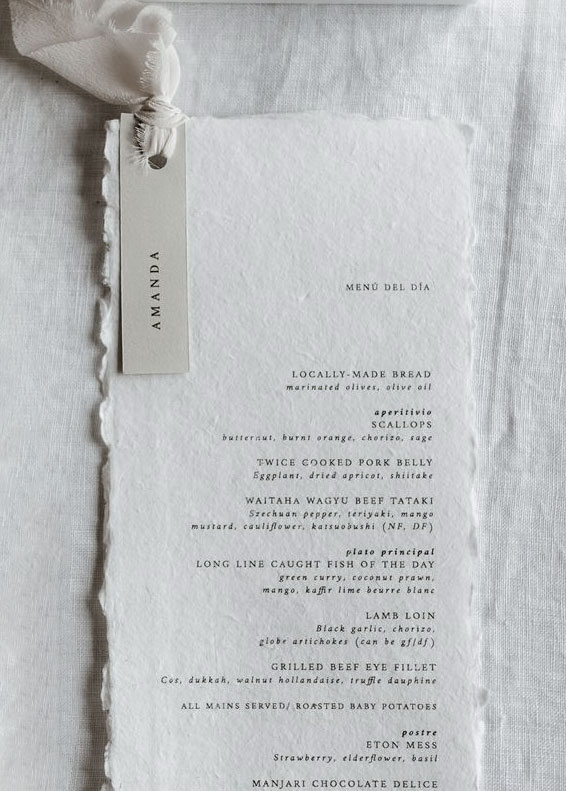 Being half Spanish meant that incorporating some Spanish words into the stationery was important to me, but we didn't want to confuse English-only speaking guests (Including me! Funny story, I don't actually speak Spanish – but I am taking lessons this year!). We chose words that were common or could be easily inferred. For example, 'gracias' is known around the world as 'thank you' or 'menu del dia' (menu of the day) was at the top of the menu so it was obvious what it meant. Using different languages made for a nice point of difference and also made for a conversation starter between the two families
ADDRESSED ENVELOPES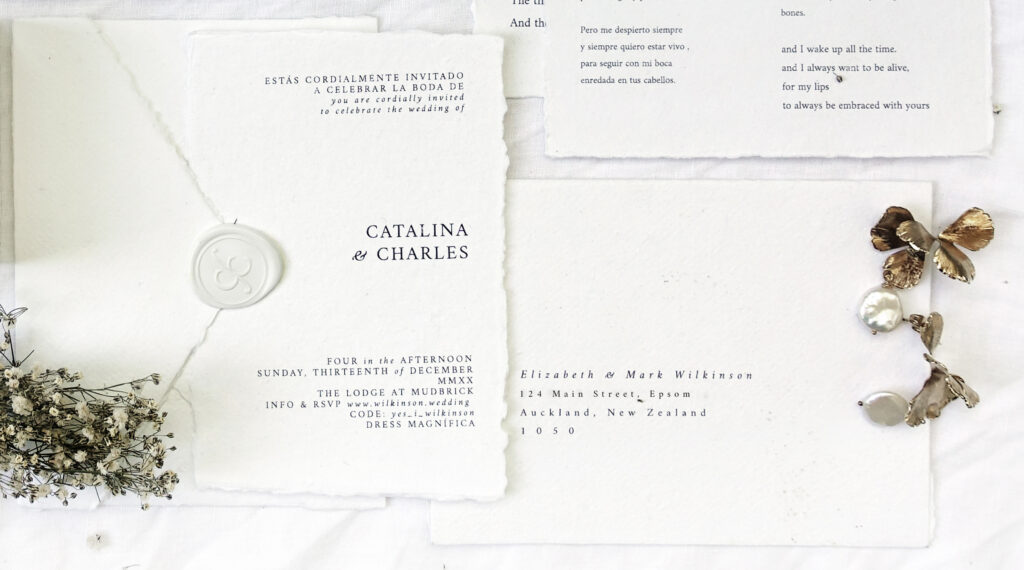 The easiest and fastest way to individualise printed envelopes with everyone's names is using Word's mail merge functionality. First, I tried Photoshop, but it was a bit of a faff around. So, I simply created the look and feel I wanted in Word using the design principles outlined above then used my guest list which I already had in Joy so all I had to do was download and format it in Excel to populate the mail merge tags. Mail merge saved a lot of time and effort copying names and addresses – a definite must, especially if you have a bigger wedding than mine!
CUSTOM MADE WAX SEALS
I was really smitten with the look of closing the envelopes with custom wax seals. While there a literally heaps of people who will make these for you, I thought I would rather DIY, and it was so easy and fun.
Being new to the process I was getting confused at what I needed and finding the individual parts was getting too hard basket, so I bought the white Stamptitude glue gun sealing kit which includes glue gun, glue gun compatible wax sticks and the 3m backers which are great if you want to premake the seals as I did. I was still in penny-pinching mode so I risked the tight timeline and ordered a wax sealer from AliExpress. This was a risk as it might not have arrived in time (spoiler, it did!) – so I recommend if you're buying of AliExpress to order well in advance.
I designed the CC logo using InDesign based off, you guess it, Pinterest inspiration. I also bought a handpress off AliExpress for the menus but didn't end up using.
If you're thinking of making your own wax seals, I would highly recommend it as it is really fun – there are a lot of tutorials out there and it is easy to practise on a silicon matt and re-melt the glue if you mess up.
In terms of design, I wanted mine to look a bit wabi-sabi, which I could have pushed the boundary on more – I have seen some beautiful examples of a more rustic look, but you can't really do this in advance, you need to be sealing direct on the paper to get that look. However, I did get some irregularity in there so I think it was ok in the end.
MENUS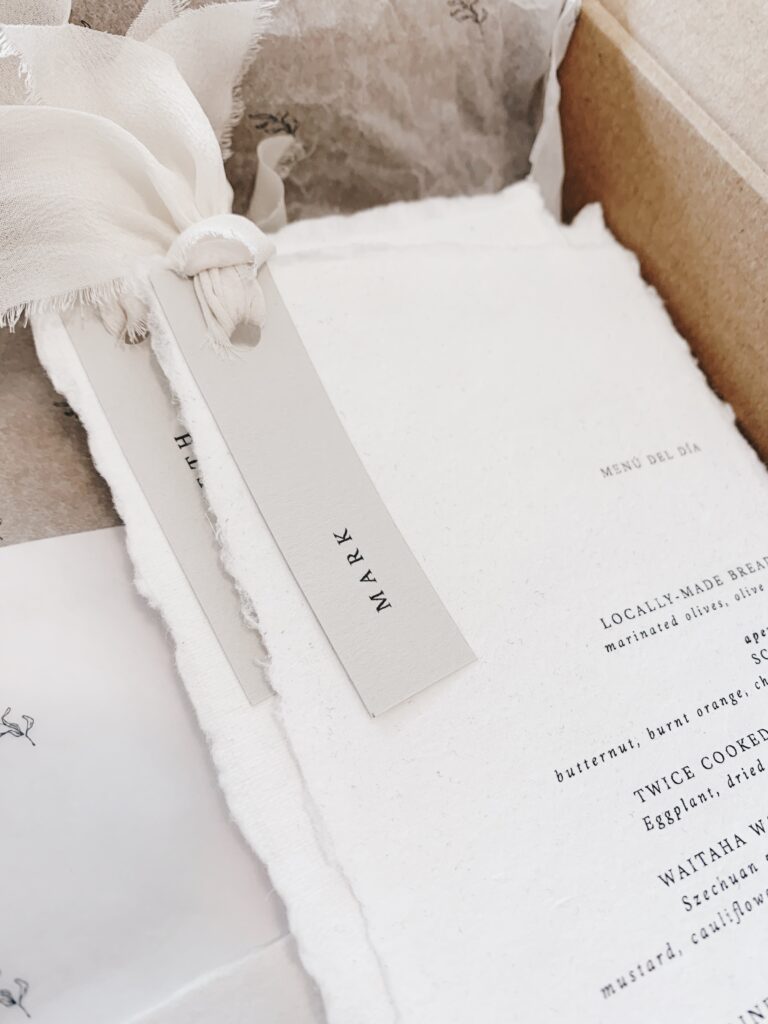 The menus were DL sized cotton rag paper with a small natural coloured place card secured with a cotton textured silk ribbon
As our reception was at Mudbrick there was a set menu with the option of printing our own, which printed about a week before the wedding (they would have printed them for us, but where is the fun in that?). The options on our menu were a lot more than the template Victoria Suite template example so I had to fiddle around with it a bit to get it to sit right and not be too crowded. To save paper we printed the drinks on the back of the menus. There was also a menú de niños for the children.
The place cards were also created in Word – basically a two-column page of individual names each on their own row using the same font styling as the rest of the suite. The row spacing was adjusted to be wider to ensure the finished cut product was the thickness I wanted on each side of the name. Once printed, I hand cut each name into a card with a ruler and craft knife. Then I made a hole with a hole punch in the centre of the place cards and a corresponding hole punch on the menu which were attached together with the wide cotton-silk ribbon using a Lark's Head style knot.
Can we take a moment to appreciate these beautiful and whimsical ribbons? I feel in love with Tono & Co as their products are simply divine. I chose the Classic Cotton Ribbon which is 100% silk with frayed edges. The cotton texture gives the ribbon a heavier hand feel and it has a subtle matte-like finish. I love love LOVE this silk, so pretty!
Originally, I bought the thinnest silk they have thinking I would use it to attach the name cards, but actually ended up using the 2-inch ribbon linked here as the fullness of it just ended up looking so great!! Sometimes design is just like that huh?
GRACIAS CHURRO THANK YOU BOX

A goodie box is totally an optional extra, but so special if you have the budget for it. I bought small white craft boxes (size: inner 9x6x4cm) off AliExpress. Note: keep in mind whenever ordering off AliExpress you need to allow for up to 2 months for delivery, so decisions to have these or not are best made early to ensure you get them in time and minimise costs.
To zhoosh up the boxes and continue the cotton rag element through, I cut the blemished pieces of cotton rag to the size I needed them and attached it to the original box sleeve using double-sided tape.
The 'gracias' tags were printed on the same paper as the name tags, cut into strips then torn on either end to create a frayed deckle edge look. The 'gracias' tags were then hand sewn on with a large needle and several rounds of white cotton thread. Although I loved the look of the frayed gracias on the deckle edge, it did take a while to hand stitch them all on to the box sleeves. If I were to do this again, I would probably print the 'gracias' directly onto the cotton rag paper before wrapping the box sleeve.
The boxes themselves were pretty easy to assemble but they did take quite a few hours once we had wrapped the sleeves, assembled the boxes and sewn on the 'gracias' tag. I love a good crafternoon so I just busy-bee'd away while watching TV or chatted to a friend which passed the time quickly.
Inside each box was custom-made gluten-free chocolate stuffed churro from Little Tart Bakery (same people who made my GORGEOUS CAKE) – a very sweet way to say thank you to all my lovely guests!
I was pretty pleased with the end result, so well worth the effort!
DIY PRINTING ON COTTON RAG
To save money we decided to print at home. The biggest concern with printing on cotton rag paper is that the deckle edges can get stuck and the thickness doesn't work with all printer types so we were worried that the local printers would be really expensive or screw up our beautiful expensive paper!
Printing on cotton rag paper at home turned out to be pretty easy, however, I did practise on normal paper first to ensure the design was correct and how I wanted it, then on a test piece of cotton rag to ensure the printer worked with the thickness and deckle edges. We have a Brother HL-3170CDW which is a laser printer with a manual feed. I would highly recommend if you're DIYing with higher GSM papers to print using a printer with a manual feed, e.g. has a flap that means you can feed the paper through the printer rollers from the back as opposed to the paper being picked up from a bottom tray and having to go around several rollers. The test we did printing from the bottom tray kept getting stuck, got a lot of ink splodges on it and the rollers created micro-tears on the surface. While some might think that adds to the rustic charm of the look, it wasn't for me and a poll on Instagram voted for RUINED! However, the manual feed worked perfectly.
If printing on the back as we did with the menus, I would highly recommend making a template with test paper first to ensure you don't print upside-down. We did this by marking the left and right and the correct side up to ensure we fed the paper into the printer correctly.
WELCOME SIGN
A welcome sign is necessary if you're in a public venue where there might be other patrons. This does the dual job of helping your guests find you as well as let the other patrons know there is a private area.
See Also
A welcome sign is also another opportunity to continue your stationery suite theme and there are a lot of beautiful design inspirations out there. A welcome sign can also be SUPER expensive if you want it on good quality stock and in your font, but there are also a lot of DIY hacks out there to save money.
When it came to our sign, the idea of spending so much money on acrylic or wood where I would only use it once seemed wasteful. What was I to do with it afterwards? After going around the houses on designs (at one point it was going to be a chalkboard) we settled on continuing with the deckle edge cotton rag and purchased an A2 piece.
There was no design for a sign in the Victoria Suite which caused mild anxiety as larger typography pieces have the opportunity to go so wrong! However, we mocked it up in Photoshop and printed it on A4 pieces of paper which we stuck together to see if the layout was what we wanted. I am glad we did it that way as I can be a bit anal and it took a few goes to get it right (sorry trees!!) The font ended up being 164pts with the smaller fonts 46pt and 30pts. I'm not sure a paid professional would agree with my layout, but I loved it.
The final A2 sized sign was obviously too big for our home printer, so I emailed some specialist printers near me to get estimates. We paid about $50 to get the sign printed at A3 Printing Epsom which I thought was reasonable. They ended up having to trim to edges to fit the paper through their printer which was a little disappointing as I wanted a continuous deckle edge, but the end result of straight sides and deckle tops looked pretty good to me and others probably thought it was a design feature – but something to enquire about if you want all 4 edges decked.
We framed the sign in a Country Road frame which Charles stained slightly darker to match the borrowed easel.
A note about using Photoshop vs InDesign for typography: InDesign is better for typography, but I am more fluent in Photoshop. Photoshop can handle typography at most sizes, but for something big like my sign, it is best to 'convert to shape' any writing to ensure it stays sharp.
OTHER DIY STYLING
LINEN TABLECLOTH & NAPKINS
The natural-coloured linen napkins were not truly DIY as we bought online from Wonder Linen and simply knotted them. However, I now have LOTS of napkins to use for guests which I am quite excited about. You can also rent napkins (or use the venues standard ones) but I needed some for home anyway.
The tablecloth, however, was made by my mother. I bought some white wide linen online and had it sent to her house. It was quite simple to get the measurements, just get the size of the table and add on the drop that you want. In my case, I wanted 2 tablecloths to cover six 90x90cm tables with about a 50cm drop (note, there is a fine balance between reaching the floor and having a dramatic effect and being annoying for guests to get in and out of the table) so each tablecloth was about 2m x 3.8m. I went with two instead of 1 long one as it means I can reuse them later.
WHITE EUROPEAN URNS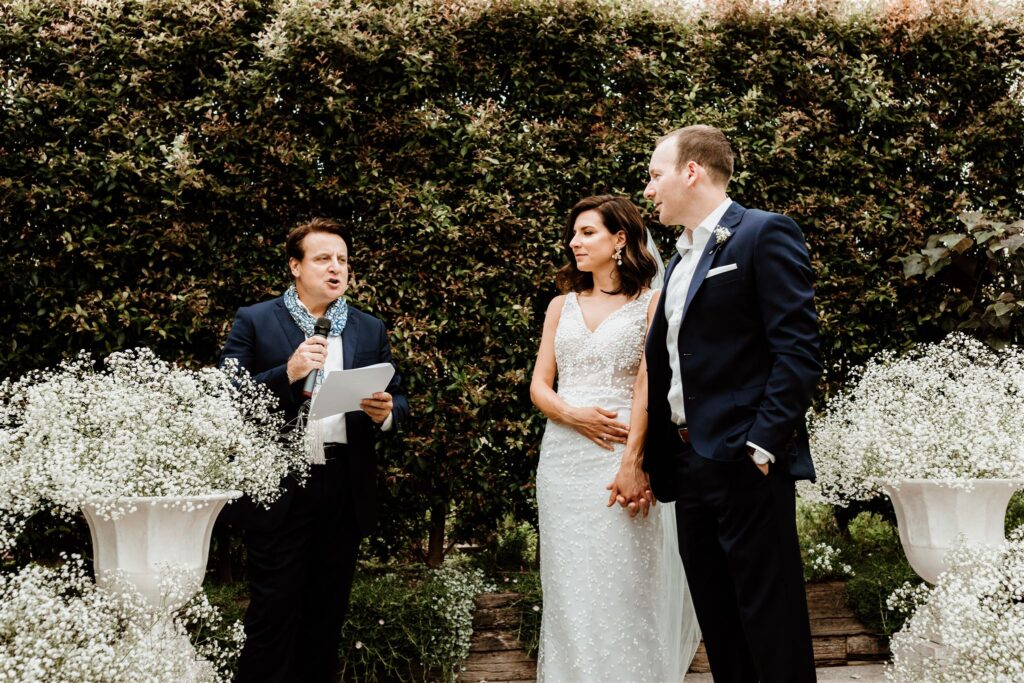 Charles' mother, Elizabeth (of Leopold Hall) custom made six stunning urns for us. Originally black, I started her off by using an etching primer as a base and painted a few coats of white acrylic on top. To ensure these didn't look too polished and pristine, we made sure to get a bit of grit into the paint and create texture with the paintbrushes. The step that made them truly amazing was Elizabeth creating a distressed finish using dark oak furniture wax. Elizabeth is one of those people who is truly talented and can make anything look heavenly. The end result was a pretty, antique feel which was a nice respite from stark white.
To give the urns some height, Charles fashioned some plinths out of some old wood which was lying around and they got the same painting treatment as the urns.
FLOWERS & FINAL STYLING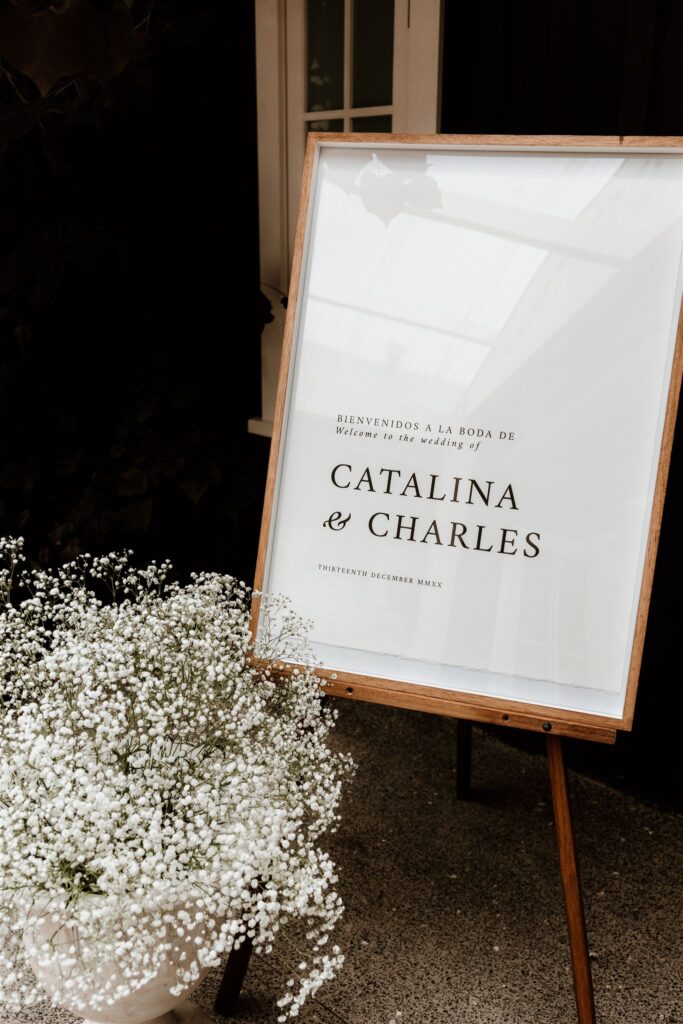 Charles' sister, Amanda Norwood, who on top of her normal job at CC Interiors is also a wedding stylist, was absolutely amazing at pulling everything together by styling the tables and venue on the day. We were absolutely blown away by how beautiful it all looked.
To keep down costs, we opted to DIY all the of flowers except for the bouquet, flower crown and bountineers which were all from Blush. The dress had a lot going on already, and we loved the sculptural feel of a single variety such as Gypsophila. Charles and I literally bought 20 bunches of Gypsophila from Fresh Cut flowers at the flower market. The Gypsophila was arranged into big irregular clouds directly into the distressed urns by Amanda – the end result was dramatic but minimalist with hints of European attitude.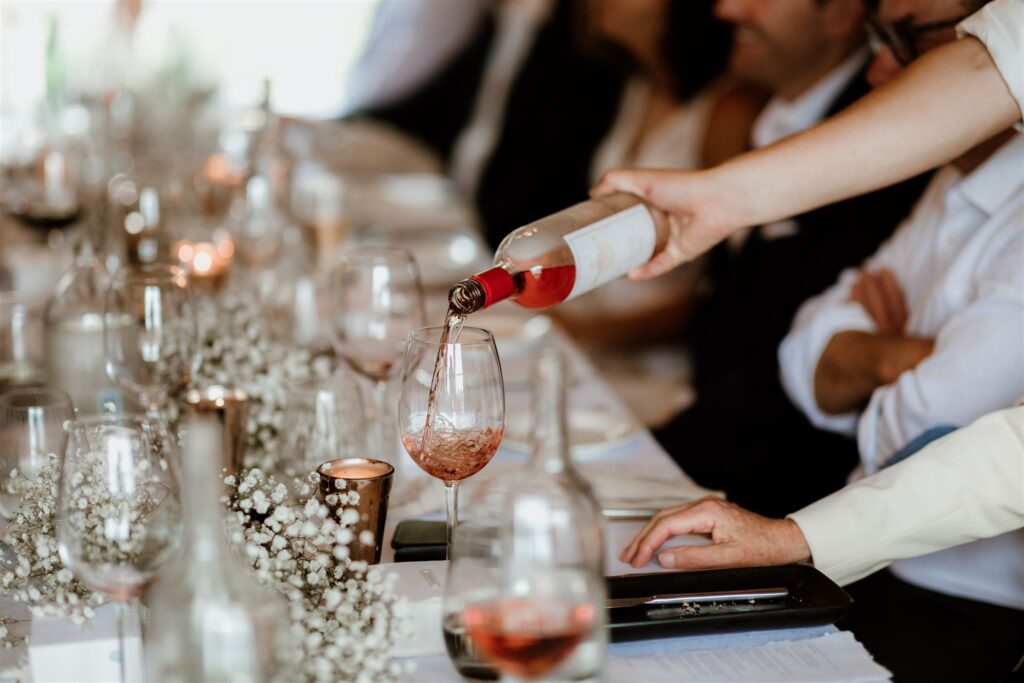 Amanda also styled loose Gypsophila down the table along with the menus, goodie boxes, glass votives, Mudbrick glassware, charge and cutlery. One thing to keep in mind about flowers on the table is that you still need to put food and drinks down – so a good rule of thumb is they're good to have, but they shouldn't be in the way.
The Gypsophila fill urns where then used in a similar vein to a flower arch – a few on each side of where Charles and I were standing at the front of the aisle. Another urn was positioned in front of the sign then they came with us to the reception for extra foliage there.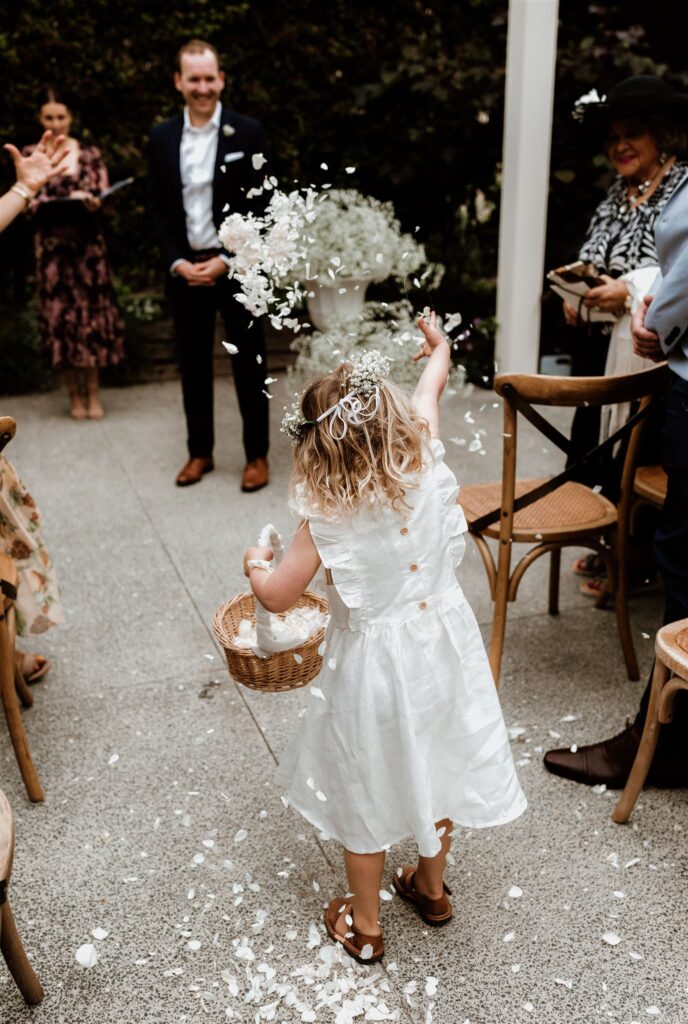 For the flower girl, we were a little unorganised and ended up getting some white roses last minute from a friendly neighbour. Charle's Aunty Kate then plucked the petals off into the basket ready for tossing.
RING BOXES
Such a small design feature but VERY IMPORTANT – no rings, no wedding! Obviously, you can use the box your rings come in, but as the box was black, I wanted something a little softer and more in line with the rest of the theme. A quick look on the internet showed that most ring boxes were a bit daggy or the cool ones over $50!
I have bought a few rings from Sarah & Sebastian in the past and I LOVE their boxes. It was probably a bit cheeky, but I upcycled one of theirs by lightly sanding off the logo.
To make the dual ring pillow I asked Walker & Hall (where I purchased the rings from) if they had any scraps of jewellery foam available. They were kind enough to give me a large square which was great as it took two goes to get the spacing and size right.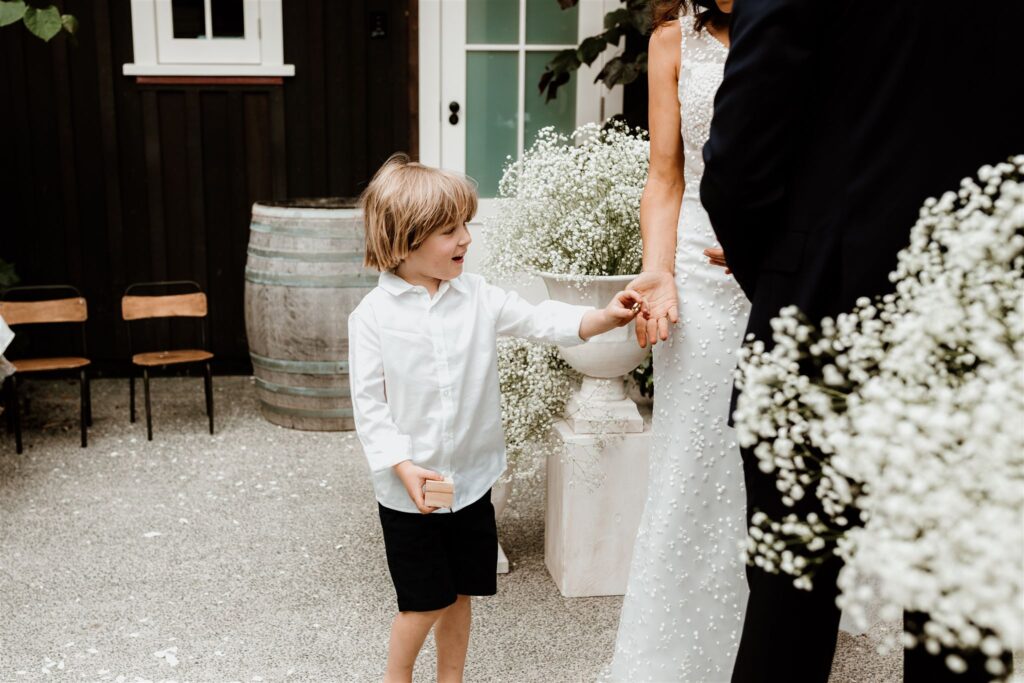 Basically, I wanted each ring in the middle of each half. To achieve this, I marked out an 'I' shape where I wanted them to go in pencil. You need it to be a capital 'I' so that the sides fold down and allow for a snug and secure fit. Using a precision knife I carefully cut out the 'I' in short tiny strokes to ensure I didn't overstep the boundary.
SPANISH CAKE CUTTING SWORD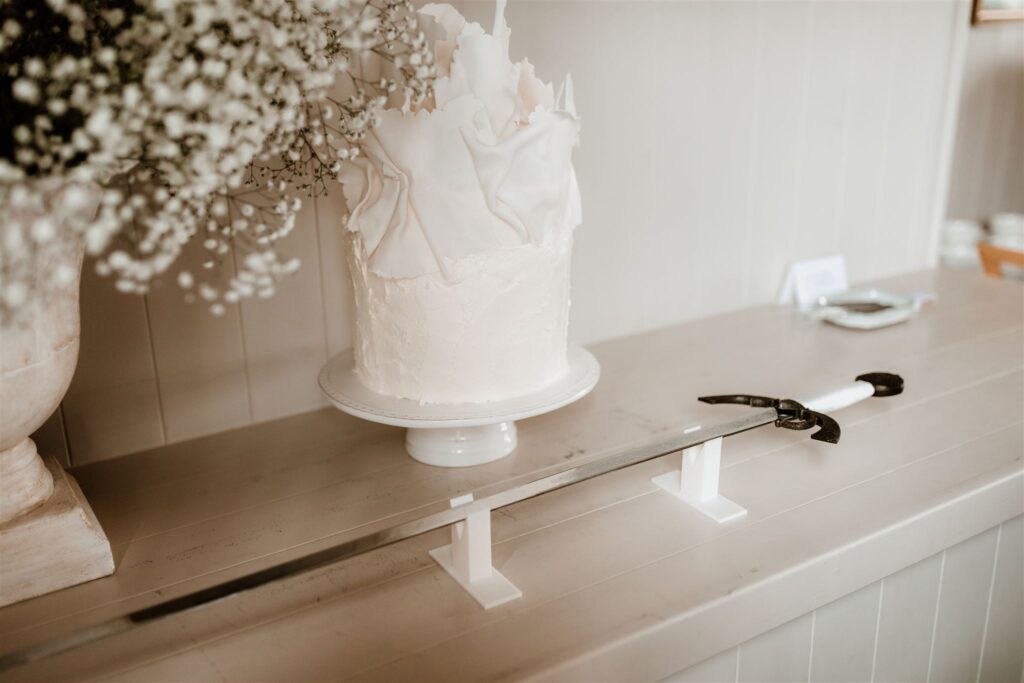 So there actually aren't many wedding traditions in Spanish culture compared to a normal NZ wedding except for one that we absolutely had to do – cutting the cake with a sword! Abuela had an authentic sword from Toledo which we rewrapped the handle with white cord. We used this to cut our Spanish inspired cake. The cake was custom made by the incredible Anthony and team from Little Tart Bakery.
SPARKLER SEND OFF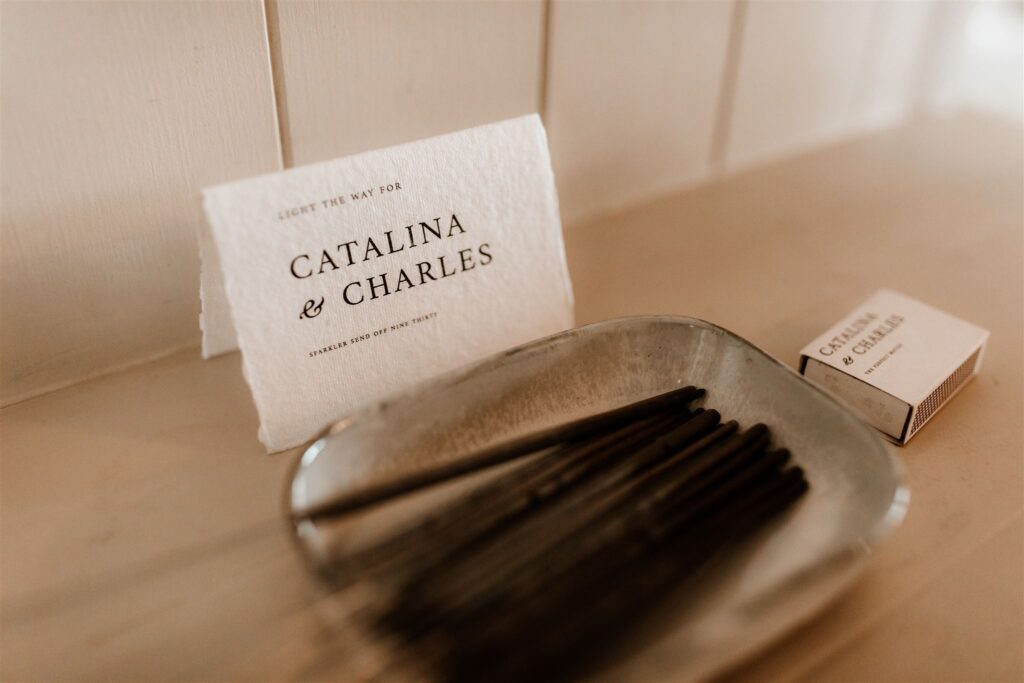 This was a little bit of a late addition and in New Zealand, there are strict rules around buying and selling fireworks. Fireworks are only sold for the four days up to Guy Fawkes(an old English event and traditionally held with bonfires, fireworks and family or community gatherings). However, we managed to rustle some up from a friend who had some leftover.
We made a sign and a wrapper for some match boxes on left over cotton rag paper and fashioned an area around a cute dish from home (bought from Leopold Hall).
Funny story, the sparkler send off didn't really work in the end – everyone lit their sparklers at different times and no one was paying attention to where they were standing! I recommend having someone coordinate this on your behalf and have many matchboxes to speed it up! Good luck 😂.
WASTE NOT
To recycle, we plan on using the tablecloth and napkins for dinner parties at home. We also are going to print something on the back of the A2 paper sign and re-use the frame to have as art in our new home. Gypsophila also dries well so we have been able to dry and keep most of it in one of the urns. The other urns have gone for sale at Leopold Hall – we would really love to see someone else use them!!
After the wedding I have leftover pieces of each size of cotton rag paper (as you buy them in packs) as well as the A4 offcuts which I plan to use for present tags and drawings or whatever other project in the coming months.
FINAL THOUGHTS
Wow, that was a realllllllllly long post! If you've gotten this far you either read it all or scrolled and just looked at the pictures. Either way, I am proud of you for seeing something through to the end.
So that is how we achieved our Boujee on a Budget wedding – I hope you got some great inspiration and ideas. I want you to know that having your DREAM wedding doesn't have to cost the earth, and you can create something pretty special with a big of imagination and help from your loved ones.
It is possible – you do you!
Please feel free to leave any comments or ask any questions.
x Catalina
---
Credits & Many Thanks:
PHOTOGRAPHY
Photographer – Lauren Murray of Wild Folk Photography
Additional images by me :)
OUTFITS
Dress & veil – made by my Abuela with fabric from Elizabeth Jayne Bridal
Earrings – Maison Sabben
Rings – Walker & Hall
Makeup – Beauty by Alexandra
Hair – Chloe Zara Hair (note, she doesn't do weddings but you can book for all other cut and colour services)
Fragrance – D.S. & Durga
Hair perfume – Chloe Zara Hair
Bouquet, flower crown, boutonnière: Blush flowers
Groom & Ring Bearer – Country Road
Flower Girl – Blue Daisy dress & Trade Me purchased basket
VENUE & FOOD
Ceremony & reception – Mudbrick Lodge and Mezzanine, Waiheke
Custom cake and chocolate stuffed churros – Little Tart Bakery
CELEBRANT
Celebrant – Lisa Baigent
STYLING
Event styling – Amanda Norwood
White urns, Vienna cross back chairs & candles – Leopold Hall
DIY flowers – Fresh Cut flowers
Cotton Rag Paper – Feather & Stone & Gordon Harris (A2)
Sign frame – Country Road
Easel – borrowed from Amanda Norwood
Silk Ribbons – Tono & Co
Wax seals – Stamptitude & AliExpress
Napkins – WonderLinen
Table cloth linen – DIY with fabric from LinenShed
Spanish sword – on loan from Abuela
Please note, this wedding was a #nospon event. Any shout outs are because I think the companies are great and deserve a mention xx
---
If you want to see more wedding inspo, see my other wedding posts here.