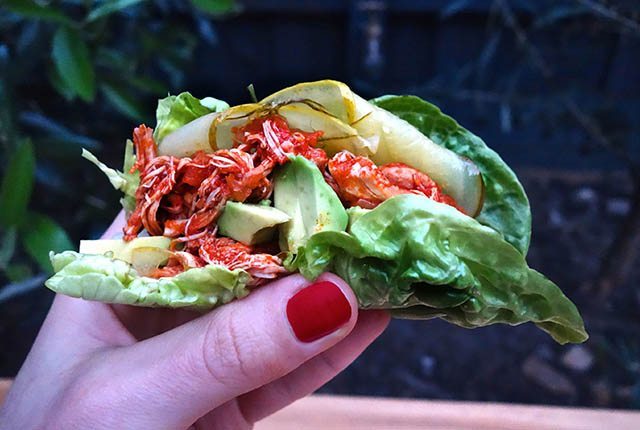 I have recently become a thigh girl. OMG where have they been all my life? I used to poo poo the not so bright white meat in favour of the more aesthetically pleasing breast and tenderloin, until this.
WTF do you make with chicken thighs?!
Pulled-fucking-chicken is what you make with chicken thighs.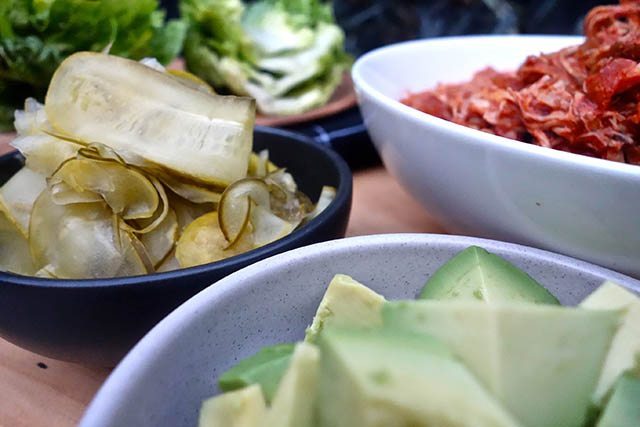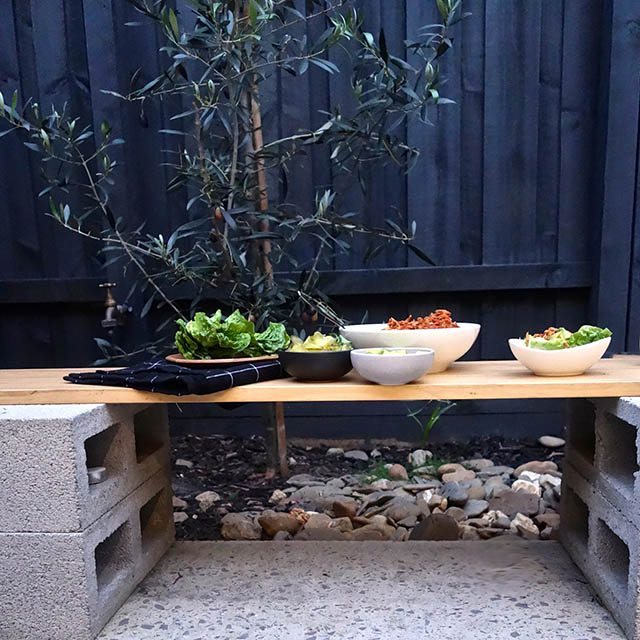 This, like many good things, happened by accident. My friend was moving house and had sold her fridge so she had a lot of perishables that I offered to store for her in my fridge. It wasn't actually much food so she told me to just keep it – as a compromise, I thought it would be best to just cook her dinner. Besides, she was probably going to eat cardboard for dinner and I can't deal with her when she is hangry.
To my snobby surprise, she had chicken thighs. At first, I had no idea how to make them palatable – like… will they explode if I cook them? Is the slightly pink parts edible? Thankfully, Google got me through. Pulled Chicken was one of the top searches. I had never had pulled chicken, however, I am a huge fan of everything else pulled: Pork, brisket, lamb. 'Grrrl you got this" I said.
Most of the recipes online were fairly unhealthy – who seriously uses a can of tomato sauce in cooking? Like… how is adding sugar sauce cooking?! Anyways, I made it healthy. Prepare to wet your pants because this is seriously delicious – spicy pulled chicken served in lettuce, hugged with thinly sliced pickles and topped with avo! Yum, yum, yum! Pickles and hot food are very best friends so it is great they are together here.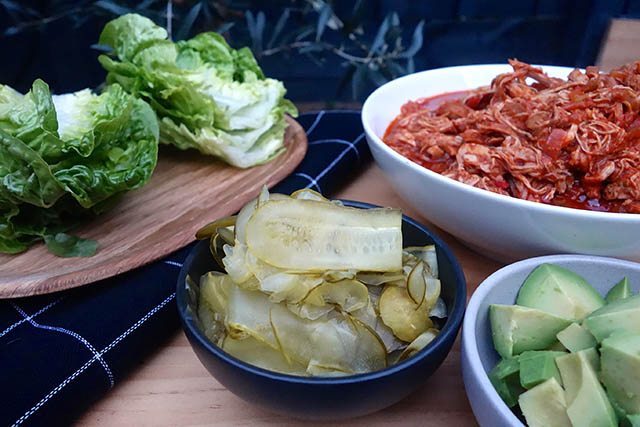 healthy gluten free southern style spicy pulled chicken tacos
I have recently become a thigh girl. OMG where have they been all my life? I used to poo poo the thigh in favour of breast and tenderloin, until this. Savoury pulled chicken offset by crunchy salty pickle. Nom.
Cuisine:
refined sugar free, gluten free, paleo, dairy free, fructose free
INGREDIENTS:
For the pulled chicken:
Extra-virgin olive oil
2 garlic cloves, crushed
1 onion, finely diced
1 chilli, sliced (any would do – I used a long red chilli but jalapeño or birds eye would also be good)
2 teaspoon hot smoked paprika
2 teaspoon cumin
1 teaspoon cayenne pepper
750gm (about 5) skinless, boneless chicken thighs
2 tablespoons tomato paste
3 tablespoons apple cider vinegar
½-1 Himalayan salt to taste
1½ cups water
2-3 bunches cos hearts, washed then cut into "taco" shells
1 avocado, pitted, peeled and thinly sliced
4-5 large pickles, finely sliced (it is worth getting out the food processor to finely slice this!)
Coriander leaves, for garnish
Kewpie mayo or other healthy alternative
INSTRUCTIONS:
On a low heat, in a large pot and sauté onions in the olive oil without colouring for 5-10 minutes or until translucent.
Add garlic and chilli and stir 1-2 minutes until fragrant.
Add in the cumin, cayenne and paprika and stir to coat.
Add the chicken, tomato paste, water, Himalayan salt and mix well.
Bring to the boil then turn down to a gentle simmer for 1 hour, or until chicken falls away easily.
Using two forks, hold the chicken down on one end with one folk, the drag the other lengthways with the grain to shred the chicken. Repeat until you have one hot bowl of delicious pulled chicken!
Serve using the lettuce as a taco cup covered in pickles, avo and coriander. Feel free to add a cheeky dollop of mayo, yoghurt or alternative if you are that way inclined.
This is usually best on the second day so make a day in advance if you have guests and just reheat!