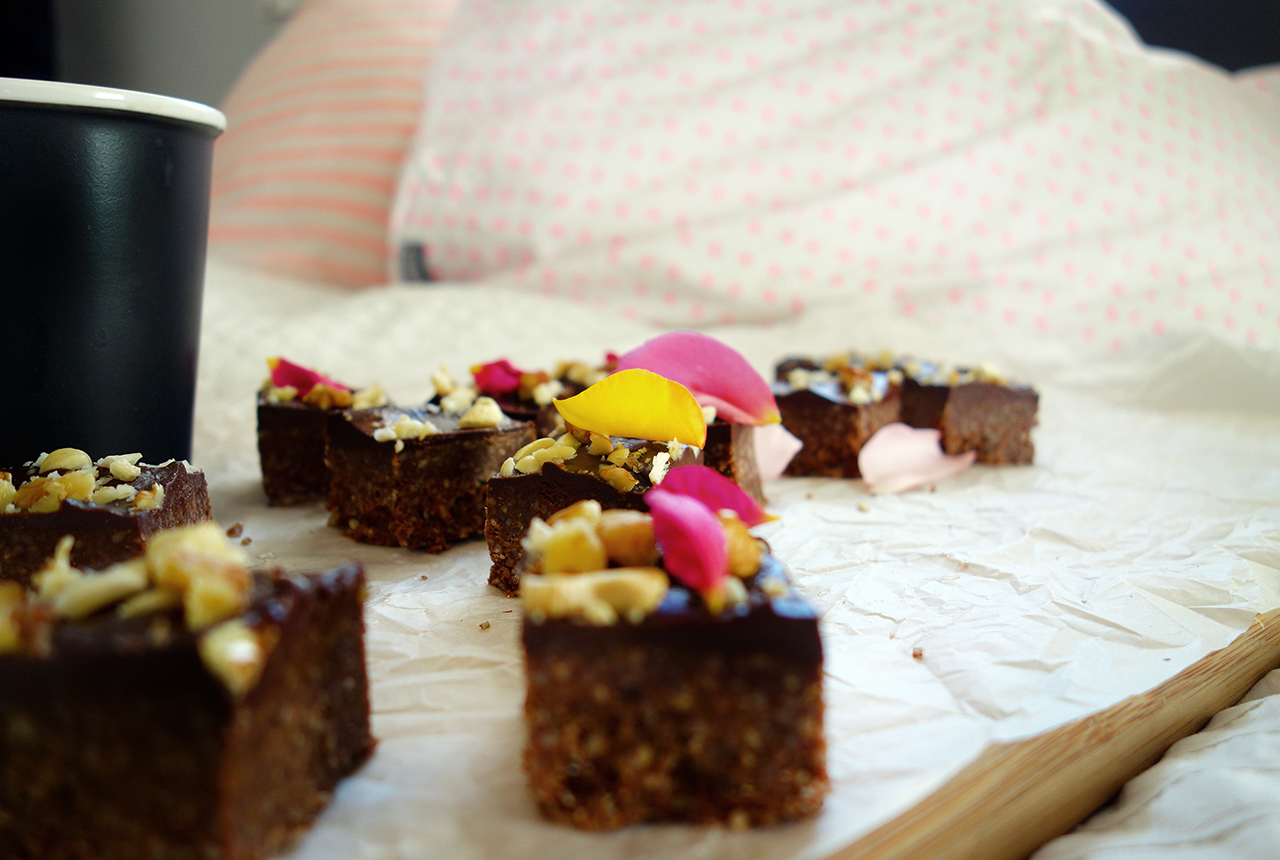 If there are two words that are sure to get a girl going "chocolate" & "fudge" definitely make the cut. There is something about the rich gooey decadence that gets me erry time. What the actual fk. Bad news story though, it is not traditionally classified as a health food… until now!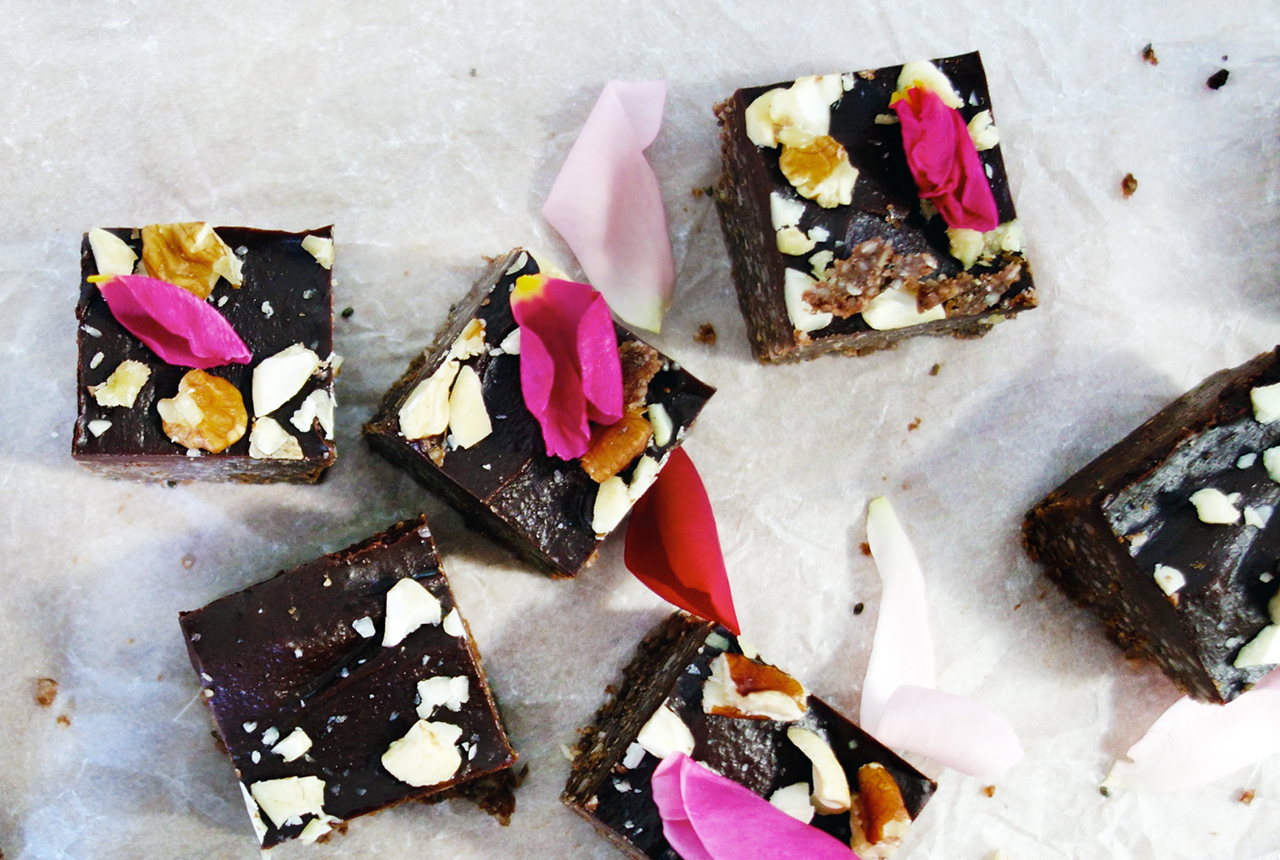 I came up with this recipe by accident, it was a combination of following my Look Good Naked Afghans as well as using up what I had in my cupboard. The resulting mix turned out to be a luxuriously smooth and soul fulfilling block of amazingness that I wish you will all try. Then give some to me. Ta.
Made mostly from nuts and seeds, this option is raw, vegan, clean eating at its finest. Macadamia nuts add an amazing amount of creaminess due to their high healthy fat content. They are full of dietary fiber, a good source of the phytosterols ß-sitosterol and carry no cholesterol. They are rich in calcium, iron, magnesium, manganese, zinc and selenium. They also contain high amounts of B-complex vitamins such as niacin, pyridoxine, thiamin and riboflavin.
The pumpkin, sunflower and chia seeds are also amazing for conditioning hair, skin and nails. So indulge guilt free into one of these whilst knowing you are making your insides as happy as your outsides.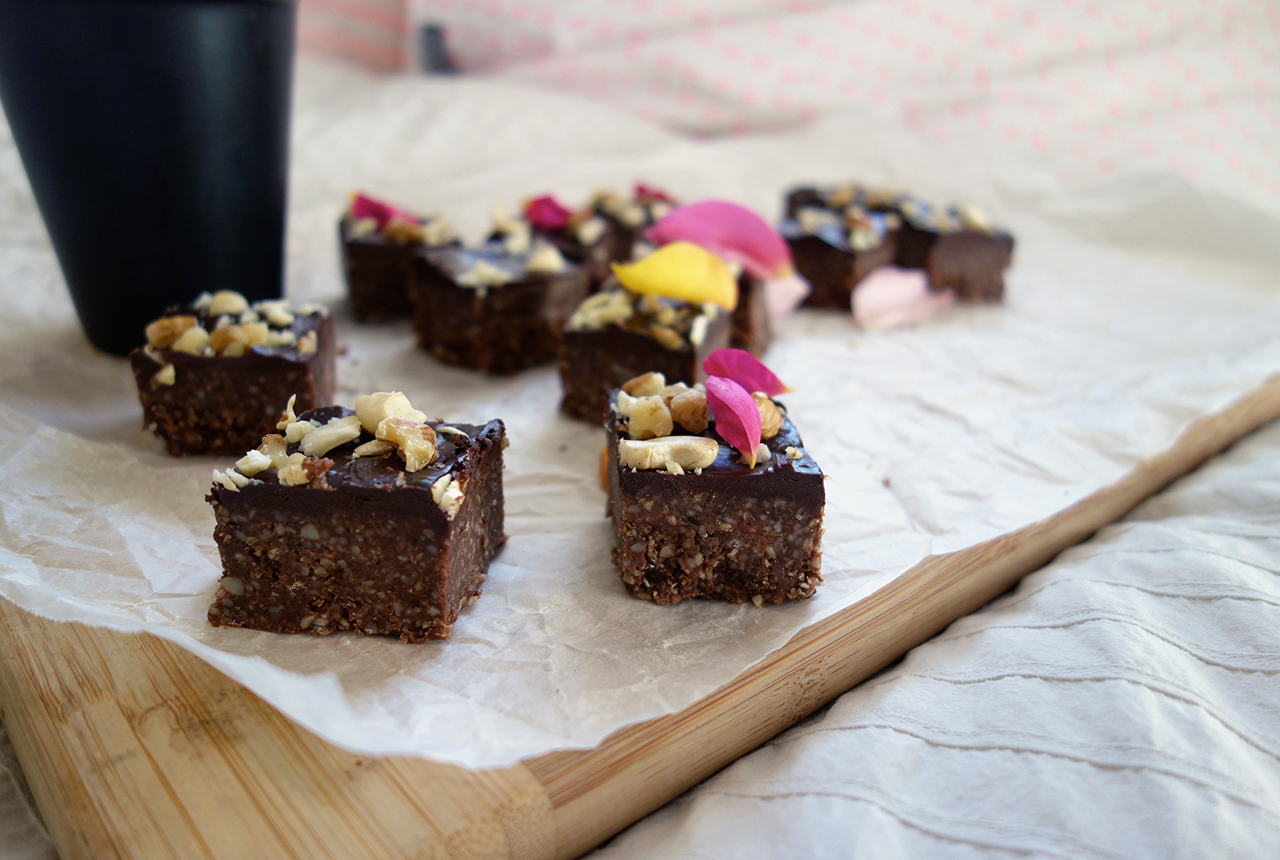 Guilt-Free Extra Gooey Raw Gluten-Free Vegan Chocolate Fudge
Raw, Gluten Free, Dairy Free, Vegan, Clean Eating, Contains Fructose
Makes about 24 pieces
Time: 20 minutes prep + set over night
Ingredients:
For the fudge base:
2 tablespoon psyllium
2 tablespoons chia seeds
1 cup macadamia nuts
1/2 cup pumpkin seeds
1 cup sunflower seeds
1 teaspoon cinnamon
1/3 cup raw cacao powder
1/4 teaspoon Himalayan salt
1 cup sultanas, soaked
1/3 cup cacao butter, gently melted
1/4 cup maple syrup
1/2 teaspoon vanilla
For the chocolate topping:
1/3 cup maple syrup
1/3 cup raw cacao powder
1/6 cup raw cacao butter
Optional:
Extra nuts and seeds chopped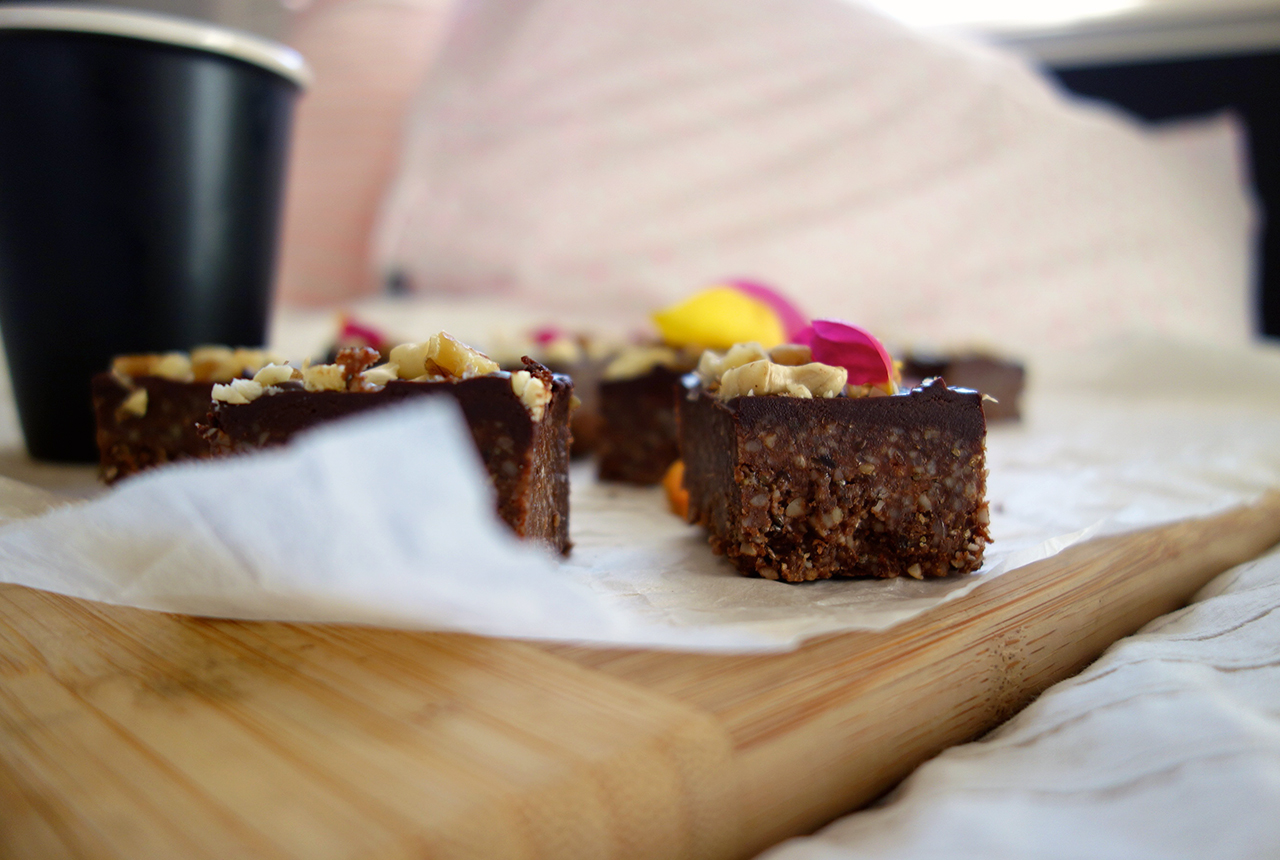 Directions:
For the fudge base:
See Also
In a high speed blender whiz chia seeds until it becomes a fine powder. Place in a large mixing bowl.
Repeat the process one by one for the pumpkin seeds, sunflower seeds, psyllium and macadamia nuts so you have a bowl of flour. This can be done in a food processor it just won't be as smooth and will have more texture – not always a bad thing!
Mix in the salt and cacao powder into the flour.
Add sultanas, maple syrup, vanilla and cacao butter into the blender and process until super smooth.
Mix the two together either in the bowl or using a food processor.
Spread into a lined or non stick tin (I always use a large lunchbox!) and set in the freezer while you work on the chocolate.
For the chocolate:
Melt the cacao butter gently then whisk in the remaining ingredients.
To assemble:
Pour chocolate over the fudge base and smooth with a spoon – it might not go that smooth but don't worry!
Sprinkle over your toppings.
Set in freezer of fridge for at least 2 hours or ideally overnight.
Serve either from fridge or freezer – I like it from either!
Store in an airtight container in fridge for up to a week, or for up to a month in the freezer. Amazing with your favourite cuppa tea.