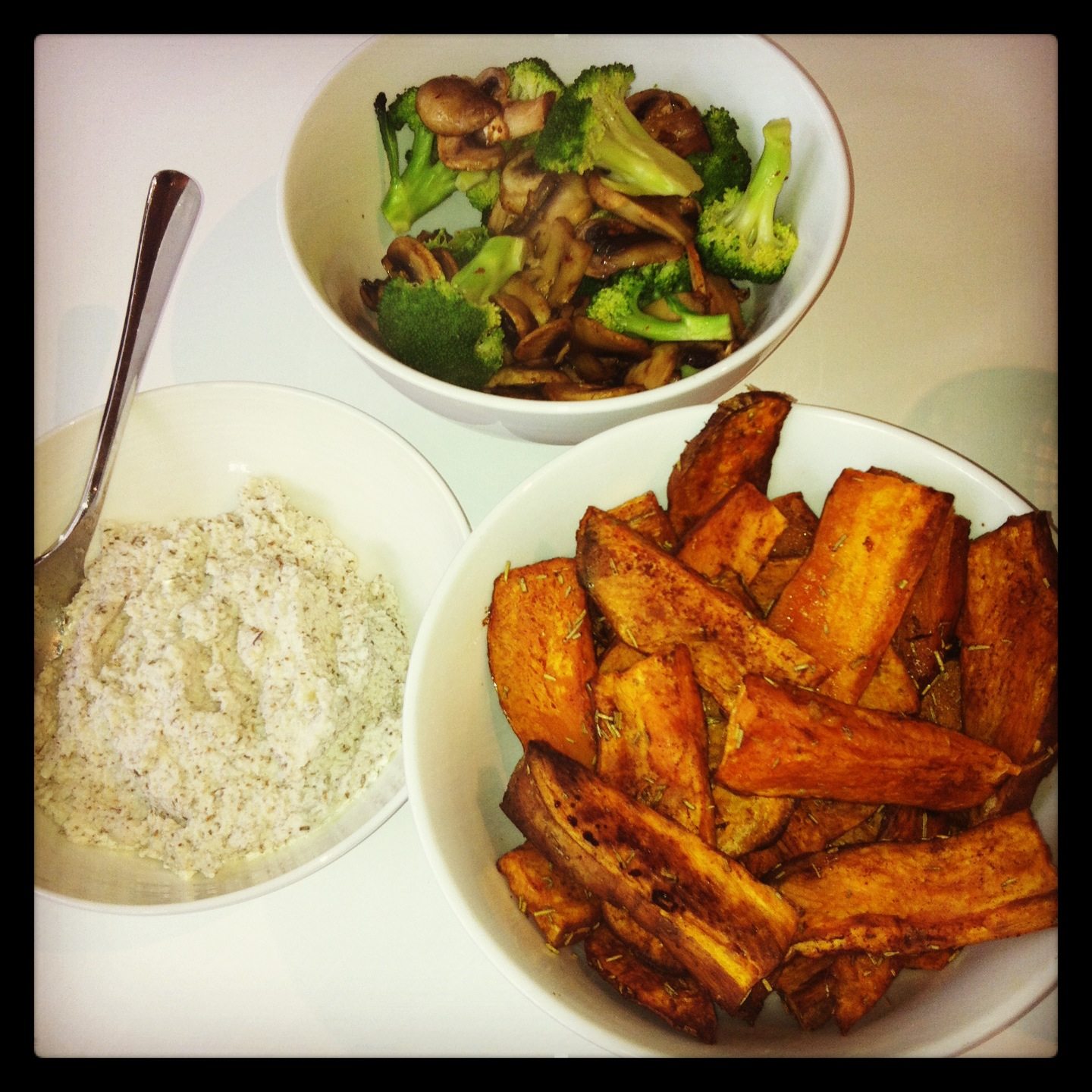 I am totally addicted to cooking blogs. My appetite (pun wholeheartedly intended) for culinary inspiration is insatiable and incessant. I follow about thirty and never tire of admiring the exquisite images and novel ways of transforming whole foods into edible works of art. Being half Greek-Cypriot it has been deeply ingrained in me that sharing food is not only hospitable (very important to the Greeks) but also an act of love. My favourite recipes are based on vegetables, which may sound boring (I'm not into "healthy sweets" or creative grain-based breakfasts), but when prepared with a little imagination vegetables become the star of the meal.
Below is my deconstructed version of a stuffed sweet potato dish from one of my all time favourite blogs, Deliciously Ella.
Sweet Potato Wedges and Sautéed Broccoli and Mushrooms with a Brazil Nut Crème
Serves: 2-4 Time:
10 minutes prep, an hour cooking time
Ingredients:
Nut crème:
1 cup brazil nuts
½ cup water
1 lemon, juiced
3 sprigs fresh rosemary, finely chopped
Sweet potatoes:
2 large sweet potatoes, cut into wedges
3 sprigs fresh rosemary, finely chopped
1/2 teaspoon cinnamon
1/2 teaspoon paprika
1-2 tablespoons olive oil Sea salt to taste
Vege stuffing:
1 head broccoli, cut into florets
1-2 large handfuls button mushrooms, quartered
1 dried chilli, finely chopped
Splash gluten-free soy sauce
1. Preheat oven to 180 degrees.
2. To make the brazil nut crème, simply place the brazil nuts, water, lemon juice and rosemary in a high speed blender and blend until a creamy paste has formed (at least 2 minutes).
3. Toss potato wedges and with a tablespoon of olive oil, cinnamon, paprika, sea salt and rosemary.
4. Roast for 45 minutes to 1 hour.
5. While the sweet potatoes cook, pan fry the broccoli and mushrooms in olive oil.
6. Add a splash soy sauce,  chilli and sea salt whilst cooking.
7. Cook for 5-8 minutes.
---
Nikki works in public liability law by day and health fanatic all other times. Her philosophy is plant-based, completely unprocessed, natural and mostly paleo, however she still enjoys the occasional red wine or chocolate. Olympic lifting, CrossFit and yoga are all activities that complete her lifestyle. She loves her hobbies so much she has launched her own blog Wellness Republic.