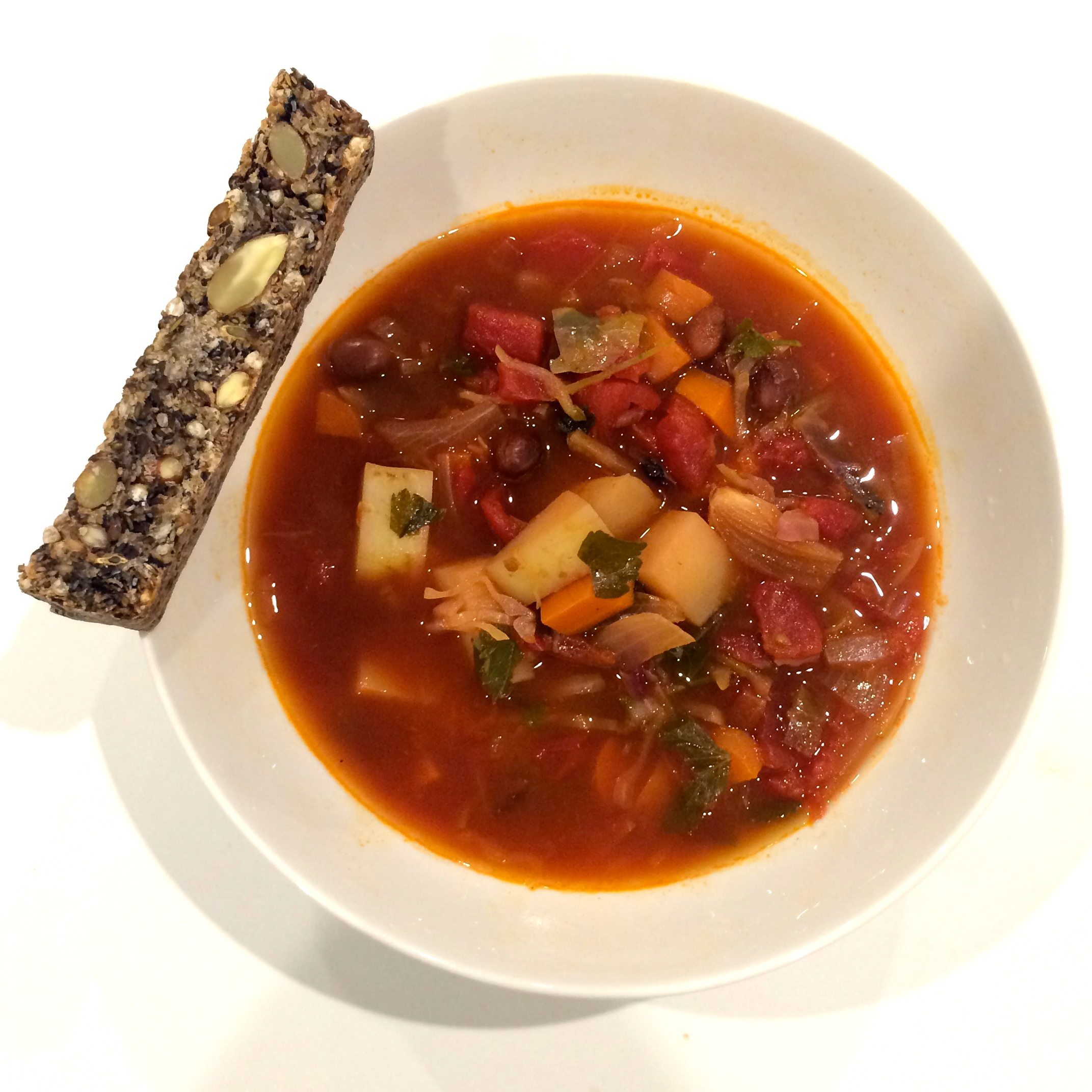 The challenge of scarcity can bring beautiful learnings and often produces great things that may have never been discovered otherwise. When restrictions are in place, people are often forced to innovate and think outside of the box. An extreme example of this phenomenon is how in prisons, inmates make tattoo guns using batteries, fans and pens. Another is when wood shot up in price in the 1800's, they turned to coal instead. Think about a time in your life when you made something awesome using just what was around you. Today, my experience with scarcity, brings you soup.
This month, although amazing, was an expensive month. We got two new beautiful kittens (Buttons and Pickles), hosted a hens, attended a wedding, furnished a guest room and proceeded to consume copious amounts of breakfast out of the house. It was an exciting month which I am blessed to be able to have had. The end of the month, however, was a bit of a tight squeeze! We had an uh oh moment when our bank balance wasn't looking as thought it was going to make it – rather than take pity on ourselves, we decided to be resourceful and try and make do with what we have left in the cupboard and fridge. Being the obsessed with food foodies that we are, it really actually wasn't that hard. It's amazing what you can come up with when you are limited to what you have around you – it kind of makes me think about implementing this kind of system to be our default method of running the house, rather than only because we have to occasionally.
This soup is not only full of flavour thanks to the luxurious smoked paprika, but it is hearty and soothing for the upcoming winter months. The addition of potatoes and borlotti beans makes it a filling enough dish to have its own. Of course, if you wish to have bread with it as well, I'm not one to stop you.
As an alternative to stock, I used brown rice miso paste to flavour the broth as it brings a subtly saltiness without being over powering, which soup often needs. Brown rice miso is a powerhouse of concentrated deliciousness and nutrition – it is exceptionally good for your digestive system, especially if you are feeling rundown, as unprasturised brown rice miso has the added benefit of probiotics on top of all the either good stuff that comes from normal miso. It can be found at health food stores (Wholefoods on Brunswick St, Collingwood, or The Essential Tree, Richmond and online). If you don't want to use the miso, replace it with stock, just please make sure it is good quality stock without all the added nasties :). Vege stock for the vegetarians/vegans out there, or homemade beef stock for the carnivores.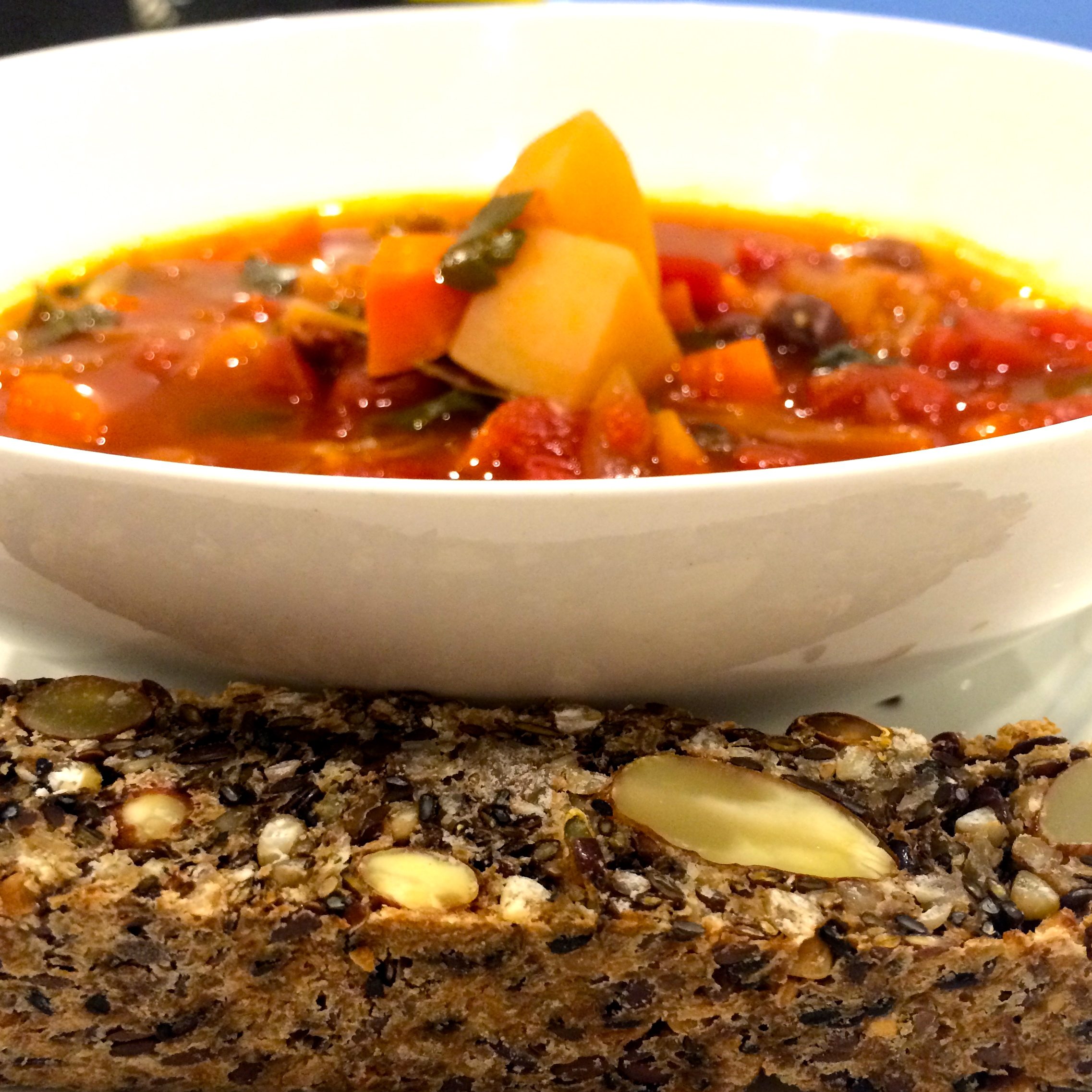 day before pay day soup
Makes enough to last a week of lunches for two people :P
1 knob ghee
1 onion, sliced
2 medium carrots, diced
1 heaped tablespoon hot smoked paprika
1-2 medium potato, cubed (I used floury white potato, put can substitute if following a Paleo diet)
1 400g can borlotti beans, drained and rinsed (kidney or cannellini beans would also be fine)
1 800g can tomatoes
1 bay leaf
1 tablespoon brown rice miso paste
1 teaspoon maple syrup
1 large handful of parsley
Salt & pepper to taste
1. In a large pot melt ghee, add onions and carrots and sweat on low for 5-8 minutes until translucent – temperature should be low enough so they don't brown.
2. Add paprika and stir to combine.
3. Add the beans, tomatoes, potato, maple syrup, miso paste, bay leaf and 6-8 cups of water.
4. Bring to boil then simmer for half an hr to 40 minutes.
5. Mix through parsley and season.
Serve with your favourite bread!