In January, after 3 years of living in the Melbourne CBD, we decided to venture out into the big bad suburbs in search of more space and some outdoor living. Although the CBD was a blast and an awesome place to live being new to the city, it was just time to move on.  Ideally we wanted to live in Richmond so we could be close to work and friends. 
Our checklist was as follows:
At least two bedrooms
Outdoor space
Working aircon
No bump in rent
After three or so open for inspections, we knew we were dreaming. If we wanted to live out our dreams – we would have to pay for them.
Anyhow, after we finally came to terms we would have to spend a fortune more for our ideal space I came across our dream place. Not only two, but THREE bedrooms, a decent sized court yard, brand new (we would be the first tenants), beautiful concrete floors and white walls. This wasn't just good photography, this was for reals! When I found this place it was in between Christmas and New Year and I was casually browsing listings in my PJs around 9am. Thinking the agent would be on holiday and the open house would't be until the New Year, I shot him an email asking when the open house would be. I then jumped in the shower to get to my 11 o'clock appoints. An hour later, I checked my emails before heading out and I has a response from the agent saying the inspection would be at 10.30 that day! I was faced with a dilemma; either make my partner who was in the middle of a computer game quit (you just can't quit a game you see, you'll get penalised) and reschedule my appointment – aka drop everything and get there ASAP or go on with my day as planned and HOPE there will be an inspection? Or d? Well we did the former, and it paid off. 60 other applications had already applied – all lots of 3 dudes (aka party animals). The landlord however wanted a couple. Long story short is we got the house and the rest is history.
My point is, new house = new rug!
Now because we now had to pay so much extra in rent, I needed it to be cheap, totally floorsome and original at the same time. DIYnot to the rescue!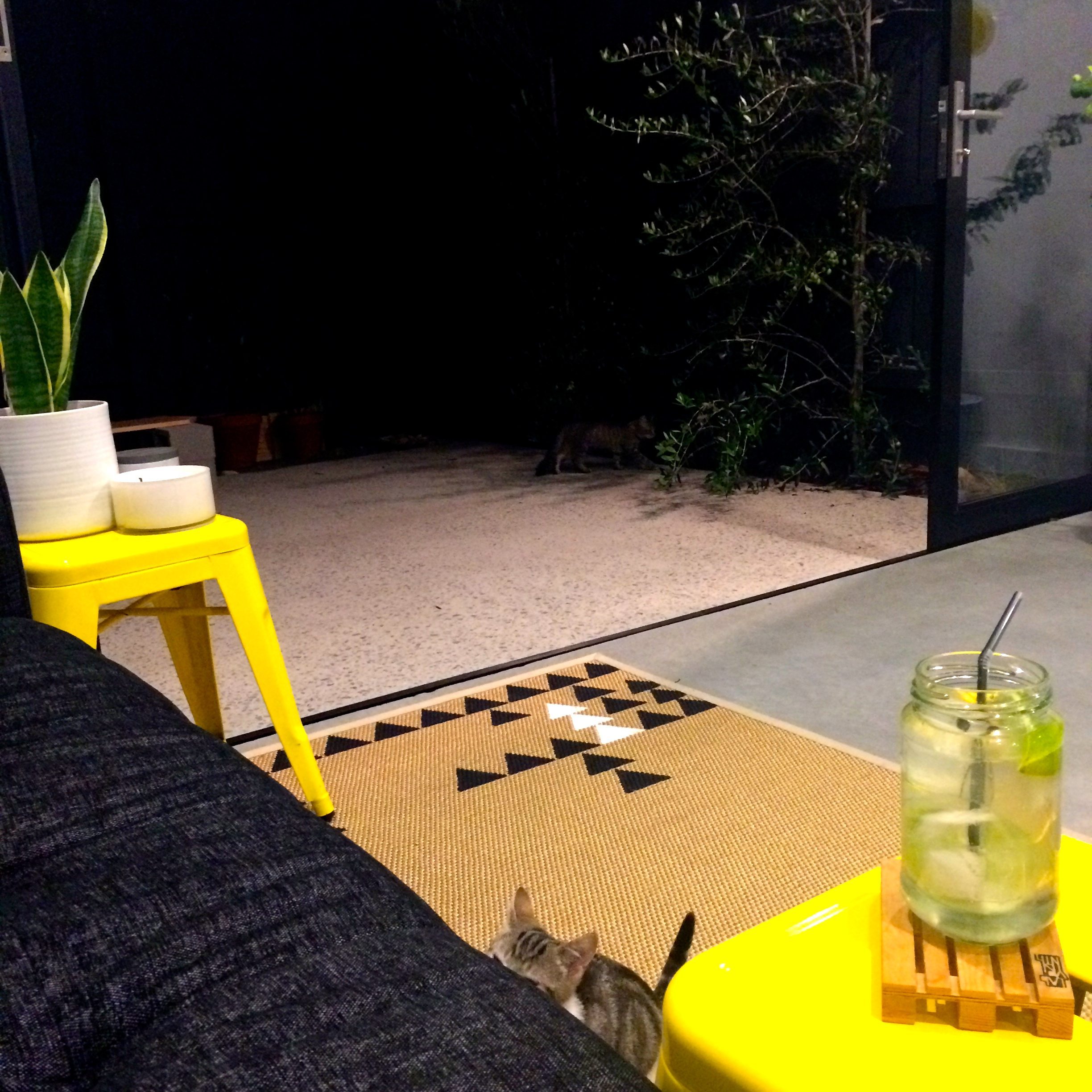 What you'll need:
1x sisal rug – I used the Ikea Egeby in natural but any with a diagonal weave will do
Black paint (I used acrylic as that's what I had lying around)
White paint (same as above)
Paint brushes a bit smaller than the size of the weaves
Patience and time :P – I did this over a few days
Directions:
This is where you can get creative – I was inspired by all of the ikat/aztec geometric patterns I had see on Pinterest, however, I really wanted to keep it simple to reduce the chance of making a mistake. So i choose natures strongest shape – the triangle. What I did was found the middle of the rug, worked out the size of the triangle I wanted and then used the weave markings as a guide. For example I chose a middle point for the triangle, then counted 6 weaves down, then counted 5 either side of that so it was 6×11 weave triangle.
For either end I made a row of triangles the entire width of the rug in a mirror formation, then I worked in lots of 3 e.g. every 3rd triangle I would do 3 down. To make it a little less pattern like, I omitted 1 or 2 triangles  where I felt necessary and somewhat randomly did some triangles white. The below is the pattern I used as a base.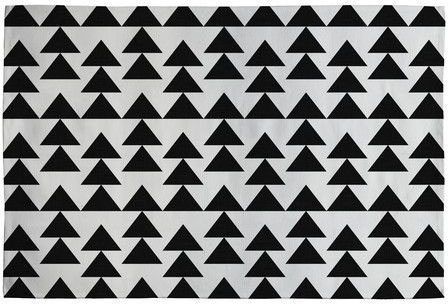 It really doesn't need to be a fancy pattern to be bold – less is probably more in this instance. This pattern worked well as if I made a mistake, it was easy to kind of run with it an pretend it never happened :P.
So basically, using each woven rectangle as a marker count along your desired width and height and then paint in those rectangles to form your shapes. Take care to not go over the lines –  think of it like grid paper. You can be pretty heavy with the paint as it will absorb fairly easily – any excess will disappear into the fibres so it is better to put it on thick so avoid having to do many layers.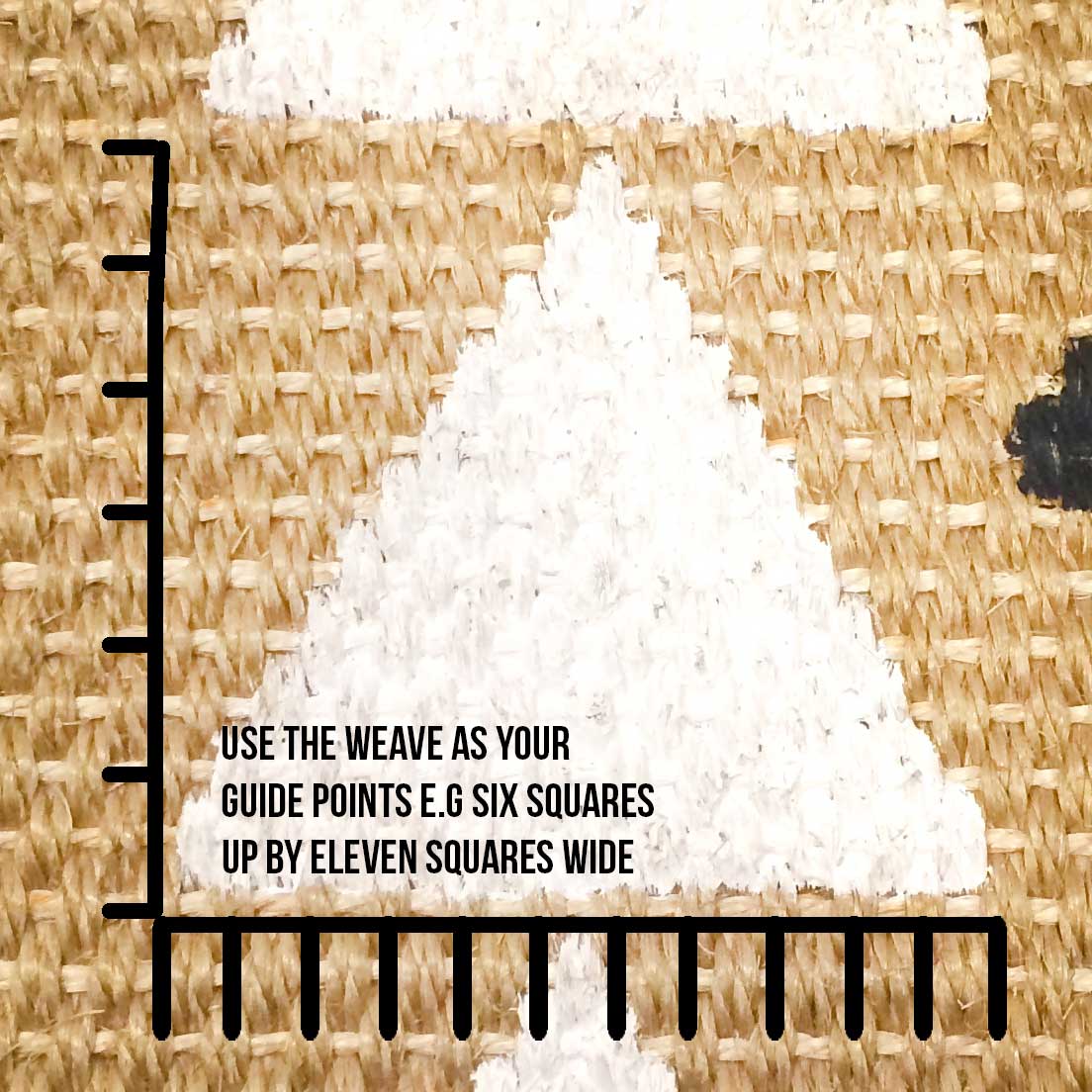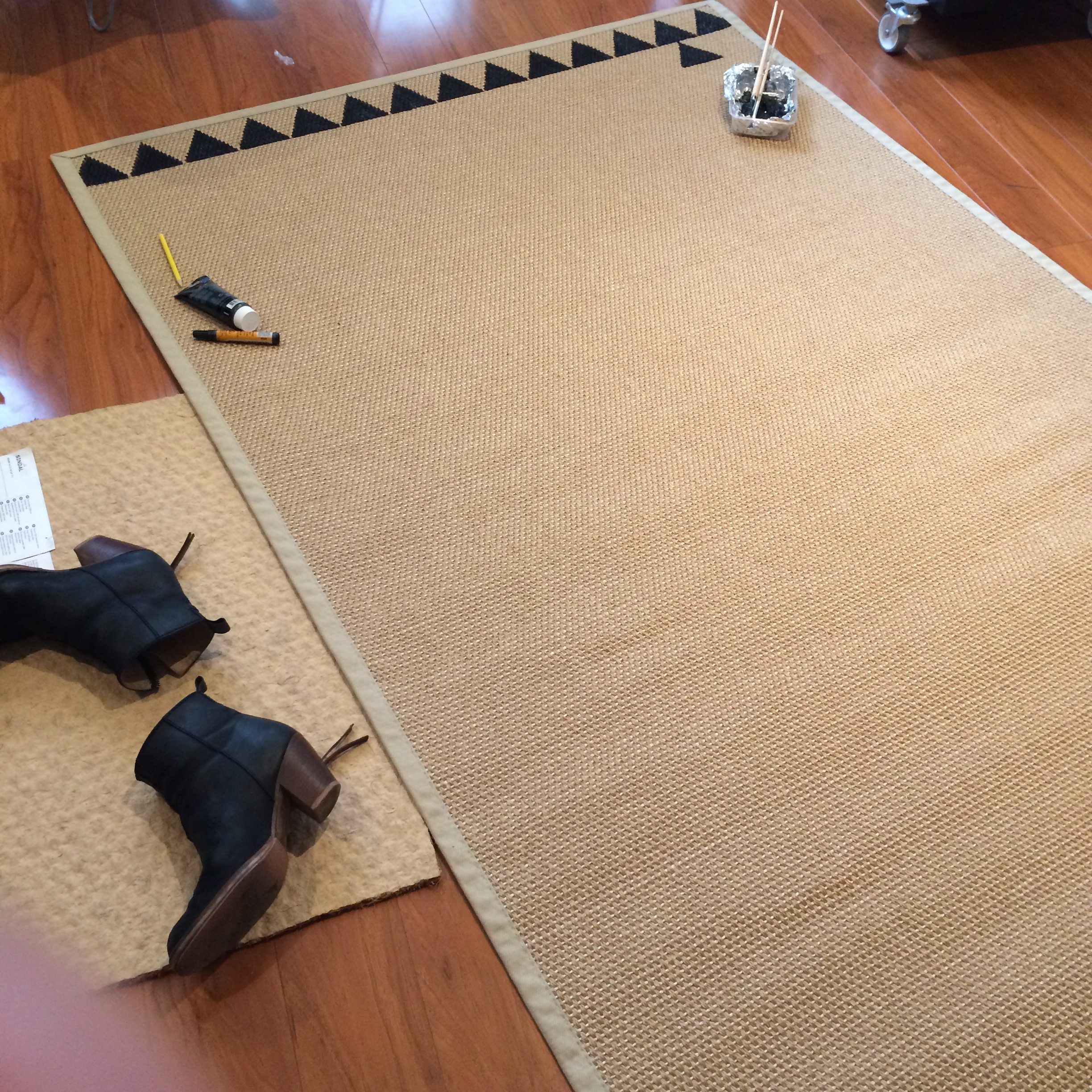 Continue to work along until you feel the rug is finishes, leave to dry and voila!
We have now had this rug for nearly 6 months, and the paint is still holding up fine – thank god sisal sucks in that pigment!
Please note, avoid getting sisal wet –  it can cause the fibres to shrink creating a beautiful warp in the rug!