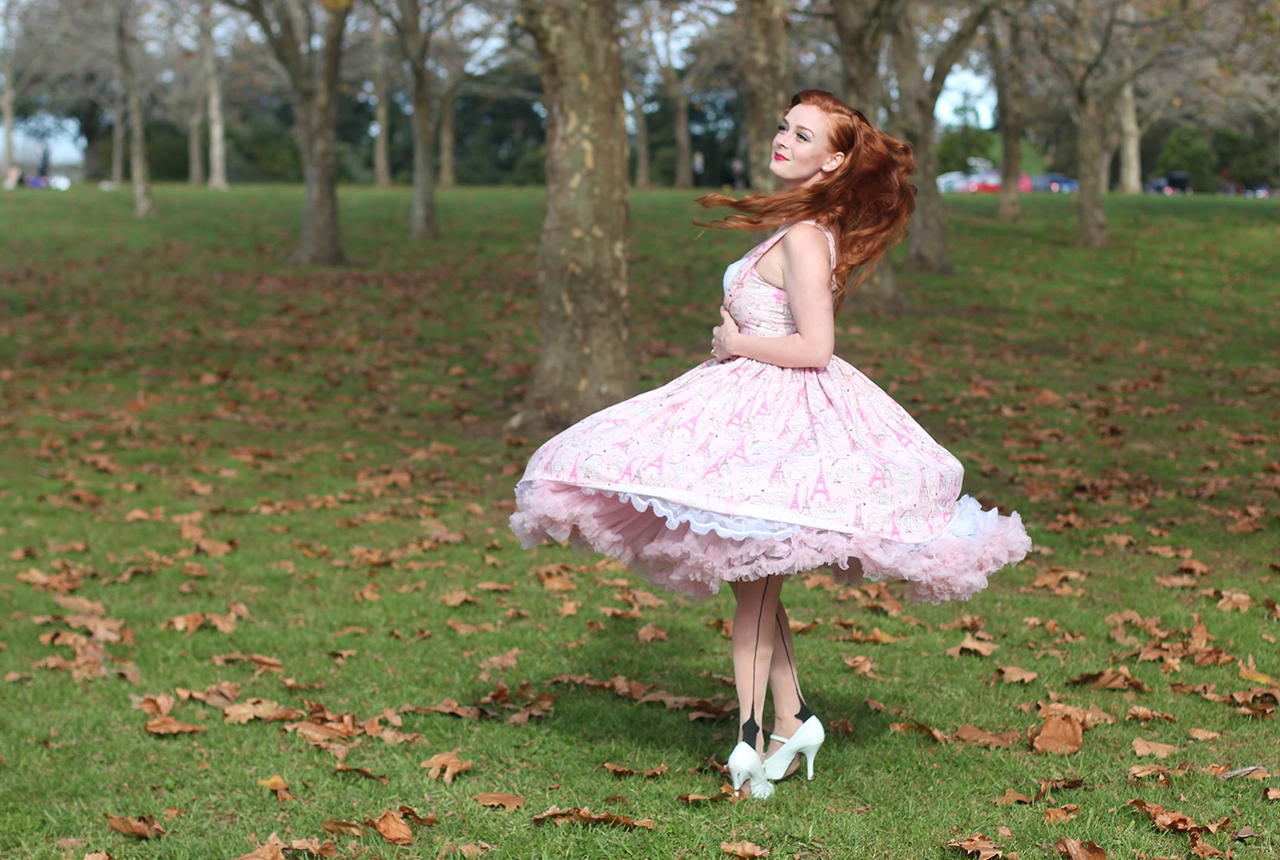 The pinup culture in New Zealand is a movement not to be underestimated. These girls take their craft very very seriously and are among the world's greatest pinup enthusiasts which shows in the high level of presentation that is displayed by all of them. Case and point is Miss Rouge who is one of the front runners for the Miss Pinup New Zealand Competition. Miss Rouge's website is a visual feast with some of the most incredibly put together 50's outfits you have ever seen. Oh… and did I mention she is a mother of one? It isn't all about the looks though – her mantra is to have fun and always be yourself. No judgy-judgy meanness from this well mannered lady. Today the beautiful redheaded siren tells us all about her up and coming Miss Pinup New Zealand competition, what the culture is all about and why you should vote for her!
Name: Miss Rouge
Age: 20 something ;)
Occupation: Pin Up , Mama , Blogger & Teacher.
Clicky Click: Miss Pinup New Zealand Competition Page, Miss Rouge's Blog, Instagram & Facebook
Tell us about yourself and your style:
Well now I am a lady who loves old fashioned values, style, décor and blogger. I love full skirted dresses because what lady doesn't want to twirl around town! I'm a collector of vintage dresses, retro items and a self-confessed Disney addict. I have a huge collection of Disney DVDs and the collection is still growing. I'm a friendly gal who loves to meet new people and make new friends and I love a good adventure, big or small!
What is the Miss Pinup competition?
The Miss Pinup New Zealand competition is not a beauty pageant just to be clear, It's about a passion for vintage lifestyle and fashion and all else in between. It's a day to show case your love for the culture and basically a bunch of seriously stunning ladies getting together and having a good time! At The Very Vintage Day Out, it has it all Cars, stalls, high tea and of course the Miss Pinup New Zealand Competition!
Why pinup fashion and what do you love about pinup fashion?
Well this is a good question. Why? Because it makes me feel wonderful and why not feel wonderful everyday! I love how the fashion is so feminine and can cater to all shapes and sizes I love that around the scene there is so much support for one another and great women being role models for each other through the promotion of body confidence. I think as women, we need to support each other more and be happy for one another!
How do you still look stunning every day and still be a busy mum of a 1 year old?
It's not something I think about, when I wake up and get dressed I don't think I need to dress pin up. I think 'oh what dress will I wear today and which scarf goes nicely and oh what shoes complete the look, I like this bag and do I wear glasses today…' that's my morning, that's how I start my day! Now I'm not claiming that every day is a stunning day as a mother! But I am always dressed pin up style even if I'm covered in flour! After all that's what aprons are for!
What are your top tips for somebody wanting to start dressing pinup?
Well, I would truly say through meeting other likeminded people in the scene. I know for years I felt like the only person who dresses the way I did. That's why I started up a Facebook group called 'The Pin Up Honeys Social Club' this is a great way to meet other people in the scene and in turn get to know great shops for fashion, gigs to attend and have a lot of fun along the way.
What is your guilty pleasure?
Well as a self-confessed candy addict it would have to be lollies! I looove lollies! Recently I purchased a lollie the size of my palm in the shape of a burger! It was amasing and crazy at the same time!
What makes you different to the other pinup contestants?
Well I think all of the contestants are very unique , it's a strange thing I can see all of there unique qualities but it can be harder to see your own ! I guess my one distinguishing feature would be my natural red hair.
Who dead or alive would you invite to a dinner party and why?
Oh golly there are so many people that would be amazing to meet. But probably Marylyn Monroe as there was so much mystery behind her death I'd love to chat about her life and listen to her advice.
[line]

You can
vote for Miss Pinup New Zealand here!
[line]