kid friendly raw cacao covered banana icey poles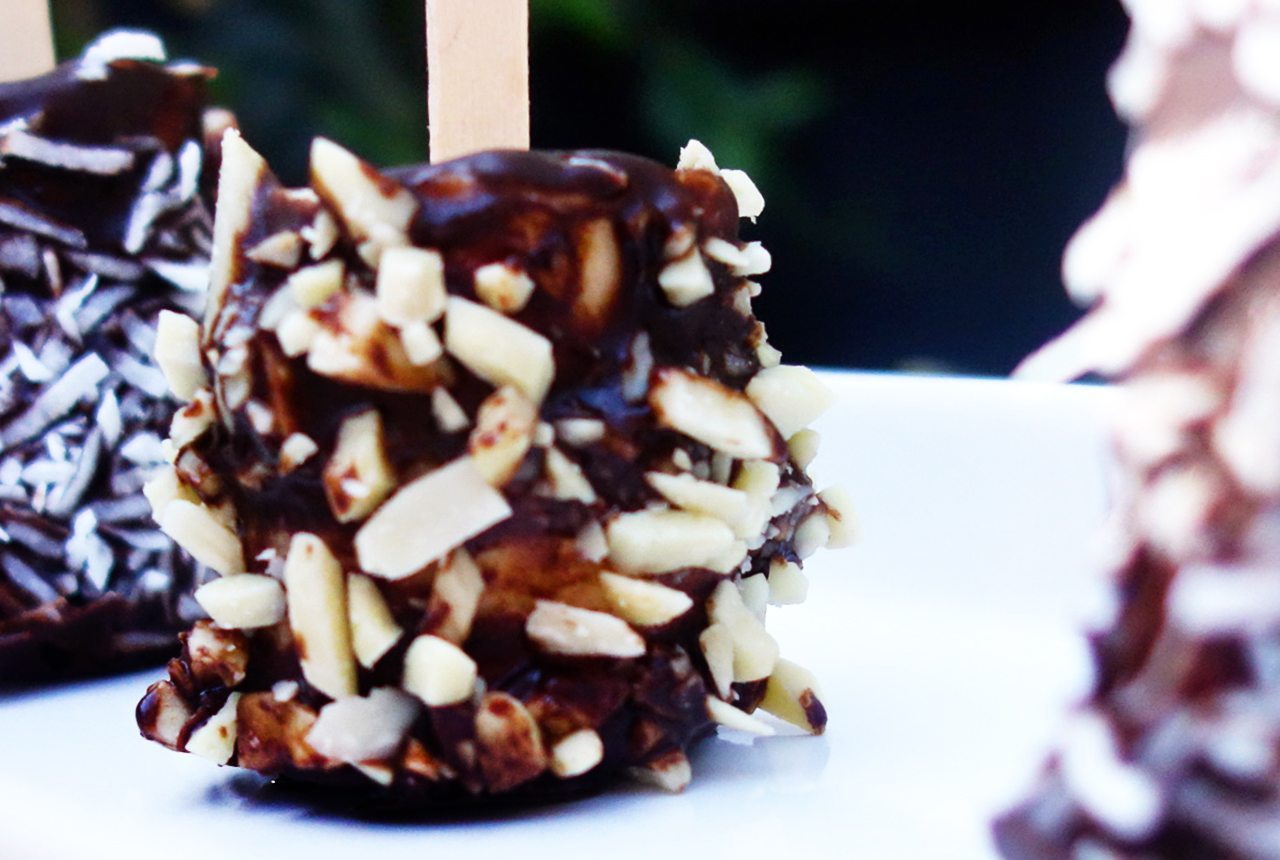 2 ripe (but not overripe) bananas, cut into 2cm disks
Almond butter
¼ cup coconut oil
1½ tablespoons cacao butter
½ cup tablespoons raw cacao powder
2½ tablespoons maple syrup
Pinch Himalayan salt
Icey pole sticks – I got mine from a cheap $2 shop
Yummy bits – all optional, suggestions include but are not limited to – each should go in its own bowl:
Slivered almonds (as pictured), chopped
Unsweetened coconut (as pictured)
Goji berries
Pepitas
Buckinis
Other seeds/nuts
First make the chocolate: In a double boiler (or a glass bowl over a pot of simmering water), melt coconut oil and cacao butter together.
Add maple syrup and whisk to combine.
When completely incorporated, remove from heat and sift in cacao and Himalayan salt.
Adjust seasoning if necessary.
Put in a bowl and set aside
To assemble: take one piece of banana and spread about ½ teaspoon of almond butter over it, then sandwich another piece of banana on top.
Spear the icey pole stick through the centre of the two bananas.
Dip the banana into the chocolate – cover completely letting any excess roll off.
Roll the chocolate covered banana in the topping of your choice.
Set the banana standing up on a plate while you continue to assemble the remaining icey poles.
Place plate in the freezer, after 15 minutes they will be set, if you want a frozen banana freeze for a further couple of hours.
Any left over chocolate and bits can be poured into ice cube trays to make raw chocolates.
Note: these are not just for kids!
Recipe by
The Unimpossibles
at https://www.theunimpossibles.com/kid-friendly-raw-cacao-covered-banana-icey-poles/