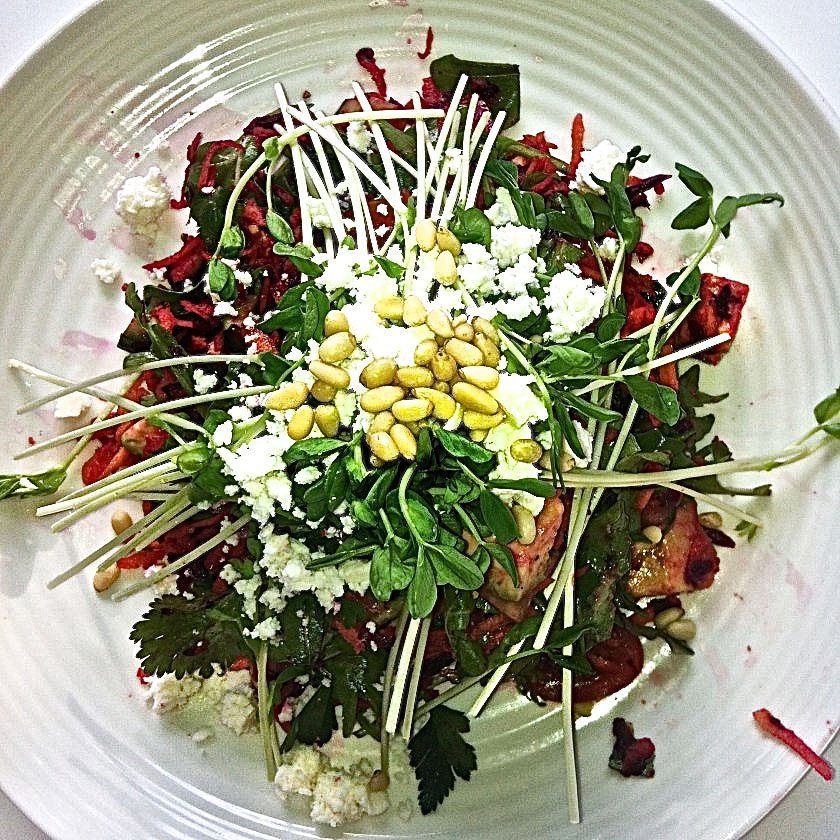 Ah winter. The perfect time to snuggle up, enjoy heartier meals and perhaps an especially full-bodied Burgundy or a whiskey or two to warm up. Many people see the colder months as an invitation to slip out of a stricter healthy routine, camouflage any tell-tale signs of over-indulgence in layers of clothes and generally hibernate. But winter is in fact an opportune time to reset and begin a new plan or practice, be that in regards to health, fitness or career direction. As the bodybuilding adage goes, summer bodies are made in the winter.
Below I share my favourite simple mix of raw veggies prepared in a ceviche style and finished with a touch of decadent feta and pine nuts. It's great on its own or accompanied with your choice of protein such as tempeh, oily fish, turkey breast or grass-fed beef.
Divine Detox Salad
Serves: 2-4
Time: 15 minutes
Ingredients:
Handful rocket leaves
1 large raw beetroot, peeled and grated
2 carrots, peels and grated
1 Lebanese cucumber, diced
¼ red onion, finely diced
½ punnet cherry tomatoes, halved
Bunch coriander, roughly chopped
Bunch basil leaves, roughly chopped
1 tbsp cold-pressed olive oil
1 lime, juiced juice
Sea salt and freshly ground black pepper
25 grams greek feta
1-2 tablespoons pine nuts
Small handful snow pea shoots to garnish
Directions:
See Also
In a large bowl combine rocket leaves, beetroot, carrots, cucumber, red onion, cherry tomatoes and the herbs.
Top with olive oil and lime juice and use your hands to mix well.
Divide amongst plates and top with a crumbling of feta, sprinkle of pine nuts and arrange snow pea shoots on top.
Season with salt and pepper.
---
Nikki works in public liability law by day and health fanatic all other times. Her philosophy is plant-based, completely unprocessed, natural and mostly paleo, however she still enjoys the occasional red wine or chocolate. Olympic lifting, CrossFit and yoga are all activities that complete her lifestyle. She loves her hobbies so much she has launched her own blog Wellness Republic.