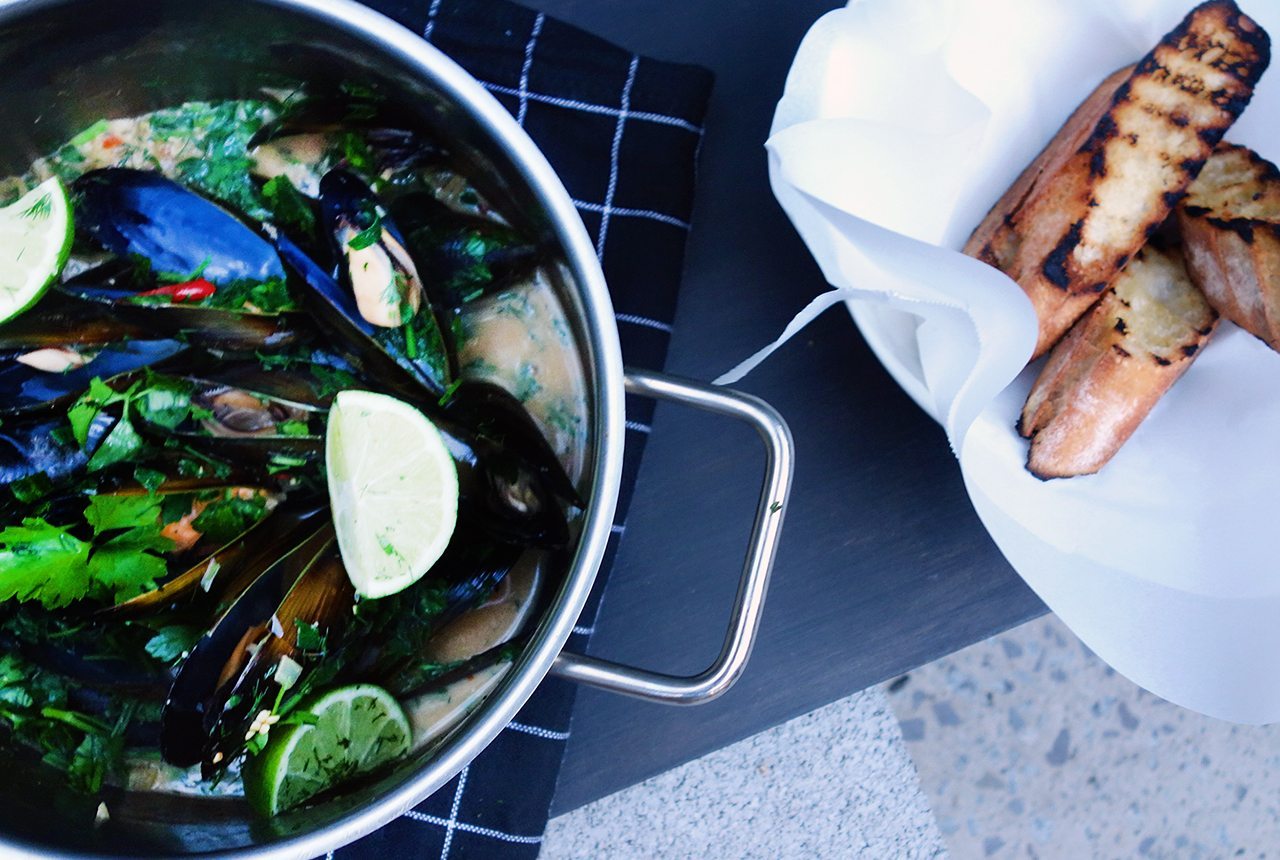 Mussels. What fun! They are the original bearded hipster of the sea, which are often overlooked at home as a dinner choice. But why? They are so quick to cook! Not to mention cheap, at Prahran market the sustainably farmed mussels are only $7/kg! WTM – wheres the mussels!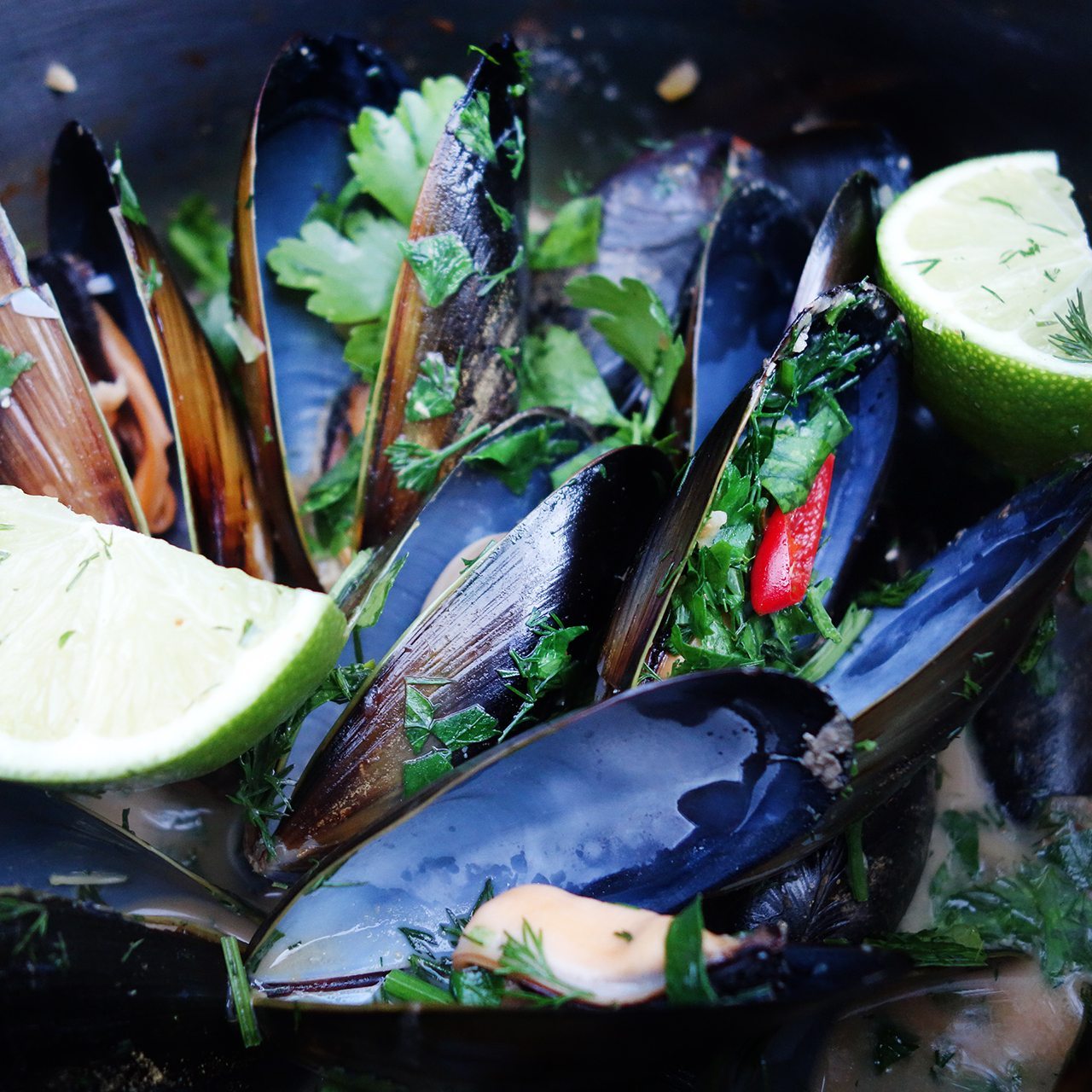 A few pointers about handling:
You buy them live. Sounds creepy, but tat least you know they're fresh! So if you get them home and their mouths are gaping open, it is because they're looking for food (who isn't!). I have been watching too much waking dead, so I fondly think of them at zombies at this stage. Anyways, give them a tap and their mouths will shut, or you can gently negotiate them to close with your hands.
These days, most of them come with a lot of the work done for you, but you will still probably need to do a little bit of cleaning before cooking. Scrub off any weird things on the shell and rip off their little beards – otherwise it will all come off during cooking and float into the broth. Gross. Give them a big rinse and try to get any sand out of them.
If they are broken, don't risk eating them. Put them in the bin – outside.
If they don't open after cooking, most likely they are bad. Also put them in the bin.
Sounds complicated, but it really isn't!
Ok, now that you get the gist of mussels, let me tell you why this pot of love is so great.
Coconut gets it on with chilli, garlic, miso and lime which results in an incredibly tasty but light broth. Although I usually avoid bread, I feel it is completely acceptable to have it on hand to mop up this sauce! Alternatively, these can be served on zoodles!
The broth has brown rice miso paste (Genmai) in it. Miso is known to help gut bacteria which is great for digestion and making you feel your best.
Mussels are also extremely good for you. They are a great sour source of Protein, Vitamin B12, Iron, Manganese and Selenium and a good source of Vitamin C, Thiamin, Riboflavin, Folate, Phosphorus and Zinc. Also, they taste awesome. Yum, so excited!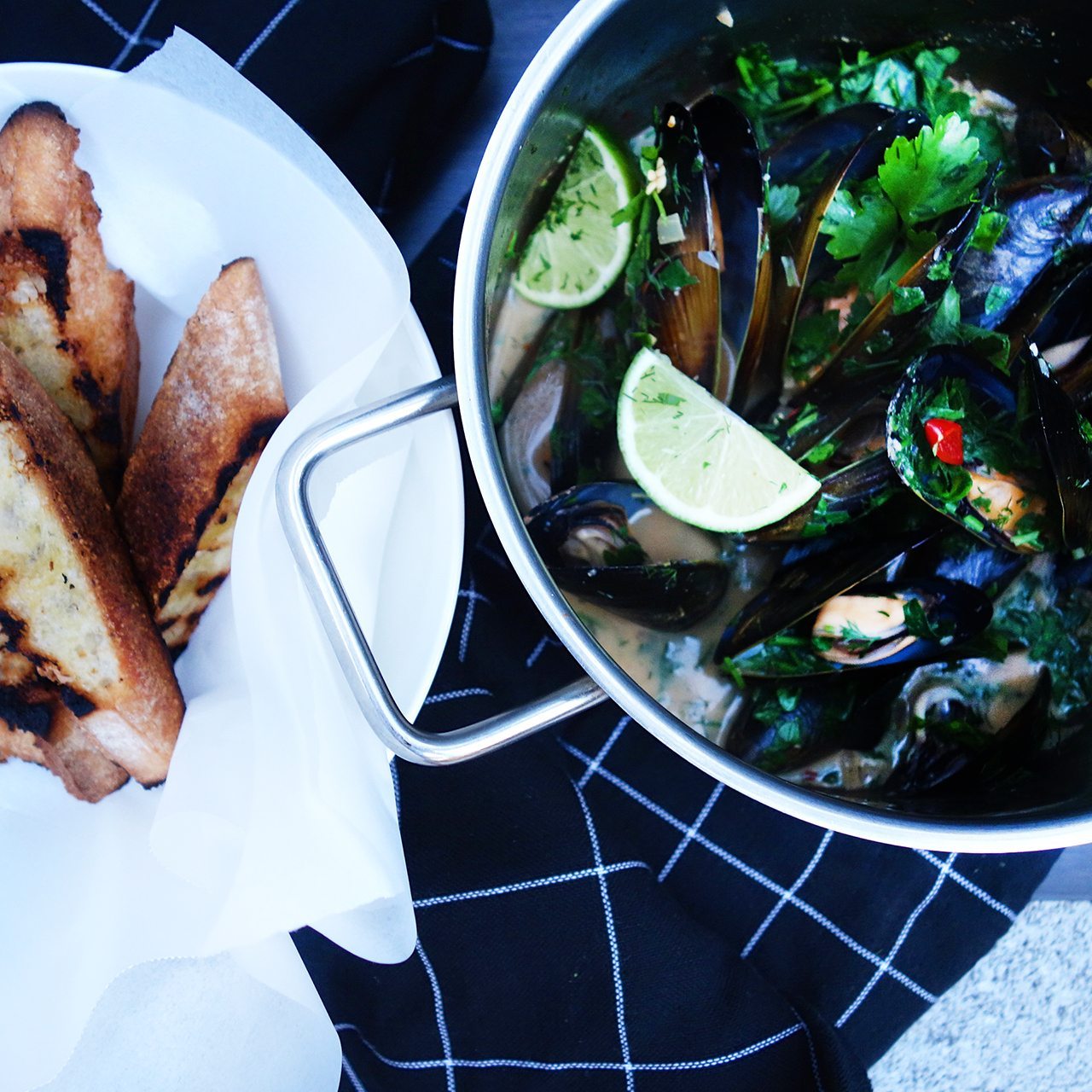 chilli garlic coconut mussels
Mussels - the original bearded hipster of the sea which are often overlooked at home for dinner. But why? Let me show you how to make mind blowing mussels!
Cuisine:
dairy free, refined sugar free, gluten free, fructose free, grain free, nut free, paleo
Serves:
2 hungry non zombies
INGREDIENTS:
1 onion, finely diced
1 tablespoon olive oil
2 garlic cloves, crushed
1 heaped tablespoon brown rice miso paste (or other miso paste if you can't find)
1 cup water
165ml coconut milk
1 teaspoon chilli flakes
1 teaspoon maple syrup
500 grams mussels, cleaned with beards removed (I got mine from Prahran Market, beautiful and sustainably farmed!)
Large handful flat-leaf parsley, stalks left on, finely chopped
Large handful dill, finely chopped, stalks left on, finely chopped
1 lime, quartered
1 birdseye chilli, thinly sliced
INSTRUCTIONS:
In a large pot, saute onions in the olive oil for about 7 minutes or until soft and translucent. Keep it low and slow here – do not brown.
Add garlic, chilli flakes, miso paste and water and bring to the boil. Stir until miso paste has dissolved.
Add in to the coconut milk and maple syrup and simmer for 1-2 minutes.
Add in the mussels, cover with a lid, then simmer 3-4 minutes or until the mussels open.
Discard any unopened mussels, squeeze over half the lime and stir through the herbs.
Top with remaining lime and sliced chilli.
Serve with Chargrilled Bread Massaged in Olive Oil and Garlic – recipe below!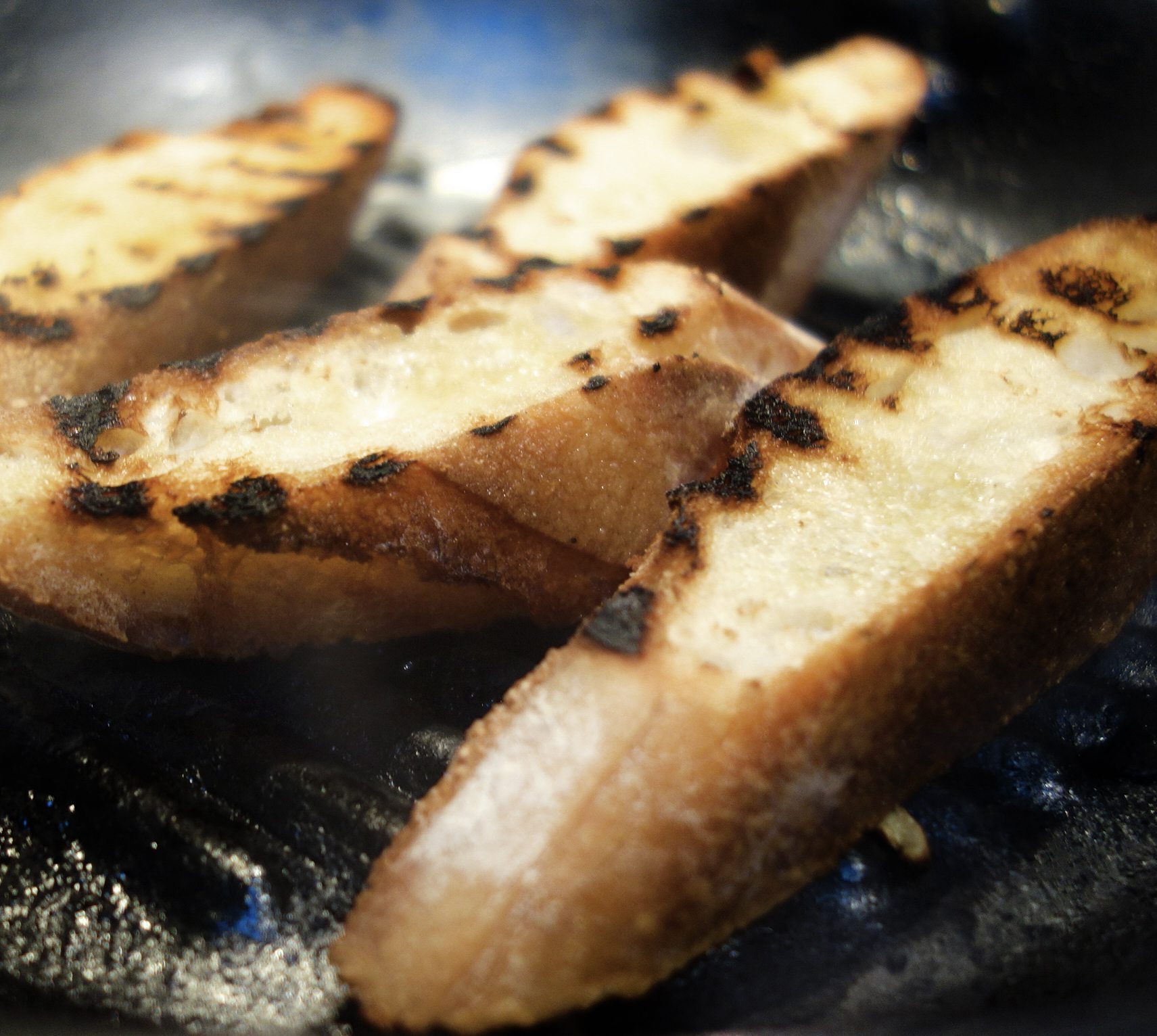 Chargrilled Bread Massaged in Olive Oil and Garlic
Time: 5 minutes
Serves 2-4 depending on how much you cut up
Ingredients:
1 garlic clove, slightly crushed
Olive Oil
1 crusty baguette (I got mine from Friends of Mine Cafe in Richmond)
Directions:
Cut bread diagonally into 2-3cm slices. For 2 people I used 4 slices.
Rub garlic over both sides of the bread.
Drizzle over olive oil and massage it into the bread.
Heat up a grill until smoking.
Place bread over grill until charred, 1-2 minutes. If you are doing more than 4, you may need to do this in batches.
Flip and leave another 1-2 minutes or until charred.