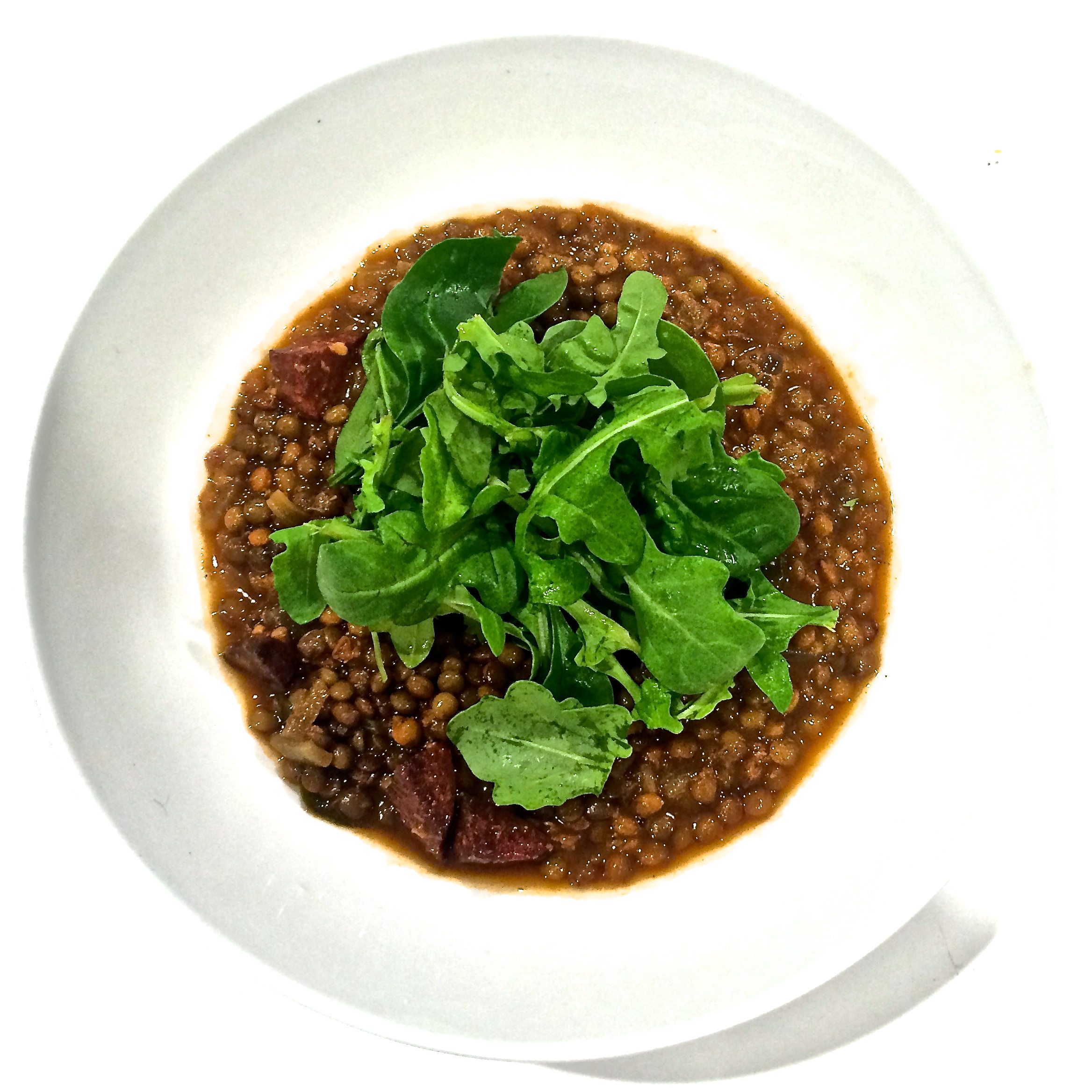 This soup is an adaption of my Abuela's recipe – beautiful lentils make friends with spicy chorizo to become a satisfying meal. Now I am one to always insist on bread with soup, because I'm a good eater, but this soup is doable without. Actually, it's preferable. Anyways, if you're on a food combining effort kind of a diet, you would be good to make this soup. Even my other half, the food monster, can deal with life without bread on the side of this – and he bikes to work!
Just so you know, chorizo is not pronounced "choh-ritz-oh", its pronounced "choh-ree-thoh". In a nutshell, say "th" instead of the "z". Sorry I don't mean to be bossy, I just don't want you going round making fox passes.
There's a lot of goodness in this soup – lentils are full of folate, fiber, manganese and iron that work to power you through the day. The chorizo, although not known for its heeling properties, adds flavour and bite. Of course, this soup is awesome without the chorizo – just double the paprika. The greens added in at the end count towards your plant intake which will make you sparkle and shine.
Make a giant batch at the beginning of the week and avoid going out for a carby mayo sanga – save that for Friday.
Abuela's lentil and chorizo soup
375 grams brown lentils (du puy if you can find them), soaked overnight and rinsed
1 bay leaf
6-8 cups water
1 tablespoon brown rice miso paste
1 onion, finely diced
1 good quality chorizo sausage, cubed
1-2 cloves garlic, crushed
2 tablespoons tomato paste
1 teaspoon sweet smoked paprika (double this if omitting chorizo)
1 tablespoon of oil
Salt and pepper to taste
Handful of your favourite greens per bowl to garnish
See Also
Directions:
1. Place lentils, miso paste, bay leaf and water in a large pot and bring to the boil.
2. In a cast iron pan, sauté the onions on a low heat until translucent.
3. Crank up the heat and add the chorizo.
4. Once the chorizo is slightly brown, add the garlic, tomato paste and paprika and stir for about 2 minutes.
5. Add the chorizo mixture to the lentils and stir to combine.
6. Simmer on a medium heat for about 45 minutes or until lentils are cooked. If soup becomes a bit dry, add a cup or so of water.
7. Season to taste with salt and pepper.
8. You can either stir through the greens now or serve them on top. I kind of like to do both.